How to cook pressure cooker pasta in Instant Pot, Ninja Foodi or Crockpot Express is here. Perfectly tender buttered or plain noodles.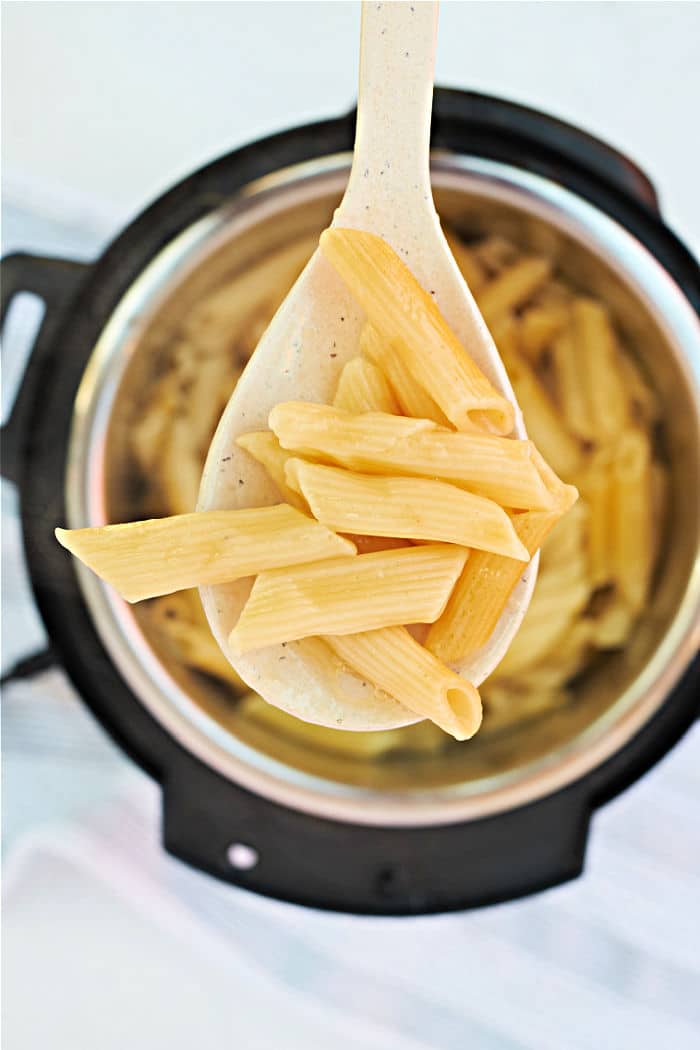 Sometimes you just want simple for a side dish or snack. Pasta in pressure cooker is a fast way to satiate your cravings. Seasoned with just salt and pepper this Instant Pot pasta recipe never been easier y'all. (affiliate links present)
Instant Pot Pasta
If you wanted a richer flavor you could certainly follow our Ninja Foodi buttered noodles directions or drain and butter at the end. We like to add a bit of shredded parmesan to the top too for more flavor and oooiness. As far as the shape goes, anything is just fine. I would just suggest using a medium size for this timing.
I have used shells, elbow macaroni, the twisty style and rigatoni. Larger will stay a bit more al dente and of course small will take less time. Yes you can certainly boil noodles on the stovetop but you have to pay close attention to that to ensure it doesn't boil over, and this is faster too.
FIRST – You should sign up for my free newsletter so you get new posts emailed to you twice a week and never miss out on anything! Now let's start with a few basic tips:
Make sure to Bookmark our InstaPot recipes page. We add new ones each week!
Then PRINT this —–> Instant Pot cooking times cheat sheet that will help you understand how long meat, vegetables and beans take to cook in your pressure cooker.
For reference, this is the pressure cooker I have (a 6 quart) and use for all recipe creations.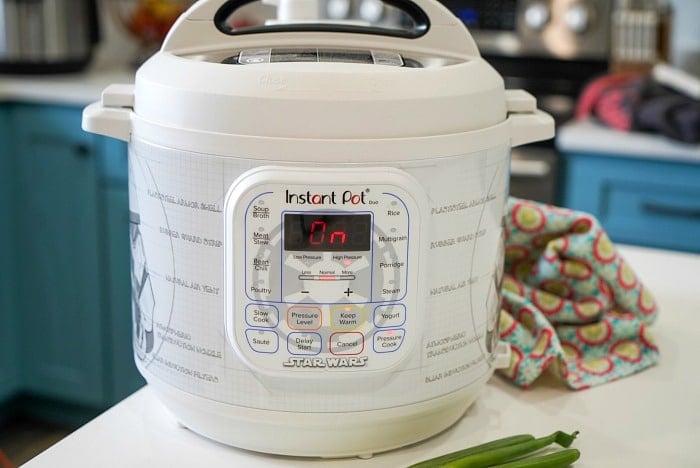 How to Cook Pasta in Multicooker
We have directions below for you that you can print and keep on hand if you're a pen to paper kinda' girl. Of course I would love it more if you just hung out and came back over and over again to get the timing too. Once you get the hang of it you can fold in other goodies at the end.
Have leftovers you need to use up? This works great for that whether you fold your diced chicken right inside or serve it alongside this. It's also a great vegetarian choice if you just want to make some boiled broccoli and shred some parm on the top of both of them. OR drizzle some cheese sauce over both. 😉
Any brand works like I said. As long as it is an electric version and has the high pressure function it will work with the directions below. You will need liquid of course and that is up to you. Either use water or broth but the latter will offer a lot more flavor. Be careful if yours is not low sodium, if not I wouldn't add any salt at all.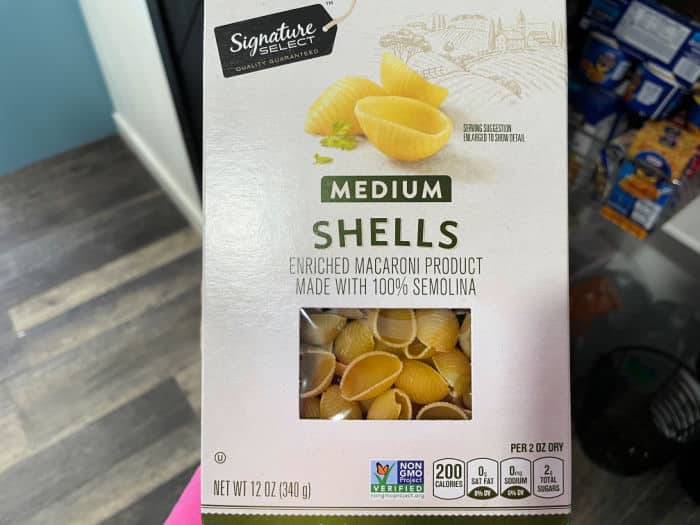 Ninja Foodi Pasta
If you do have this brand of cooker you can do other functions, mainly the air crisp, after this is done. What I mean is that when we make our Ninja Foodi spaghetti we add a layer of cheese on the top when done. If you close that attached lid you can melt it right on top for the ultimate ooey gooiness. Other brands don't have that option.
You can always season when done and you can't undo too salty. A bit of minced garlic can be added in there as well if you love that flavor. The important part is the noodle to liquid ratio. If there isn't enough you won't get them to become tender to your liking.
Does pasta cook faster in a pressure cooker?
If you were to time from start to finish it would be about half the time difference since it does takes time to pressurize. The biggest plus to cooking pasta in Instant Pot is you can set it and forget it. No need to adjust heat or watch and make sure it doesn't boil over.
You can see here what it is going to look like once you have those items are added in there. Once you get the hang of this you can go on to include other ingredients like in our Instant Pot casseroles. From pork to chicken, beef and everything in between with a nice rich sauce all of these are feel good meals for sure.
How to Cook Plain Pasta in Pressure Cooker
NO sauteeing or prepping necessary. Just throw it in there, set to high pressure and release the pressure slowly for a few minutes at the end. This is called natural release on the pressure valve which means to not touch it until it reaches a 4 on the screen. Then quick release the rest. That. Is. It.
You're basically going to want twice as much liquid as your favorite type of pasta
Use the seasonings you want with your dried pasta shapes
Lock the lid and you just need to pressure cook for 1 minute for cooking time
Then allow the steam to stay in the pot for 4 minutes until released
Stir to break them up
Drain and drizzle on olive oil & parmesan, or toss with marinara sauce or meat pasta sauce of your choice
This is what I would start with at the beginning. Of course everyone has a bit of difference preferences when it comes to how limp or how al dente pasta they prefer their noodles. Taste and if you want it a bit one way or the other then you can adjust on the next go around.
Once you have the texture perfect you can move on to what you want to toss these with, or serve on top. Of course this works well as an easy side dish too but can be transitioned into a meal with some meat and veggies tossed in too. You can chill when done too and then make our easy pickle pasta salad recipe.
Pressure Cooker Pasta Water Ratio
1:2 ratio is about right with twice as much liquid so they are nicely submerged. Typically you would drain the extra at the end with one exception. We do this same thing but have such accurate measurements that there is NO draining required for things like boxed mac and cheese in Instant Pot.
If you don't use enough broth you may see the burn notice appear on the screen, no good. That means the machine will stop working and you need to add more water. When cooking pasta in Instant Pot with regular noodles you would use the timing listed below. Adjust down the release if using smaller noodles.
Pressure Cooker Gluten Free Pasta
There is a difference in timing if using this type of noodles. You will need to set to 0 minutes, yes that is a thing. That means it just cooks for the time it takes to pressurize. Then allow to naturally release steam for 6-8 minutes depending on how tender you want it to be, then drain the pasta and add tomato sauce or butter.
The grains in this type are not as firm and thus don't need quite as much time. Even if boiled on the stovetop you would want to decrease the timing as they are sensitive to heat and get mushy if overdone.
How Long to Pressure Cook Pasta in Ninja
You will need the air fryer and pressure cooker pot to make this one. This company has a bunch of different versions. Some only have one function or the other, and another is just a slow cooker. The latter won't work this way, fast is necessary for boiling noodles.
I mean that is essentially what you are doing, just in a much faster and more efficient way. Under pressure the water will start to bubble rapidly, you just won't see it under the lid. If you are new to this method of cooking entirely there are a few things to remember. Most importantly wait until the steam is fully released before opening.
When you lift the lid face it away from your body. The steam will obviously be very very hot and you can burn yourself. Speaking of burning, keep your fingers away from the release valve when you flick it open. It would be like touching a pan right out of the oven kinda' hot so just use the skinny end and move it open quickly.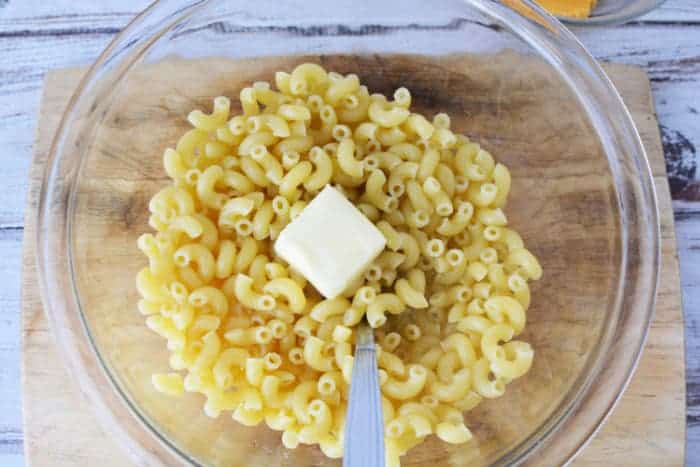 How do you make boiled pasta taste better
I don't know about your kiddos but butter noodles with just a pinch of salt and garlic powder with parmesan is the best. Okay so I am guilty of chowing down on these from time to time too. Just comfort food in a bowl. There are of course other options you can try out such as;
Melted Velveeta cheese sauce
Fold in your favorite spaghetti sauce or alfredo for a creamy option
Add in some mascarpone and basil, fold in until melted
For a simple version dice up cooked bacon and chives or scallions
For a dairy free choice you can use a plant based butter alternative. We have found one my husband enjoys from Country Crock that tastes very similar to the "real thing". I am sure there are hundreds of other choices out there and if you have your own please share them below so we can give it a go too.
Jump to recipe below and give it a whirl yourself too. If you are looking for more complex options beyond this one you can then refer to our Instant Pot recipes for beginners post. OR if you want one specific to your other pot we have a simple Ninja Foodi recipes round up here too.
Want to see a few of my favorite things that I am totally obsessed with?? Take a peek and see how many you might already have…twinsies!
Looking for more easy family recipes and tips? LIKE The Typical Mom Facebook page?
Then sign up for my free newsletter, and follow me on Pinterest! 😉
***** If you LOVED this recipe give it 5 Stars below and let everyone know what you thought about it. 😉
Pressure Cooker Pasta
How to cook pressure cooker pasta in Instant Pot, Ninja Foodi or Crockpot Express is here. Perfectly tender buttered or plain noodles.
Instructions
Add broth and pasta to IP. Seal lid and steam valve. Cook on high pressure for 1 minute an let natural release for 4, manual release the remainder. Drain liquid and drizzle on melted butter. Fold in to coat.
Nutrition Facts
Pressure Cooker Pasta
Amount Per Serving (1 oz)
Calories 227
Calories from Fat 108
% Daily Value*
Fat 12g18%
Cholesterol 35mg12%
Sodium 965mg42%
Potassium 113mg3%
Carbohydrates 23g8%
Protein 6g12%
Vitamin A 359IU7%
Calcium 19mg2%
Iron 1mg6%
* Percent Daily Values are based on a 2000 calorie diet.