Printable recipe cards printables for you! Just print them out and file away your favorite recipes in a binder or recipe box!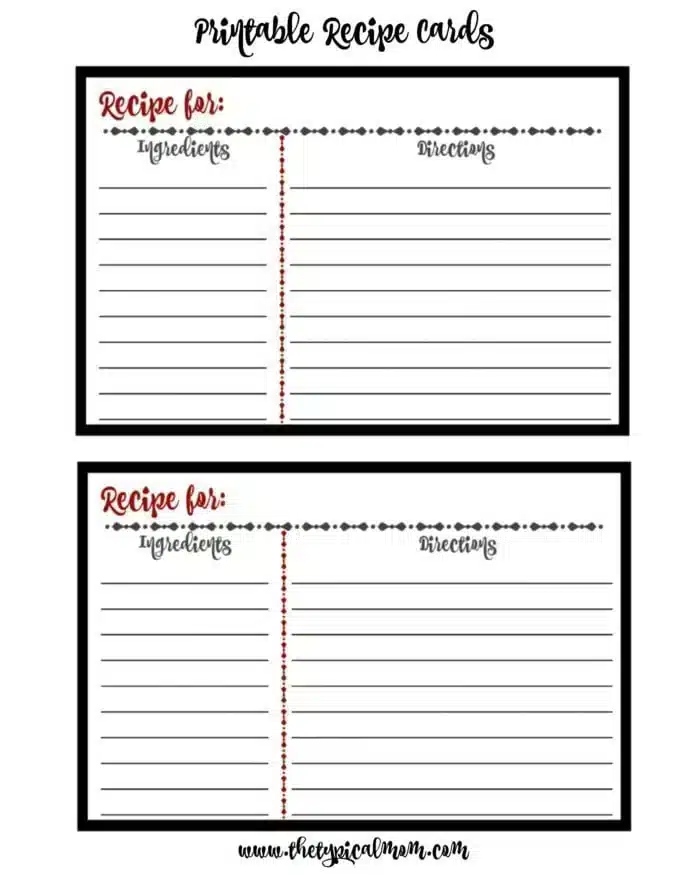 Once you find a great recipe, try it, and know you'll want to make it again someday, you might need some printable recipe cards to write it down. Here are some printable small and larger printable recipe cards you can use. (affiliate links present, originally published 7/16)
How do I print my own recipe cards
I have them for you right here. It costs nothing to use your own printer. You can make them black and white or leave the little bit of red like you see here. If you want them thicker just use card stock or regular paper if you prefer.
Years ago I bought this simple recipe box. Each time I found a recipe I liked I jotted the info down and filed it away until the next time. Using just simple 3×5 cards is fine but it is nice to use a bit nicer card stock and have something that you can pass down to the next generation.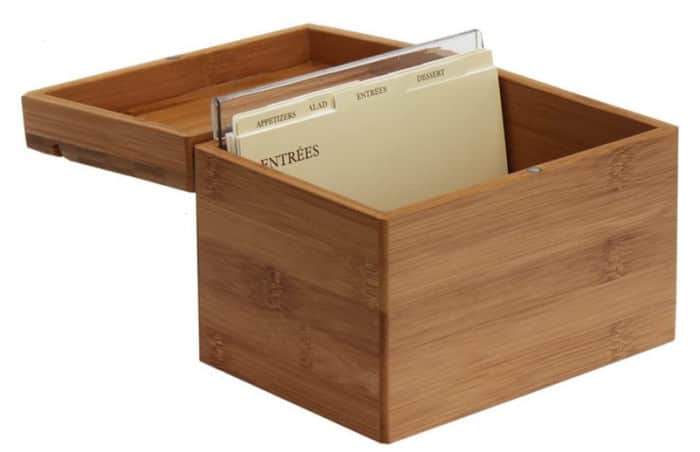 Free Recipe Cards
I'm sure you are like me and have family recipes that are nostalgic. Something you make once a year because it was always made by your Grandmother during the holidays and you want to teach your kids too. Our lebkuchen German cookies (seen at the bottom) and ambrosia are two of ours here. Now you can keep those on hand.
Just download and print these 4×6 printable recipe cards here. Cut in half on the lines will fit well in a small recipe box.
If you prefer larger recipe cards you can print here as well.
The large ones are closer to 5×7 and easier to use in a binder with 2 recipes on a sheet. Just grab a binder and sheet protectors and create your own recipe book that way too! If you take the time to protect them once they are written down to a tee they will certainly last longer and won't fade thru the years.
You can leave as is but over the years the ink will fade so the ones that are really special I would laminate them for sure. I am kinda' obsessed with binders. Now with these you can organize your recipes and I also have one for everything else in your house with these organization printables here.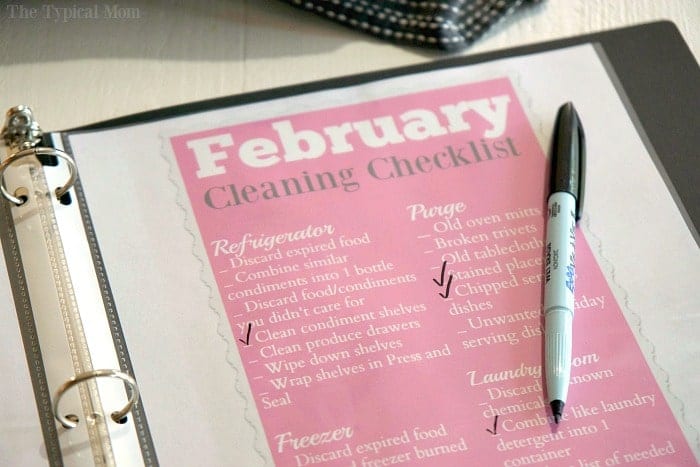 Free Printable Recipe Cards
If you're looking for a great first recipe you should try our meatball sub muffins, they're fabulous and fun for a dinner idea. You could have a few different boxes. Breakfast, dinner, dessert, and family favorites. In the last you could have generational dishes. I would write down who made it first and maybe include a photo on the back if you have one. 😉
There are a ton of easy slow cooker recipes perfect for busy days on my site you can enjoy. All of them have very little prep time and can be passed down to future generations.
Instant Pot recipes have been really popular the past few years too.
And Ninja Foodi recipes are the bomb.
Why are these free modern recipe cards so helpful? Let me count the ways my friends….
I'm a pen and paper kinda' girl. Yes I have a smart phone and keep a lot of recipes in my notes but I remember how to make something by writing it out. Of course some handwritten recipe cards are special, like this one from my Grandma.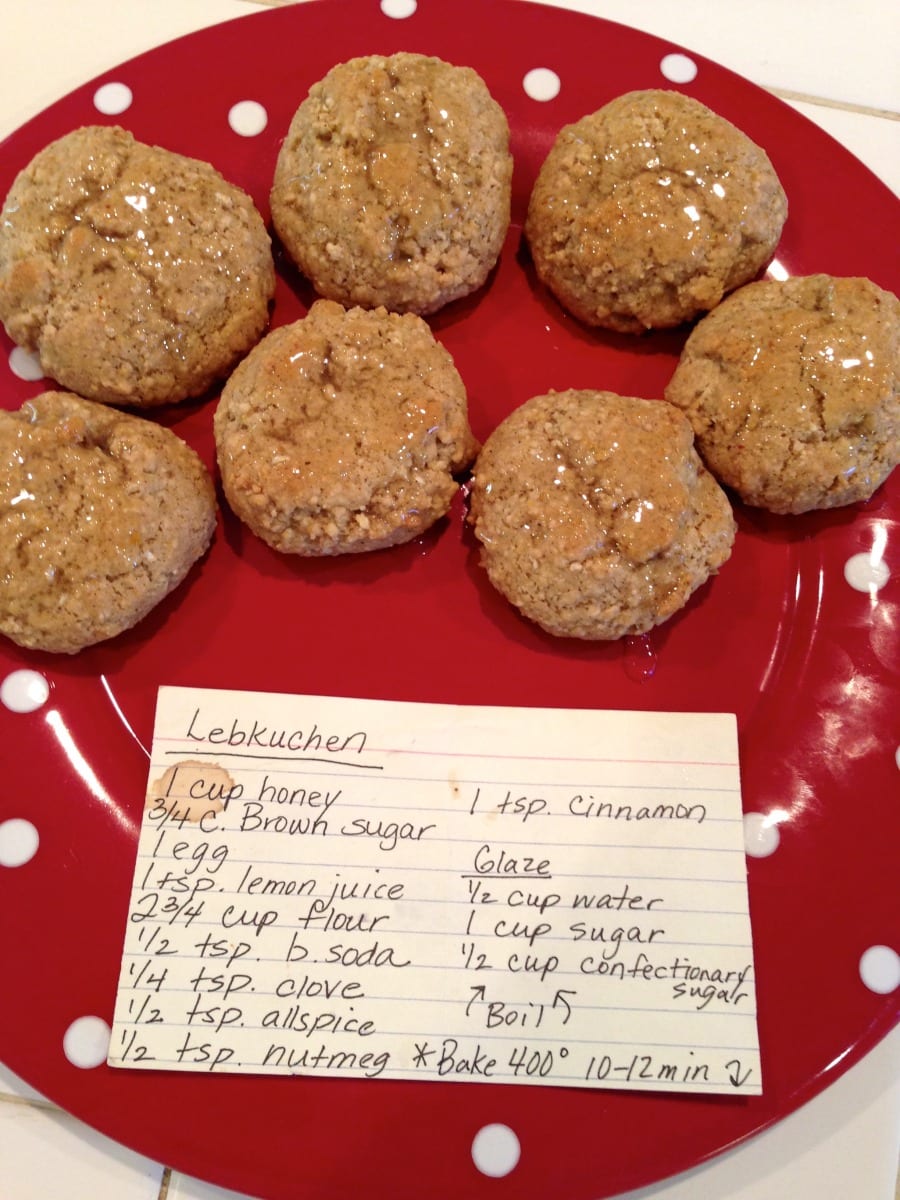 Want to see a few of my favorite things that I am totally obsessed with?? Take a peek and see how many you might already have…twinsies!
Looking for more easy family recipes and tips? LIKE The Typical Mom Facebook page?
Then sign up for my free newsletter, and follow me on Pinterest! 😉
***** If you LOVED this recipe give it 5 Stars below and let everyone know what you thought about it. 😉