How to freeze eggplant cooked or raw, diced, sliced or whole. Then how to defrost it and whether you should blanch it beforehand. Freezing eggplant is easy.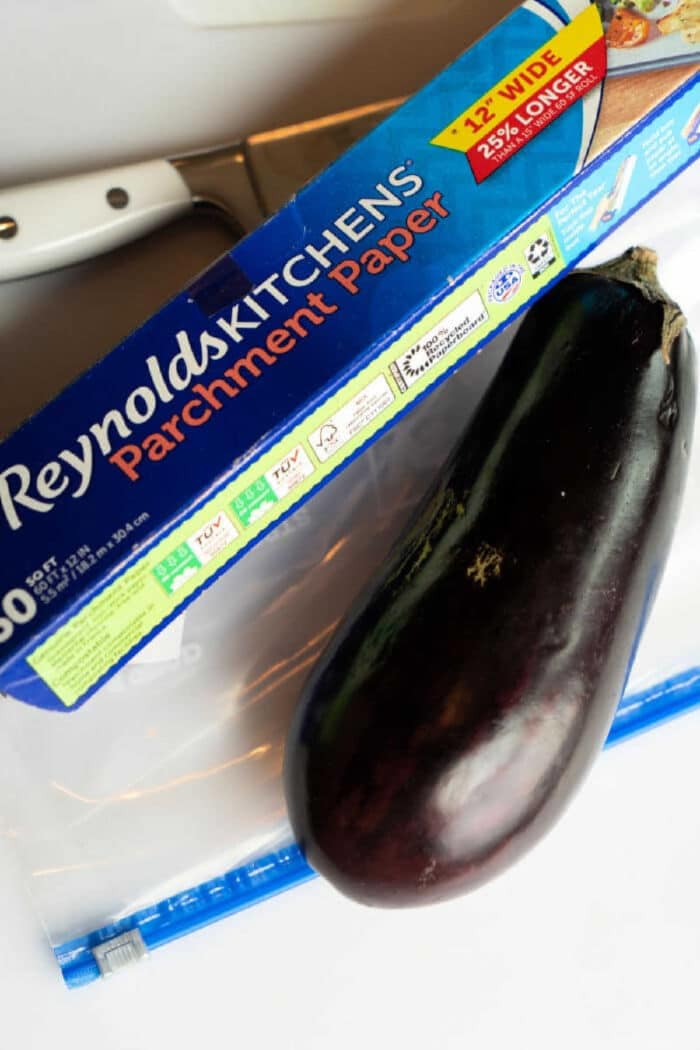 Learning how to freeze eggplant isn't hard to do at all. It's actually a great way to prepare meals and turns fresh into frozen eggplant so that it's ready to use for any future eggplant recipes that you plan on cooking. (affiliate links present, originally published 11/22)
If you're like me, finding a good sale at the store on fresh veggies always makes me want to stock up. And luckily, you're about to find out everything you need to know about how to correctly add fresh eggplant to freezer bags to keep it freezer safe! Then you can cook frozen vegetables all year long!
Freezing Eggplant
No matter whether you're stocking up because of a sale, you're prepping it to freeze in slices for batch cooking later these methods are the best. Then later you can make eggplant parmesan to your hearts content anytime you want. Just follow these tips on how to freeze eggplant easily.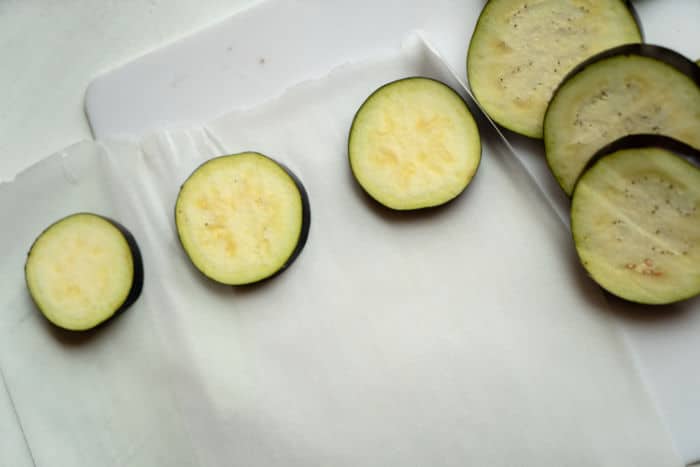 How to freeze eggplant sliced
This might be the most common way to freeze eggplant because it's simple and easy to do. Once you've washed it off, it's time to cut the eggplant into 1-inch circles. If you are freezing in bulk to cook later you would skip all the cooking and go straight to directions at the bottom of this post. Otherwise continue…
Prepare a parchment-lined baking sheet, and place the sheet in the oven to bake at 350 degrees for 15 minutes. You're basically roasting eggplant so that when it thaws, it's ready to reheat and eat. You can literally eat it when it's done roasting as well, so grab a few and get your snack on before freezing!
When you cook let's say eggplant in air fryer, the biggest tip to remember is that you have to let the cooked pieces cool down all the way before adding it to a sealable bag and cooling.
Freeze Eggplant
Once this purple vegetable has cooled all the way, put it into the freezer bag and seal it. Freezing roasted eggplant means that when you're ready to use it, just move the bag to the fridge to thaw, and then reheat and eat. I would highly recommend to NOT bread what you want to keep, things like eggplant fries just don't save.
How to freeze diced eggplant
Diced eggplant is really great for freezing because once you prep and freeze, it's simple to thaw and use after that. Dice up the eggplant into squares, toss in a little bit of olive oil, and then put them on a parchment-lined baking sheet.
Roast the cubed eggplant for about 45 minutes at 375 degrees. Once they're done, take the sheet pan out of the oven and let the cooked cubes cool down entirely. Then add it to your freezer-safe bag and store it in the freezer.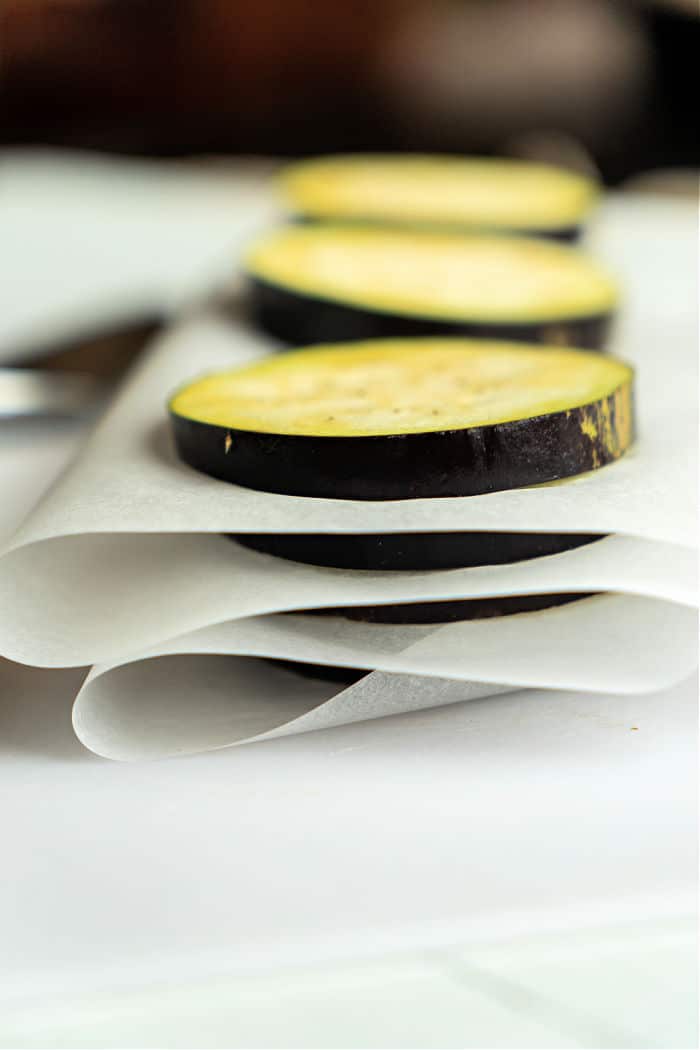 How to freeze a whole eggplant
This can get a bit tricky. Is it possible to freeze an eggplant whole? Possibly, yes. Is it advisable? In my opinion, no. The reason for this is that eggplants have high water content, meaning that they're going to freeze quickly, and won't thaw out with the best texture.
My recommendation for freezing eggplant is to do one of the two methods listed above or slice the eggplant in half to cook first. A sliced eggplant means that you'll poke it with a fork and roast and then scoop out the flesh in the middle of the eggplant once it's cooked. This is great for soups and purees.
You'll have to cook the split eggplant for about 30 minutes – 45 minutes at 400 degrees, and then allow it to cool before adding it to a freezer bag.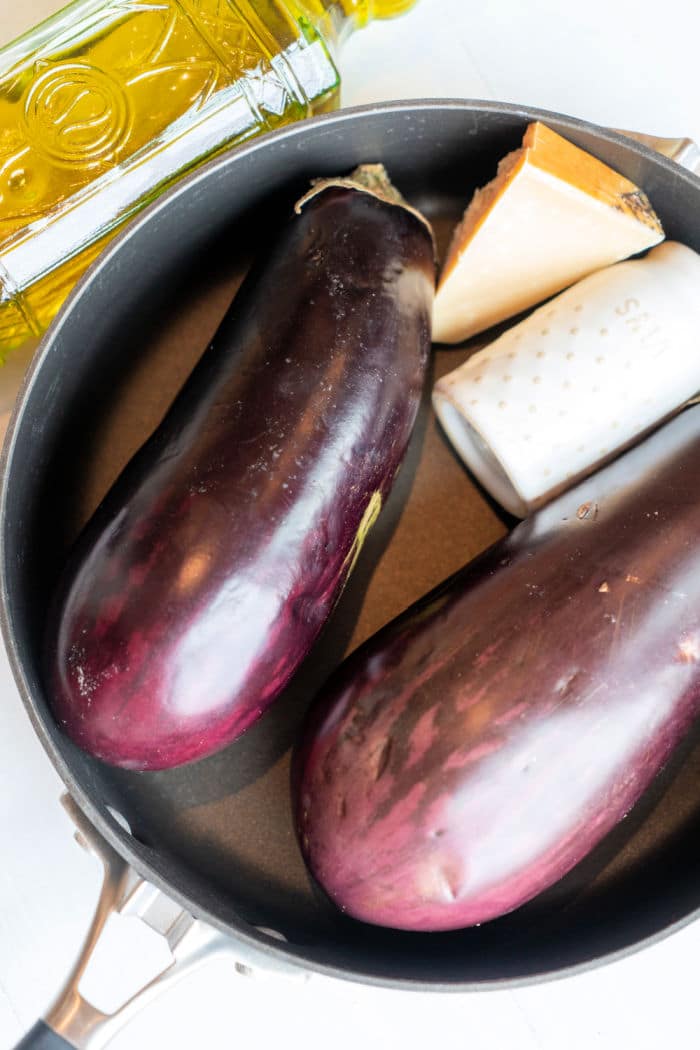 Should eggplant be blanched before freezing?
Nope, you don't need to blanch the eggplant before freezing. Cooking it via the methods above works perfectly fine and preserves the texture and taste as well.
How long will eggplant keep in the refrigerator?
Eggplant will stay fresh for 5-7 days when stored in the fridge. This is where the ability to freeze cooked eggplant comes in super handy! If you can't consume the eggplant that quickly, you can freeze it instead, giving it a longer life and giving you a chance to use it in different recipes.
How do I prevent the eggplant from sticking together when freezing it?
You're going to want to use wax paper or parchment to prevent sticking! This works really well when you're freezing slices, as you can put a little bit of wax paper between each slice so that when they freeze, you can pull them apart without having a mushy mess.
How do I stop sliced eggplant from turning brown?
Lemon juice is your best friend here. Just add a little bit of lemon juice to the eggplant slices, and the brown coloring won't be anything to worry about.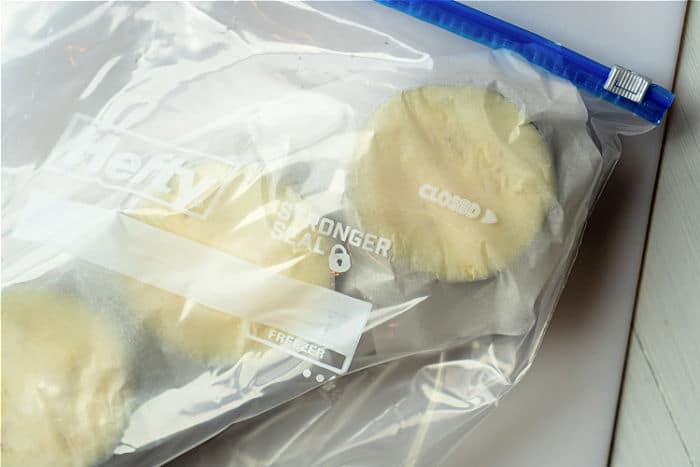 How long can you keep cooked eggplant in the freezer?
The freezer is a great way to extend the life of any veggie, but that doesn't mean that it will last forever. The lifespan of frozen eggplant is anywhere from 8-12 months. To get the most time out of your frozen eggplant, be sure that you're storing it in sealed freezer bags or freezer-safe containers.
Another super helpful tip to remind yourself how long the eggplant has been in the freezer is to write the date on the outside of the freezer bag. That way, you know exactly how long it's good for and how long it's been in the freezer so that you don't have to worry.
Time needed: 10 minutes
Freezing Eggplant
Slice

Lay your fresh eggplant on it's side. Cut the top with the stem off and discard. If you are slicing into circles, or dials, cut into 1/4″ pieces. This is the best size and shape to make a quick eggplant parmesan on the stovetop, air fryer or oven later on.

Layer

Lay a large piece of parchment paper or wax paper to prevent sticking down on the countertop. Place 3 pieces across widthwise with space in between, then fold over the paper to cover. Lay another 3 pieces on top of those with paper in between each layer until they are all secured in between 2 layers.

Secure

Slide the layers of eggplant in the paper into a gallon freezer bag. Zip closed and gently push or suck all the air out of the bag.

Freeze

Lay bag with vegetables inside in your freezer flat. Freeze until hard (which will take a minimum of 4 hours). They will last this way for up to 3 months.

Defrost

When you're ready to cook them place bag into the fridge for a few hours until pieces are defrosted. Use the same day to get the best texture when cooked or grilled.
How do you reheat cooked eggplant?
Once you've thawed the frozen eggplant in the fridge, it's time to reheat it so that you can eat and enjoy it. Add any eggplant slices or cubes to a prepared baking sheet, and then reheat in the oven at 350 degrees for 8-10 minutes.
The pieces any shape they may be should be warmed all the way through. If not, just heat it for a while longer. Keep an eye on it so that it doesn't burn during this time.
Want to see a few of my favorite things that I am totally obsessed with?? Take a peek and see how many you might already have…twinsies!
Looking for more easy family recipes and tips? LIKE The Typical Mom Facebook page?
Then sign up for my free newsletter, and follow me on Pinterest! 😉
***** If you LOVED this recipe give it 5 Stars below and let everyone know what you thought about it. 😉