If you have tried our Easy Monkey Bread but looking for other canned biscuit breakfast recipes we have a ton of others here! Use Pillsbury refrigerated biscuits or cinnamon rolls to make sweet and savory dishes that are family friendly. Defrosted Rhodes rolls can be used too!
Refrigerated biscuit recipes for breakfast or dessert are easy to do! Skip the yeast and time to rise in a warm location. Instead just grab a few tubes of ready made refrigerated or frozen rolls and you can create all sorts of delicious dishes in no time. Follow along. (post may contain affiliate links)
When it comes to creating a great breakfast in a short amount of time, canned biscuit dough is a lifesaver. With its convenience and versatility, you can whip up a variety of mouthwatering breakfast dishes, like our Easy Fruit Cobbler with Biscuits that will leave your family begging for more.
Canned Biscuit Recipes
Here we will talk about things from the super simple like Air Fryer Biscuit Donuts to others using pie filling that go beyond YUM. These canned biscuit breakfast recipes require minimal effort but deliver maximum flavor. From savory casserole recipes to delightful biscuit bites, these dishes are sure to become your go-to breakfast favorites. So, let's get cooking!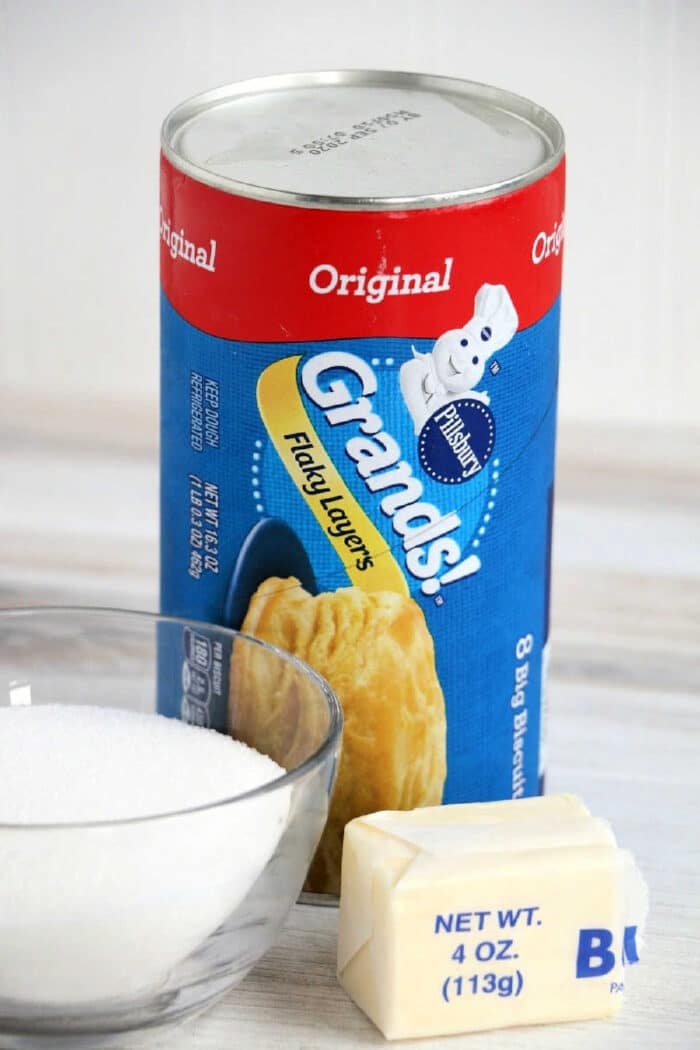 Recipes with Canned Biscuits
If you want something sweet in the morning, we get it. Easy Bear Claw Recipe with Refrigerated Biscuits is like homemade but way easier! Stuffed with cream cheese in the center, or jam, you can make them look like claws or just a square puff pastry style.
For a quick grab and go breakfast option, try making these delightful Ham and Cheese Biscuits bites. Flatten out canned biscuit dough and add your favorite breakfast toppings, such as cooked bacon, scrambled eggs, and shredded cheese. Fold the dough over the fillings and seal the edges, then bake until golden and puffy. These bite-sized delights are perfect for busy mornings or as a tasty addition to your brunch spread.
This hearty and satisfying breakfast casserole is the perfect way to start your day. To make it, you will quarter each one to make this Breakfast Bundt Cake you see below. In a separate bowl, whisk together eggs, milk, breakfast sausage or bacon, and cheese.
Then bake biscuit breakfast casserole in the oven in a bundt pan or baking dish until the eggs are set and the biscuits are golden brown. The result is a delicious and filling breakfast that will keep you energized all morning.
Breakfast Recipes with Canned Biscuits
Ok so the same thing can be done but with tubes of refrigerated or frozen cinnamon rolls. I use these for sweeter dishes since they already have the cinnamon and a bit of sweetness already in the dough to start with. I still dip in the butter, cinnamon and sugar to make our easy muffin tin Refrigerated Biscuit Monkey Bread Muffins because we want all the goooooo.
For our Pumpkin Monkey Bread Recipe I would choose this sweeter version as well. For stickier recipes like this one get ready for a little mess, and lots of paper towels for clean up. As far as pull apart breads go we have a lot of them. Most bake in about 30 minutes which is pretty quick and WAY better than store bought for sure.
Cinnamon Roll Rhodes Monkey Bread shows you how to use frozen or Canned Cinnamon Roll Recipes where the one needs to be defrosted first. Just for about 30 minutes so they can be sliced easily. Then you follow the same steps as all of the others. Throw into a countertop appliance to make air fryer sticky buns or the oven for larger yum.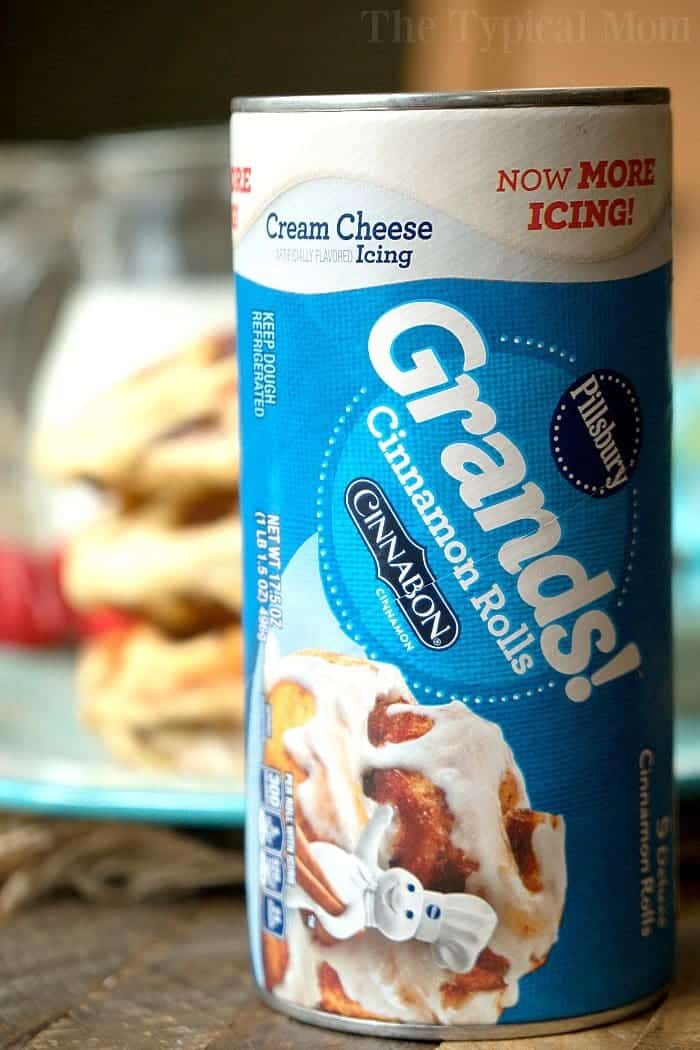 Pillsbury Flaky Layers Biscuits Recipes
If you love cheese, these Refrigerated Biscuit Bacon Cheese Pull Aparts are a must. Simply roll out the canned biscuit dough, sprinkle shredded cheese over it, and fold the dough over to seal the fillings inside. Bake until golden and the cheese is oozing. Serve with a side of scrambled eggs for a delightful morning treat, or do the same thing stuffed like chicken pot pie for lunch!
Another savory selection is our Refrigerated Biscuit Pull Apart Bread. Now you can keep this as is or let it cool completely in the pan and then slice. Fry some chicken, or use leftovers to make a chicken biscuit out of it for a protein packed meal to start the day. 😉
For a portable and delicious breakfast option, try making pigs in a blanket pull apart roll-ups. Flatten out the biscuit dough, place a cooked breakfast sausage link on top, and roll the dough around the sausage. Set on a sheet pan or in a ring pull apart style. Bake until the biscuits are golden and the sausages are cooked through. These roll-ups are not only tasty but also perfect for meal prepping and freezing for future busy mornings.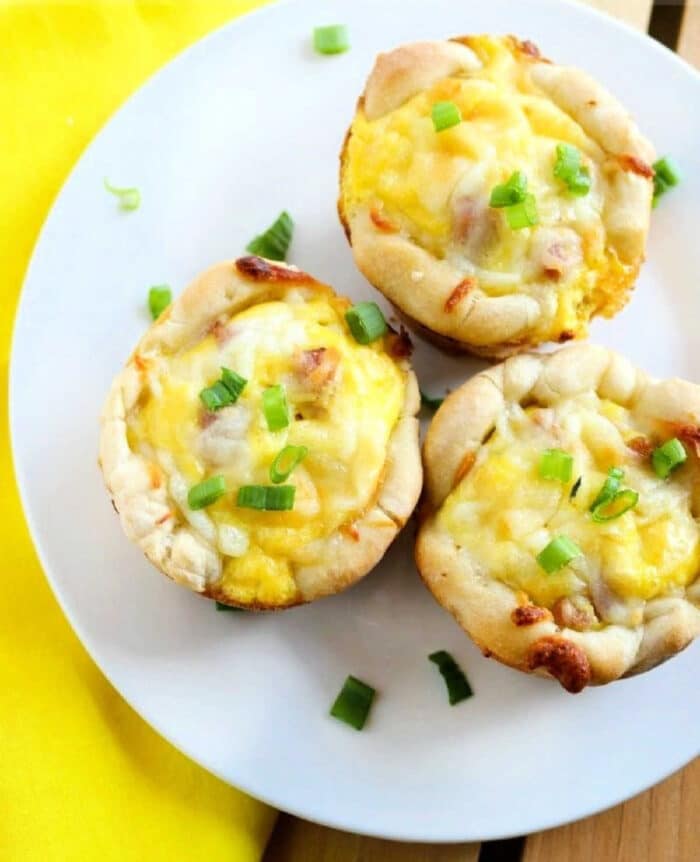 Recipes using Refrigerated Biscuits
With these seven canned biscuit breakfast recipes, you can transform simple refrigerated biscuit dough into a variety of delicious meals. From savory casserole dishes to sweet cream cheese bombs, these recipes offer something for everyone.
You can make something with the same ingredient for lunch and dinner too like making chicken soup with bits submerged to create chicken and biscuits! OR combine the goodness of chicken pot pie with the convenience of canned biscuit dough, this casserole is a winner. In a baking dish, mix cooked chicken, mixed vegetables, and a can of cream of chicken soup.
Top the mixture with quartered pieces of refrigerated biscuit dough and bake until the biscuits are golden and the filling is bubbling. This hearty breakfast casserole is sure to satisfy even the pickiest eaters. When you've made all these, move on to our Puff Pastry Breakfast Recipes!
How do you save leftover refrigerated biscuits?
The key is to keep them free from air so they don't dry out. To do this you can use a freezer bag or plastic wrap. Before you lay them in you should lightly spray what will be touching the outside with a bit of non stick spray. Keep air free, in the fridge for a few days until you are ready to use them again.
Want to see a few of my favorite things that I am totally obsessed with?? Take a peek and see how many you might already have…twinsies!
Looking for more easy family recipes and tips? LIKE The Typical Mom Facebook page?
Then sign up for my free newsletter, and follow me on Pinterest! 😉
***** If you LOVED this recipe give it 5 Stars below and let everyone know what you thought about it. 😉
Canned Biscuit Breakfast Recipes
Great canned biscuit breakfast recipes you can make are here. From savory egg and cheese cups to monkey bread, bear claws and more!
Instructions
Spray muffin pan with non stick spray, separate rolls and flatten each piece in your palm. Push each flattened roll into each muffin hole.

Beat together with a fork the egg and milk, add a pinch of salt and pepper now if desired. Pour the egg mixture half way full into the pizza dough cup you've created. (will fill about 6, if you have 8 you may want to add 1 more egg into the mix)

Add cubes of ham, bacon, or any additional toppings in at this time including any cheese(s) you want. Bake at 425 degrees for about 12-15 minutes or until egg is set.

Use a spoon to scoop each one out of the hole.
Nutrition Facts
Canned Biscuit Breakfast Recipes
Amount Per Serving (1 oz)
Calories 373
Calories from Fat 171
% Daily Value*
Fat 19g29%
Cholesterol 72mg24%
Sodium 969mg42%
Potassium 258mg7%
Carbohydrates 38g13%
Protein 12g24%
Vitamin A 161IU3%
Calcium 104mg10%
Iron 3mg17%
* Percent Daily Values are based on a 2000 calorie diet.