How to make easy puff pastry breakfast recipes of all kinds is here! From savory egg dishes, sandwiches with ham, to our sweet Puff Pastry Strudel, there are a ton to choose from. Just defrost, roll out and slice into any shape you want to make the perfect pretty brunch your guests will love.
Breakfast, often hailed as the most important meal of the day, sets the tone for your entire day. What better way to start your morning on a delightful note than with flaky, buttery puff pastry breakfast?! We made a bunch of Canned Biscuit Breakfast Recipes but this base is light with airy layers. Serves as a versatile canvas for a ton of sweet and savory meals. (post may contain affiliate links present)
Puff Pastry Danish Recipe
Let's begin with a timeless favorite, the classic Danish with puff pastry. With a tender and crispy exterior, these pastries can be filled with an array of delectable fillings, from sweet to savory. For a sweet twist, try making a cream cheese danish, filled fruit preserves, or a mixture of cinnamon and brown sugar.
On the savory side, opt for combinations like spinach and feta, or ham and cheese. The versatility of puff pastry makes these Danishes a crowd pleaser for breakfast gatherings. Here are a few popular fillings;
Spread a layer of a thick cream cheese frosting type of filling but mixed with sugar and vanilla onto the pastry base. Top with your favorite fresh fruits too.
Place a dollop of almond paste in the center of the pastry square to make something like our easy bear claws.
Toss thinly sliced apples with cinnamon, brown sugar, and a hint of lemon juice. Arrange the apple slices on the pastry and fold the edges inward to encase the filling.
Spread a layer of Nutella onto the pastry and place sliced bananas over the chocolate-hazelnut goodness. Fold the edges of the pastry to hold the filling securely. You can make them small like you see above, or a large sheet you can slice like below filled with canned pie filling!
Puff Pastry Breakfast Sandwiches
Say goodbye to the ordinary start to the day and instead make a puff pastry sandwich and welcome the a breakfast sandwich into your life. Lightly bake squares of this thawed dough and then slice them open to create the ultimate vessel for your favorite fillings. Bake or air fry to a golden brown and then enjoy!
Here with our Sweet Potato Dumplings it is created with a sweet sauce baked in the oven. You can make homemade dough or use thin sheets of this instead.
Layer scrambled eggs seasoned with salt and pepper, crispy bacon, and melted cheddar for a classic indulgence. Explore Mediterranean flavors with scrambled egg yolks, sun-dried tomatoes, spinach, and feta. These sandwiches are not only delicious but also portable, making them an excellent option for busy mornings.
Puff Pastry Tarts
Puff pastry tarts are a visually stunning way to showcase a variety of breakfast ingredients. Our favorite creation has been our Peach Puff Pastry with just 3 ingredients! For a gourmet touch, consider creating a smoked salmon and cream cheese tart, garnished with fresh dill and capers.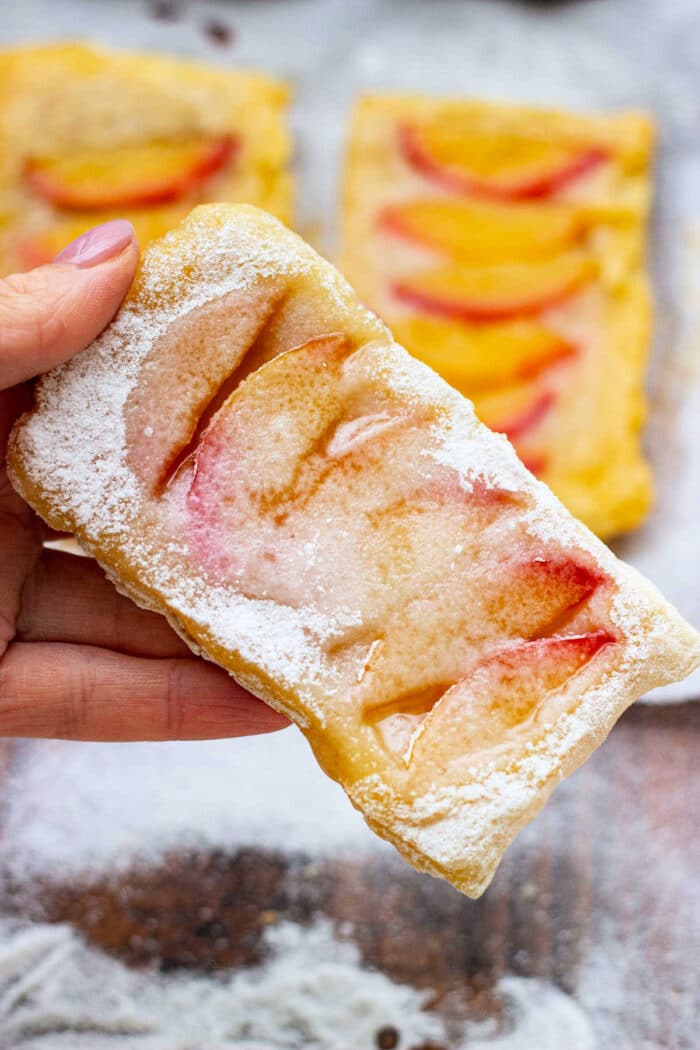 Puff Pastry Cinnamon Rolls
These are a beloved breakfast treat, and making cinnamon rolls with puff pastry to create them adds an extra layer of flakiness to the experience. Roll out, spread a generous layer of cinnamon-sugar mixture, and then roll it up tightly before slicing into rounds. As they bake, whisk together 1 cup powdered sugar with a bit of milk to create a glaze, or drizzle top with melted cream cheese filling.
Puff Pastry pizza can be fun for lunch and dinner? Transform your breakfast experience with puff pastry breakfast pizzas that allow you to get creative with toppings. Spread a layer of tomato sauce or pesto on the pastry, sprinkle on some shredded mozzarella, and then top with ingredients like cooked sausage, scrambled eggs, sautéed mushrooms, and bell peppers.
A quick bake in the oven on a baking sheet results in a breakfast pizza that's brimming with flavors and textures.
Puff Pastry Turnovers
Puff pastry turnovers are essentially handheld pockets of deliciousness, like our Blueberry Hand Pies. They can be filled with a range of ingredients to suit your preferences.
Try a combination of sweets like our air fryer apple turnovers, cinnamon, and caramel for a sweet treat reminiscent of apple pie. For a savory option, experiment with fillings like spinach and ricotta or spiced minced meat. The beauty of turnovers lies in their versatility, making them a fantastic on-the-go breakfast option.
But wait…..we have another flavor of those too. During the summertime you can make our Peach Hand Pies with frozen fruit, or canned filling year round.
Did you know you could make pigs in a blanket with puff pastry too?? Instead of crescent rolls or homemade dough you can use this, thawed and cut into strips. Then wrap your mini or regular sized weiners and bake on a sheet until browned and all puffy! A fun way to tweak this classic dish.
Instead of using a regular pie crust you could use these sheets instead too. You will want to line the pan and poke holes with a fork to release the air. Then pour in your salmon quiche filling and bake!
Puff Pastry Breakfast Pinwheels
Pinwheels with puff pastry make for delightful savory breakfast treats as well. Spread a layer of your favorite jam or Nutella on a sheet of puff pastry, then roll it up tightly. Slice the rolled pastry into rounds and bake until they puff up and turn golden. The combination of the crisp exterior and the gooey interior is a true delight for the taste buds.
How to Use Puff Pastry
Using puff pastry is a wonderful way to create a wide variety of delicious sweet and savory dishes, from appetizers and main courses to desserts. Puff pastry is known for its flaky, buttery layers that puff up when baked, creating a light and airy texture. Here's a guide on how to use and prepare puff pastry:
If you're using frozen puff pastry, it needs to be properly thawed before use. Follow the package instructions, but generally, you can thaw it in the refrigerator overnight or at room temperature for about 30-40 minutes.

the same goes for all of our recipes using frozen rolls, you need it to be pliable first

Once sheets are thawed, you can roll it out on a lightly floured surface to the desired thickness. Use a rolling pin to gently roll it.
Depending on your recipe, cut the puff pastry into the shapes and sizes required. You can cut it into squares, rectangles, circles, or even create decorative shapes.
Puffed pastry is incredibly versatile and can be used for both sweet and savory dishes. Fillings are numerous but cream cheese mixture for sweet is most popular. Breakfast puff breakfast pastry would work well with scrambled eggs and precooked meats inside.

Place the chosen filling in the center of the pastry, leaving some space around the edges for sealing.

Fold or layer the pastry over the filling and press the edges together to seal them. You can use a fork to crimp the edges for a decorative touch. Brush the exposed pastry with an egg wash whisked in a small bowl.
How to Bake Puff Pastry
Preheat your oven to the temperature specified in your recipe or on the puff pastry package. Bake the prepared pastry in the preheated oven until it's puffed and golden brown. This typically takes around 15 minutes to 25 minutes. Baking time can vary based on the size of the pastry and the oven temperature.
Allow to cool slightly before serving. The cooling process helps the layers to set and become crisp. Once cooled, you can serve the puff pastry dish as a delightful treat, or you can even use it to make a number of our muffin tin recipes too to serve throughout the day!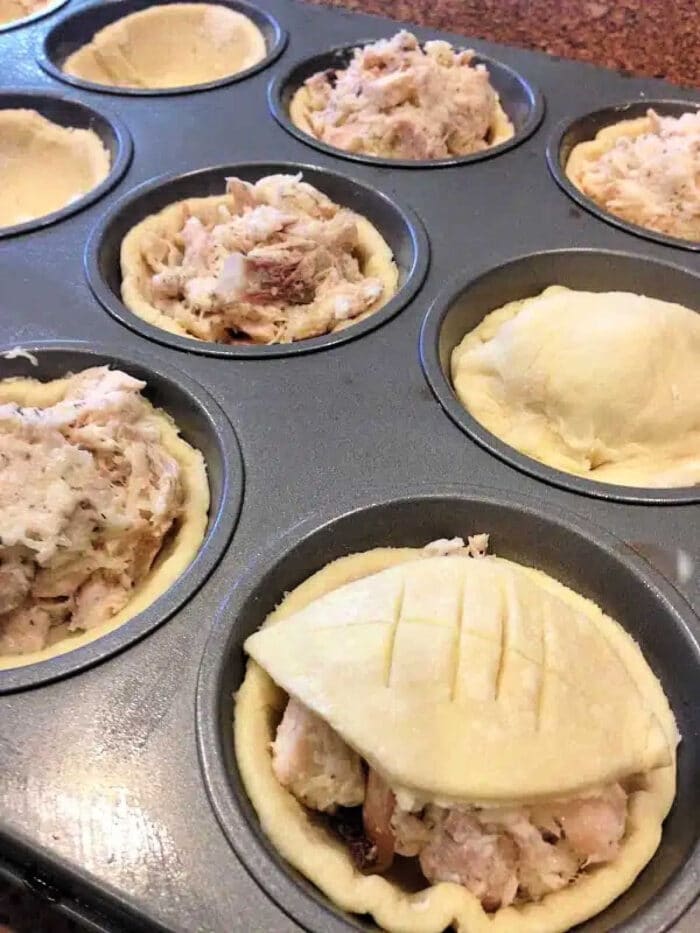 Want to see a few of my favorite things that I am totally obsessed with?? Take a peek and see how many you might already have…twinsies!
Looking for more easy family recipes and tips? LIKE The Typical Mom Facebook page?
Then sign up for my free newsletter, and follow me on Pinterest! 😉
***** If you LOVED this recipe give it 5 Stars below and let everyone know what you thought about it. 😉
Puff Pastry Breakfast Recipes
Instructions
Lay 2 pieces of thawed puff pastry on a cutting board. Then roll gently with a rolling pin just to get the creases out of each one. Use a pizza cutter or sharp knife to cut the puff pastry sheet into 4 even pieces per sheet = 8 squares.

Preheat oven to 375 degrees F. To make the cream cheese filling (alternatively could use jarred lemon curd) separate egg and keep egg whites in another bowl to use later.

Add egg yolk, cream cheese, vanilla, lemon juice into a bowl and mix with a mixer until smooth. Set aside.

Fold each puff pastry squares edges inward to create more of a circle shape with a center you can fill, and won't leak out. Place on baking sheet lined with parchment paper.

Whisk the egg white in the bowl and brush over the top of each pastry square. Then spoon in your cream cheese filling, about 2 tbsp for each one. You could add slices of canned fruit on top as well.

Bake for 15 minutes on the middle rack in your oven. Then take out, rotate the pan around for even browning and bake for another 12-15 minutes or until outsides are golden brown.

Remove and let rest for 10 minutes, if you want to add glaze make this now and drizzle over the top of each one, serve.
Nutrition Facts
Puff Pastry Breakfast Recipes
Amount Per Serving (2 oz)
Calories 1051
Calories from Fat 612
% Daily Value*
Fat 68g105%
Cholesterol 100mg33%
Sodium 504mg22%
Potassium 186mg5%
Carbohydrates 98g33%
Protein 14g28%
Vitamin A 840IU17%
Vitamin C 1mg1%
Calcium 88mg9%
Iron 3mg17%
* Percent Daily Values are based on a 2000 calorie diet.