Here is an easy chicken pot pie puff pastry recipe! It's a great way to use rotisserie chicken or leftover turkey after the holidays are over.
You've got to try these chicken pot pie puff pastry bites made in a muffin tin!! With both of us working it is hard to think of what to do for dinner. Special thanks goes out to Pepperidge Farm for sponsoring this post and allowing me to share with you some of my favorite recipes with you. (originally published 6/15)
We call these our chicken pot pie puff pastry bites.
My little 6 year old and my husband's friends who came over to watch the game and they both raved about these! They're a great hearty appetizer using leftover turkey for sure. Use rotisserie chicken too for some finger foods year round.
Either way this is delicious.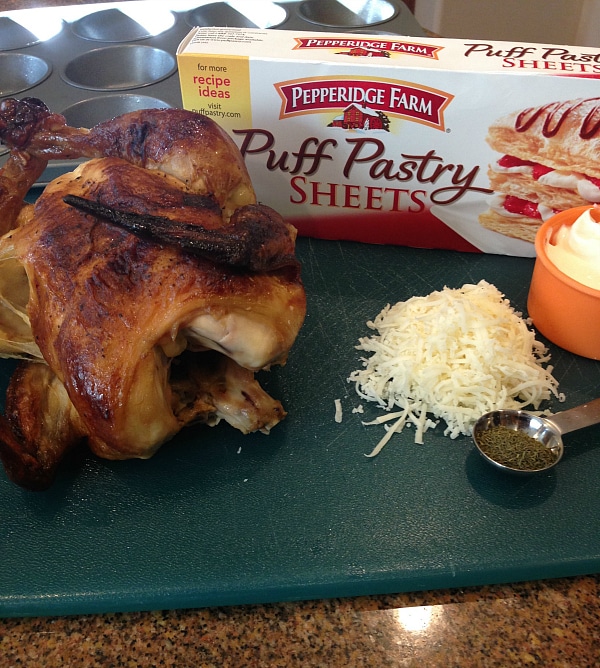 Here are all the ingredients you will need for chicken pot pie muffins. Super simple right??!! This is why Pepperidge Farm Puff Pastry is my "go to" when it comes to easy and really yummy meals! It is super easy to just defrost, cut, spoon in your ingredients, and they puff up looking pretty in the oven!
Just grab a chicken (I use rotisserie a lot because it is already cooked and ready to create)
Add about a cup of mozzerella or Swiss cheese (whichever you prefer, I grab whatever is on sale or I already have in the fridge)
Sppon in 1/2 cup of mayonnaise
I like some dill and salt and pepper in the mix too
Just take the chicken off the bone and cut it up into bite size pieces! Add the mayonnaise, cheese, and spices together and you are on to your next step!
You can find it in your local grocery store's freezer aisle for under $5. It's really reasonable, you know how I love inexpensive meal ideas. Remember you need a little bit of time for it to defrost first.
It takes about 30 minutes once you take it out of the freezer to be just right. Begin cutting it into just the right shape for the muffin pan cups once it's ready.
I had some mushrooms in the fridge so I decided to add these to the mixture this time too. I have used dried cranberries and/or walnuts at times too! This is a great dinnertime meal or after Thanksgiving when you have all that extra turkey. Just substitute the chicken for leftover turkey and you have yourself a great meal.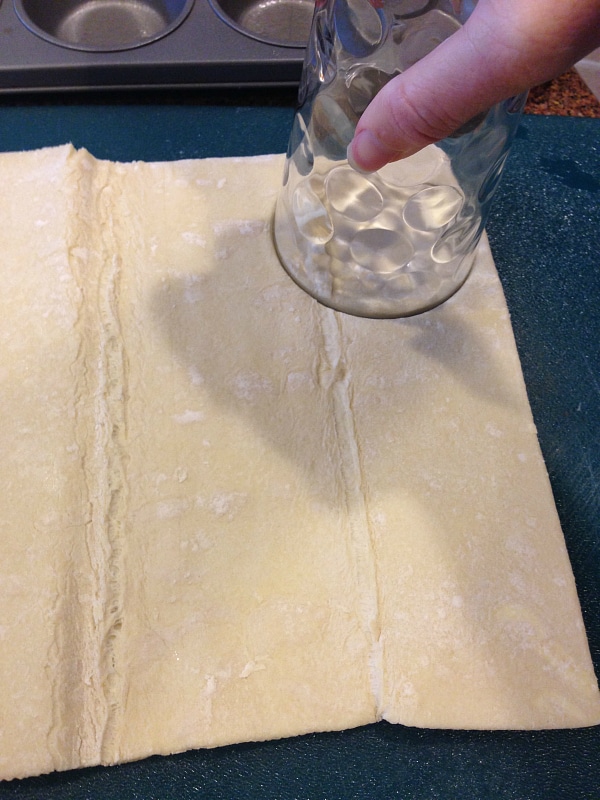 Now it is time to form our flaky "pies"! Just use a drinking glass to gently press through the dough Take the circle out and place on the bottom of each muffin cup in the pan.
There will be enough for all 12 spots using both sheets in the package. Spray the cups inside your muffin pan with non stick so they come out easily.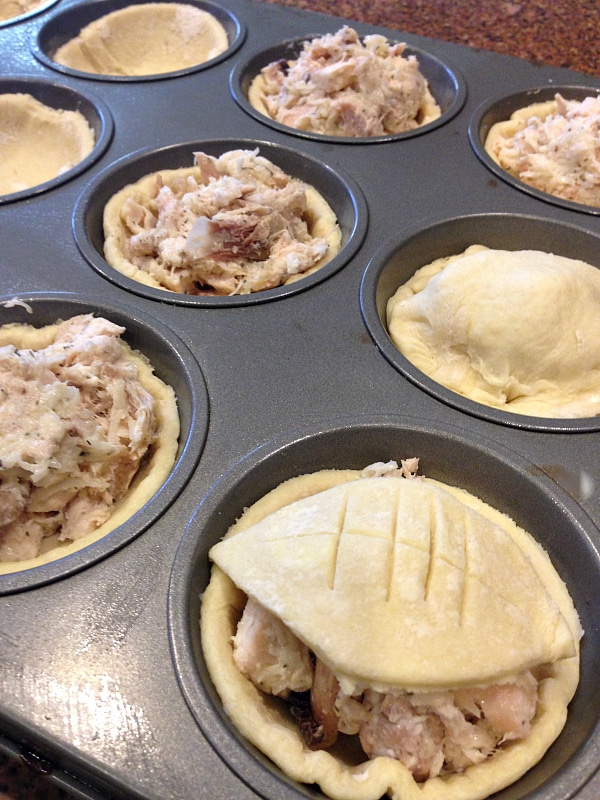 You can see here how the dough comes up slightly on the sides. Once it cooks it will puff up to create a cup that holds the chicken and you can hold as well.
I added some football shaped tops to some and covered others completely using the dough that was left. It depends on the occasion as to which way I do it. Leaving it open entirely is good too.
Bake at 400 degrees for about 12 minutes. I keep an eye on them and take them out when they are golden brown on top and they slide right out!
Once you've made this you can make this strudel pastry too and check out our other fun muffin tin recipes.
Chicken Pot Pie Puff Pastry
Here is an easy chicken pot pie puff pastry muffin tin dinner idea! It's a great way to use rotisserie chicken or leftover ham or turkey after the holidays are over. Packed with cheese and meat surrounded by flaky puff pastry these chicken bites make for a fun dinner or appetizer during Super Bowl! #chicken

Ingredients
3

c

chicken

cooked, diced into bite size pieces

1/2

c

mayonnaise

or more if you want it "wetter"

1

c

cheese

Swiss or mozzarella shredded is best

2

sheets

puff pastry

to make 12 total

1/2

tsp

dill

my spice of choice

Salt and Pepper

add a pinch of each, and/or any other spices you like
Instructions
Take puff pastry out of freezer and put on counter for about 30 minutes to defrost to room temperature, then unfold and lay flat.

Use a glass to push down and make circles out of it, make as many as you'd like to make, I make 12.

Spray muffin pan with non stick spray and push puff pastry circles into each hole.

Mix ingredients listed above in a bowl well and spoon into each muffin tin hole until all are filled.

You can add another circle of puff pastry on top if you want or leave them open.

Bake at 400 degrees for 12 minutes or until golden brown on the top.
Nutrition Facts
Chicken Pot Pie Puff Pastry
Amount Per Serving (4 oz)
Calories 580
Calories from Fat 396
% Daily Value*
Fat 44g68%
Cholesterol 52mg17%
Sodium 358mg16%
Potassium 131mg4%
Carbohydrates 27g9%
Protein 16g32%
Vitamin A 210IU4%
Vitamin C 0.7mg1%
Calcium 113mg11%
Iron 2.1mg12%
* Percent Daily Values are based on a 2000 calorie diet.
You should try our meatball muffin tin recipe and chicken casserole too.