Instant Pot butter beef is keto friendly with all the favorite Indian flavors you love. If you love butter chicken this will be your new favorite dinner.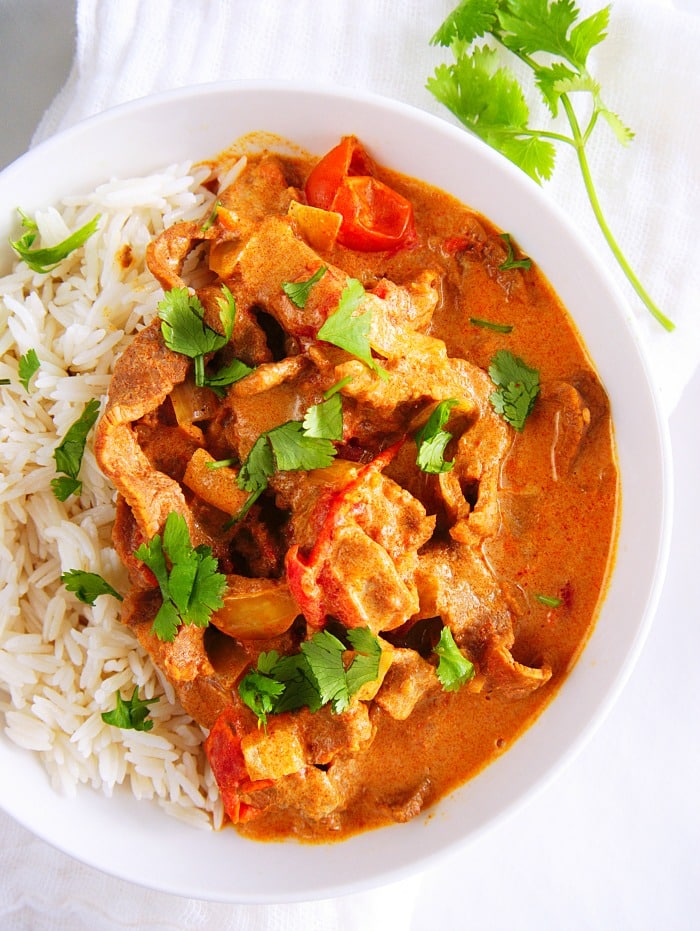 This Instant Pot butter beef must be on your list for this week. Packed with flavor and served on top a bed of rice, it's one of our favorite Indian recipes. Find this and over 100 more Instant Pot recipes here on The Typical Mom blog. (originally published 10/19, affiliate links present)
Have you tried butter and beef together??
How about with some curry powder?
Let's start with a few basic tips:
For reference, this is the pressure cooker I have and use for all recipe creations.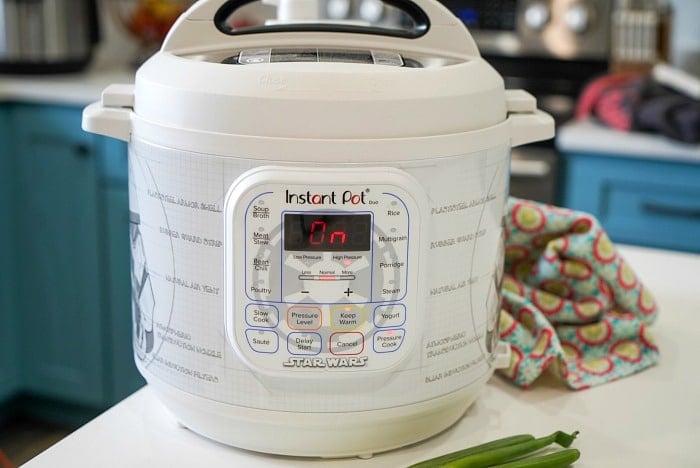 Maybe you've tried Instant Pot butter chicken and love it. Well, we did so then we tried making butter beef. It was just as delicious!
If you're ready for tender thin cuts of beef tonight I'd give this a try.
Use any type of steak you wish and grab these other items from the store.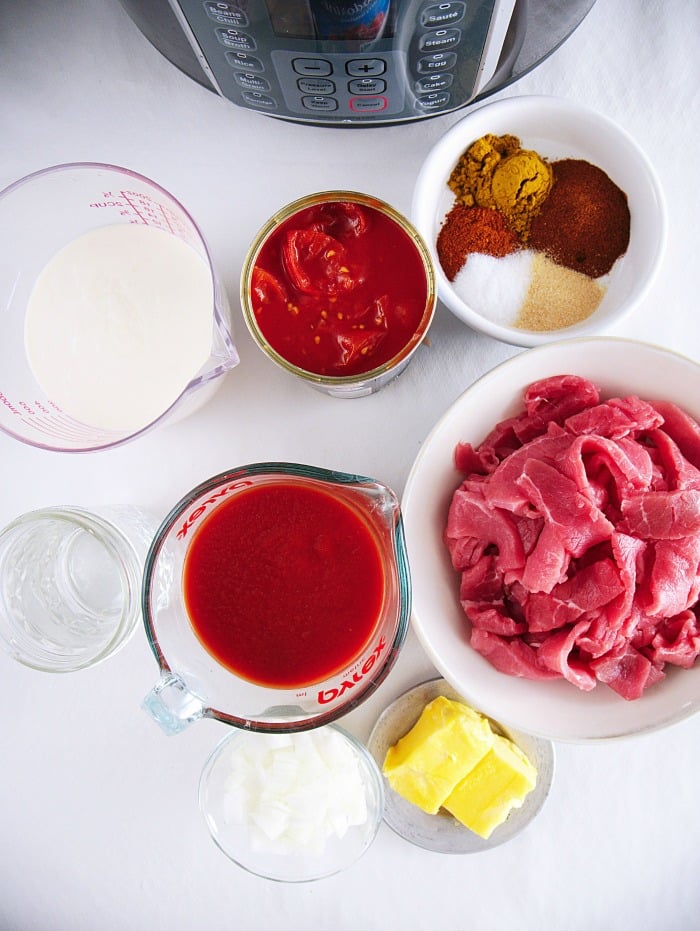 You will need the following items for this quick and easy meal:
Electric pressure cooker using high pressure

If you have an Instant Pot I HIGHLY suggest getting this non stick pot

Beef cut into thin strips

could use sirloin steak, chuck roast (not my favorite), stew meat, beef tips

Butter of course
Onions go in everything around here. Sliced is great, diced will kinda' dissolve but will lend flavor you'll want.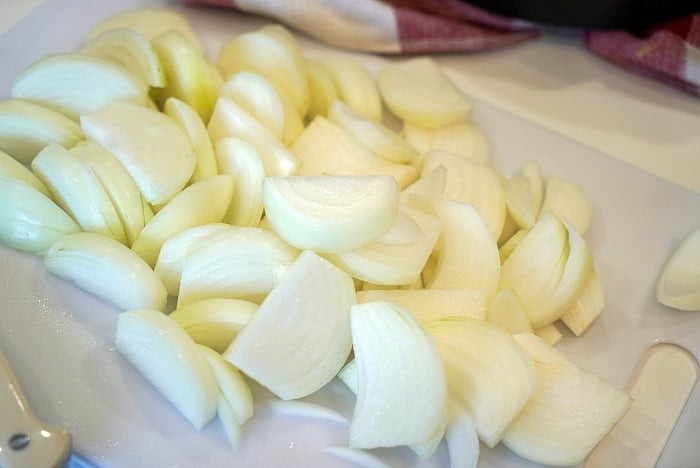 Tomato sauce
Vegetable or beef broth

1 cup of water can be used but won't be as flavorful

Heavy cream
1/2 cup fresh cilantro to garnish is great
Seasonings
Granulated garlic – different from garlic powder, but use that if you must
Salt

black pepper optional, to taste

Chili powder
What is the beef and butter challenge?
The Beef and Butter Fast challenge was designed to help you break a weight loss stall on the Ketogenic Diet.
It's really hard to overeat when you stick to this plan. The fat intake you consume will make you feel really full!
What is the butter and beef fast?
This has been known to be done when people are following the keto diet. It's been done by some because it is very high fat, moderate protein, and extremely low in carbs. For 4 days they consume nothing but ground beef, butter and butter coffee.
I am personally not a fan of extreme dieting methods of any kind and wouldn't recommend this. It is "a thing" though if you're curious about the concept.
The cook time is very short for this Instant Pot beef recipe. As with most Instant Pot steak recipes you don't want to cook it too long or the meat will not be as tender as you'd like.
Can you overcook meat in a pressure cooker?
Unfortunately once you overcook a piece of meat in the pressure cooker there's no going back.
The same piece of beef can have different pressure cooking times based on how it is sliced.
Instant Pot Butter Beef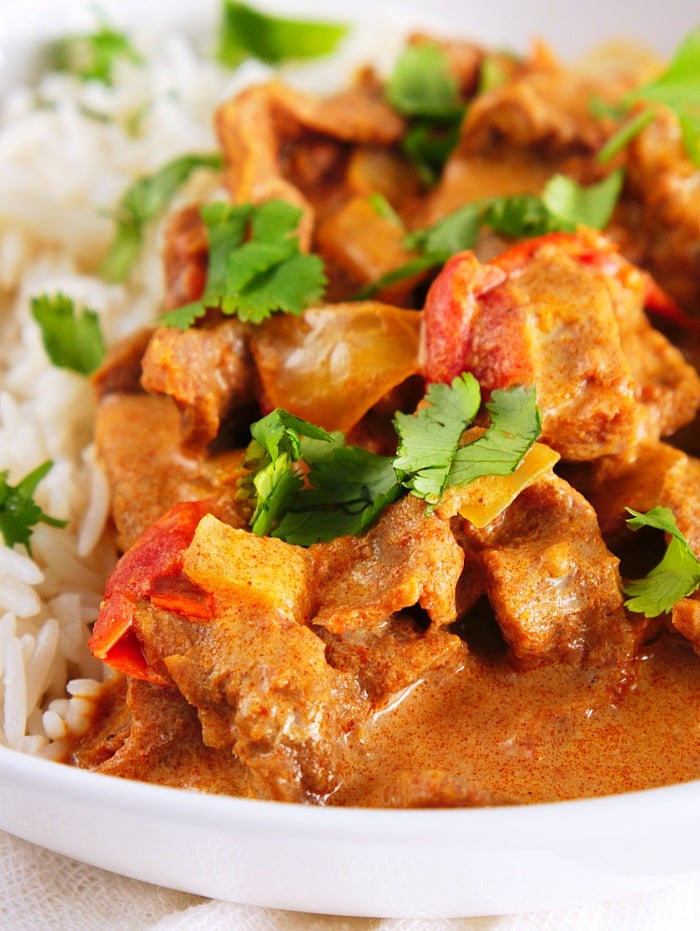 Do you cover meat with liquid in a pressure cooker?
Yes and no. When you use a pressure cooker you need to have enough liquid in the pot for it to reach pressure. If not the food won't cook properly.
The rule of liquids in pressure cooking is to always add at least 1 cup unless the recipe states otherwise. The liquid will help create enough steam to cook the meal, it doesn't have to be completely covered though.
Another trick to getting tender beef in an Instant Pot is to allow the pressure to naturally release for a bit, then let it out.
A different method than if you made this in a Crock pot cooking all day, this machine needs time to gradually decompress if you will.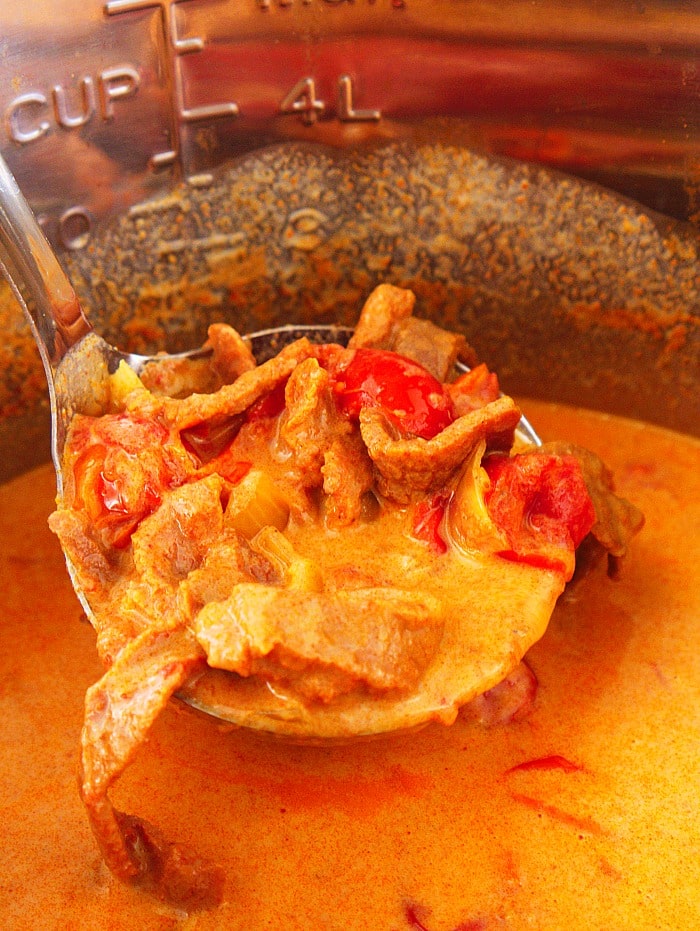 Can you cook ground beef in butter?
I suppose you could. For this Instant Pot butter beef recipe it would definitely taste different, with a different texture entirely.
In general, if you're looking to get a nice brown color on a steak, butter in the pan will help.
If the ground beef is very lean, adding a small amount of butter or cooking oil to the pan is necessary.

If not, really lean ground beef will burn and stick before the center of your beef is even done.
Our steak in the Instant Pot is a quick and easy meal, you can make this in your Ninja Foodi too.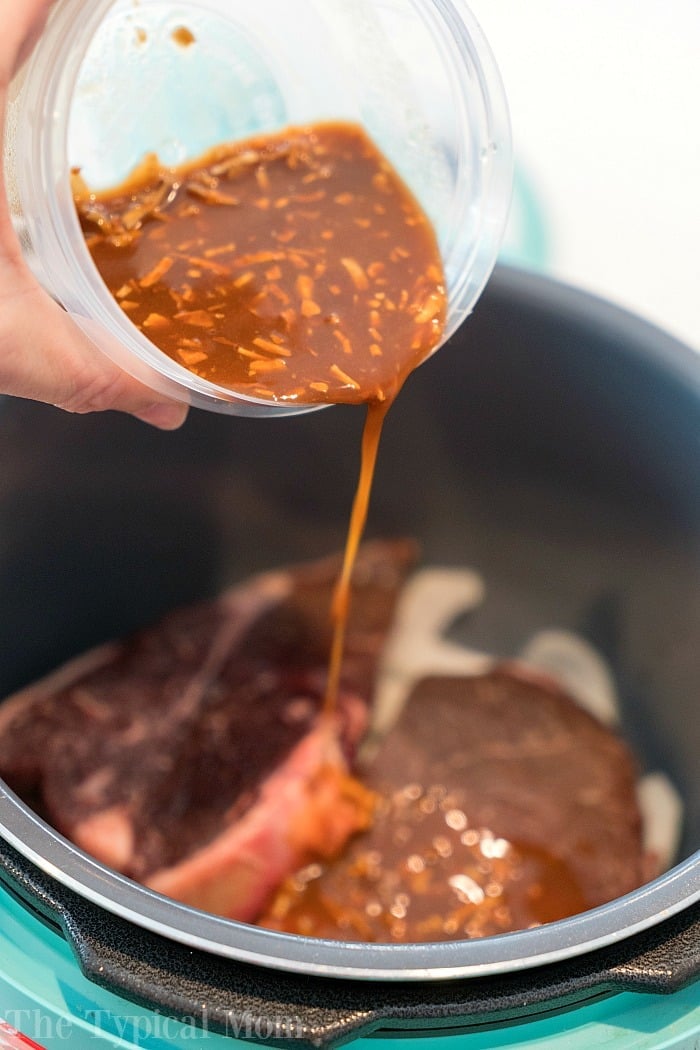 Is it better to cook steak in butter or oil?
Depends on your preference really, but butter is always best in my opinion. Add 1 tbsp. salted butter and 2 tbsp olive oil into your pot and watch for the butter starting to brown.
Place the steak in and cook for 4-6 minutes flipping halfway.
This is if you just want to make Instant Pot steak by itself, or if you want a sear on the outside before adding other ingredients.
This step is optional for butter beef.
Typically you want really tender pieces that fall apart in your mouth so putting it on saute to do this step will create a crustier outside. Most prefer not to do this.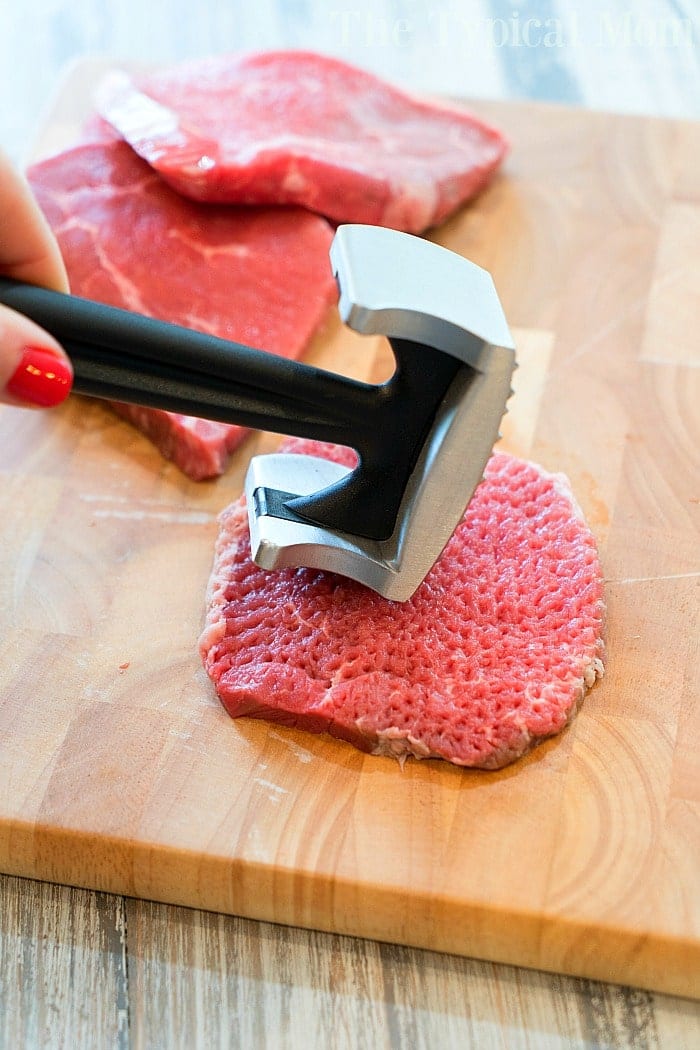 How do you make steak tender?
Cutting it into thin strips as directed will do this well. Here are a few other methods:
Physically tenderize the meat using a meat mallet

Pound out before slicing steak for really really tender beef

Use a marinade
Let meat come up to room temperature before cooking
Cook it in a pressure cooker with a natural release
Do not overcook it
Allow your meat to rest
Slice against the grain once you're ready to eat
If you want to make another Indian recipe that's similar to this, try our slow cooker butter chicken. We have Instant Pot beef roast recipes here too.
Want to see a few of my favorite things that I am totally obsessed with or visit my Etsy shop?? Take a peek and see how many you might already have…twinsies!
Looking for more easy family recipes and tips? LIKE The Typical Mom Facebook page?
Then sign up for my free newsletter, and follow me on Pinterest! 😉
***** If you LOVED this recipe give it 5 Stars below and let everyone know what you thought about it. 😉
What should you serve with this butter beef recipe?
Time needed: 15 minutes.
Instant Pot Butter Beef
Add ingredients

Put all ingredients EXCEPT your heavy cream and cilantro into your pot, stir together.

Cook

Set to high pressure for 5 minutes, then naturally release steam for 10 minutes.

Thicken

Release rest of steam, open lid and pour in heavy cream. Stir so it warms with other ingredients. Serve on top of rice garnished with chopped cilantro.
Instant Pot Butter Beef
Instructions
Put all ingredients EXCEPT your heavy cream and cilantro into your pot, stir together.

Set to high pressure for 5 minutes, then naturally release steam for 10 minutes.

Release rest of steam, open lid and pour in heavy cream. Stir so it warms with other ingredients.

Serve on top of rice garnished with chopped cilantro.
Nutrition Facts
Instant Pot Butter Beef
Amount Per Serving (3 oz)
Calories 545.75
Calories from Fat 441
% Daily Value*
Fat 49g75%
Cholesterol 164.96mg55%
Sodium 956mg42%
Potassium 517.57mg15%
Carbohydrates 5.65g2%
Protein 21.29g43%
Vitamin A 1866.66IU37%
Vitamin C 3.77mg5%
Calcium 59.64mg6%
Iron 2.92mg16%
* Percent Daily Values are based on a 2000 calorie diet.