Here are lots of free printable baby shower games to use at your next party!! The Price is Right baby shower game, what's in your purse, baby shower bingo and many more that are free to print and perfect for all ages! Get ready to laugh because these will bring out the giggles in everyone at your baby shower.
I'm all about fun, and I'm all about free too! I love free printable baby shower games when planning a party or get together. I always start with what I can get for free, then what I can find at the dollar store, and then go elsewhere for the remaining party items I need. Grab what you like and then check out the dollar store baby shower decor ideas I have here too. (originally published 4/16, affiliate links present)
Baby Shower Games Free Printable
Yes you can handwrite all of these games out yourself but seriously who has time for that??!! Just set your printer to the number of guests you'll have at the baby shower and print each one for free, that should help get the planning started.
I have several below that are free to download. Before you spend money take advantage of them and then spend a bit to fill in the gaps. Between all of them you should be totally set for some hilarious baby shower game fun!
The first one is baby shower bingo which is fun to play, hilarious, and comes with markers too so you don't have to scrounge around for pennies or candies to use. I provide several different versions of this so that not everyone wins at the same time and you can have several people playing. It is hilarious and very different so it is sure to get a laugh at your party and the spaces are just so true when you're a mom.
Whoever gets across or vertical along one row wins a prize! You can make them silly prizes, candy, or candles work well too.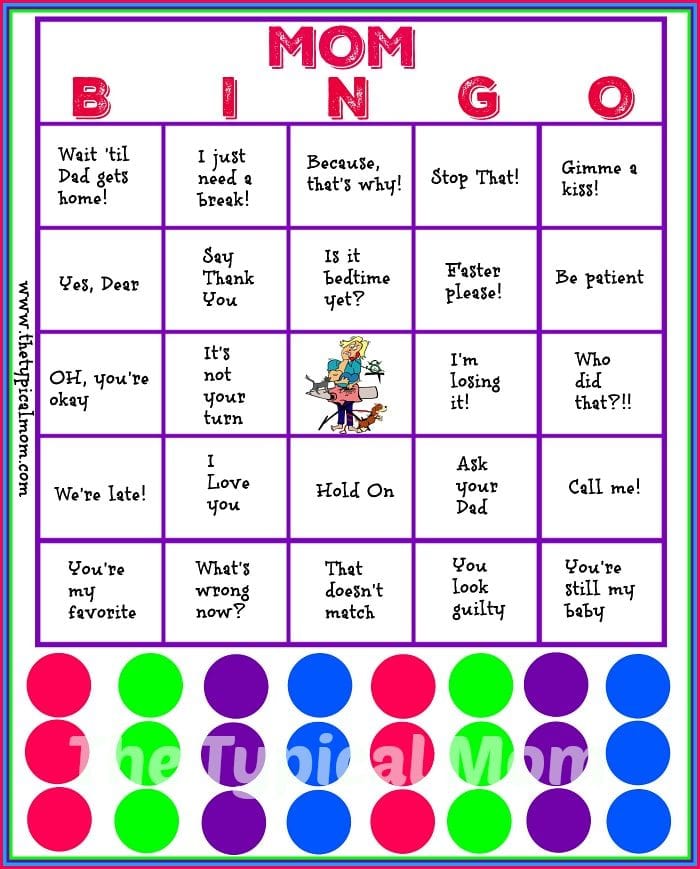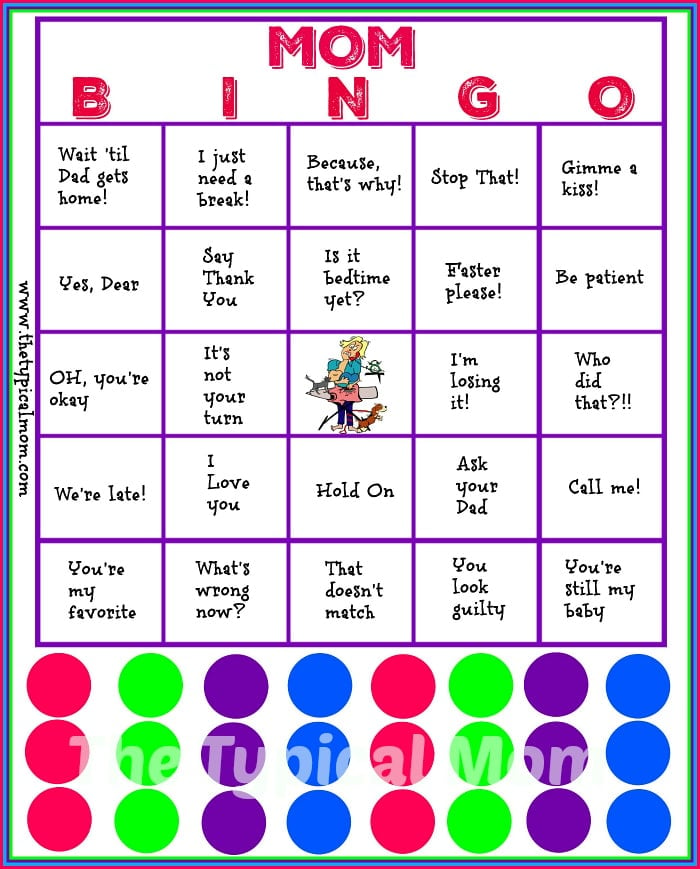 Printable baby shower games
The next free printable baby shower game that is fun is called Whats in your purse? This one is really easy and all you need are a few pens or pencils to mark off the points they will get…the person with the most points at the end wins. And they should have their own pen to use since they will have to pull out their purse for this baby shower game anyway.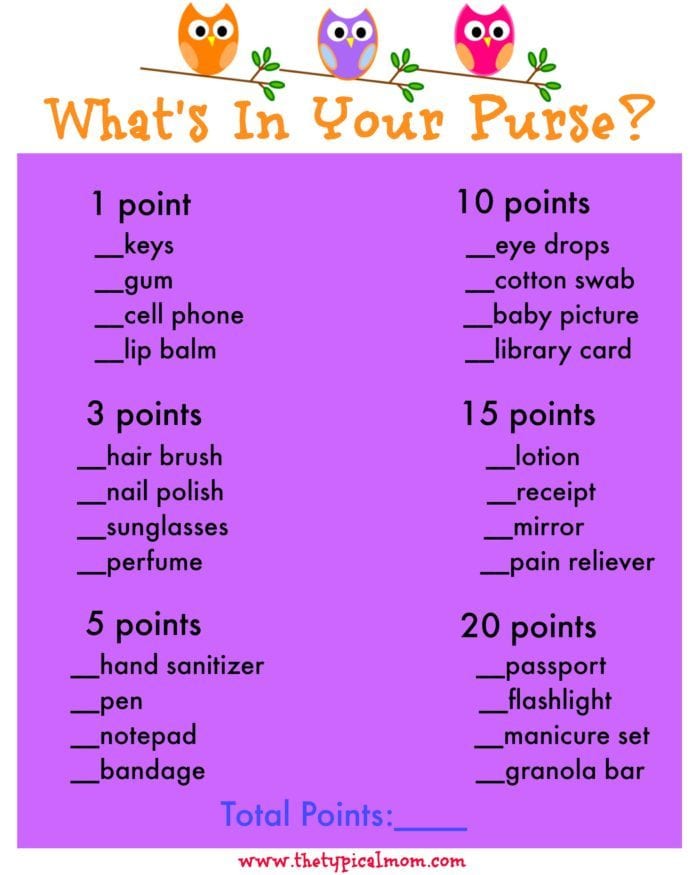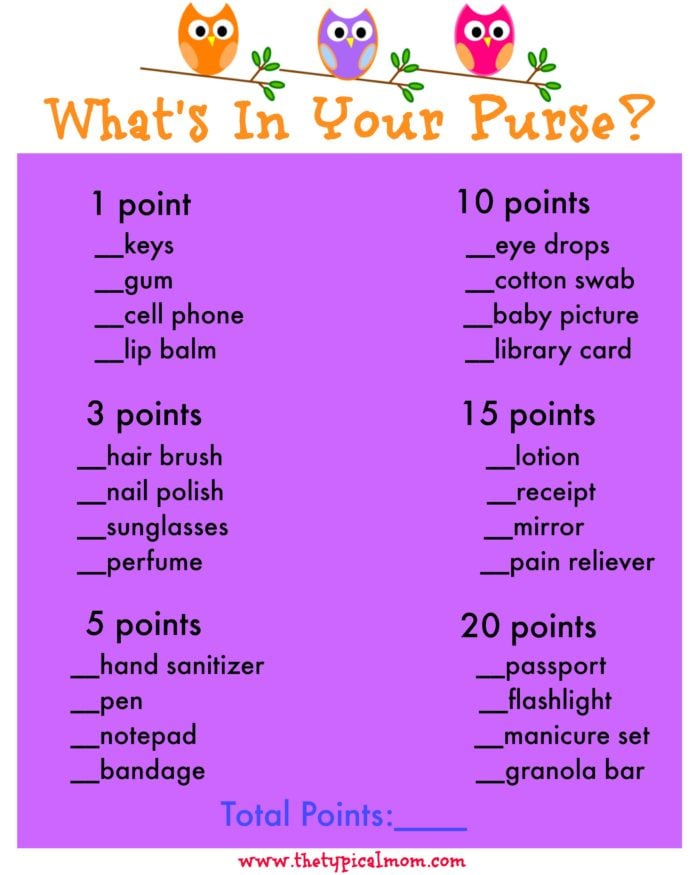 The Price is Right Baby Shower Game Free Printable
Another one that is fun is a version of a popular game show and we will call it The Price is Right baby shower game!! You can buy these items and have them there to look at or just use the sheet, they are general baby items and everyone will guess what they cost when you went to the store.
Just go to the store and write down the price of each item, I would have them guess the not on sale price of each one.

One of our favorite free printable baby shower games because it's hilarious to play.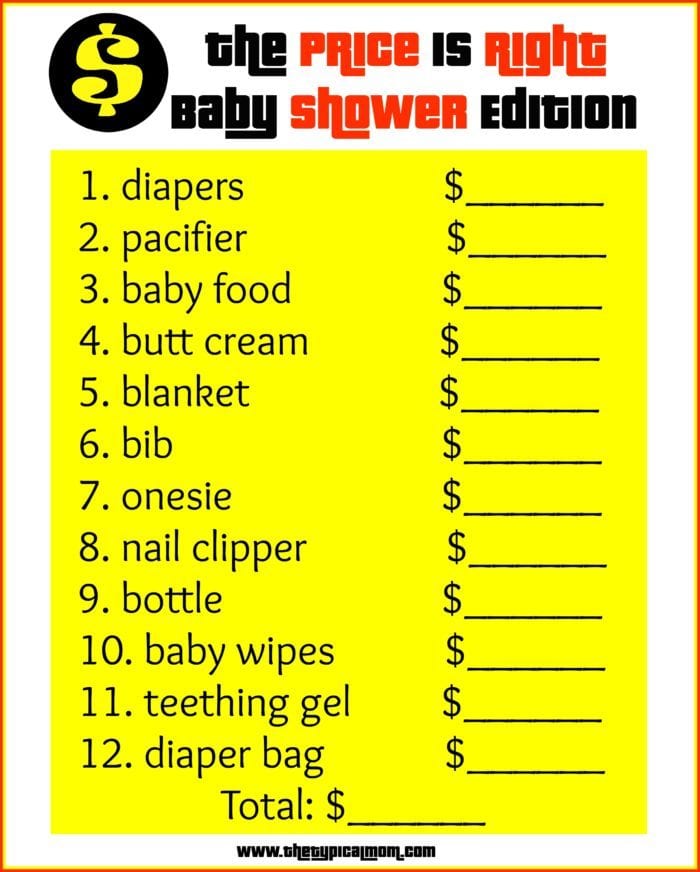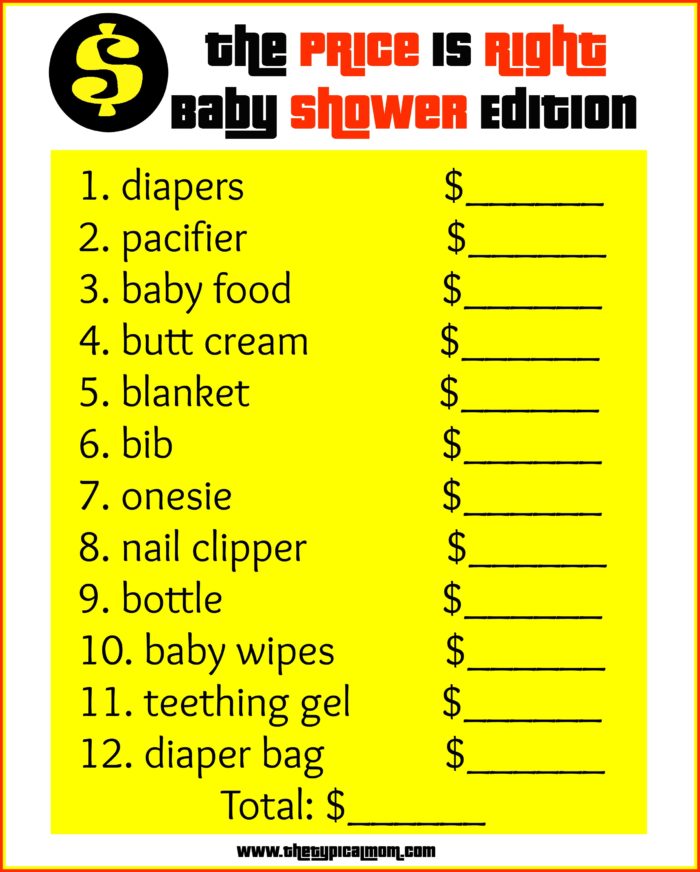 Free Baby Shower Games Black and White
You can either choose to print without the color or as is. It doesn't really make a huge difference as far as the fun everyone will have. If you use HP Ink like we do it doesn't matter, they just consider a page and page which I like.
Here is a free printable baby word search printable to use too…simple but fun! Give everyone a highlighter and time it to see who can find the most words in let's say a minute or so and that is your winner.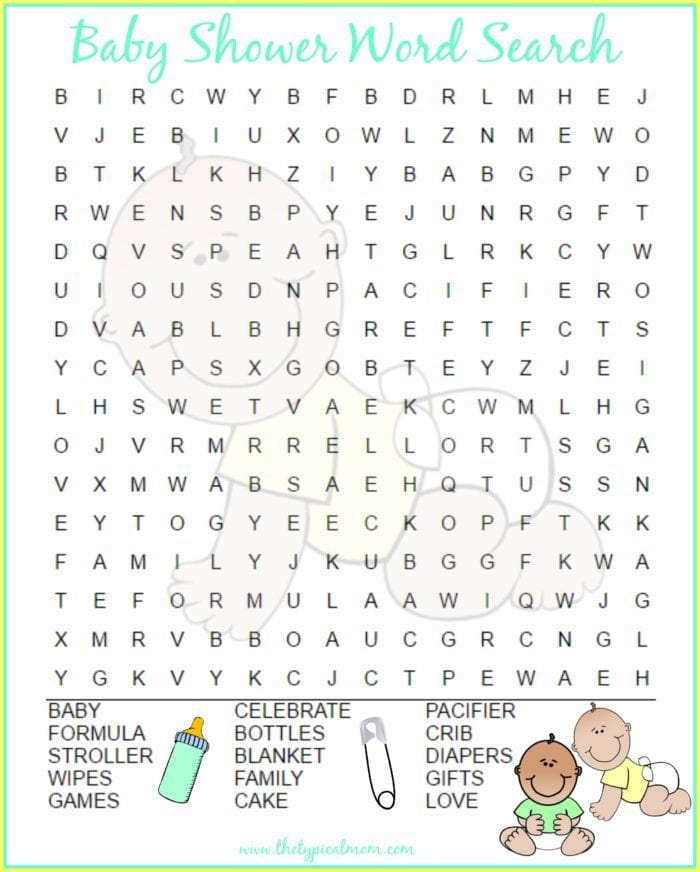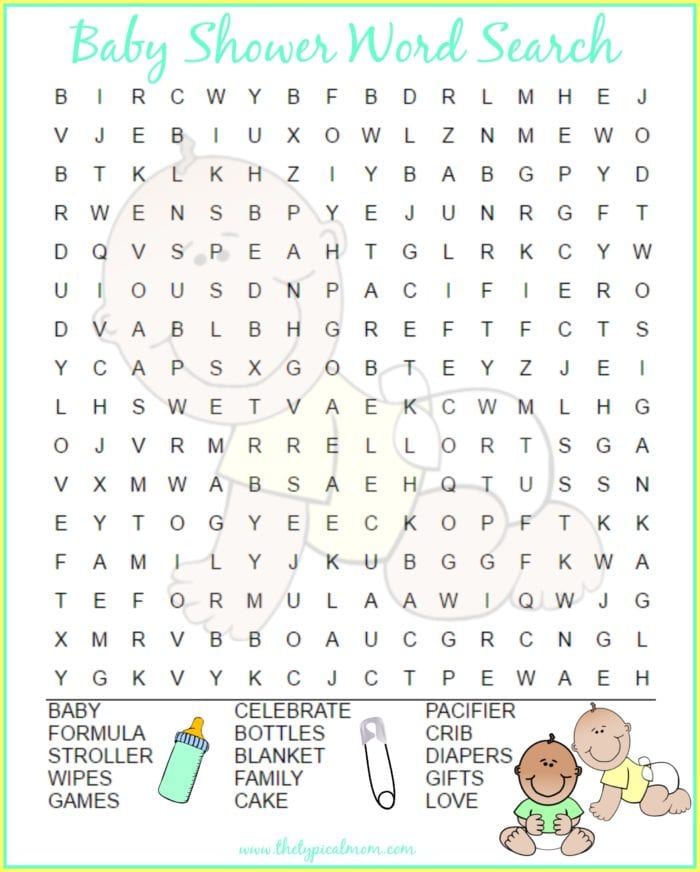 Here are a few fun baby shower games that are inexpensive but really fun to add to the mix!!
Who knows mommy best is a fun one
Now the only other thing you need is a baby shower gift tracker so you remember who gave you what and whether you already sent a thank you note or not. Just baby shower gift tracker and it will make it easy peasy!!
Once you have a few free printable baby shower games you need, grab things you need at the dollar store. That's where you go next and there are tons of things you can use from there to make your party cute!
I also have a long list of baby shower drinks that are perfect colors for a party of this kind!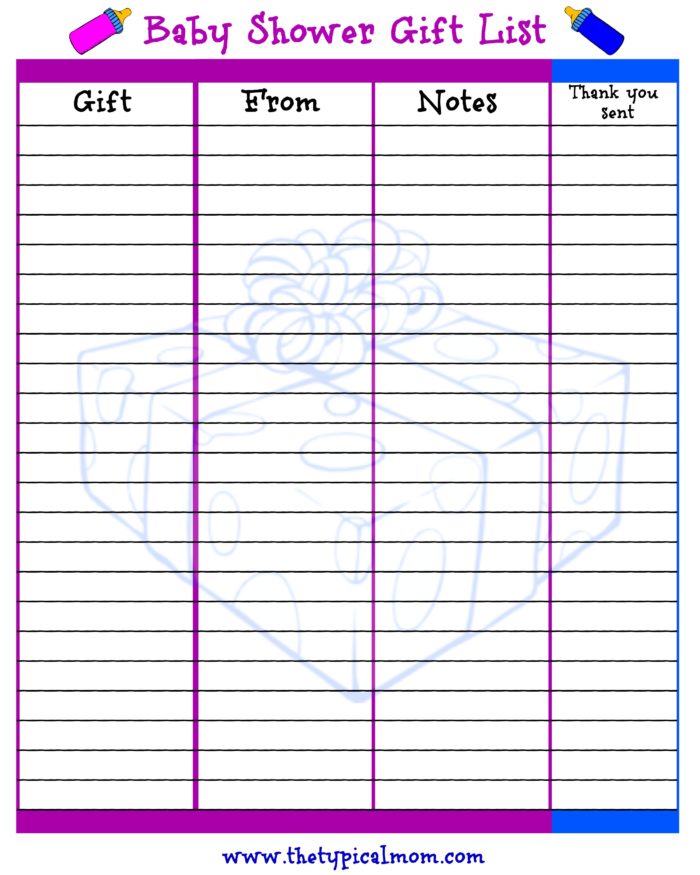 Want to see a few of my favorite things that I am totally obsessed with?? Take a peek and see how many you might already have…twinsies!
Looking for more easy family recipes and tips? LIKE The Typical Mom Facebook page?
Then sign up for my free newsletter, and follow me on Pinterest! 😉
***** If you LOVED this recipe give it 5 Stars below and let everyone know what you thought about it. 😉