Free Baby shower word search printable is here! Plus LOTS of other free baby shower games you can use to save you money and help create the perfect party.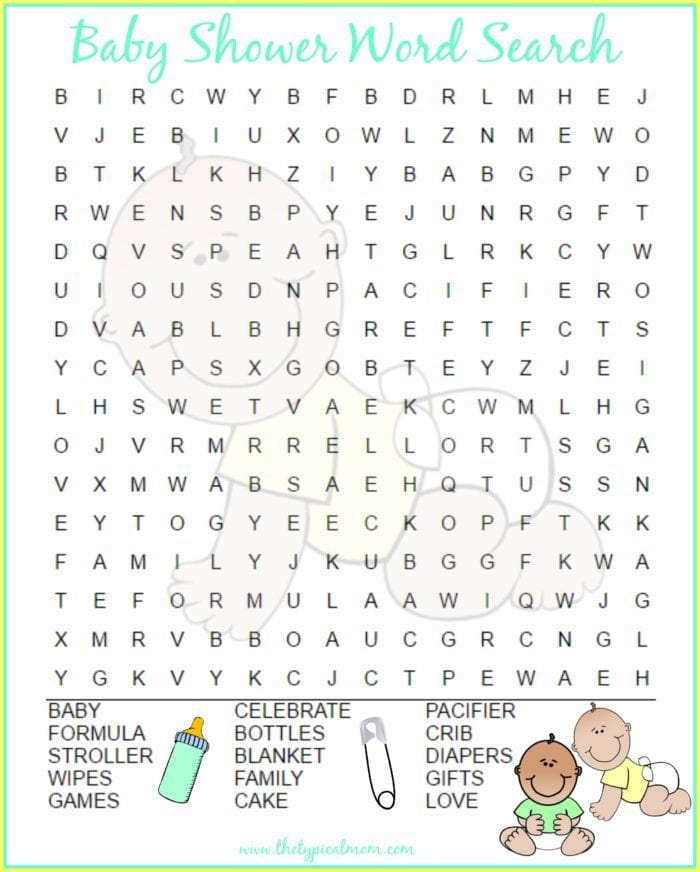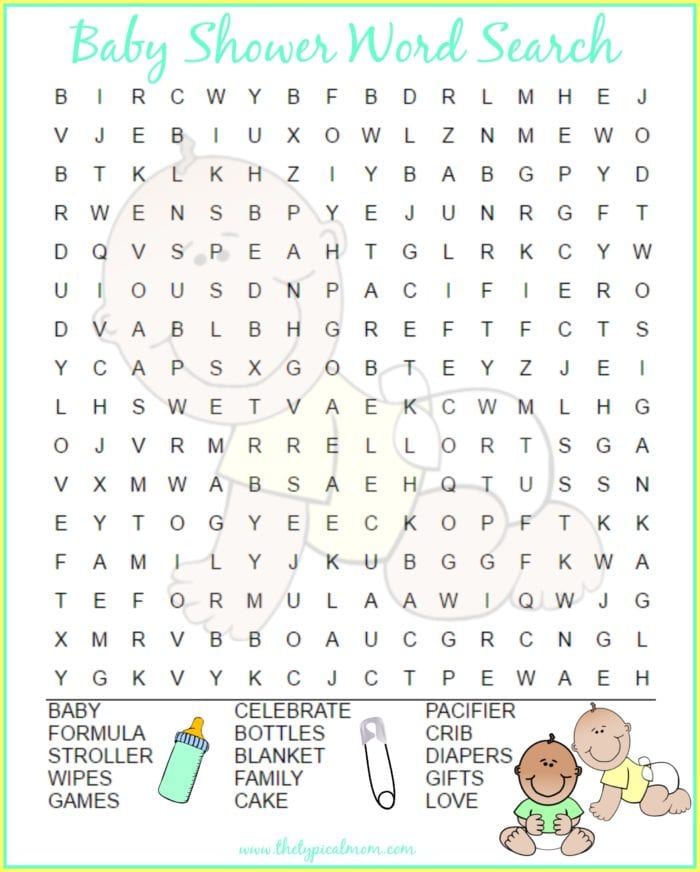 So you're planning a party and are looking for some help. Free printables are what you need! This baby shower word search printable is where to start. We have others for you below too. It is always good to find free resources first when you're planning a party, and then shop from there. Everyone loves a good word search with a prize for the winner. This is a fun game to throw into the rotation. (originally published 9/16, affiliate links present)
Free Printable Baby Shower Word Search
Super cute game right?? Perfect for a fun free game to play and works with either a girl or boy baby shower too. I always say start with what is free and go from there.
Then I typically head to the Dollar Store to find and create cute DIY Baby Shower Decorating Ideas.
Grab the ingredients to make this party punch recipe at the grocery store.
Shop online for inexpensive games.
Only then do I go on to the local party stores. You can buy games and decorations there to make your party complete, but they will be pricey.
Grab a gift tracker too so you can keep track of the gifts she received. 😉
One less thing you will need to think about and it's great for the Mom to be in order to keep in order what she received that day in order to send out thank you notes.
Free Baby Shower Word Search
Keeping the cost down is usually a focus for most of us. This baby shower game as well as this baby shower bingo printable I have are gender neutral, no just for girls or baby boys. If you don't have pink or blue to go off of, having a baby animal theme is always the way to go. 😉
You can make this baby shower word search into a game that can be a fun and engaging activity for guests too. Here is how to play;
Create a word search puzzle related to babies, pregnancy, or parenting or just print ours below. You can use a word search generator to customize one according to your preferences. Ensure that the puzzle contains relevant words or phrases that guests can search for.
Print out copies of the word search puzzle, making sure each guest has one. You can also provide pencils or pens for them to use during the game.
Gather the guests and explain the rules of the game. Let them know that the objective is to find and circle as many words as possible within the given time limit.
Determine a specific time limit for the game, such as 5 or 10 minutes, depending on the complexity of the word search and the number of words to be found.
Once all guests have received their game sheets, start the timer and announce that the word search game has begun.
Guests should scan the word search puzzle, searching horizontally, vertically, and diagonally to find the hidden words. Encourage them to work individually or in small groups, depending on the size of the gathering.
When a guest finds a word, they should circle it with a pen or pencil. Remind them to circle each word clearly, so it's easy to identify.
When the time limit is up, announce that the word search game is over. Ask the guests to stop searching and put down their pencils or pens.
Use a master copy of the word search puzzle to reveal the correct locations of the words. Call out the words one by one and ask the guests to mark any missed words on their game sheets.
Count the number of correctly circled words for each guest. The guest with the most correctly circled words is the winner and can be awarded a small prize or recognition.
Playing a baby shower word search game adds an interactive and entertaining element to the celebration. It engages guests, stimulates their minds, and creates a lively atmosphere. Enjoy the game and celebrate the upcoming arrival of the little one!
Baby Shower Printable Games
We have a few others as well as the page you were looking for all along here below.
For more easy recipes, tips and crafts please LIKE The Typical Mom on Facebook and follow me on Pinterest! You can also sign up for my free weekly newsletter which is packed with goodies I know you'll love. 😉