Here are a bunch of easy DIY baby shower decorating ideas that are cheap but adorable for a boy or girl baby shower! Things you can use to make your own party centerpieces from the Dollar Store and how to customize your party for less but make it look amazing and like you spared no expense.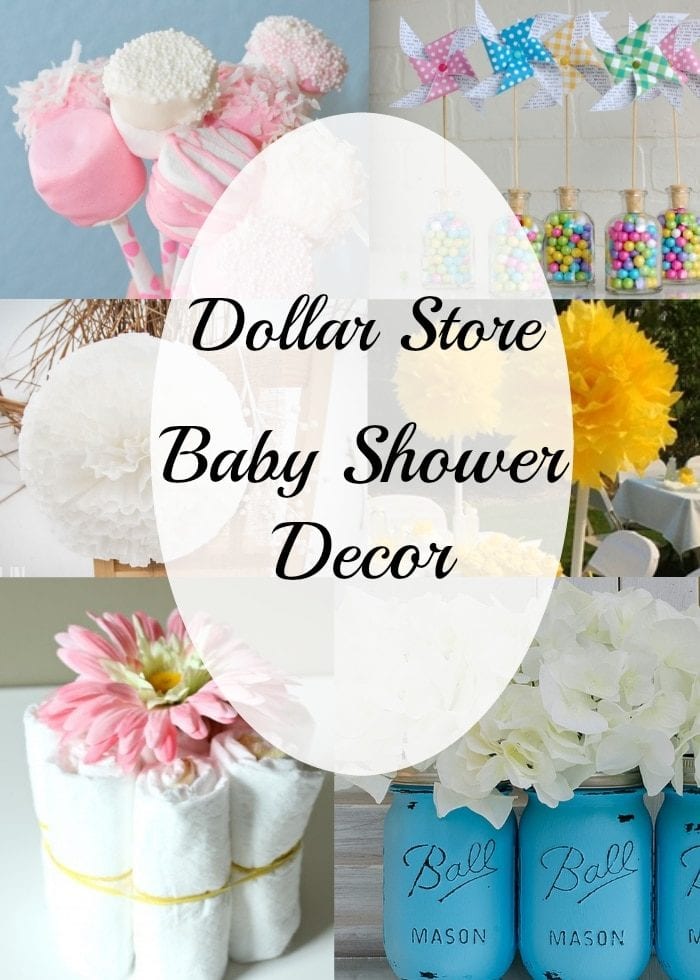 Here are some great decorating ideas for a baby shower using items from the Dollar Store!! Decorations can be so expensive when you are planning a party! Here several DIY baby shower decorating ideas for centerpieces when you're having or throwing a baby shower using items from The Dollar Store. (originally published 12/15, affiliate links present).
Decoration for Baby Shower
I say "use what you have first, shop frugally second, then find what you need at the local retail store".
That usually holds true no matter what I am doing but especially when I am planning for a party.
Make sure to LIKE The Typical Mom for more easy ideas like these and I hope we give you inspiration for your special occasion. 😉
All of these easy DIY baby shower decorating ideas can be adjusted for either a boy, girl, or gender neutral party.
Cute centerpieces and decorations can really bring an "OOohhhhh" when people first show up, and the first impression is the most important right…so let's start there with our Dollar Store decorating idea.
First you'll want to go to the Dollar store to see what they have for your baby shower theme.
Or you can always buy a few inexpensive vases here and fill them with colored glass beads.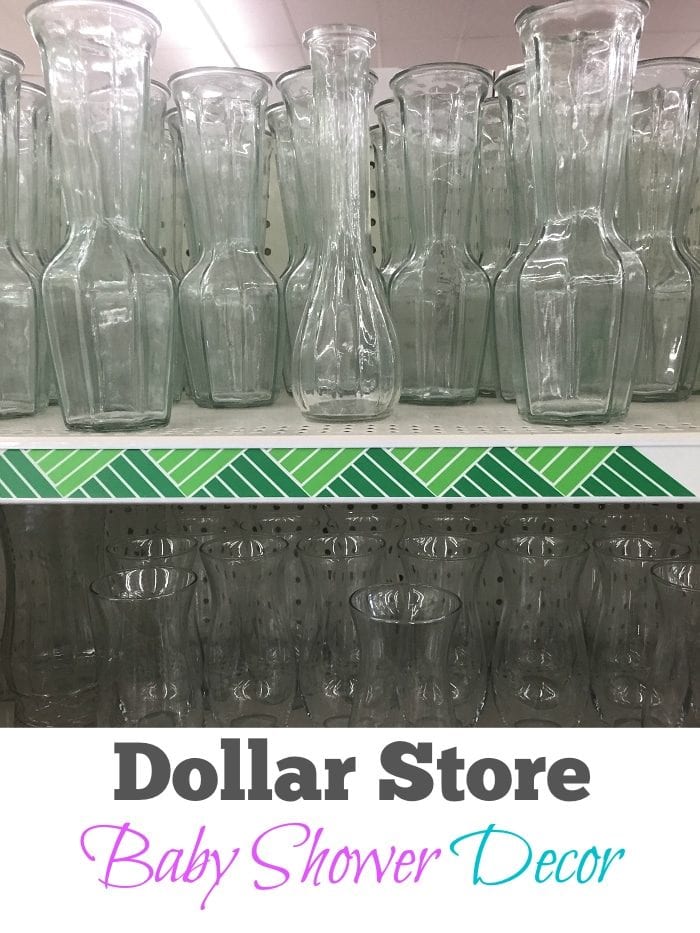 DIY Baby Shower Decorations
Vases big and small are inexpensive and perfect for centerpieces. Once you add colored glass pieces or colored tissue paper inside.
Use tulle for a multitude of things including bows or flowers always work well too for this happy day.
Of course look to see what you already have at home or could repurpose first before buying what you need.
You may have some mason jars at home you can use as centerpieces which will save you the cost of those, or vases that could be repurposed into centerpieces as well.
Baby Shower DIY Decorations
Think about using things from nature too when creating your centerpieces. Especially if you have a large room to fill, simple sticks can really make a grander look.
You can find some in the stores but instead of spending money (goes against the whole diy, let's find what we already have concept) just look for sticks outside.
You can spray paint them and hang things off of them like pom poms or baby items like pacifiers and bows.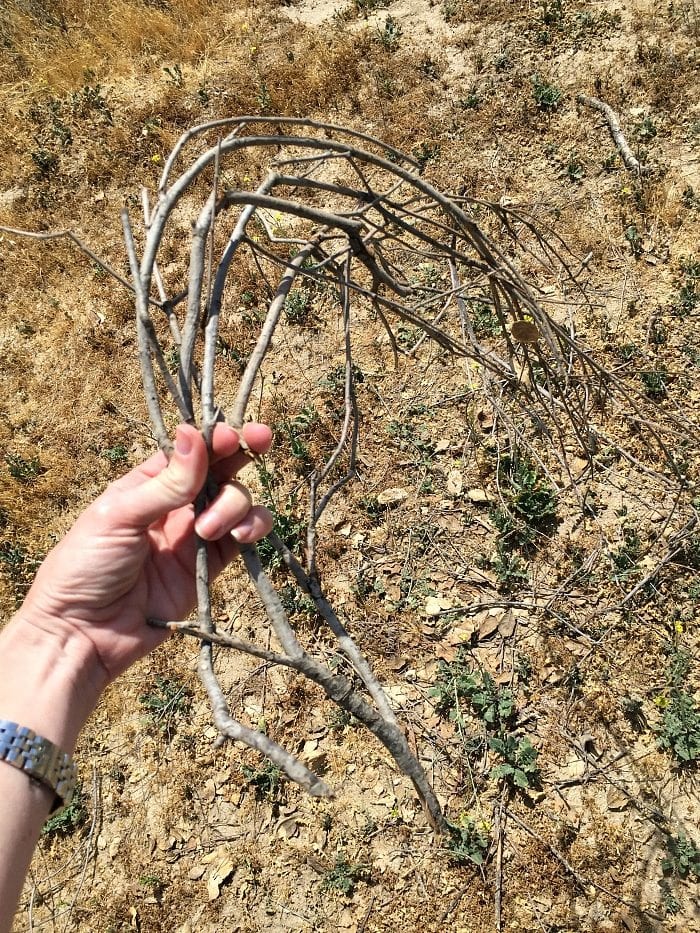 Here's a quick tutorial on how to make tulle pom poms (they can be used for many of the baby centerpiece ideas you see on the collage above, or put on tables for color).
DIY Baby Shower decorating ideas
Time needed: 10 minutes
Cheap Baby Shower Decor
Cut

Wrap the tulle around your 4 fingers at least 10 times, cut off.

Wrap

Place a string or metal tie in the middle and secure tightly so it looks like a bow tie of sorts.

Pull

Pull the ends of each side of the bow to fill out the pom pom. You can set these on a table for decorations, hang from branches in a vase as a centerpiece or fill a fish bowl with them as a filler.
Another way to create puff balls is to use coffee filters and styrofoam balls.

You can find both of these items at pretty much any Dollar Store, Muslin Merlot has a great tutorial on creating these coffee filter puff balls that could easily be used as a baby shower centerpiece, or hung from the ceiling!
You can find large coffee filters here, or make them out of tulle too.
Use these pretty balls to decorate the base of a cake stand for some easy decor, or put baby socks around the bottom!
Our favorite baby shower table centerpieces are here!
Use pink or blue flowers for a boy or girl baby shower.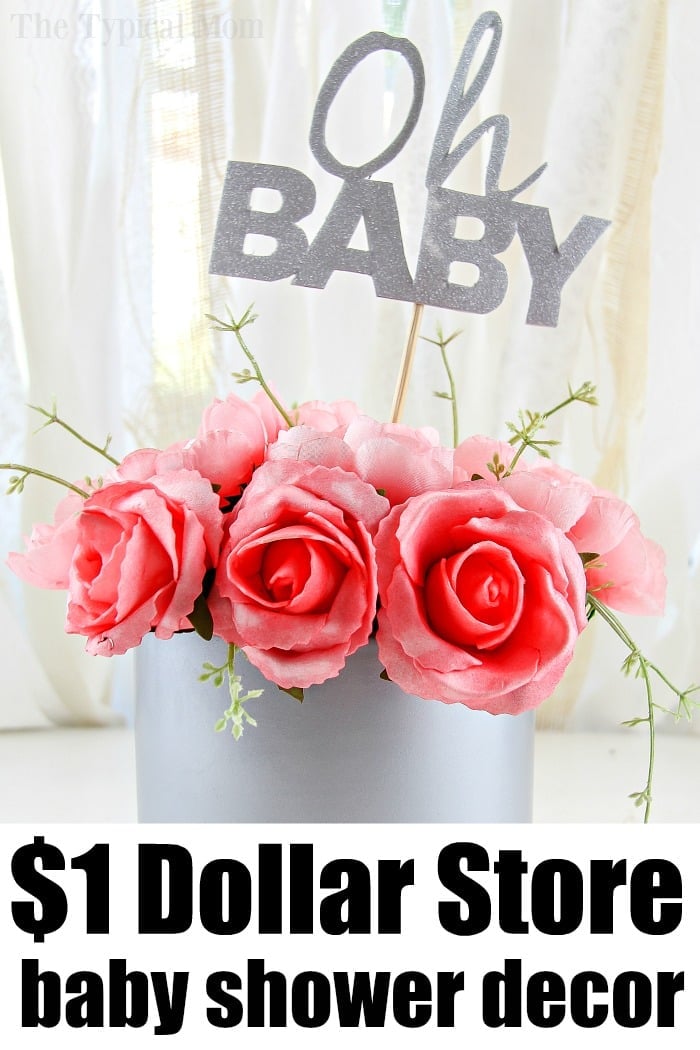 Cheap Baby Shower Decorations
Nobody will know just how inexpensive it was to make these decorations. They would probably never think that you used coffee filters and items from the Dollar Store to create Some!
That's the true meaning of a successful DIY project right?!
Here's another yummy baby shower centerpiece idea that is cheap, cute, and edible too from Honey+Lime!
These are easy to do with fancy paper straws. You can find them at craft stores or sometimes at Walmart. Use some marshmallows, melted chocolate, and fun things to dip in.
Make cute and edible baby shower centerpieces with these cute rice krispy treat pops colored with pink or blue coloring depending on your decor!
Easy to do, cheap, and super cute inside mason jars with colored glass or tissue paper at the bottom.
A colorful party punch recipe can liven up a table + mason jars complete with labels on them for serving with a cute piece of ribbon around each one and bam you're set!
Making cute baby shower cupcakes instead of ordering an expensive cake is a great money saving party idea.
Use a tiered platter like this to display them and use that as a diy baby shower decorating idea too!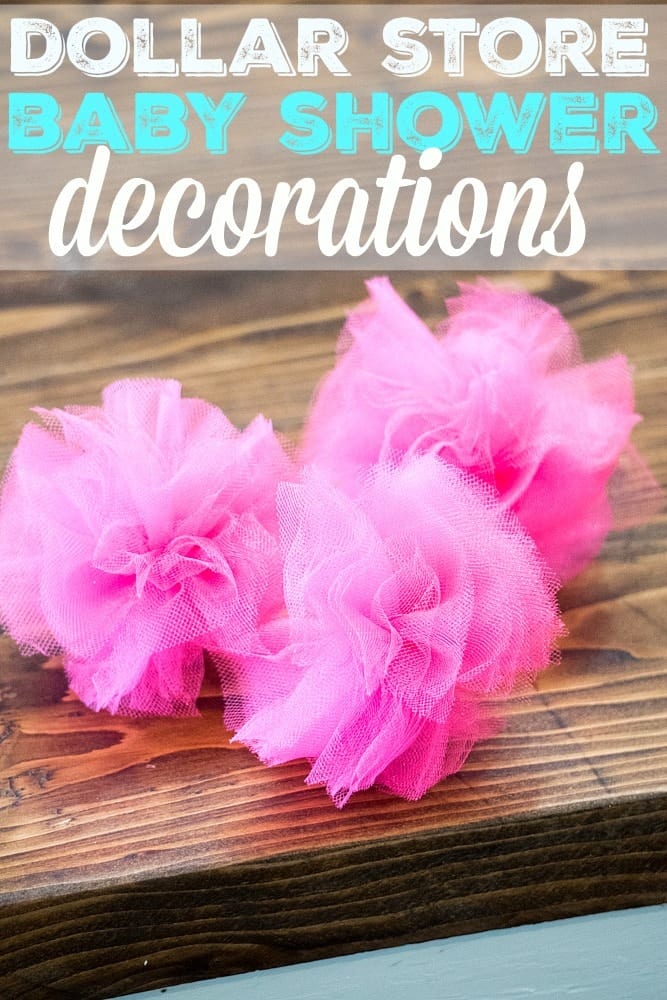 Now don't forget the gift table and dessert table when decorating for your baby shower. They are important too and you can do so many cute things with them.
Anything to do with mason jars is my style and there are cute ideas using those below. Think of simple things you can add such as a box with a variety of blank note cards so guests can write words of advice to the expectant mother!
That is a very cheap idea but will mean a lot to the main guest.
I LOVE mason jars!! There are SO many things you can do to bring a great look to a party or baby shower. You can find them here. Add flowers, paint, and some imagination for added flair.
You can buy them in bulk at Walmart or elsewhere and they are usually right around $1 a piece! Carnations are an inexpensive filler too. Or find some in your garden! Walmart also has tons of colors of paint you can use that are just $.50 – $1 each.
Here is a great example from Made from Pinterest on how you can create an inexpensive baby shower centerpiece!
This cute and inexpensive idea from No Biggie involves cute pinwheels and little glass bottles. Customize with the colors you want and it is a whimsical way to liven up a Baby shower table. Just costs a few dollars!
You can make these homemade bath bombs easily at home. Then wrap each one in a clear plastic bag with a tag and write each person's name on it! Use them as place cards, SO cute!!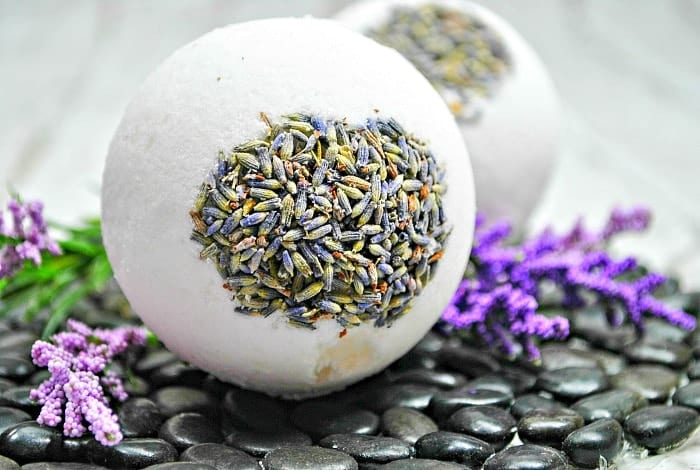 Here is a really cute idea using height and colorful tulle pom poms for a baby shower from Better Together. You could use sticks for this as well or dowels if you wanted them to be nice and straight.
First I encourage you to think about what you have at home already. Then if you need to buy an item look at the Dollar store first. You will be amazed at how many things they have there!
Baby shower prediction and advice cards are popular and perfect to add to the gift table. They can be an added "gift" to her as well at the end of the party.
Now if you want to buy a prepackaged and cute baby shower party kit with all the decorations included you can do that too.
Make sure to play a few free baby shower games like this Baby Shower Price is Right game that's hilarious and an easy one to put together. You can find lots of other free printable baby shower games here as well.
Inexpensive ways to customize your baby shower just a bit since you're saving on your decorations
But wait!!
I have more easy diy baby shower decorating ideas
When it comes to baby shower games I offer lots of free printable baby shower games here which will add a few laughs to your party and won't cost you a thing to play since I've done all the work. 😉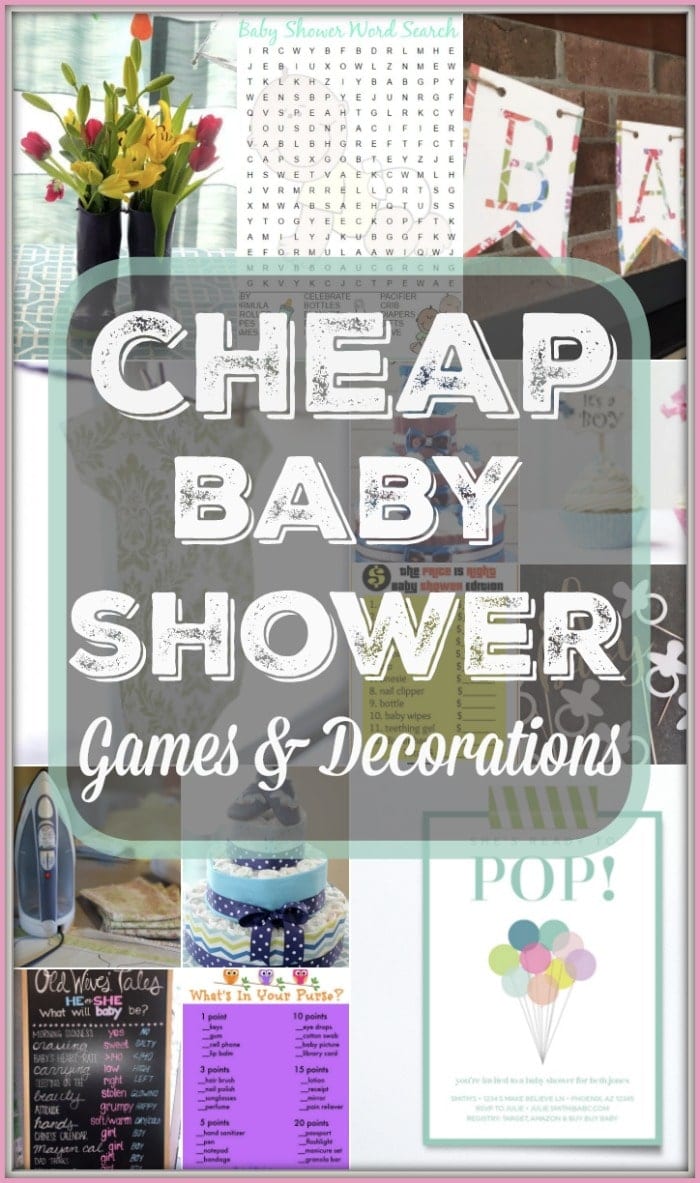 For inexpensive cake pop ideas I have a few here.
** Here are Free baby shower invitation templates so you can create your own invites for free too!