How to make cake pops with cake mix in this step-by-step guide. With a few ingredients perfect for birthday parties or a fast sweet treat. One of many boxed cake mix recipes we have shared lately and loved.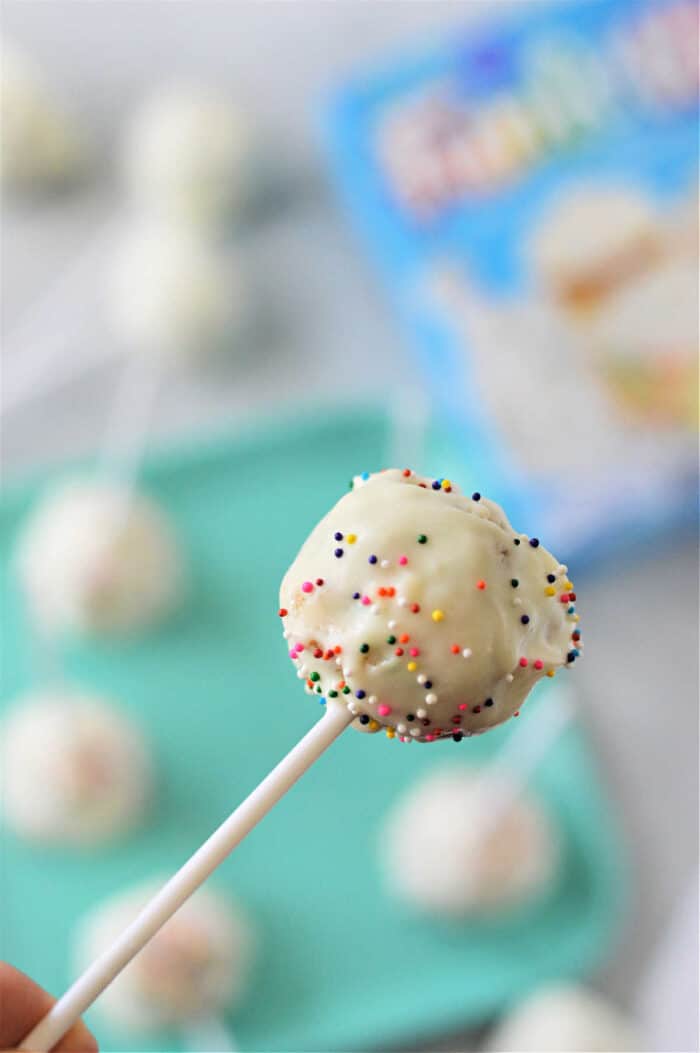 Easy cake mix cake pops my girls and I love making together are here! You can make them chocolate, Funfetti with sprinkles, red velvet, lemon or any flavor you like. Dipped in chocolate and decorated with small candies makes a quick easy dessert for parties and the holidays. (affiliate links present)
Funfetti Cake Pops
Well, well, well…if you're ready to embark on a sweet and hilarious journey, let's talk about cake pops! First things first, forget about baking a 1/2 sheet cake, who has time for that? We're gonna make bite-sized cake balls on a stick – that's right, cake on a stick, because everything is more fun on a stick!
So, let's get this party started! Grab your favorite yellow cake mix (or bake from scratch if you're feeling fancy). Crumble it up into tiny bits, and mix it with frosting.
Yes, frosting, the magical ingredient that holds everything together and makes it taste like a heavenly dream. And don't be shy, add as much frosting as you want, it's not called a "cake pop" for nothing, it's supposed to be POPpin' with flavor!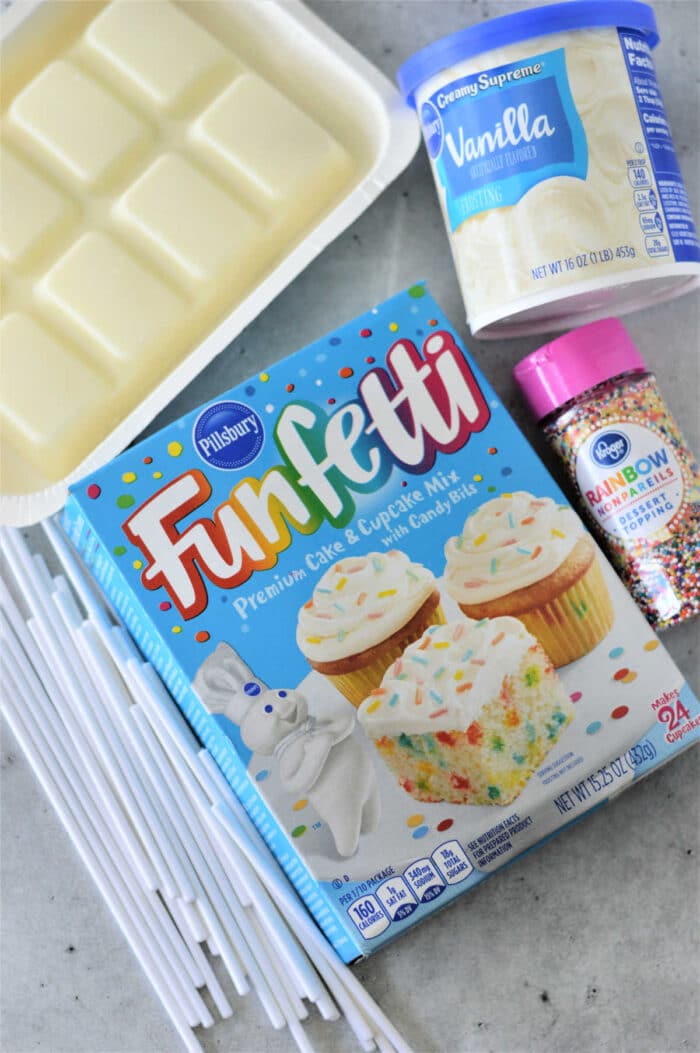 How to Make Cake Pops with Betty Crocker Cake Mix
Ok so this isn't the only brand out there. Want me to be completely honest? I buy what is on sale unless I need a particular flavor and there isn't a choice.
Duncan Hines has a great product as well, packages with pudding already included inside are my favorite because of how moist it is when done.
Preheat oven according to store bought cake mix directions, make homemade, or buy a white chocolate one from a bakery already baked and cooled.
Bake cake according to package directions.
Let cake cool completely.
Crumble the whole thing and dump cake crumbs into a large bowl.
Add the frosting and mix until well combined.

could add mini chocolate chips into the mix for texture and goodness
add sprinkles for confetti cake pops if you aren't using a funfetti box

Use a cookie scoop to form the cake mixture into 1-inch balls.
Place the balls on a baking sheet lined with parchment paper.
Refrigerate the balls for at least 30 minutes.
Melt the candy melts or melt chocolate chips in microwave until smooth
Insert a toothpick into each cake ball.
Dip the cake balls in the melted candy melts.
Allow the excess candy melts to drip off.
Decorate them with sprinkles, if desired.
Place the cake pops upside down on a piece of parchment paper on baking sheet or in a cake pop stand. Let the candy melts set completely before serving.
I mean there are tons of ways you can really dress these babies up for your occasion. They make great baby shower cake pops using pink and or blue candy melts with an edible decoration on the outside.
How to Make Starbucks Cake Pops
Now comes the fun part, how do you decorate cake pops cute?? Dip them in melted chocolate or candy melts, and go wild with sprinkles, candy, nuts, or whatever tickles your fancy. This is the time to unleash your inner artist and create a masterpiece.
If you want to make any of the "characters" they offer at Starbucks like the pig etc… you just need edible candy eyes. You can grab those in the cake aisle with all the other decorations or online.
Funny caces can be made right on top of the hardened chocolate using edible markers. You could make them look like silly monsters, aliens, or even caricatures of your friends or family members.
Sprinkles and glitter can add some sparkle to your cake pops by rolling them in edible glitter or sprinkles. You could also use candy melts in different colors to create a rainbow effect.
Mini hats and accessories gives your cake pops some personality by adding mini hats, bow ties, or other accessories. Use fondant or candy melts to create these little decorations, and attach them to the cake pops using toothpicks or a bit of melted chocolate.
Chocolate Cake Mix Cake Pops
Funny messages are fun if you use edible markers or icing. Write funny messages on your cake pops with toothpicks with a sticker on the top to scribble on. You could write things like "yum," "oops," or "oops, I did it again."
What is the trick to making cake pops?
For a smoother texture, you can pulse the cake in a food processor before adding the frosting.
If the cake mixture is too dry, add a little more frosting.
If the cake mixture is too wet, add a little more cake.
You can use any type of frosting or candy melts.
You can get creative with your cake pop decorations. Use different colors of candy melts, sprinkles, or even edible glitter. Cake pops can be stored in the refrigerator for up to 3 days
Cake Pop Recipe with Cake Mix
Whether you start with a dry mix, homemade Hawaiian cake, or a store bought sheet cake you would follow the same steps mentioned below. Of course if it is already baked you will save time for sure, but it won't be as fresh.
What are the benefits of making cake pops with cake mix?
There are many benefits to making cake mix cake pops. First, it is very easy. You do not need to bake a cake from scratch. Second, it is very affordable. Cake mix is a relatively inexpensive ingredient and is very versatile since you can use any flavor of cake mix you like.
How do you make cake pops with cake mix?
1. You'll need a box of dry cake mix, some frosting and melted chocolate as well as any decorations.
2. Prepare the cake mix according to the package directions.
3. Let the cake cool completely.
4. Crumble the cake into a bowl.
5. Add the frosting and mix until well combined.
6. Roll the mixture into 1-inch balls.
7. Insert a lollipop stick into each ball.
8. Melt the chocolate or candy melts in a microwave-safe bowl.
9. Dip each cake pop into the melted chocolate or candy melts.
10. Set wet cake pops on parchment or wax paper
11. Decorate with sprinkles or small candies
12. Allow to harden and dry and enjoy
How do you serve cake pops?
1. On a platter with other desserts, such as cookies, brownies, or cupcakes. They can also be served with a variety of dipping sauces, such as chocolate, caramel, or strawberry.
2. In a cup with a variety of toppings, such as sprinkles, frosting, or candy. They can also be served with a scoop of ice cream.
3. On a stick for a fun and easy dessert wrapped in cellophane bags as gifts or displayed on a styrofoam block as a centerpiece for a birthday party.
If making for a party a simple piece of colored styrofoam can be a fun way to display these. Poke them in and put in the middle of each table!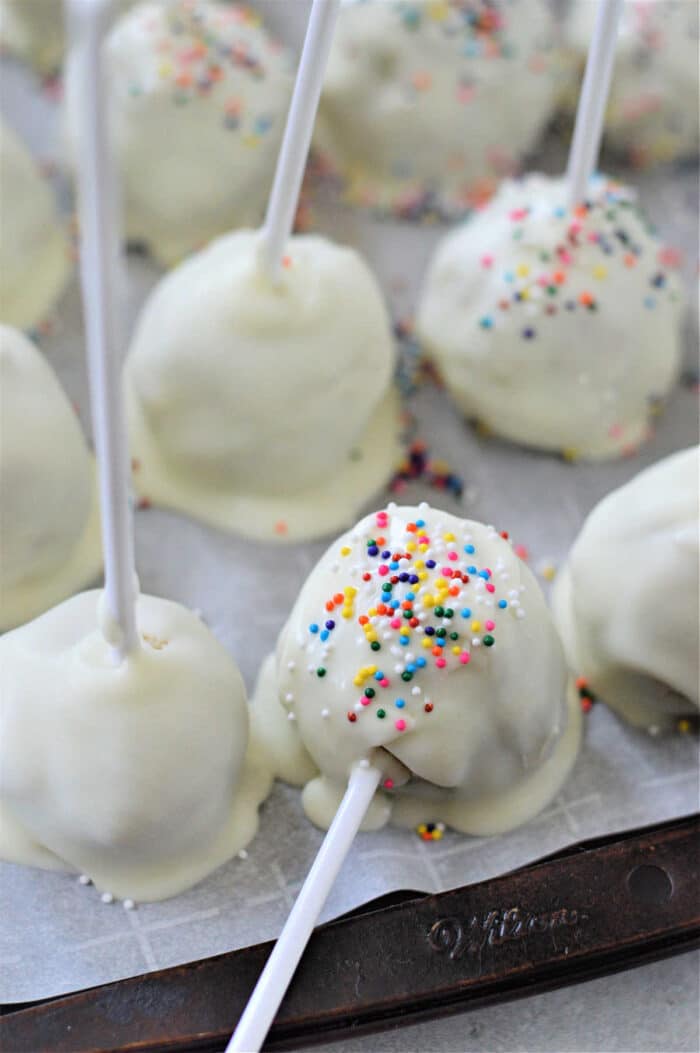 Want to see a few of my favorite things that I am totally obsessed with?? Take a peek and see how many you might already have…twinsies!
Looking for more easy family recipes and tips? LIKE The Typical Mom Facebook page?
Then sign up for my free newsletter, and follow me on Pinterest! 😉
***** If you LOVED this recipe give it 5 Stars below and let everyone know what you thought about it. 😉
How to Make Cake Pops with Cake Mix
How to make cake pops with cake mix in this step-by-step guide. With a few ingredients perfect for birthday parties or sweet treat.
Equipment
20 cake pop sticks

Parchment paper
Instructions
Bake cake according to the directions on the back of the box. Allow to cool completely before starting to prep the rest of it.

Use a fork over the top to scrape and break it up into crumbs. Pour these from the pan into a large bowl. Scoop in 1/4 tub of frosting, incorporate, add another 1/4 until you use 3/4 of the tub creating a texture you are able to mold into balls with your hands.

Use your hands to create about 20 balls. Set on a baking sheet lined with parchment paper so they don't stick.

Melt a few of your candy melts in a bowl. Dip 1 stick into the melted chocolate and then stick 1 into each ball 3/4 of the way so they are all sticking up. When chocolate hardens it will help hold the cake pop ball on to the stick.

Place this tray into your freezer for 30 minutes so they can harden.

Melt the remaining candy chocolate melts in a bowl and dip each frozen ball into it to coat, set back on parchment baking sheet and sprinkle on sprinkles when wet if you like.

Set tray in your fridge for at least 10 minutes to harden the outside. Then serve. Keep leftovers on tray or in freezer bag in freezer or refrigerator.
Nutrition Facts
How to Make Cake Pops with Cake Mix
Amount Per Serving (1 oz)
Calories 170
Calories from Fat 36
% Daily Value*
Fat 4g6%
Sodium 209mg9%
Potassium 14mg0%
Carbohydrates 32g11%
Protein 1g2%
Calcium 55mg6%
Iron 1mg6%
* Percent Daily Values are based on a 2000 calorie diet.