DIY baby shower table centerpieces using Dollar Store items and under $5.00 for each one! Perfect for gender neutral, boy or girl baby showers.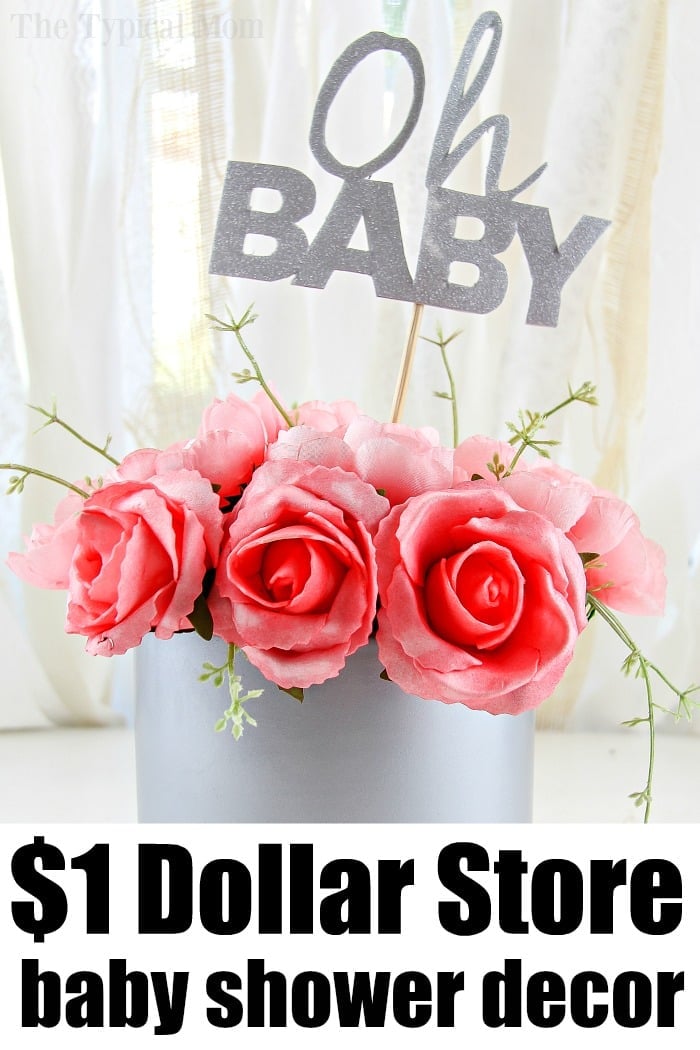 Looking for Dollar Store baby shower table centerpieces to make yourself? Well we have a great idea that is cheap and can be made for a boy or girl baby shower! (affiliate links present) This is just one of our popular DIY baby shower decorating ideas people love!
DIY Baby Shower Table Centerpieces
If you're looking for other cheap ideas like diaper cakes and more there are others in the link above. You can make this one for under $5 each though and they're always a hit! Using pink, blue, or yellow flowers you can customize it for a gender neutral baby shower or for a boy or girl.
Real flowers could be used for these baby shower table decorations for an added touch too!
Cheap baby shower centerpieces
Items needed:
Vase or flower pot
Glitter dividers or thick paper stock
Glue
Spray paint is optional if you want to alter the color of your pot(s)
Everything other than the spray paint was purchased at the Dollar Tree. Links above provided in case you'd rather purchase items online.
DIY Baby Shower Centerpieces
If you're planning on spray painting your jars do this first and allow them to dry completely before proceeding to next steps.
If you need to paint the pot, apply a couple of coats of spray paint to it allowing each to dry before applying the next.
Cut pieces of the pool noodle and place them inside the pot so they're just below the top rim.

This will hold the flowers and 'Oh Baby' sign in place so they don't shift around.
Assemble your flowers inside so they're standing up tall.
Dollar store Baby Shower Centerpieces
Now we're going to create our sign.
Print out this baby shower template so you can cut out this sign easily.
You can also create your own baby shower sign template using a photo editing service such as PicMonkey or Canva.

Make a plain canvas and add text.
Change the fonts and sizes until you find a combination you like.
Note: Make sure your letters are joined together.
Cut out the template and trace around it onto the glitter card stock. Cut that out, and attach it to a wood skewer with glue. Set aside to dry.
How to throw a cheap baby shower
You can really get creative using just mason jars. Use twine to hang a name card on each one at the table. Then they can use that to serve themselves baby shower punch, will be able to find it all day, and take it home at the end.
These are not only great a great diy baby shower centerpiece for girl idea but for any gender because you can choose any color flowers. We have MORE DIY Decorating Ideas for a Baby Shower here too!!
You could also make these up as mason jar baby shower centerpieces using those as the containers. Just use the large mouthed styles and use 1 cut pool noodle to keep the flowers upright.
They go with any themed baby showers and are the cutest flower centerpieces for any occasion really. If you're planning a baby shower we hope these help you. We have some free printable baby shower games for you too!
Why are these perfect baby shower games?? Because they're free for you to print and use!!
Baby shower price is right is the best!! It's perfect for any shower theme and creates a lot of laughter amongst the guests I tell you.