Best zucchini chocolate banana muffins or loaf with chocolate chips that will knock your socks off! A great way to use overripe bananas for breakfast or a yummy dessert.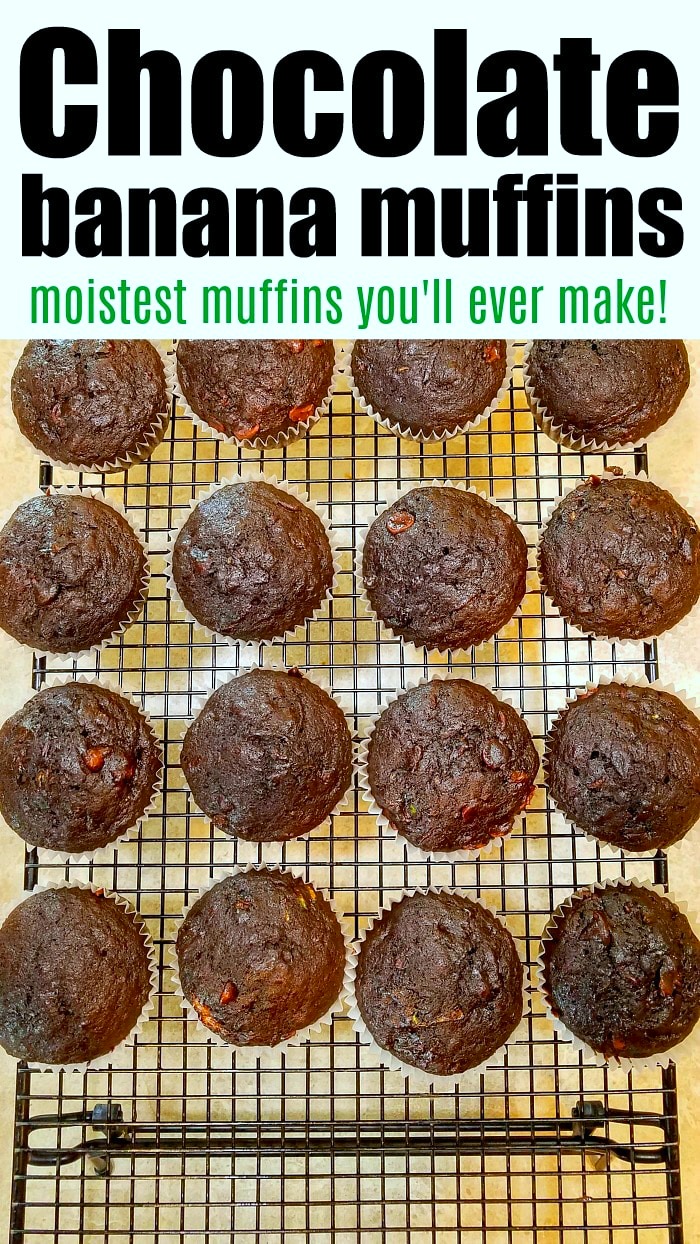 Chocolate banana muffins may be our favorite ripe banana recipe ever. Ok so they double as a dessert and breakfast so ya' know, they're pretty great. One of the best muffin recipes on our site. (originally published 11/20, affiliate links present)
Chocolate Zucchini Banana Muffins
The key to these is the integration of both shredded vegetables (zucchini) AND brown bananas. So basically they're healthy right?? 😉
I started by gathering many of the same ingredients I would to make my moist zucchini bread except adding a few more. A bit like our zucchini brownie recipe. You can make these double chocolate chip muffins by adding a few more chips on the top before baking too.
I know, super easy muffin recipe right?? This is basically what you'll need. I wouldn't substitute anything, both zucchini and banana are really a must to get this moist!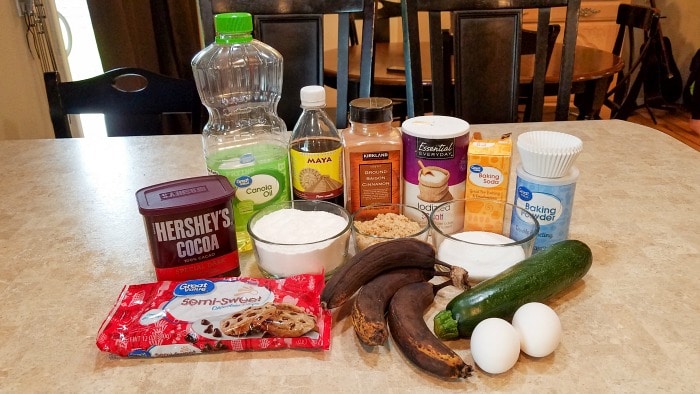 Double Chocolate Banana Muffins
When making any type of banana muffins, make sure they're quite brown but not completely black. If you aren't ready to make something and they're pretty overripe just put them in the fridge to slow it down.
VERY overripe bananas
Zucchini
Eggs
Chocolate chips

extra 1/2 cup could be sprinkled on top too

Dark cocoa powder
Vanilla extract
Oil
Baking powder and baking soda
Cinnamon
Sugar
Brown sugar
Muffin tin and papers are very helpful
Zucchini Chocolate Banana Muffins
When you mash bananas they should look like this. Leave it a little chunky for texture.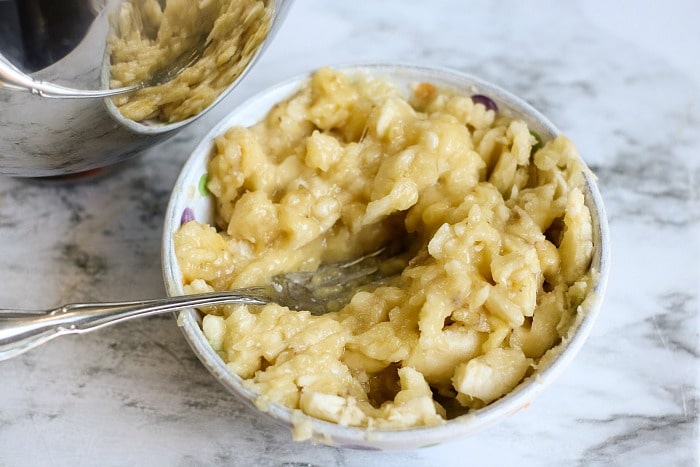 What is the most popular muffin flavor?
That depends on whom you ask but blueberry muffins are usually on the top. Banana bread muffins would be second followed by pumpkin muffins that we add zucchini to as well!
What is the difference between a muffin and a cupcake?
Cupcakes usually have frosting on top and are usually quite a bit sweeter. Muffins are served at breakfast time vs. dessert and have a flatter top.
How can I make my muffins light and fluffy?
Baking is a science. You really can't tweak the ingredients too much, especially when it comes to the leavening agents. Baking powder, baking soda, or both generate the "rise" you want.
What makes a good muffin?
The flavors you love are key. Ingredients should be at room temperature, did you know that?? Do not to over mix the batter and use a spatula to gently fold ingredients together.
Our chocolate zucchini muffins are delicious with the addition of more chips is SO moist because of the fruit and vegetable bits. If you wanted to cut the sweetness you could add 1/3 cup sugar instead of 1/2. It isn't overly sweet though with the dark chocolate.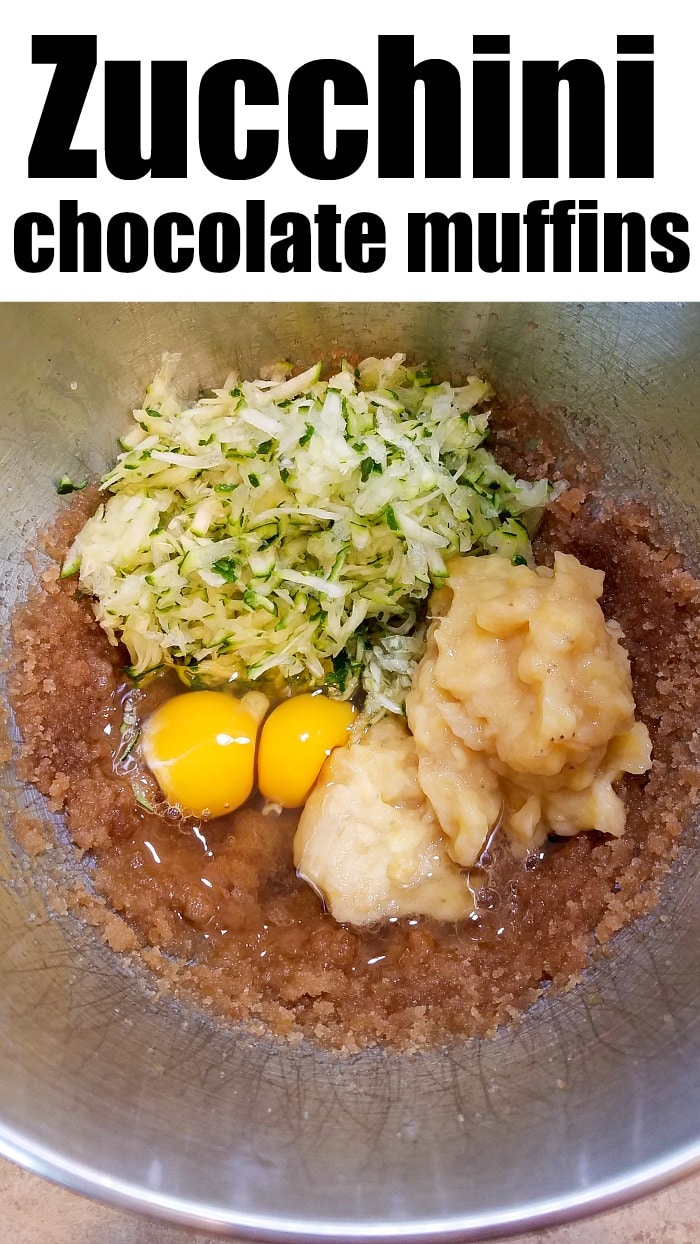 Chocolate Banana Zucchini Muffins
Here's a brief step by step with a printable recipe card at the bottom of this post. Mash bananas and shred zucchini. Put zucchini on paper towels and roll up. Put over sink and squeeze to remove all the excess moisture you can.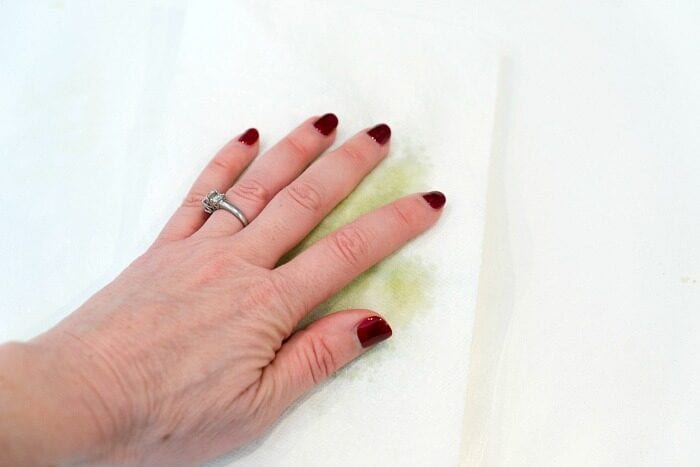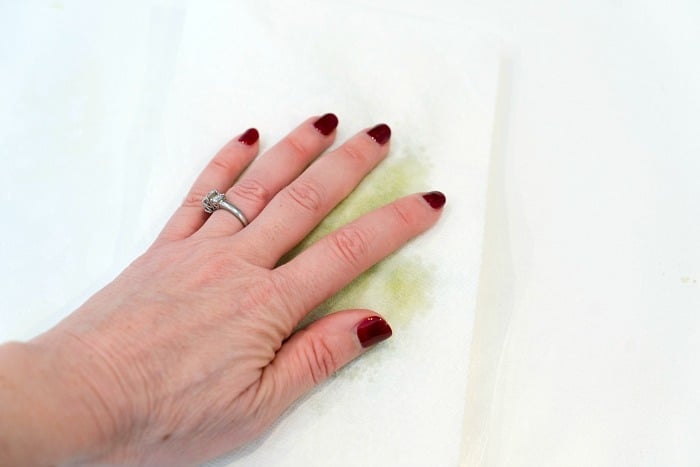 In a medium bowl combine the Dark Chocolate Cocoa powder, Flour, Baking Soda, Baking Powder, and Salt. Add in the Cinnamon and combine. Set aside. Inside a separate bowl combine Canola oil, vanilla, white and brown sugars. Add eggs, grated zucchini, and mashed bananas to wet ingredients and combine well. Fold in the dry ingredients.
Lightly flour chocolate chips and fold into the batter * The flour will help the chocolate chips not sink to the bottom of the muffins.
Scoop batter evenly into cupcake liners. (can add more chips on top of each one on top)
Place in preheated oven for 17-20 mins. or until inserted toothpick comes out clean.
You can make a smaller batch of air fryer muffins using this timing, or this is how long to bake mini muffins.
Adding extra chips to the top is up to you. I prefer adding semi sweet variety to mix up the flavors a bit.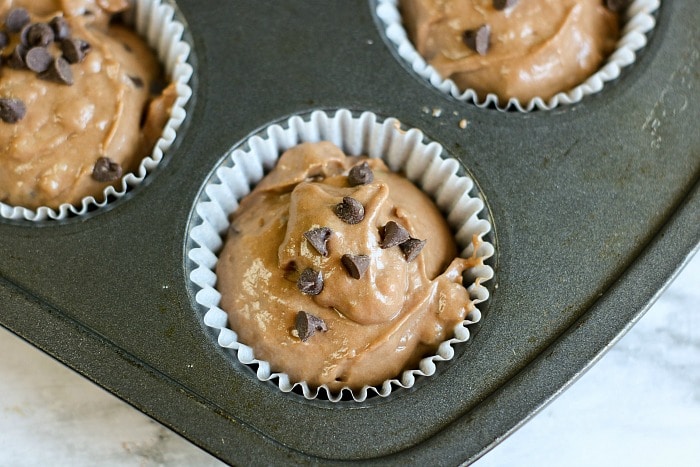 Want to make mini muffins instead? No problem. I would just bake shorter, I have a link to those above because they are so popular with little ones. Just pop them into your mouth as the perfect breakfast finger foods.
How do I tell if muffins are done without a toothpick?
I never use one of those, I am lazy. Plus I think you can tell so easily whether they should be taken out so why bother. Just gently touch the center with your finger and if it springs back up they're done.
The key to this is to NOT over bake them or they'll dry out. That is the opposite of what you want for these. It is a great recipe and too much time won't give you the results you want.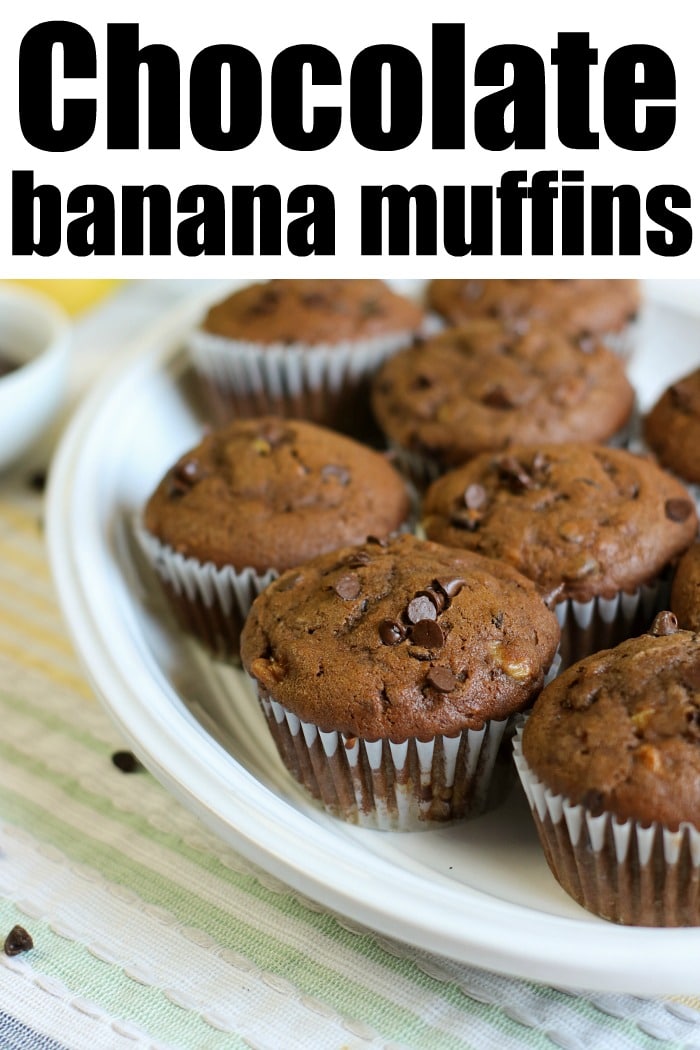 What to Add to Banana Muffins
I hope we have answered that question for you here. Shredded veggies like this adds a ton of moisture and the chocolate just makes it over the top yum. Want to bake even more muffins? We have a ton! We have even made dinner muffin tin recipes like meatloaf and even chicken pot pie muffins in them too.
It may sound weird, but this banana bread with mayonnaise recipe is killer too. Now jump to recipe and get started y'all!
Want to see a few of my favorite things that I am totally obsessed with?? Take a peek and see how many you might already have…twinsies!
Looking for more easy family recipes and tips? LIKE The Typical Mom Facebook page?
Then sign up for my free newsletter, and follow me on Pinterest! 😉
***** If you LOVED this recipe give it 5 Stars below and let everyone know what you thought about it. 😉
Chocolate Banana Muffins
Best double chocolate banana muffins or loaf that will knock your socks off! A great way to use overripe bananas for breakfast or a yummy dessert.
Instructions
Preheat oven to 350 degrees. Put liners in muffin tin. In a medium mixing bowl, whisk together cocoa, flour, baking soda, baking powder, salt and cinnamon. Set aside.

In a large mixing bowl, mix together oil, vanilla and both sugars. Stir in eggs, bananas and shredded zucchini. Stir well until well combined.

Fold in dry ingredients just until combined. Fold in chocolate chips. Scoop batter into a lined muffin tin and bake in preheated oven for 17-20 mins.

Bake until muffin springs back and/or until a toothpick comes out clean with a few moist crumbs sticking to the toothpick. Remove from oven and let cool completely. Enjoy!
Nutrition Facts
Chocolate Banana Muffins
Amount Per Serving (2 oz)
Calories 164
Calories from Fat 63
% Daily Value*
Fat 7g11%
Cholesterol 15mg5%
Sodium 90mg4%
Potassium 137mg4%
Carbohydrates 25g8%
Protein 2g4%
Vitamin A 67IU1%
Vitamin C 3mg4%
Calcium 25mg3%
Iron 1mg6%
* Percent Daily Values are based on a 2000 calorie diet.