How to make homemade yellow cake mix. Comes in handy when you're in a bind, or make a large batch and save money rather than buying boxed.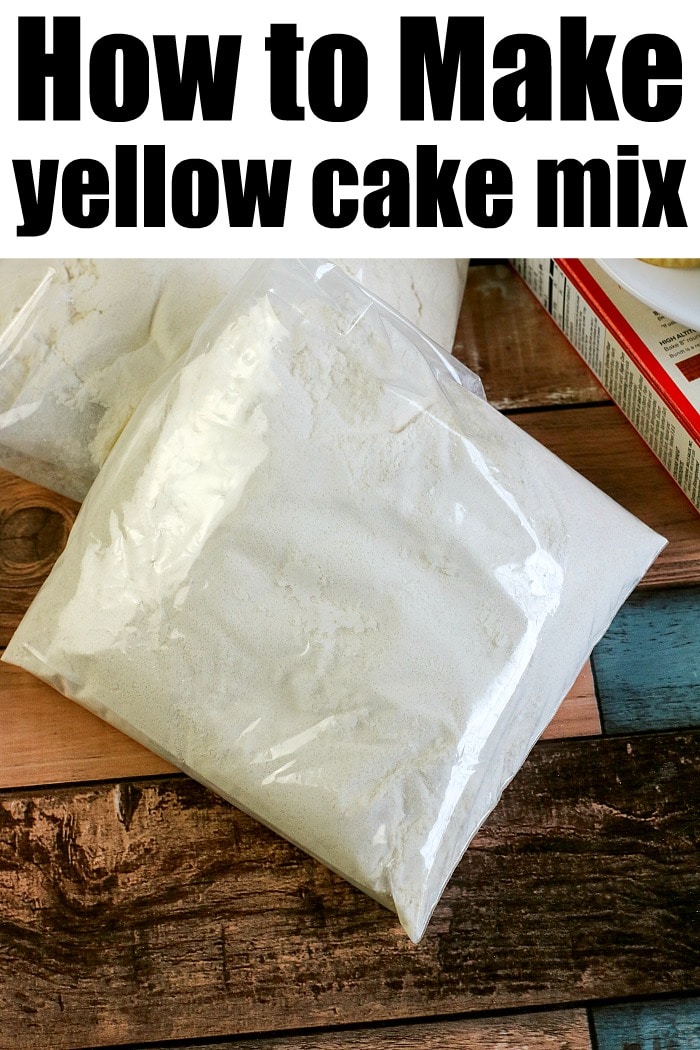 Knowing how to make homemade yellow cake mix sure does come in handy, and saves money too! If you've ever had that "oops I forgot that at the store" on baking days you'll love this. (affiliate links present)
How to Make Homemade Cake Mix
THIS is how to make cake mix y'all! Once you get this down you can make a ton of different boxed cake mix recipes.
We sure do make a lot of boxed cake mix recipes here on The Typical Mom blog.
Our favorite are easy dump cake recipes that always use 1 box, any flavor, but yellow works for them all.
If you're into batch cooking you may want to make a BIG serving of this, separate it into baggies and you'll be set for some serious baking.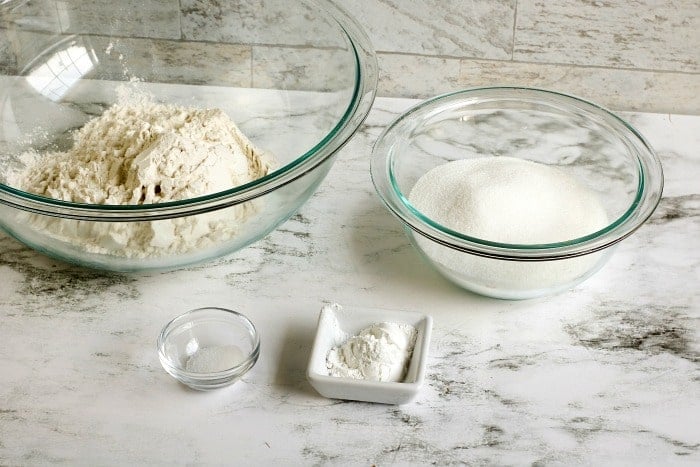 How do I Make Yellow Cake Mix
You really only need a few ingredients. Once you make a batch you'll be surprised just how easy a box of yellow cake mix is to throw together. You may never buy it again after this I tell you!!
All purpose flour
Baking powder and salt
Sugar
What does Yellow Cake Mix Contain
That's it y'all!! I know, crazy right?? What you'll need later on to mix together with your dry mix in order to make it into batter is:
Butter
Oil
Vanilla
Eggs
Milk
So basically all the wet ingredients you'd add later. Sounds about right. I mean you may be able to simplify it more using dry milk and eggs too but it tastes better just bagging the basics and adding what you need later.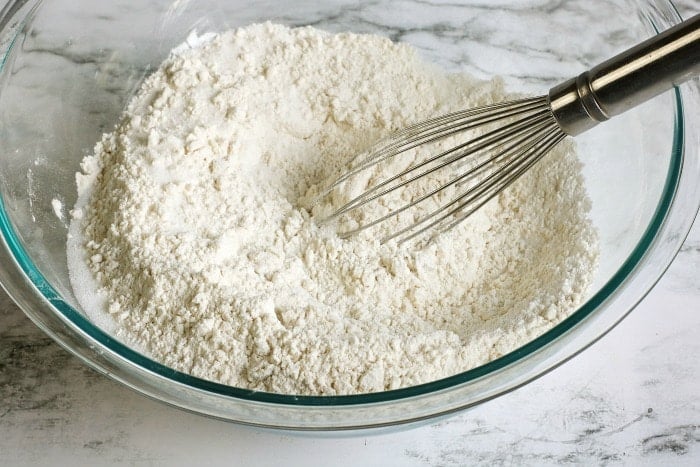 Duncan Hines Yellow Cake Mix Recipe
Of course you'll want 2 round cake pans or a muffin tin is typically what we like using best around here. Bake at 350 degrees and cool completely before frosting. Done!! To make it over the top you can add fruit to like our cake mix pineapple upside down cake.
Why do we love cute cupcakes? OH let me count the ways y'all.

They cook faster
Easier to grab and go for a quick treat
Kids can frost them themselves and decorate however they like
The outside doesn't get more overdone compared to the perfect middle the way a whole cake does
We've even gone so far to make cupcakes in a jar for a party that were a real hit!
You don't even really need a stand mixer to make it light and fluffy. A whisk is what I use so I don't dirty more than I need to. In less than 15 minutes you could make several batches, bag or use mason jars to store.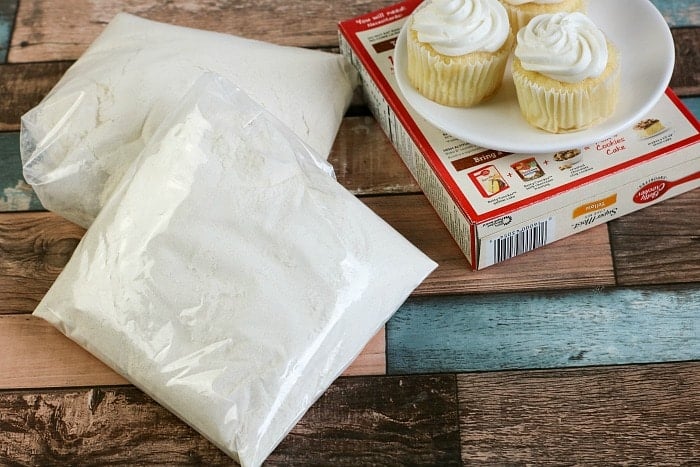 How do make a Duncan Hines yellow cake mix from scratch?
We have the recipe for you right here! If you have the 4 ingredients stored and mixed together and add wet later it will come out more moist like this mix you love.
What can you add to yellow cake mix?
Some like to add a box of pudding to make it extra moist! An extra egg can be added as well as add ins like 1/4 cup sprinkles too.
How do you spice up yellow cake mix?
During the Fall months it is fun to add a bit of rum, orange or almond extract. Lemon and/or lime zest can add a boat load of flavor too. Add butter and egg to make cake mix cookies too!
Homemade Yellow Butter Cake Mix
In a large bowl whisk all the dry ingredients together. Bag and add a label of what needs to be added to it.
When you're ready to bake, add: 1/2 c butter softened, or 1/2 c vegetable oil + 1 tsp vanilla + 3 eggs + 1 1/4 c milk
Preheat oven to 350 degrees F. In 2 greased and floured rounds bake for 20-25 minutes Cupcakes take 15-18 minutes.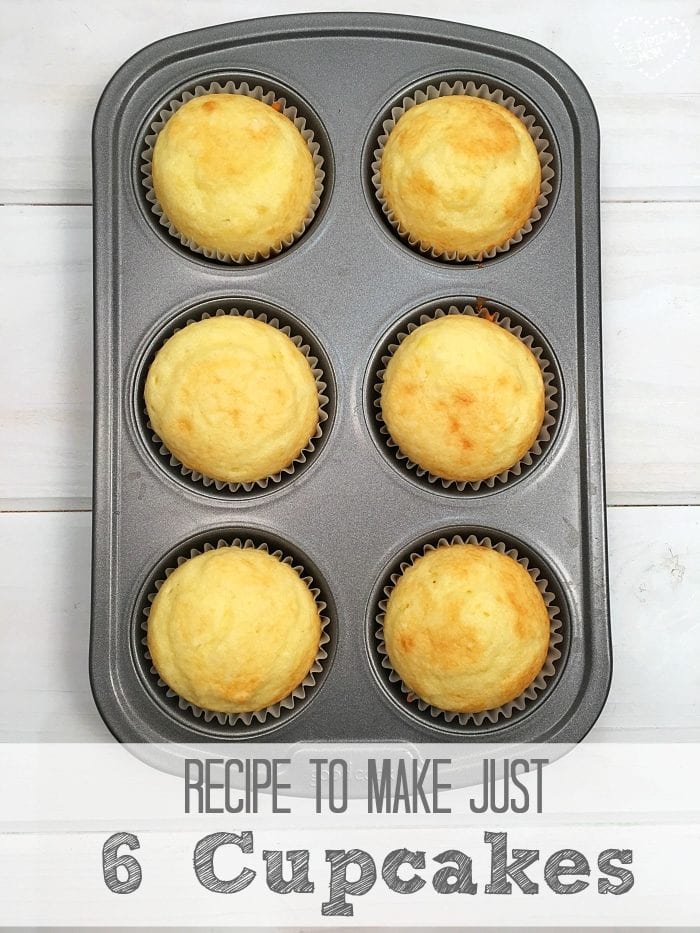 If you only want to make 6 cupcakes you can do that too. This recipe calls for a smaller amount of mix so you can make a small batch vs. an entire box.
Things to make with cake mix
There are tons of other things you can make with this stuff way beyond just what you'd normally think of. We use it to make this crinkle cookie recipe that's fun especially during the holidays.
Want to see a few of my favorite things that I am totally obsessed with?? Take a peek and see how many you might already have…twinsies!
Looking for more easy family recipes and tips? LIKE The Typical Mom Facebook page?
Then sign up for my free newsletter, and follow me on Pinterest! 😉
***** If you LOVED this recipe give it 5 Stars below and let everyone know what you thought about it. 😉
Can you keep cake mix in the fridge?
This is in case you've prepared it with the wet ingredients so now you have batter. You only use half of it and wondering what to do with the rest. You can keep it for up to 24 hours but beyond that it will dry out and not be good.
It is better to just make and use what you want out of the homemade yellow cake mix you made here.
Then store the rest into freezer bags measured out in one batch at a time.
OR use mason jars so you can stack them in a tidier fashion if you want to organize your pantry.
Below is a printable recipe card you can keep on hand. Of course we love "seeing you" so you don't even have to do that.
If you know you'll want to revisit this in the future then bookmark this post!
Homemade Yellow Cake Mix
How to make homemade yellow cake mix. Comes in handy when you're in a bind, or make a large batch and save money rather than buying boxed.
Instructions
In a bowl whisk all the ingredients together. Bag and add a label of what needs to be added to it.

Note to add when preparing batter:

1/2 c butter softened, or 1/2 c vegetable oil

1 tsp vanilla

3 eggs

1 1/4 c milk

Once you create the batter, preheat oven to 350. In 2 rounds bake for 20-25 min. Cupcakes take 15-18 minutes.
Nutrition Facts
Homemade Yellow Cake Mix
Amount Per Serving (2 oz)
Calories 183
Calories from Fat 9
% Daily Value*
Fat 1g2%
Sodium 196mg9%
Potassium 172mg5%
Carbohydrates 44g15%
Protein 2g4%
Calcium 67mg7%
Iron 1mg6%
* Percent Daily Values are based on a 2000 calorie diet.