Here is the free printable Summer house cleaning list I promised you! One more in my series of monthly organization printables to help keep you on track and not overwhelmed as you clean and organize your house. Let's tackle one room at a time shall we, that's what works for me to finally get it all done.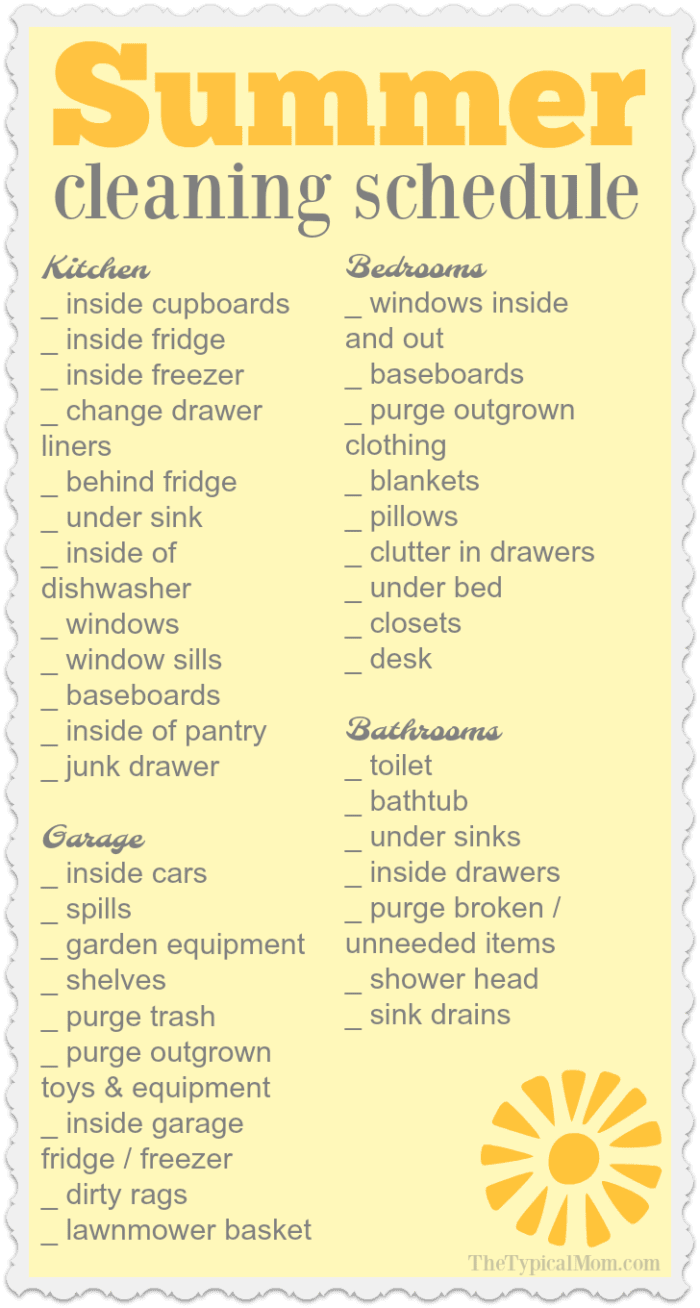 I created monthly organization printables on The Typical Mom to break down house cleaning and purging into a monthly process, this Summer house cleaning list is for the months of June – August. Using these checklists can keep you on track, make sure you don't forget something, and remind you of things that need to be cleaned or gone through that you may have forgotten or overlooked. (originally published 6/17)
I find that breaking the house down into rooms and focusing on one or just a few areas in your house and garage each month makes it bearable and not so overwhelming when you see a list of hundreds of things that need to be done….
I usually just want to give up right then and there! Above on my organization printables page I share monthly free cleaning printables for each month but for summertime I decided to just make one.
We are always so busy during this time of year when most of our kids are out of school that you don't want to be cleaning the whole time, BUT it is a great time to do some things on the days you're at home.
Here is your summer cleaning schedule printable that looks like the above version here, and a printer friendly black and white version of this summer house cleaning list is here too!
Here are a few items that will help you get the tasks on this summer house cleaning list done:
Just split it up into a few days and make those days "at home days".
The kids can help you with some of them, especially helping with purging their rooms because you know they have toys they aren't interested in anymore and are okay with getting rid of them.
If you have little ones I would recommend creating a toy rotation at this time, it is great!
On the other days have some fun by doing free and cheap activities with your kids, here are a few ideas:
Go on a road trip, here are 100+ road trip games for kids
Summer to do list is great to print out at the beginning of the summer and plan something on the printable calendar each day. As an incentive have your kids help you accomplish your summer house cleaning list and when you do a few that day then take off and do something on the summer to do checklist for fun!
For more easy recipes, tips and free printables please LIKE The Typical Mom on Facebook and follow me on Pinterest! You can also sign up for my free weekly newsletter which is packed with goodies I know you'll love. 😉
Visit The Typical Mom's profile on Pinterest.