Easy air fryer orange chicken recipe. How to make frozen Trader Joes or other brand in your air fryer basket, or use this homemade sauce.
We have made TONS of different air fryer dinner recipes, but this may be a favorite.
Yes you can make this simple Instant Pot orange chicken recipe, but it's not crispy. This brings it to the next level of YUM.
This is the brand that was used, but there are several out there. Most frozen brands are of a similar weight so they'd use the same timing. You may need to adjust by 2 or so minutes to get it just the way you want it.
Orange Chicken Air Fryer
Bag of frozen orange chicken
Air fryer basket and that is it!
If you want to make it a bit more homemade you can make your own sauce and use a bag of frozen popcorn chicken instead. Then toss together and serve on a bed of rice.
If you need a gluten free version this might be safer than bagged. Then you can adjust everything to your own needs, and make as spicy as you'd like too.
Homemade Orange Chicken Sauce
These are the ingredients you will need if you want to make this separately and then add it to your own protein.
1 c. orange juice
1/2 c granulated sugar
2 tbsp rice vinegar
1/4 tsp minced ginger and minced garlic
2 tbsp soy sauce
1/4 tsp garlic powder
red pepper flakes are optional for a bit of heat
Bring ingredients to a slow rolling boiling over medium heat in a pot on the stovetop. Then whisk in 1 tbsp of corn starch and allow that to thicken.
Add in some zest from 1 orange to enhance orange flavor to your liking. Then make homemade popcorn chicken. Toss when the meat is cooked and crisped nicely.
OR just use the 3 ingredients for the sauce in our Crockpot orange chicken recipe.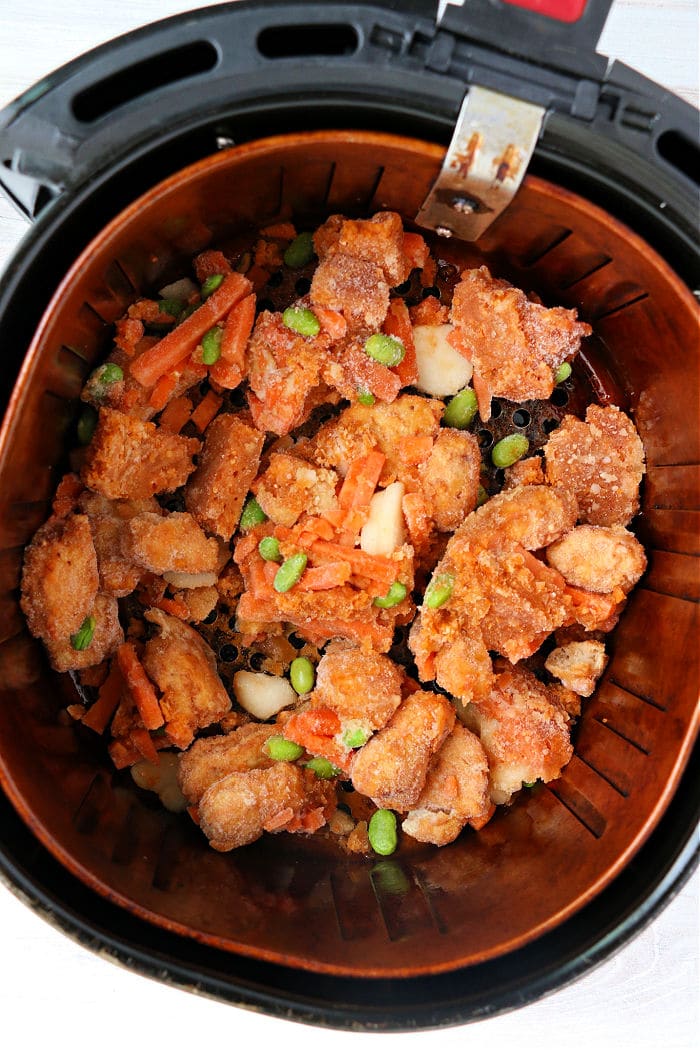 This way is a lot easier because it already has the sauce and diced vegetables inside the bag.
Choose which direction you want to go, both are great.
Making homemade bite size crispy chicken pieces with chicken breasts and orange sauce will take an additional 20 minutes. I've provided both for you here in this post.
When you cook the chicken this way you'll get that deep fried texture but without all the extra calories and fat.
We have lots of other Ninja air fryer recipes we love and make often, but here are a few you should try next:
If you want to use the sauce recipe in this post but use larger pieces. Cook frozen chicken tenders in air fryer and brush that on as another idea. Print recipe below and enjoy.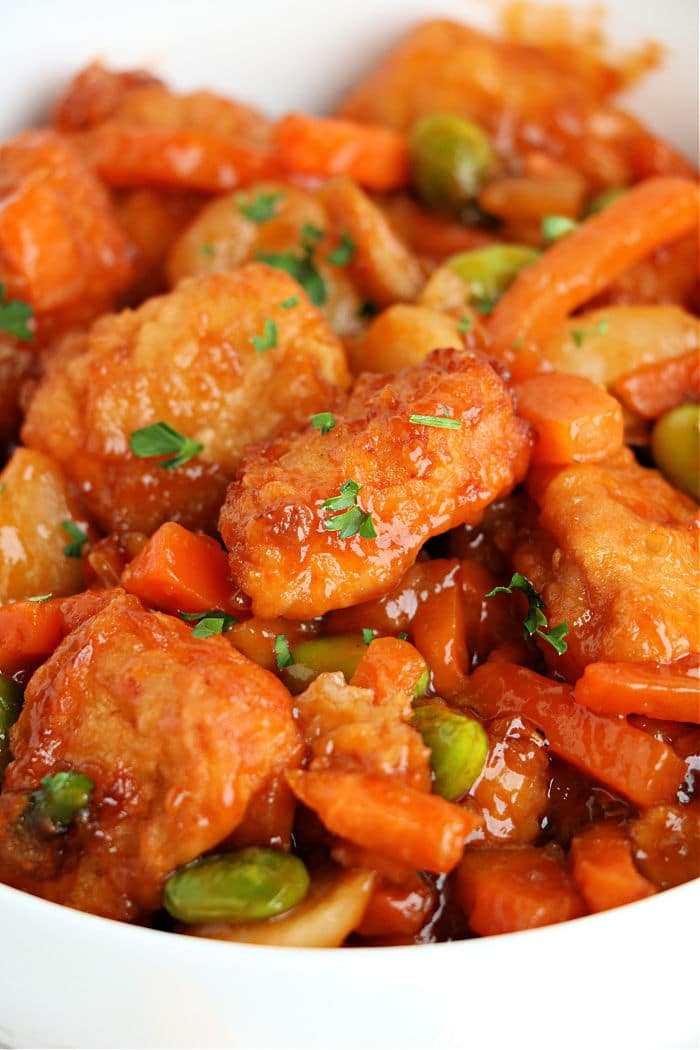 Trader Joe's Orange Chicken Air Fryer
If you too love this store and buy it often, use these instructions too! Overall cook time is 9-12 minutes depending on the size of your pieces.
As you well know there is quite a variety when you used bagged. Smaller bits will get crispier while those big ones may take a bit longer. Just take the "bitties" out earlier and add another minute or two so they're all perfect.