Instant Pot shrimp boil is an easy and healthy dinner you can throw together in no time. If you love seafood and your pressure cooker you've gotta try this.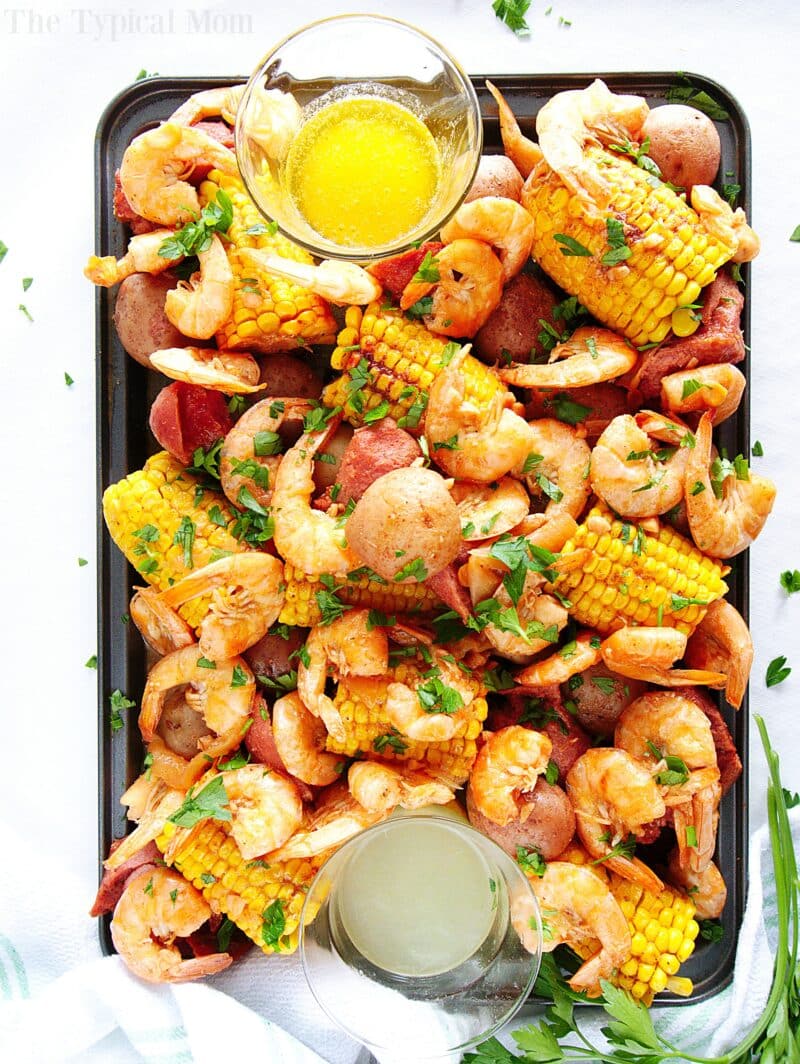 Doesn't this Instant Pot shrimp boil look amazing??!! It's probably our favorite new Instant Pot recipe hands down. With tender flavorful seafood, potatoes and corn your family will surely give this meal a thumbs up too. (affiliate links present, originally published 5/20)
Ninja Foodi Shrimp Boil
If you need easy Ninja Foodi recipes, you can use that pot instead. The brand doesn't matter when it comes to cooking any or all of our Instant Pot shrimp recipes. They all work the same. 😉
The beauty of this meal is that it is complete in of itself. With protein, vegetables and a starch all cooked together you just dump it out, drizzle with butter and seasonings and you're ready to enjoy this baby.
FIRST – You should sign up for my free newsletter so you get new posts emailed to you twice a week and never miss out on anything! Now let's start with a few basic tips:
Make sure to Bookmark our InstaPot recipes page. We add new ones each week!
Then PRINT this —–> Instant Pot cooking times cheat sheet that will help you understand how long meat, vegetables and beans take to cook in your pressure cooker.
For reference, this is the pressure cooker I have (a 6 quart) and use for all recipe creations.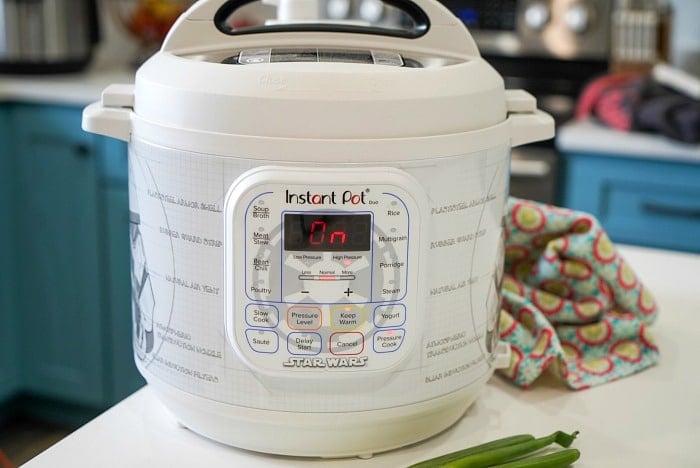 Shrimp Boil in Pressure Cooker
I always buy the largest I can find. Extra jumbo is great because they cook so quickly. The smaller you use the more cooked they will be once it is all cooked together.
There is also a choice of with or without the shell. That is up to you but with it on it can withstand a bit more cook time and heat without overcooking. You really want your seafood to become pink but not too long where it becomes a weird rubbery texture.
SO the larger you can find them the better this will be since all 3 main ingredients need to be done at the same time. This was tricky when we made our air fryer shrimp boil too. For that we layered the items and cooked one at a time essentially, adding more as time went on. Potatoes take the longest so they went in first.
Since you cannot open the lid on this pot that doesn't work but if you follow these directions it will end up perfectly.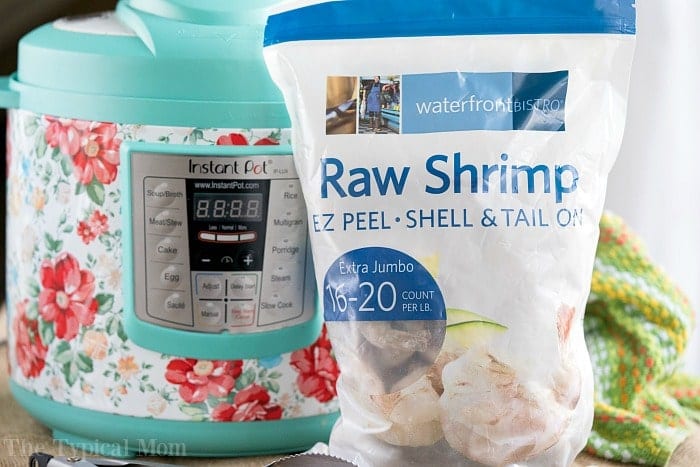 Can you boil in an Instant Pot?
Yes! On the saute function you can heat liquid up where it will begin to boil and bubble. We will use this and pressure high to make this Instant Pot shrimp boil recipe.
First – Invite over some friends, run to the grocery store, and get ready for the "OH MY Goodness" comments that will come. Seafood has never tasted this good with such a short cooking time before.
If you have never tried Old Bay, this is the key to all the deliciousness seasoning wise. All in one container I love it with seafood. We've even used it to make the best air fryer fried shrimp too.
Instant Pot shrimp boil
Meaning, use what you love and what is in season. I prefer fresh corn on the cob but if you must use frozen corn that is possible too. I would just buy the ones cut in half and then frozen so they fit better. I do the same thing when I make Instant Pot crab boil. Another great one to try next.
Shrimp country boil
Frozen shrimp – large with shells on
Baby red potatoes
Corn on the cob – broken into 3rds
Melted butter of course
Old Bay seasoning is a must for this
If you love this flavor we have even more Old Bay recipes here to enjoy. You could add cajun spices if you really want heat, or add hot sauce at the end when done.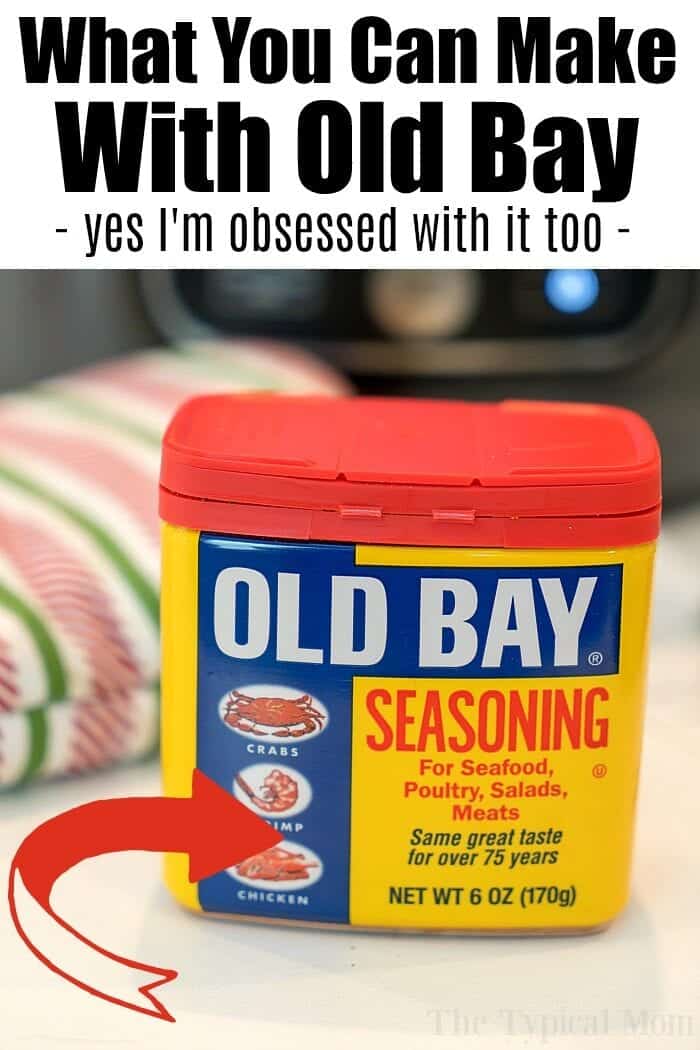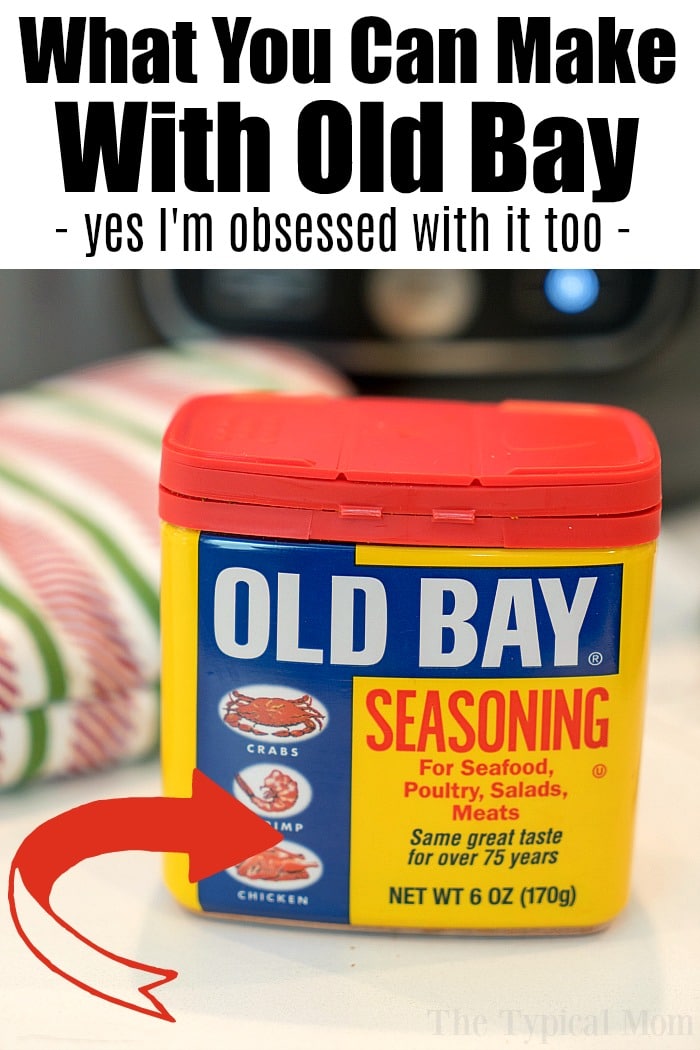 You'll need a few more things on your list like……
Sausage – spicy kielbasa is great if you really like it hot! I mean down South that is a given but I can only handle so much myself so this is set to mild below.
Vegetable broth or use water if you like. Broth just gives this so much more flavor that that is recommended.
Lemon squeeze is great at the end.
Minced garlic is added to everything at my house.
Instant Pot Cajun Shrimp Boil
In order to add heat to this dish you could add a whole bunch of different things. Dry Sriracha is probably my favorite because not only will it make your dish spicy but has some great flavor to it too. Red pepper flakes you likely already have in your cupboard, or chili powder will add a bit of heat. Start with 1 tsp and see what you think.
A sheet pan is great to serve this once it's all done.
Shrimp Boil in Instant Pot No Beer
So for the liquid you could really use anything. Yes you could use a can of beer but in this case we typically choose broth instead. That is a personal preference really, you just need liquid to build up the pressure and steam all the ingredients.
Instant Pot low country boil
This one of course is with shrimp. Suppose you could do the same for a crab boil but haven't done that yet. First prepare your ingredients like slicing your sausage and breaking corn into smaller pieces.
Then saute your butter until it melts with your onion and garlic. Turn pot off.
Add your broth and some Old Bay with a layer of potatoes on the bottom.
Followed by a layer of corn on the cob in Instant Pot pieces and sausage pieces on top of that.

You could add a sprinkle of cajun seasoning on top of potatoes and sausage now if you like it spicy.

Pressure cook on high for just 4 minutes followed by a quick pressure release.
Cook the shrimp by placing them on the very top of all ingredients and cooking for an additional ONE minute.
This will make them fully cooked and perfect.
Serve on a large tray or cookie sheet with butter and a sprinkle of more seasonings like garlic powder, salt and pepper on the very top.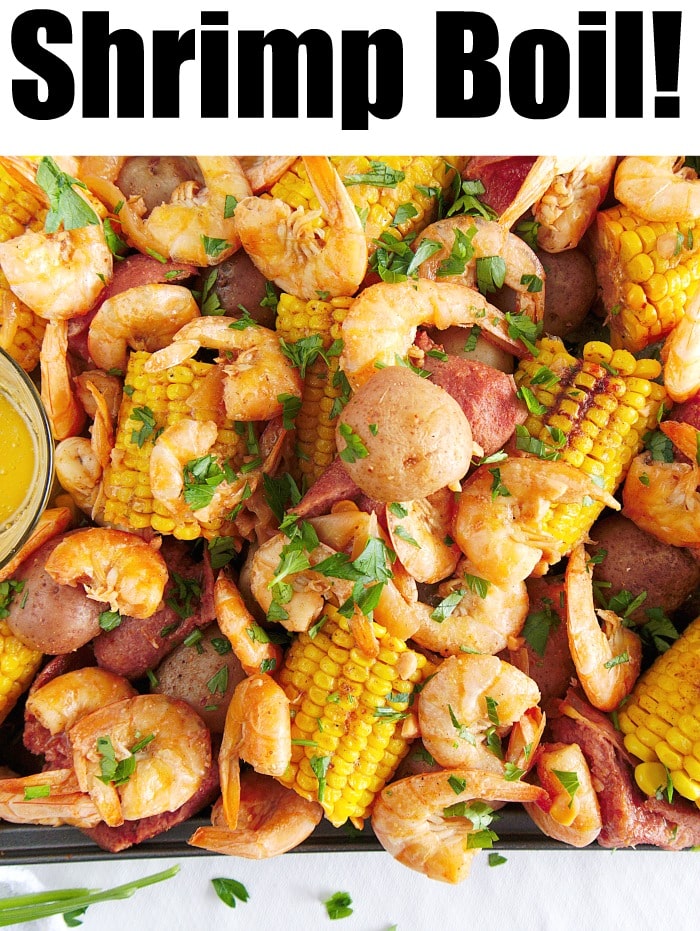 Shrimp boil recipe
Because anything that comes out of the sea is our favorite dinner!!
I also appreciate just how fast all of this cooks together AND the flavors really compliment each other inside the pot. In just 5 short minutes (including time to pressurize) you can make a meal for 1/4 the price vs. ordering this in a restaurant.
Frozen Shrimp Boil Instant Pot
We used frozen shrimp right out of the bag, jumbo is best. You want to use this rather than fresh ideally so that everything cooks evenly and the meat doesn't overcook. If you only have fresh you can use those but they won't be as tender when done.
Do you peel shrimp for shrimp boil?
NO. I have made this several times to test different methods and large frozen shrimp with the shell on work best!
They will come off easily once they're cooked
Can you add the shrimp at the beginning with everything else?
NO. Shrimp takes ONLY 1 minute to cook, any longer and they will be WAY overcooked, rubbery and not edible. Add at the end to the very top as directed below. Even if you make Crock Pot shrimp boil you add the seafood at the end.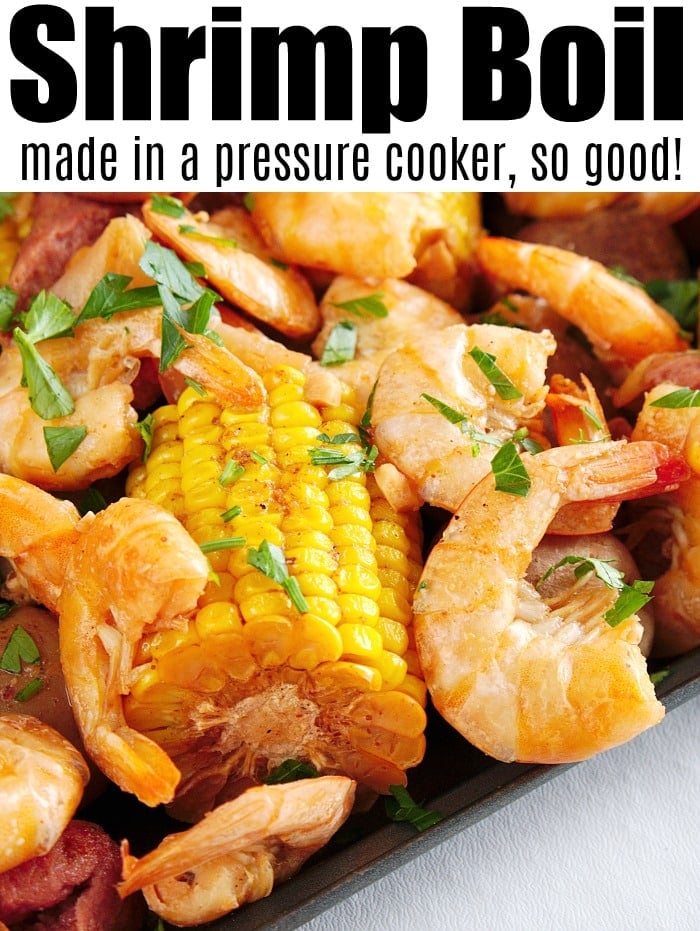 How do you remove shrimp heads?
For me I don't, I just purchase them headless to begin with. LOL. BUT to prepare completely peeled and deveined shrimp gently twist the top to remove the head if it's still attached.
Then go underneath where the legs are attached.
Dig your thumb under the shell to release.
Next, remove the tail with a gentle tug.

If you keep the shells they make excellent homemade seafood stock.
What goes with shrimp boil?
Cole slaw is always a great side dish
Macaroni salad is super cheap

Pasta salad too

Instant Pot baked beans are made with dry beans in no time
Our Instant Pot macaroni and cheese is a favorite side dish
You can find other pressure cooker fish recipes here so your whole week will be filled with healthy goodness. It's even possible to cook air fryer frozen shrimp to perfection this way.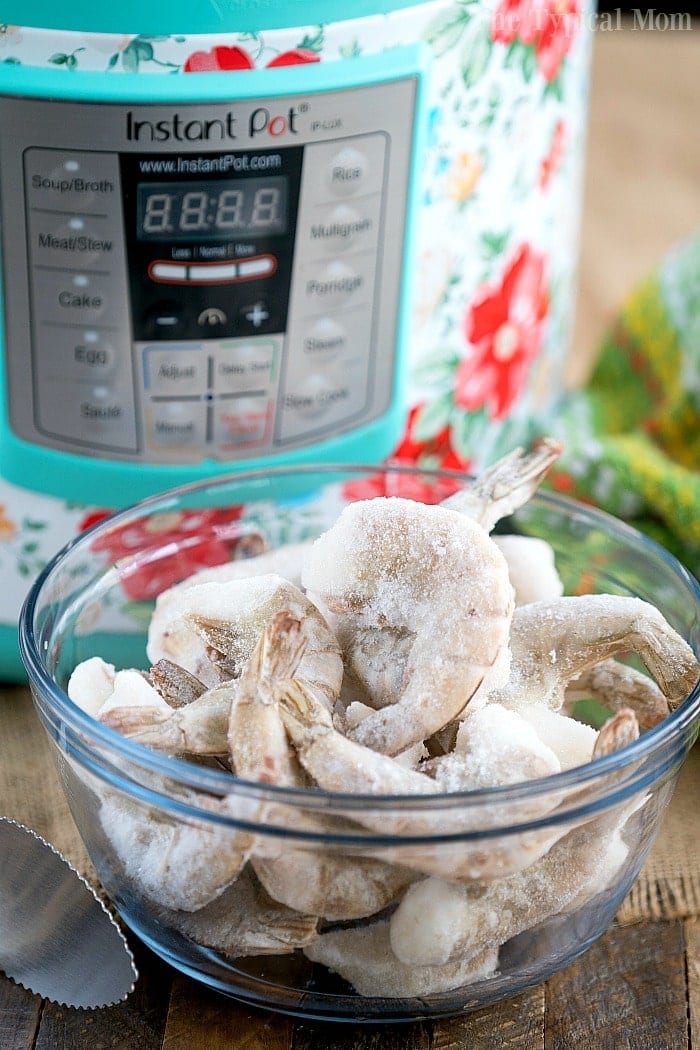 Can you freeze a shrimp boil?
You can if you'd like. Place the cooked shrimp on a baking sheet and into the freezer. Then freeze the shrimp within 1-2 days after boiling them.
If you don't have enough space to keep cookie sheets in the fridge for a few days don't worry. After this step is done you will store them in smaller containers once they're frozen.
Can you reheat shrimp boil?
Ideally you want to eat this as fresh as possible. If you want the entire thing reheated though it's easy to throw small batches into the microwave.
Do so in 30 second increments moving the ingredients every time that time is up.
Don't cook too long or seafood will be rubbery.

Overcooked shrimp is never a good thing.

You can also boil some water, add more seasonings, and throw the entire meal in.
Boil just long enough to reheat without cooking.

Several minutes should do it.
Enjoy friends and try our Instant Pot bang bang shrimp next!!
Want to see a few of my favorite things that I am totally obsessed with?? Take a peek and see how many you might already have…twinsies!
Looking for more easy family recipes and tips? LIKE The Typical Mom Facebook page?
Then sign up for my free newsletter, and follow me on Pinterest! 😉
***** If you LOVED this recipe give it 5 Stars below and let everyone know what you thought about it. 😉
Instant Pot Shrimp Boil
Instant Pot shrimp boil is an easy and healthy dinner you can throw together in no time. If you love seafood and your pressure cooker you've gotta try this.
Instructions
Put pressure cooker on saute, then add butter so it melts. Add onion and garlic and saute for a few minutes.

In a bowl combine broth and 1/4 tsp of Old Bay, set aside. Add remaining Old Bay into your pot with butter, then add salt. Mix.

Pour in broth and lemon juiced. Stir to combine. Turn pot off.

Now arrange the potatoes in the pot into the broth, then layer the corn pieces on to of those.

Place sliced sausage pieces on top of the corn. Can sprinkle a bit more Old Bay in now if you'd like.

Close the lid and set to pressure cook high for 4 minutes, then do a quick release.

Put frozen shrimp into the pot on top of other ingredients. Close the lid and set to pressure cook high for 1 minute followed by a quick release.

Serve everything on a large baking sheet with a bit of the broth poured on top. Put a small bowl of melted butter with a sprinkle of Old Bay on the side, and slices of lemon on the tray.
Nutrition Facts
Instant Pot Shrimp Boil
Amount Per Serving (3 oz)
Calories 647
Calories from Fat 324
% Daily Value*
Fat 36g55%
Cholesterol 375mg125%
Sodium 2711mg118%
Potassium 1144mg33%
Carbohydrates 37g12%
Protein 45g90%
Vitamin A 550IU11%
Vitamin C 36mg44%
Calcium 207mg21%
Iron 5mg28%
* Percent Daily Values are based on a 2000 calorie diet.