This easy crockpot cinnamon roll monkey bread casserole is perfect for dessert or breakfast! Use any pie filling you like and with 3 ingredients it's done!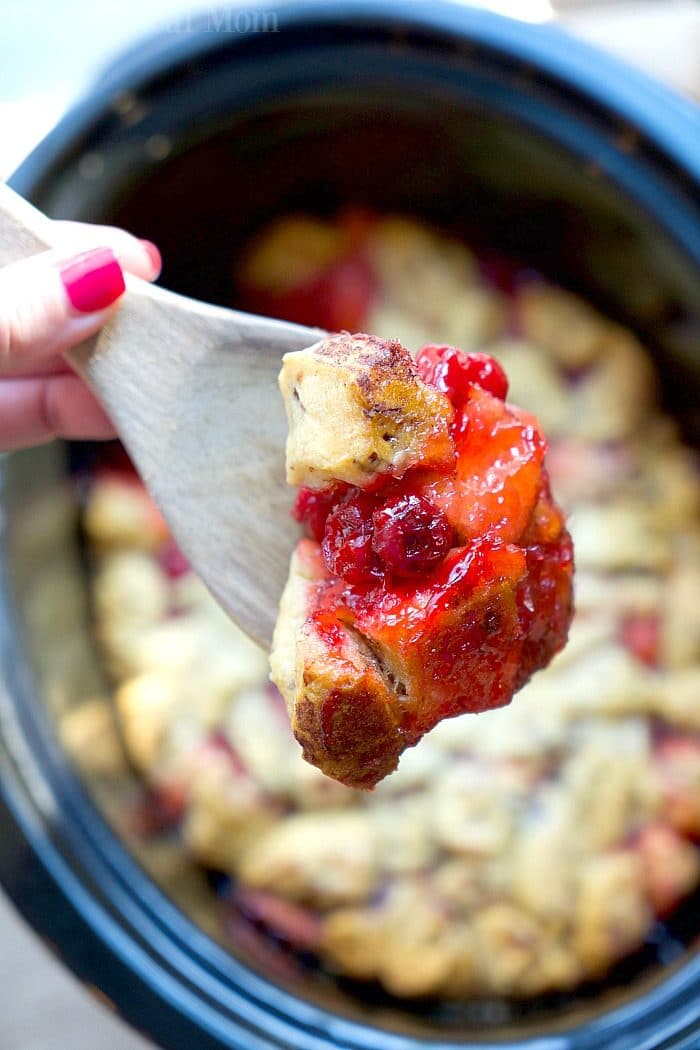 If you've followed The Typical Mom at all you know I love easy throw together meals and desserts! This crockpot cinnamon roll monkey bread with cherries is just that. Add apple pie filling for an easy slow cooker breakfast casserole, or use blueberry for a sweet dessert with icing drizzled on top. All you need are 3 ingredients to make it and it's perfect for Christmas morning too! One of our favorite dessert crockpot recipes that never lasts long in this house! 😉 (originally published 9/17)
Yes just 3 ingredients to make Crockpot monkey bread recipe! Use your favorite pie filling to make it just the way you want.
We chose cherry but blueberry or apple monkey bread would be fabulous too.
Here's what you need to grab to make Crockpot monkey bread
2 pkg. cinnamon rolls
1 can pie filling
1/2 cup of Vanilla frosting – optional to add to the top when done
Cooking spray is helpful inside your slow cooker insert for cleanup purposes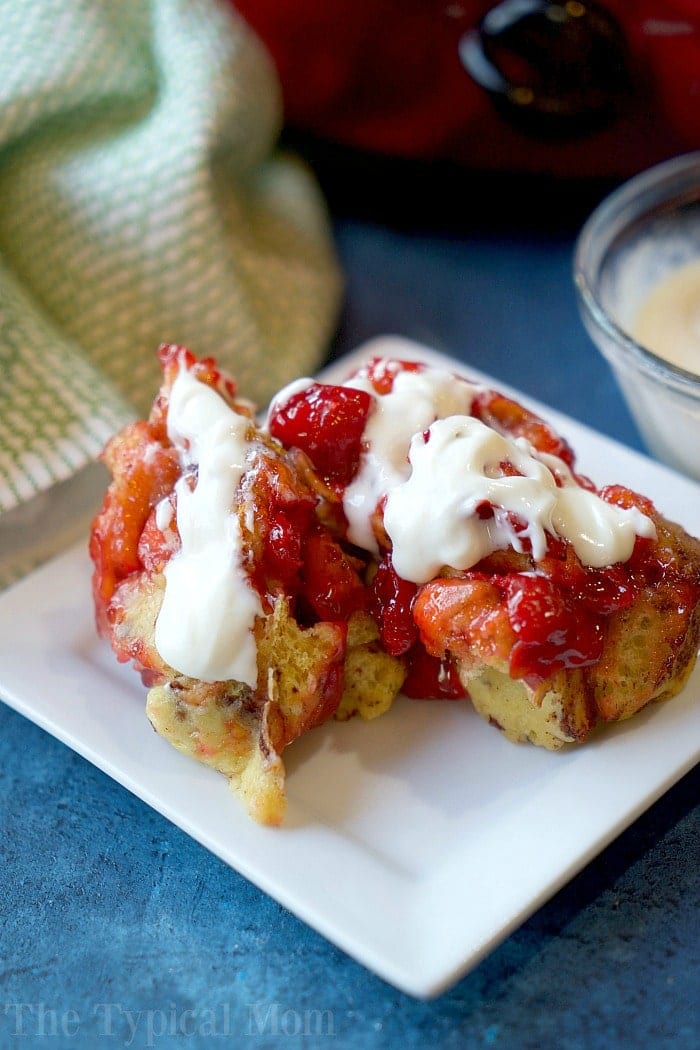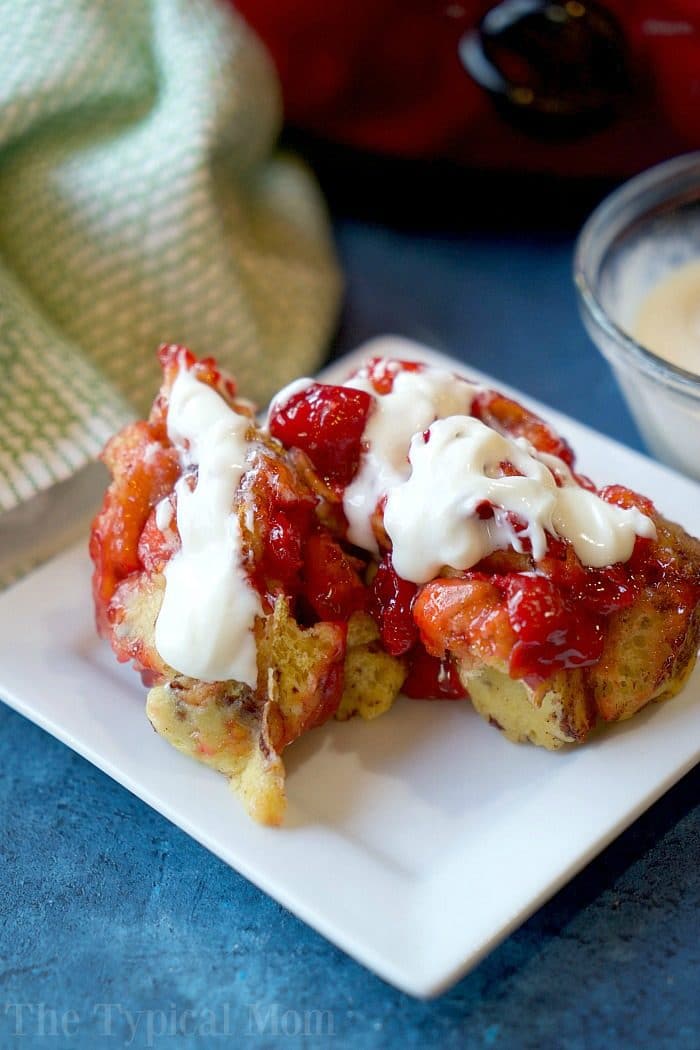 I love an easy Christmas morning breakfast recipe. We usually make this easy crockpot breakfast casserole recipe too and since I have several slow cookers I can make both. Then we are set for not only the morning but into the early afternoon if someone gets a little hungry later.
If you're making it for dessert just pop it in just before you are beginning to cook dinner and since it only takes 2-3 hrs cook time it will be ready when you're done.
I feel it turns out better on low vs. if you cook on high.
You can add vanilla or cream cheese frosting to the top if you want or just eat as is and it's a sweet treat that is inexpensive to make and you can change it up with different flavors.
Sprinkle the top with a cinnamon sugar mixture to make it taste like a sweet french toast bake.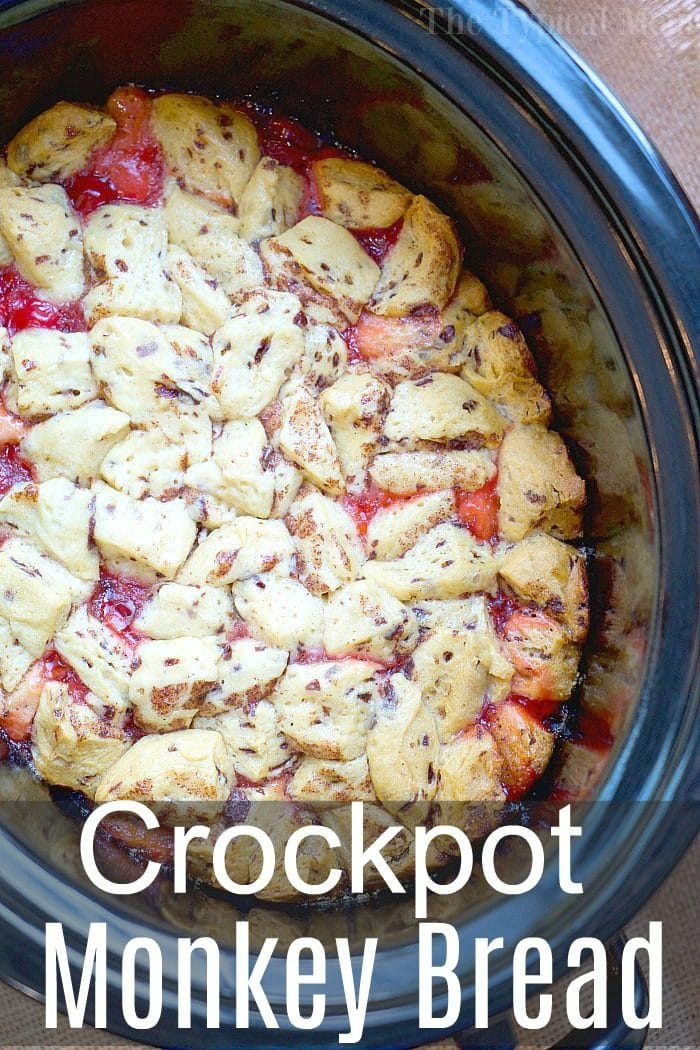 Cherry is wonderful as you can see but apple is amazing! That is also yummy with a small scoop of vanilla bean ice cream on top. We've made this in muffin tins too which is fun and easy to pick up.
If you don't have a few hours to make this just use our apple pie monkey bread muffins recipe and get the same taste in just 20 minutes!
Serve with a large roll of paper towels since they're sticky.
Crock pot monkey bread the perfect holiday breakfast or brunch option.
Here's a video showing you how we make our crockpot cinnamon roll breakfast casserole.
Best if served immediately, just scoop out on to a plate and you can pick it apart easily with your fingers since it's monkey bread.
To make an easy monkey bread recipe in the oven, follow these directions instead. Our apple monkey bread is amazing too.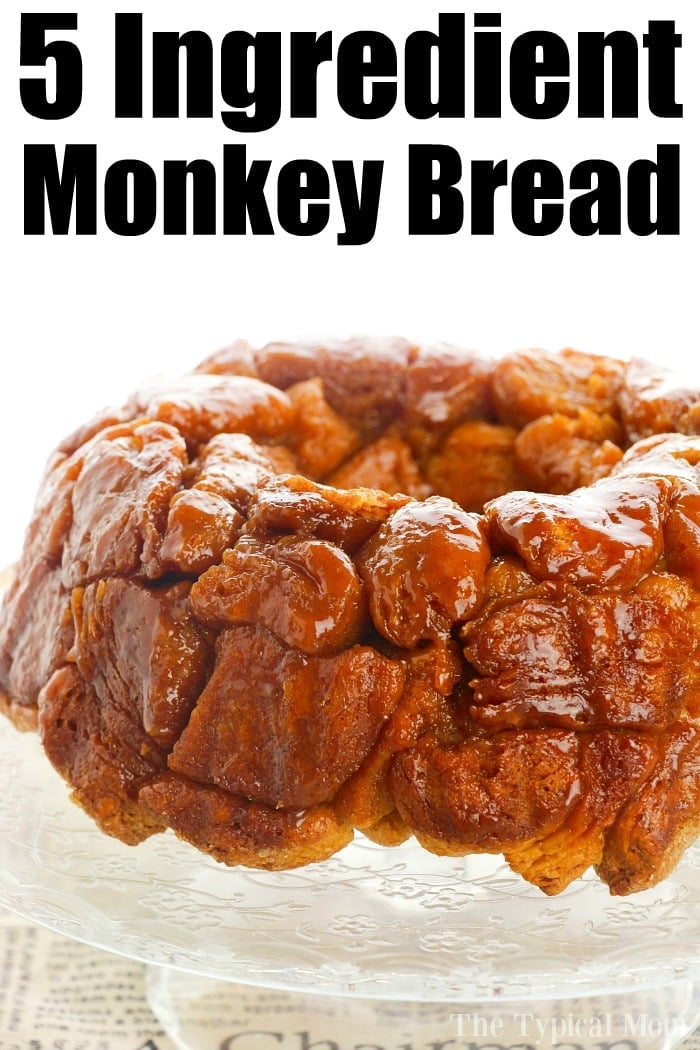 This one does need 5 ingredients, but still super simple. You just cut each biscuit into 4-6 pieces each and dip into melted butter. Then shake in a bag with a brown sugar mixture, or just cinnamon and sugar.
Throw them into a bundt pan and bake! Wonderful easy dessert recipe, or treat yourself at breakfast.
Below is the printable recipe to follow including nutritional information.
For more easy recipes, tips and free printables please LIKE The Typical Mom on Facebook and follow me on Pinterest! You can also sign up for my free weekly newsletter which is packed with goodies I know you'll love. 😉
Crockpot Cinnamon Roll Monkey Bread
This easy crockpot cinnamon roll monkey bread casserole is perfect for dessert or breakfast! Use any pie filling you like and with 3 ingredients it's done!
Instructions
Spray the inside of your crockpot with non stick spray (I used my 6 qt)

Cut 1 pkg. of your cinnamon rolls into 6 pcs. each roll and lay them flat on the bottom of your slow cooker.

Pour your can of pie filling on top of that layer, spread out evenly.

Cut the last pkg. of your cinnamon rolls into 6 pcs. each cinnamon roll and spread evenly on top of your pie filling.

Pour the 2 containers of frosting that came in your cinnamon roll tubes on top of your top layer of cinn. roll pcs.

Close your lid and cook for 2 hrs on high or 3 hrs on low or until the middle pcs are no longer sticky (outside pcs will be more done than the middle, low setting is better).

Scoop out on to plates and serve with drizzle of frosting if desired.
Video
Nutrition Facts
Crockpot Cinnamon Roll Monkey Bread
Amount Per Serving (4 oz)
Calories 154
Calories from Fat 27
% Daily Value*
Fat 3g5%
Sodium 70mg3%
Potassium 34mg1%
Carbohydrates 30g10%
Vitamin A 15IU0%
Vitamin C 1mg1%
Calcium 2mg0%
Iron 0.2mg1%
* Percent Daily Values are based on a 2000 calorie diet.