Lots of bone in chicken breast recipes you can cook in the oven, smoked on the grill, chicken recipes in air fryer or Instant Pot are here. Way cheaper than boneless and only takes a bit more time to cook.
Roasted chicken breasts are the most popular for many people but there are so many other ways to make them. Healthy due to their lean and tender white meat, they are super versatile and cheap to buy. Among the various cuts though, bone-in chicken breasts stand out as they add extra succulence and flavor to a variety of dishes. (affiliate links present)
Recipes with Bone In Chicken Breasts
We will explore some mouthwatering recipes using this cut with ribs still attached that you can easily prepare at home. Whether you prefer baked, roasted, or split chicken breast recipes, Instant Pot frozen chicken breasts or another way we've got you covered!
Baked bone-in chicken breasts is a simple yet incredibly satisfying method of preparing this cut of meat. To start, preheat your oven to 350 – 375 F. Rinse cold water and pat them dry with paper towels. Place in a baking dish and drizzle with olive oil, then season generously with your favorite herbs and spices. You can use a combination of garlic powder, paprika, thyme, and rosemary for a flavorful profile.
Cook chicken breasts for about 40 – 60 minutes or until the internal temperature reaches 165°F when checked with an instant-read thermometer. This ensures that the chicken is cooked thoroughly and remains juicy. We share how to bake frozen chicken breasts in oven here too.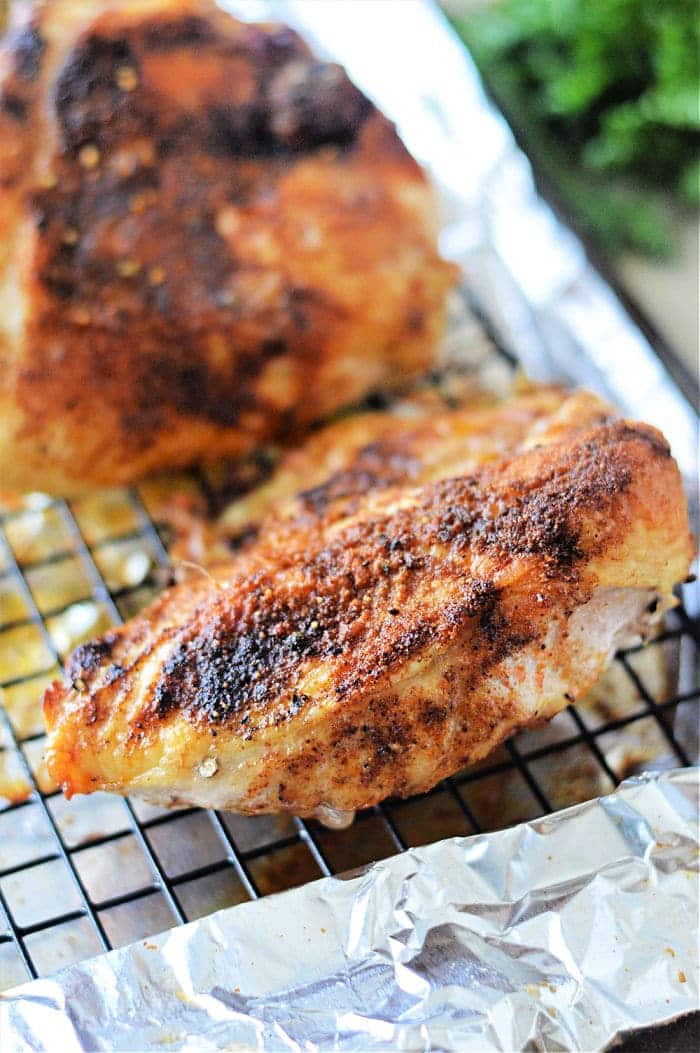 Split Chicken Breast Recipes
What is called split chicken breasts are essentially 2 breasts that have been cut in half, creating two smaller pieces. This method allows for more even cooking and quicker preparation as opposed to spatchcock chicken. You can follow the same baking method as mentioned above if they aren't split, adjusting the cooking time accordingly as they may take longer.
Roasting bone-in skin on chicken breasts is another fantastic way to enhance the natural flavors of the meat. Preheat your oven to 400°F or 200°C and prepare a baking sheet with parchment paper. Rub with olive oil and sprinkle them with salt, pepper, and any other desired seasonings.
Place the seasoned breasts on the baking sheet and roast for 45 minutes to 1 hour until they reach the safe internal temperature of 165 degrees F in the thickest part.
Soaking in lemon garlic chicken marinade before cooking can take their flavor to a whole new level. Prepare a marinade of your choice using ingredients like lemon juice, soy sauce, garlic, honey, and olive oil. Place either bone in or boneless skinless chicken breasts in a zip-lock bag and pour the sauce over them.
Seal the bag and refrigerate for at least 2 hours, allowing the flavors to infuse the meat. After marinating, you can bake, roast, make Crockpot frozen chicken breasts or grill the chicken breasts for a delightful and aromatic dish.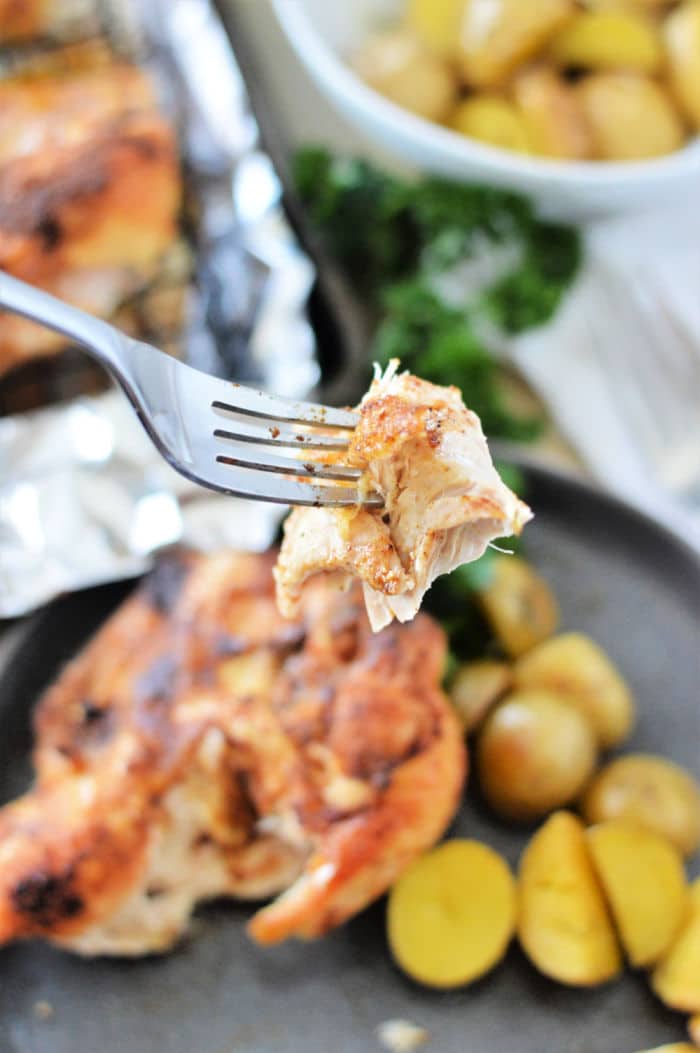 Bone-In Skin On Chicken Breast Recipe
For a warm sauced casserole style dish, make cacciatore with bone in chicken here. For those who enjoy crispy chicken skin, these with the skin on are a delectable treat. The skin acts as a natural barrier, retaining moisture and resulting in a juicier piece.
Before cooking, make sure to season the skin with salt and your favorite herbs. Bake chicken breasts in the oven at a bit higher temp at the end so the skin can turn a golden brown crispy crunch. If you have an air fryer you can get an even bigger crunch too. You can follow our air fryer bbq chicken breast for that one.
Cooking juicy chicken to the right internal temperature is crucial to ensure it is safe to eat and remains juicy. An instant-read thermometer is a kitchen tool you shouldn't go without. Insert the thermometer into the thickest part of the chicken breast, avoiding the bone.
When the temperature reads 165°F (74°C), your chicken is ready to be served. And then there is sous vide chicken breast, which will come out the most tender. You can sear the skin in a skillet when done if you wish with this one, which you might want to do with a smoked chicken breast too.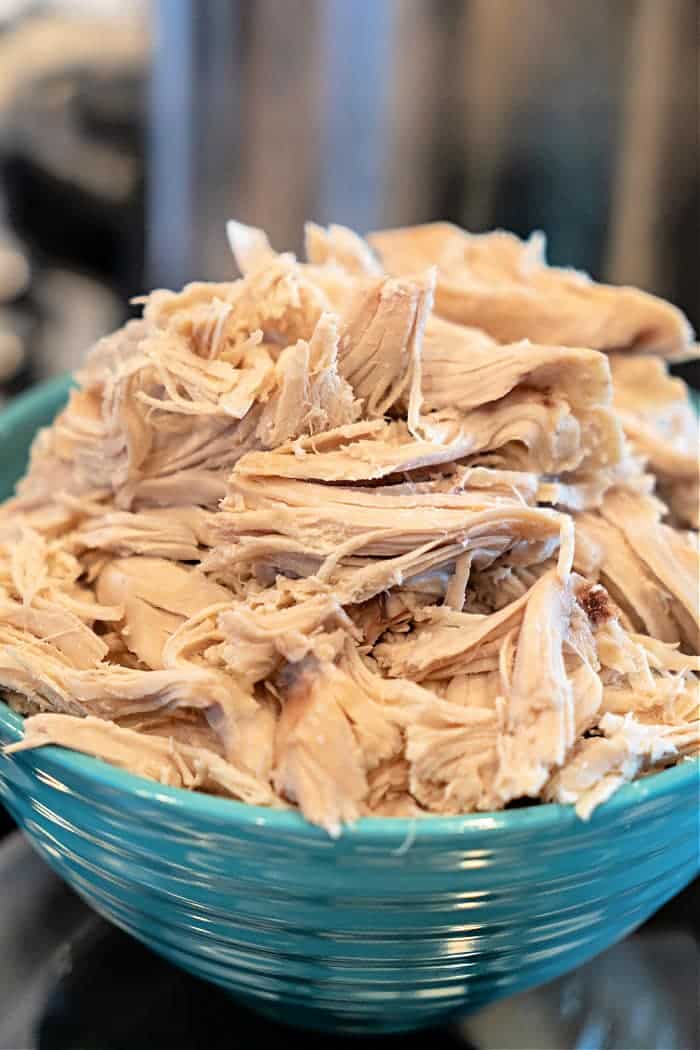 Removing the ribs from chicken breasts
If you can only afford for the ribs to still be attached, you can separate the bones before cooking if you really wanted to. You just need a very sharp knife and a cutting board to get started. The reason to go thru all this is for the meat to cook faster, and it is easier to eat once served as well.
If you are marinating it can absorb more of the flavors this way, and cooks more evenly as Chicken Breast in a Toaster Oven too.
Place the piece on a clean cutting board, making sure it's secure and stable.
Turn the breast over so that the bone side is facing up. You'll notice a line of bones running along the center of the breast. These are the ribs.
The breastbone is the large, flat bone that runs along the center of the chicken breast, separating the two halves. The ribs are attached to this bone.
Take a sharp kitchen knife and carefully make a shallow cut alongside one side of the breastbone. Start at the top or bottom of the breast and work your way down, following the contour of the bone.
As you make the initial cut, continue running the knife along the ribs, keeping the blade as close to the bone as possible. Gently separate the flesh from the ribs using the knife, cutting through any connective tissue.
If you have poultry shears, you can use them to help cut through the ribs more easily. Simply insert the shears between the breast meat and the ribs and cut along the bone to remove them.
Once you've made your way along the entire length of the ribs, you should be able to lift them away from the chicken breast. If there are any remaining bone fragments or cartilage, carefully trim them off with the knife or shears.
After removing the ribs, run your fingers over the surface of the breast to check for any small bones or cartilage that might have been left behind. If you find any, carefully remove them.
If you're working with a whole piece (both halves still attached), repeat the process on the other side to remove the ribs from that half as well.
Now you have boneless chicken breasts ready for your preferred cooking method. You can use these boneless chicken breasts in various recipes, from grilling and sautéing to baking and stir-frying. Enjoy your delicious and rib-free chicken!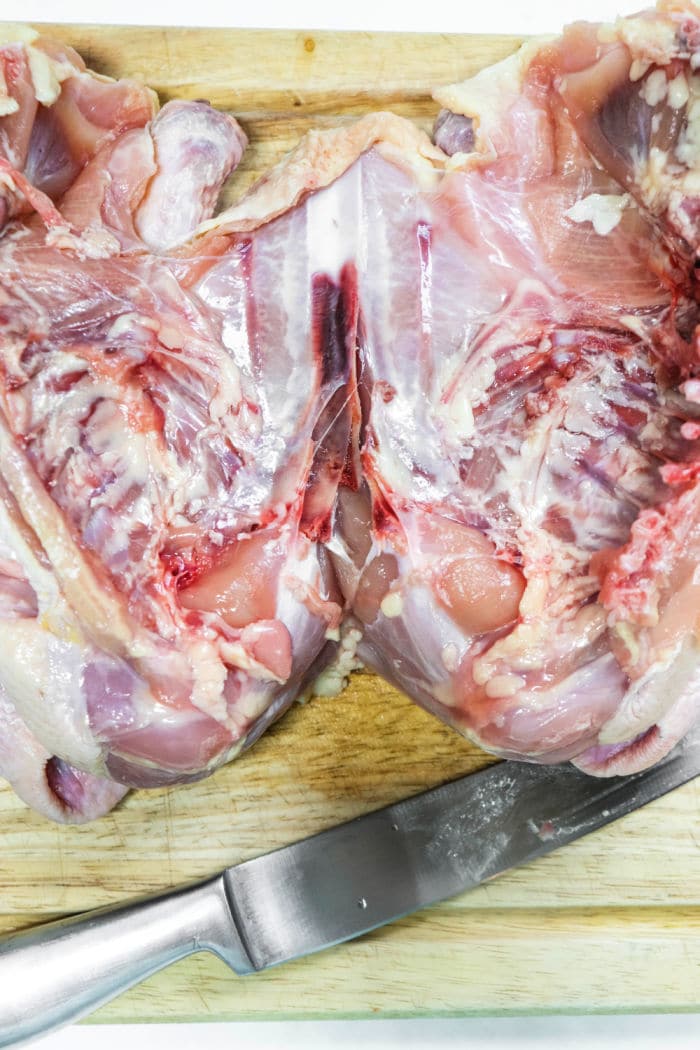 Cooking Frozen Bone in Chicken Breasts
You can in fact use fresh or frozen for all of these methods. The timing may need to be extended for the oven but slow cooking and pressure cooking remains the same. Can you boil frozen chicken? Yep, it is possible and great if you want to shred it to make tacos!
From baking and roasting to marinating, there are countless ways to enjoy this versatile cut of meat. Remember to use an instant-read thermometer to guarantee moist meat in every bite every time.
So, why not jump to recipe and try the others in this post later on in your kitchen this week? Whether you're hosting a dinner party or cooking for yourself, these dishes are sure to impress your taste buds and leave you craving for more.
Want to see a few of my favorite things that I am totally obsessed with?? Take a peek and see how many you might already have…twinsies!
Looking for more easy family recipes and tips? LIKE The Typical Mom Facebook page?
Then sign up for my free newsletter, and follow me on Pinterest! 😉
***** If you LOVED this recipe give it 5 Stars below and let everyone know what you thought about it. 😉
Bone In Chicken Breast Recipes
Instructions
Crockpot bone-in chicken breasts – Set chicken breasts in slow cooker, pour broth over the top and sprinkle on seasonings of your choice. Close lid and set to low for 4-6 hours or until thickest part reaches a safe 165 degrees F inside.

Baked bone-in skin on chicken breasts – Preheat your oven to 400°F or 200°C and prepare a baking sheet with parchment paper. Rub with olive oil and sprinkle them with salt, pepper, and any other desired seasonings.

Place the seasoned breasts on the baking sheet and roast for 40 minutes to 1 hour until they reach the safe internal temperature of 165 degrees F in the thickest part.

Instant Pot bone-in chicken breasts – Pour 3/4 of a cup of chicken broth or water into the pot. Place pieces inside trying not to overlap too much. Add seasonings. Close and seal lid, cook at high pressure for 12 minutes with a natural release of 10 minutes. (best if skin is removed beforehand)

Boiled bone in chicken breasts – Fill a stock pot ¾ full of hot water and place over medium high heat. Add chopped carrots and celery, 2 tbsp. minced garlic is great too. Add 2 bouillon cubes and spices to the pot. Bring to a rolling boil. Then boil for 11-12 minutes or until 165 degrees F. in thickest part.
Nutrition Facts
Bone In Chicken Breast Recipes
Amount Per Serving (2 oz)
Calories 261
Calories from Fat 54
% Daily Value*
Fat 6g9%
Cholesterol 146mg49%
Sodium 796mg35%
Potassium 848mg24%
Carbohydrates 0.3g0%
Protein 48g96%
Vitamin A 70IU1%
Vitamin C 3mg4%
Calcium 14mg1%
Iron 1mg6%
* Percent Daily Values are based on a 2000 calorie diet.