Free Hanukkah coloring pages are here! Kids can enjoy a word search, maze, word scramble, paper puzzle and more. Print these printables for the Jewish holiday right at home.
Looking for a festive way to get into the holiday spirit? Why not try your hand at some Hanukkah coloring pages! There are plenty of great designs to choose from, and you can even find some that are specifically geared towards adults. Just one of many holiday coloring pages offered on our site. (affiliate links present)
Whether you're a kid at heart or just looking for a fun way to relax and de-stress, coloring Hanukkah fun pages is a great option. Plus, it's a great way to keep the kids entertained while you're busy cooking dinner or wrapping presents.
Go ahead and give it a try – you might just find yourself getting into the holiday spirit in no time at all!
Hanukkah Word Search
Since you're here I know you are looking for all the free printables for kids you can find. I add more each week so make sure you bookmark the blue link above and check back often.
First you should subscribe to our free newsletter to get more via. email too. Feel free to print one or as many as you like for rainy day activities that boys and girls will all enjoy! Here are our favorite items to use on coloring pages, word searches and color by number printables;
Hanukkah Word Scramble
Let's start with dreidel – Deirdl! What a fun game to play during Hanukkah! Spin the top and hope it lands onwhich letter: Nun, Gimel, Hay or Shin.
The letters stand for "A great miracle happened here." Lets say it lands on Nun, you do nothing. If it lands on Gimel, you get the entire pot. Lands on Hay? You get half the pot. And if it lands on Shin, you put a chip in the pot.
latkes – These delicious fried potato pancakes are traditionally served during Hanukkah. They can be made with different kinds of potatoes, but Yukon Golds are my favorite. You can also add shredded onions and serve them with applesauce or sour cream.
menorah – This is the nine-branched candelabra used during these 8 days. Each night one more candle is lit until all eight are burning brightly. The ninth candle, called the shamash, is used to light the other candles. They're quite beautiful like this one with the star of David on it.
gelt – Gelt is money, and it's often given to children during Hanukkah. It's a fun way to teach them about the value of money and how to save up for something they really want. Chocolate coins are my favorite kind of this that everyone enjoys.
dreidels – Dreidels are wooden tops that are spun during the game of deirdl. They usually have four sides, each with a different Hebrew letter: Nun, Gimel, Hay and Shin. The letters stand for "A great miracle happened here."
Free Hanukkah Printables
Looking for a fun way to celebrate Hanukkah? Why not try a Hanukkah word search puzzle! This festive activity is perfect for kids and adults alike. Simply print out a list of Hanukkah-related words, and see how many you can find in the puzzle.
There are tons of different coloring pages for kids online, but sometimes it's hard to find specific holiday related ones. Not only is this activity a great way to get into the holiday spirit, but it's also a great opportunity to learn more about the history and traditions of this holiday. So what are you waiting for? Get searching!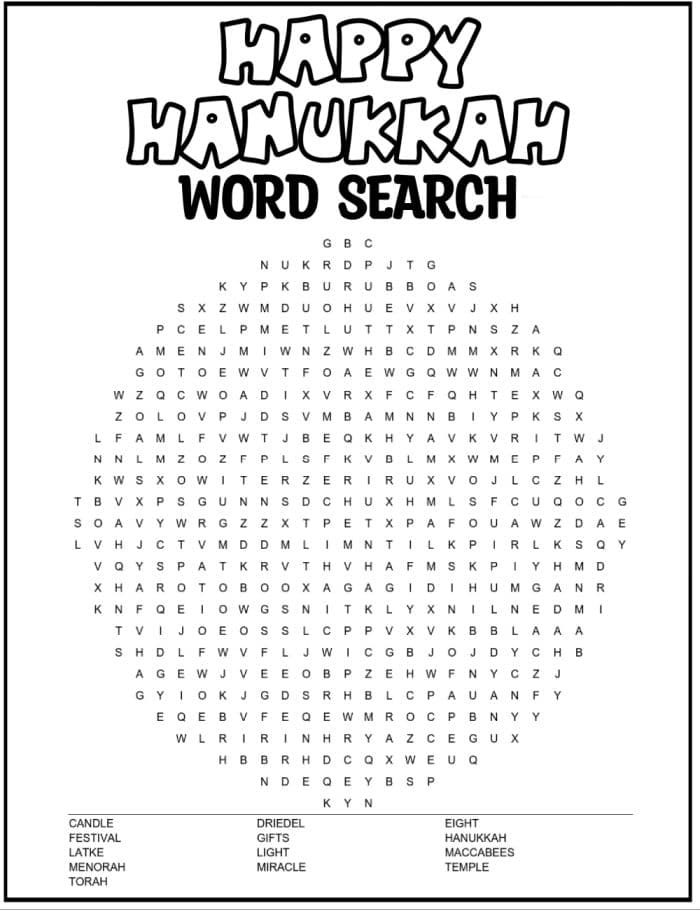 Hanukkah Activities for Kids
Looking for some fun and free Hanukkah printables? Here are a few of our favorites in the link offered here below. You can print one or all of them, your choice. For a festive touch, print out gift tags with twine and tie them around each bunch to give your guests.
Time needed: 5 minutes
Free Hanukkah Printables
Print

You can print as many free Hanukkah coloring pages

here. There are a few to choose from, or you can just get one in multiples.
Color

Use a pencil to unscramble the words, a highlighter to find hidden words in the word search, color the pictures on the pages. Have fun with it with friends and neighbors.
Another great way to add some holiday cheer to your home is with these Hanukkah garlands. Print them out on colored paper and string them up around your doorways or windows. They'll make your home look merry and bright!
Finally, if you're looking for something fun to do with the kids, these Hanukkah coloring pages feature a ton of great activities for all ages. Everyone will love adding their own personal touch to these festive scenes.
Want to see a few of my favorite things that I am totally obsessed with?? Take a peek and see how many you might already have…twinsies!
Looking for more easy family recipes and tips? LIKE The Typical Mom Facebook page?
Then sign up for my free newsletter, and follow me on Pinterest! 😉
***** If you LOVED this recipe give it 5 Stars below and let everyone know what you thought about it. 😉