What is talk like a Pirate day and how can you have fun with your kids each year on September 19th. Here are free Pirate printables and games to enjoy.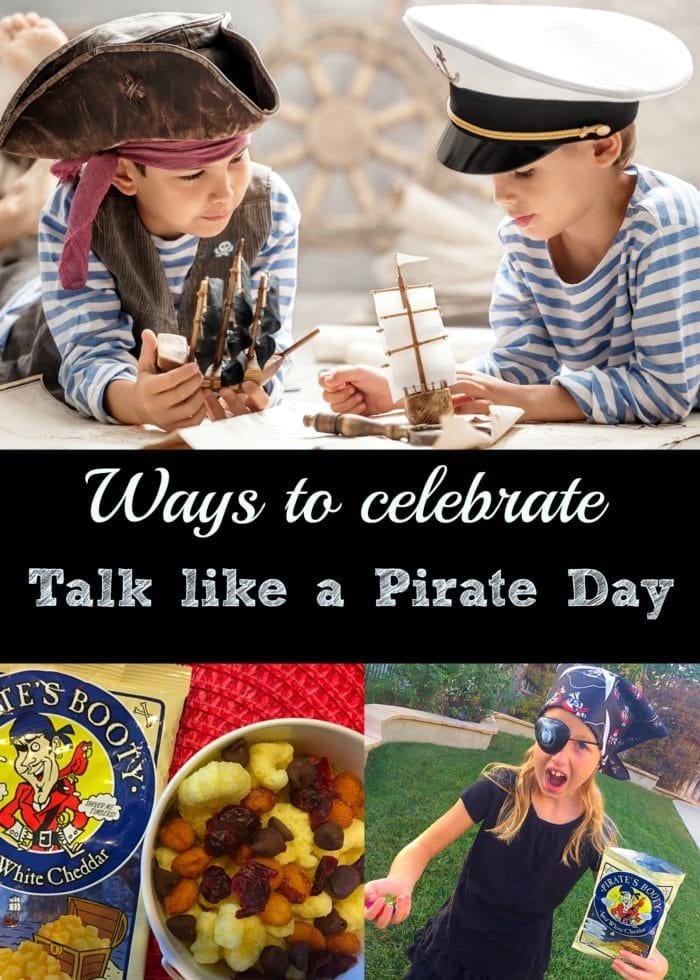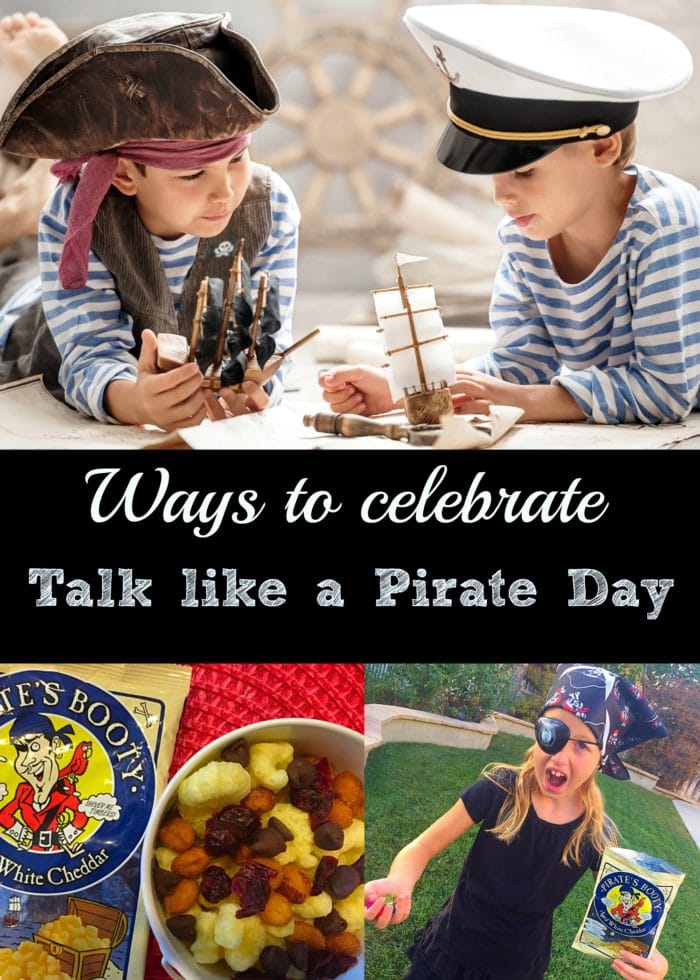 Have you heard of talk like a Pirate day??!! It's celebrated each year on September 19th. It's lots of fun to participate in Pirate related activities! I had the opportunity to speak with David Engel the creator of Pirate School and here was what he sid. Sponsored by Pirate's Booty. (originally published 9/15)
Pirate Map Printable
Talk like a Pirate day is celebrated on September 19th each year. It was created in 1995 by two men in Oregon who deemed it the day when everyone in the world should talk like a Pirate.
For example, you should greet friends not with "Hello," but with "Ahoy, matey!". Do fun activities involving everything Pirate and have fun! 😉
More simply, as David Engel (the creator or Pirate School!) stated in my interview, " Pirate day allows kids to open their hearts and spirits encouraging dramatic fun.
Of course with all this moving around, playing games, and pretend play, every buccaneer will build up a healthy appetite. So we will start by sharing a fun activity involving what else, well Pirate's Booty of course!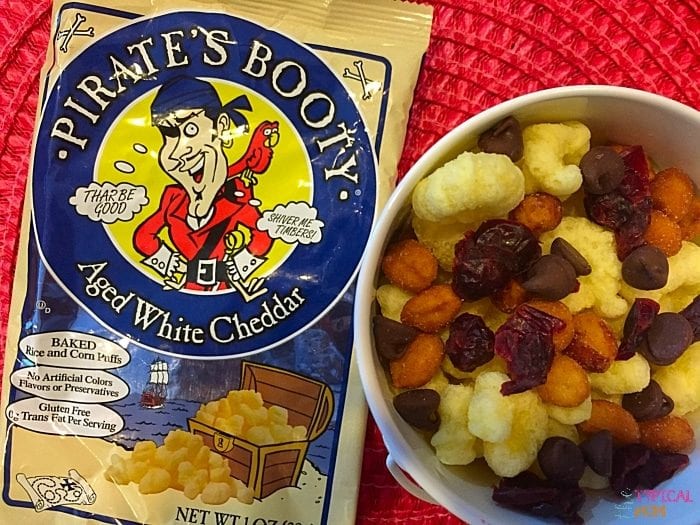 We love salty and sweet snacks, so we thought we'd make a Pirate's Booty sweet 'n' salty buccaneer mix for the occasion.
Besides the fact that these yummy aged white cheddar puffs have Pirate in it's name, we love it because it's tasty! Baked instead of fried, it contains no artificial colors, flavors or preservatives. It's gluten free too so my older daughter can eat it!
All you need is a small bag of the yummy cheddar puffs, a pinch of dried cranberries, a handful of peanuts, and a few chocolate chips to make buccaneer mix.
It's a fun and easy snack your kids can put together themselves after School on talk like a Pirate day. I thought it was yummy too!
Printable Pirate Map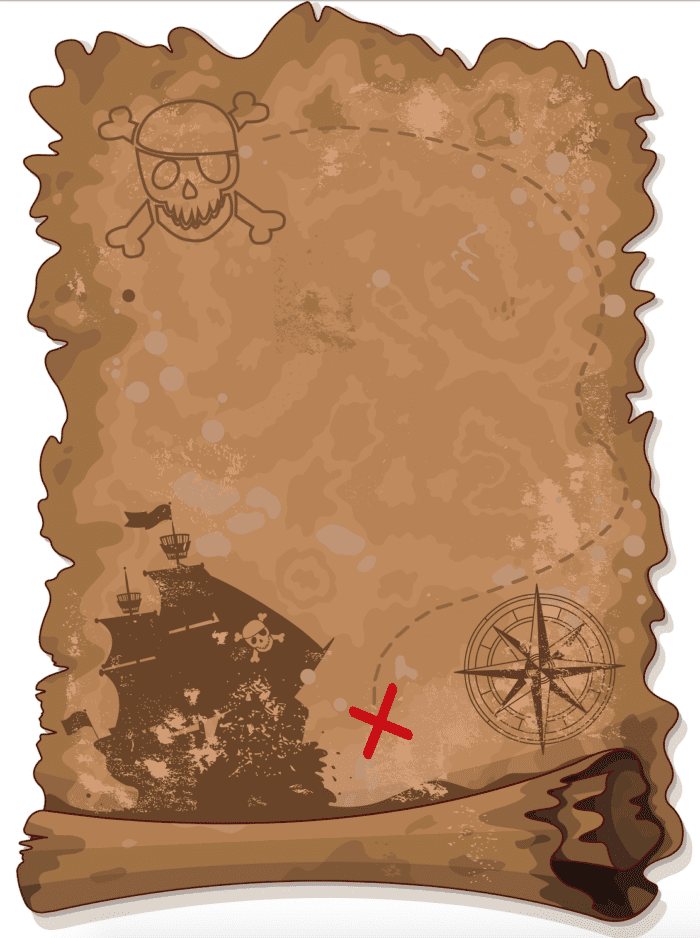 Another fun activity you can do on September 19th is to print out this free pirate map
, let them hide their "treasure", and have you or someone else find it.
It's a fun and interactive way to celebrate talk like a Pirate day…..but first you should dress the part!
You don't have to necessarily go out and buy anything to talk or dress like a Pirate on this day. Use your imagination and some spare pieces of fabric or an old shirt to create a bandana, Grandpa's old hat, and a striped shirt will do!
It's all about using your and your child's imaginations remember, so have fun with it. David mentioned another fun activity too, such as "swashbuckling with finger swords"!
You could easily create these finger swords with a piece of rolled up paper around your child's finger, tape the end so it doesn't unravel, and "fight" away with your friends. 😉
Here's a fun look at David Engel during one of his Pirate School shows! You can see how he incorporates pretend play and encourages the kids to participate in the excitement too!
More on Pirate School! for kids at www.mypirateschool.com.
Ahoy! – Hello
Booty – Treasure
Buccaneer – A name for a Pirate
Yo Ho Ho – Cheerful expression
Lass/Lad – A younger person
Shiver me timbers – An expression used to show shock or disbelief