Free sight word coloring pages and color by number sheets are here! Great Preschool and Kindergarten worksheets for sight word practice. Color by sight words rock.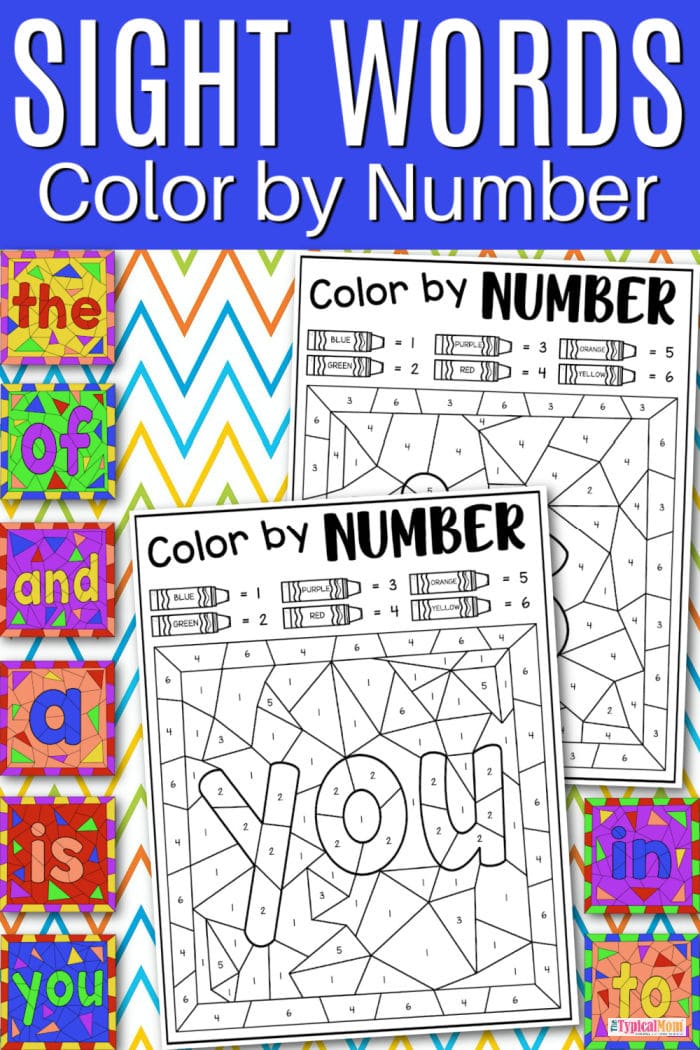 If you're looking for a few free sight word worksheets that kids will love we have 6. These sight word coloring sheets are great for Preschool, Kindergarten and first grade students. Use in a classroom or home to practice the most common ones. One of many color by number free printables we offer. (affiliate links present)
Sight Word Practice
I was once a Kindergarten Teacher so I remember using a list like this over and over inside the classroom, and sending them home too. I also have three daughters so believe me, I know these words! If you are getting your child ready for Kindergarten this should be top priority on your list.
If they know all 100+ sight words before walking in that first day they will be WAY ahead of others and make for a great year. As you can imagine, many classrooms have a lot of children in them. Knowing these words is key to their success when it comes to reading.
Kindergarten Sight Words PDF
These are the first basic ones you should start with, then buy these flash cards with 169 total to work on before they start their year. You can print it out here, then cut these out if you want and use them that way. Draw them out of a hat to make the practice session fun, or say the word and have them circle where it is on the page.
Sight Word You Worksheet
These are just a few fun ways of learning these words. I would suggest getting the flash cards to use on a daily basis as well as getting this workbook with multiple activities inside. If you can make learning fun that is the key. Let me talk about my favorite all time learning mechanism for this age too though.
Understanding that every letter has a sound and that sound never changes is key. You may think that you are pronouncing the sound correctly, but you may be off. Seriously, the BEST way to teach children letter sounds is this video.
Both of these are under $9 each which is a steal. You can find the video on Amazon Prime Video too for a little less. Believe me, you will be singing their song in your sleep too. It's catchy!
Let's start out with this first sight word color by number sheet, and get more below.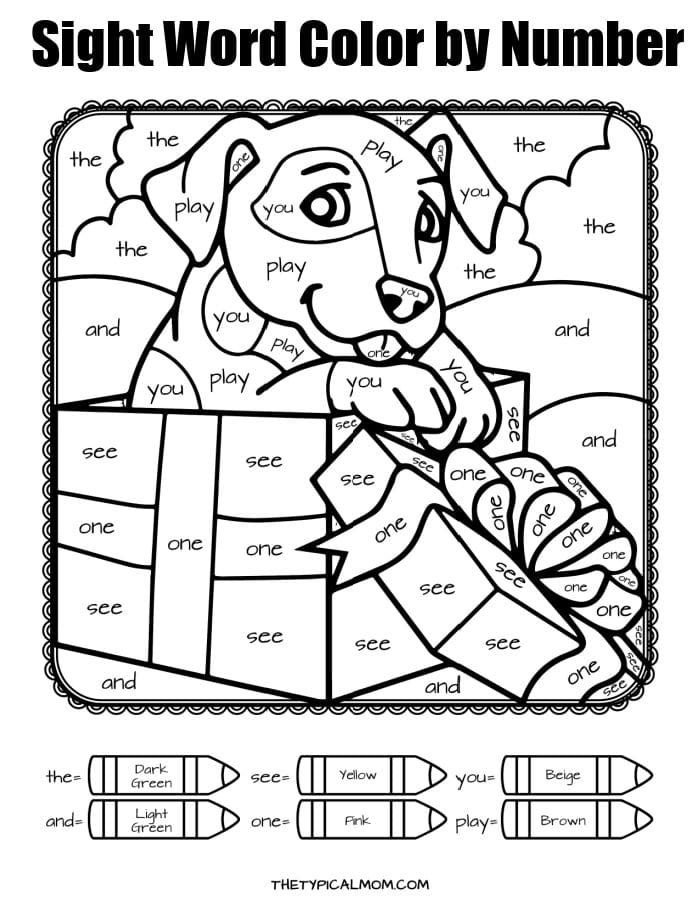 Sight Words Color by Number
Ok so let's get to this color by number Preschool freebie here. A great supplement to other more taxing sheets, but still reveals a surprise at the end when they're done coloring. We have even more color by number Kindergarten pages here too.
They can practice writing the words they know so far on the back too as an added activity. Always always lead with positive affirmations and way to gos along the way to encourage them to do more.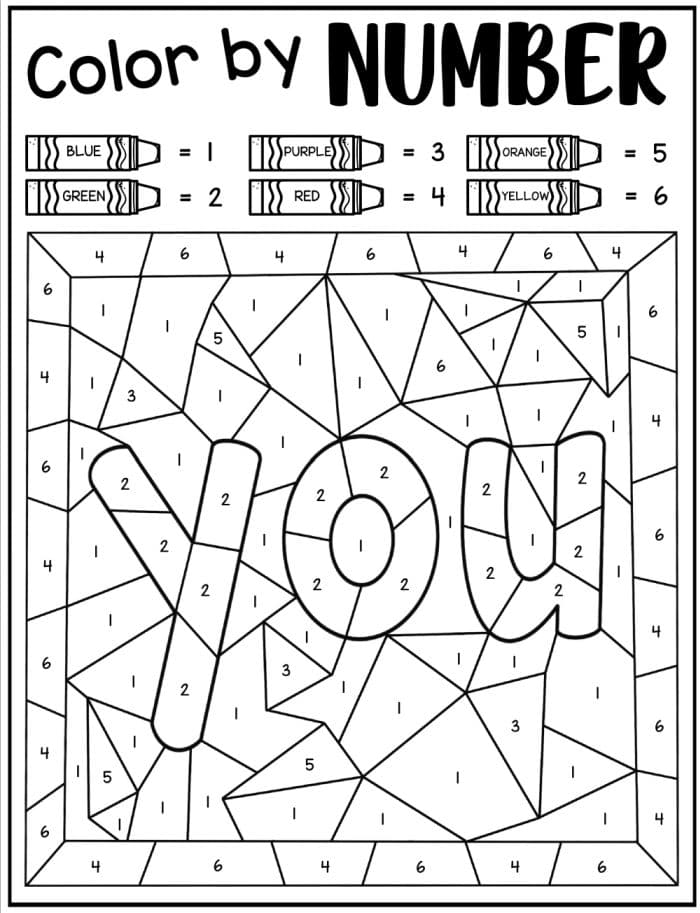 Free Sight Word Worksheets
The link below will pull up all the sheets. If you want all 6 then just hit the printer icon on the top right of your computer screen. But if you only want one or two of them, this is how you do it.
Click on the blue link below, then click file at the top left of your screen. Change next to pages from ALL to custom. Below that choose what # page(s) you want and how many copies below that you want.
How to Teach Sight Words
It is all about repetition folks. At home is not the only place you should bring them out though. The car when you're a taxi driver here and there is a great time to go over them too. When you're in the grocery store have them look for them on the outside of packages too!
It's really a matter of memorization, similar to multiplication facts. Practice makes perfect. AND if you are involved, making songs out of them, playing sight word games, and involved in the process it will be more fun.
Time needed: 5 minutes
Sight Words Color by Number
Print

Use this link to print as many of the sight word worksheets

you need. All of them will pop up and you can choose as many copies of the entire thing as you want. If you only want one or two particular pages I will explain above how to do that on your computer.
Color

Have them match the numbers, color the picture and a sight word will appear if it is done correctly.
Once they have mastered at least the printable list above (and letter sounds) you can add more words with the flash cards and then start reading BOB books! At this point you will see the fruits of your labor. It is SO exciting for both of you when they read their first book!! Learning to read and write are the two key elements when starting school.
Color by Sight Words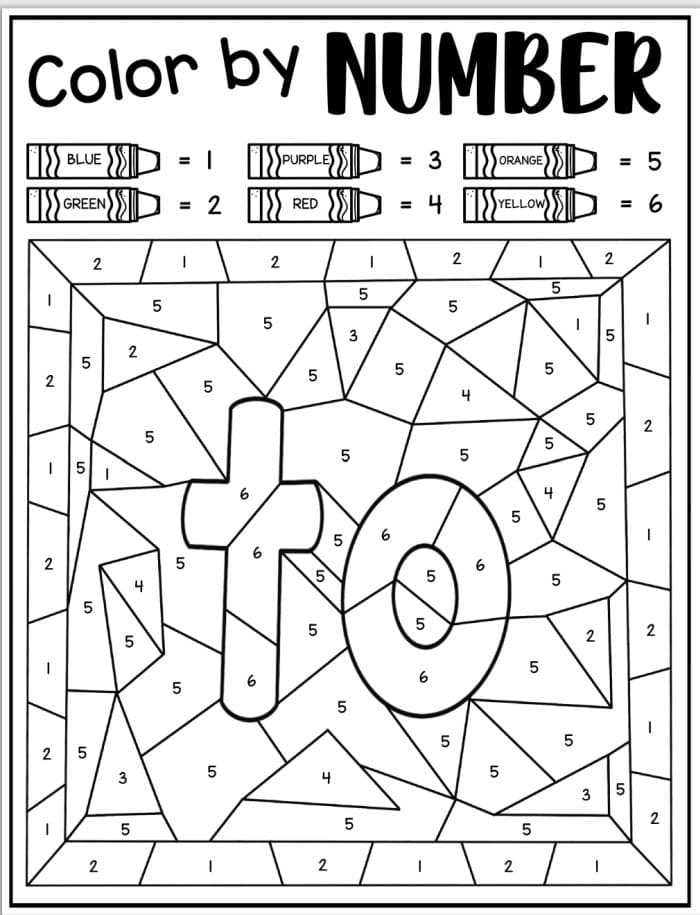 Start with high frequency words and read sight words daily. When students practice saying and write sight words repetitively their confidence will grow exponentially. Then when it comes to putting it all together, their reading fluency will soar and in 1st, 2nd grade and 3rd grade they will likely read beyond their grade level.
Looking for more? We have a Kindergarten word search and a simple color by number animals pages that use many of these words and numbers too. Enjoy!
Want to see a few of my favorite things that I am totally obsessed with?? Take a peek and see how many you might already have…twinsies!
Looking for more easy family recipes and tips? LIKE The Typical Mom Facebook page?
Then sign up for my free newsletter, and follow me on Pinterest! 😉
***** If you LOVED this recipe give it 5 Stars below and let everyone know what you thought about it. 😉