Cook time for spaghetti is here! How long does spaghetti take to cook in an Instant Pot, Ninja Foodi spaghetti, slow cooker, or one pot spaghetti on the stovetop until al dente tender.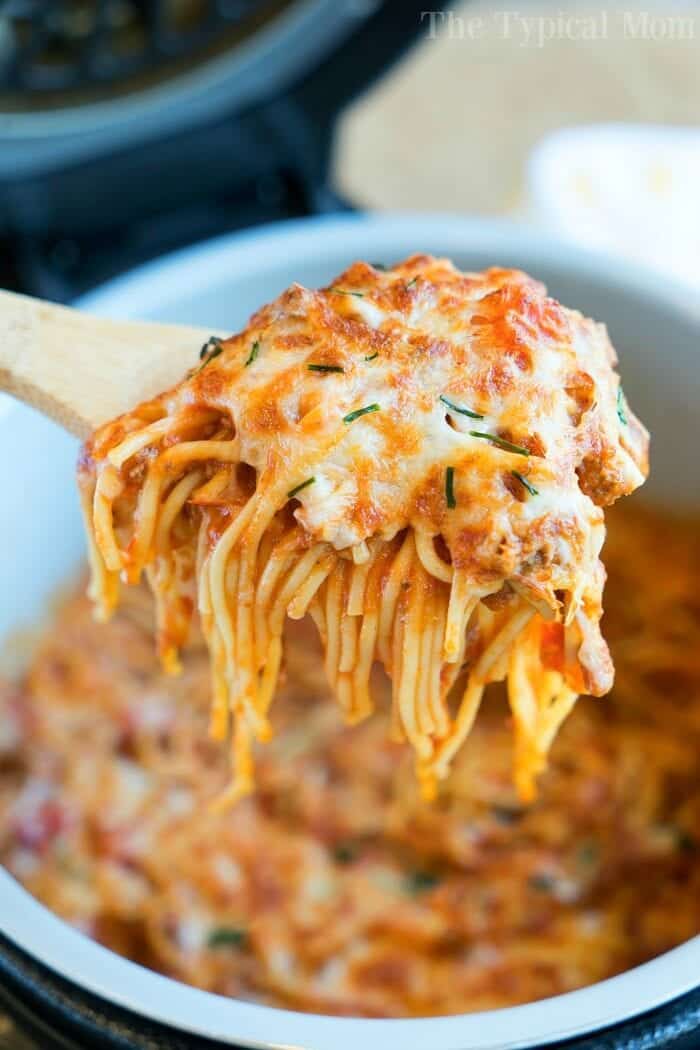 You love Italian food but want to know the cook time for spaghetti. We have help for you! Now you can decide for yourself how to cook it tonight. Some are fast and others simmer all day long. Decide for yourself but any which way you decide it's just delicious! (affiliate links present)
How to Cook Spaghetti Noodles
You used to have to boil pasta in one pot, and heat or make homemade spaghetti sauce in another. NOT anymore!! That is so yesterday my friends. I mean if you insist on this method I will explain the best method here but I highly suggest you try one of the other methods I'll share below.
For the old fashioned method you'll want to fill a large pot halfway full with water. Takes 4 quarts of water (16 cups of water) for every pound of noodles. Set over medium heat with a sprinkle of salt and a few Tbsp of olive oil. Bring the water to a low rolling boil add the pasta in water.
Check the pasta after a few minutes. The bottom half should be softer and you can submerge the top portion all the way in.
How Long to Cook Spaghetti Noodles
Boil for 10-12 minutes stirring intermittently until it is the texture you like. Take one out and taste. If it's too firm finish cooking for a few more min. and check again. If you like al dente spaghetti noodles cook for 2 minutes less or so.
BUT you can skip that all together and still use your stovetop to make one pot spaghetti instead. I know!!! Amazing idea right??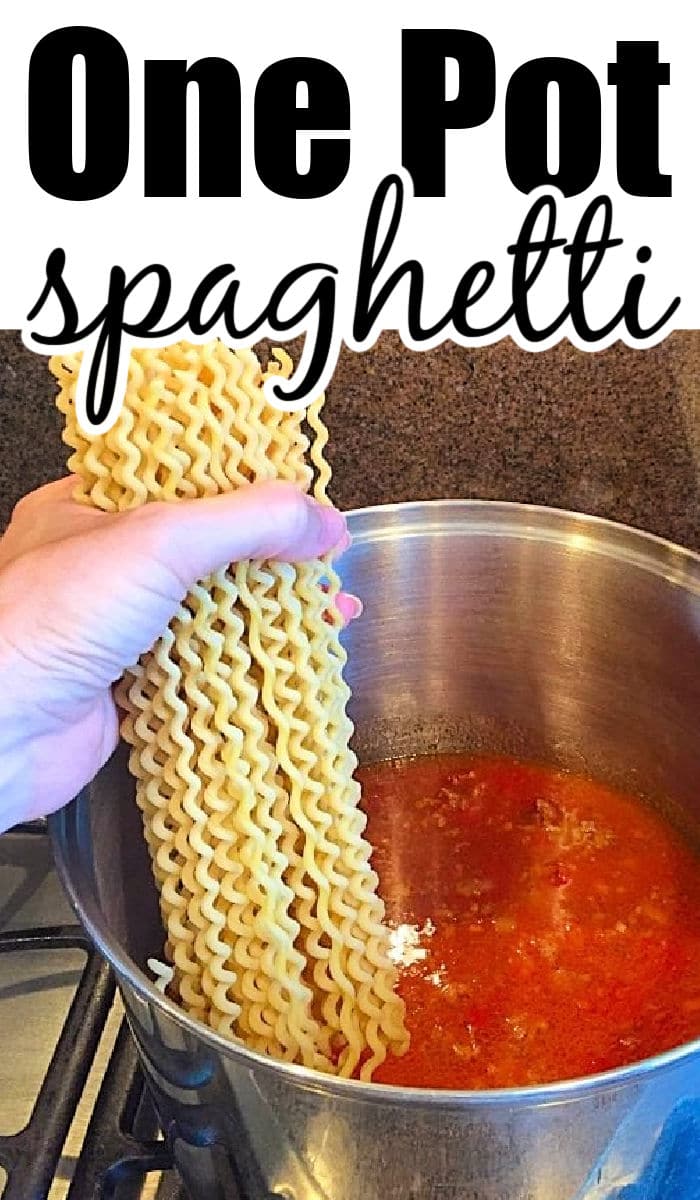 NO draining water, and the noodles have so much more flavor than if they were cooked in water. I mean you can imagine they would right?? When pasta is cooking in the sauce it soaks up all that wonderful flavor as it gets tender.
Can you cook ground beef in the microwave? Totally can if you want. You can use the same pot to brown your ground beef or ground sausage too so only one pot to clean too!!
Cook Time for Spaghetti
Now let's move on to the fastest and most efficient method. It is almost identical to the one pot method above except it's made in a pressure cooker. You use the saute function to brown the meat, then add the sauce and noodles, submerge and cook!!
If you choose to follow our Instant Pot spaghetti recipes they only take 10 minutes. I am not joking y'all. Ok so it does take a few minutes to come to pressure but still with prep and all it is done in less than 20 minutes total. If you choose to melt cheese on the top with the air crisp mode on the Food, add another 3 min.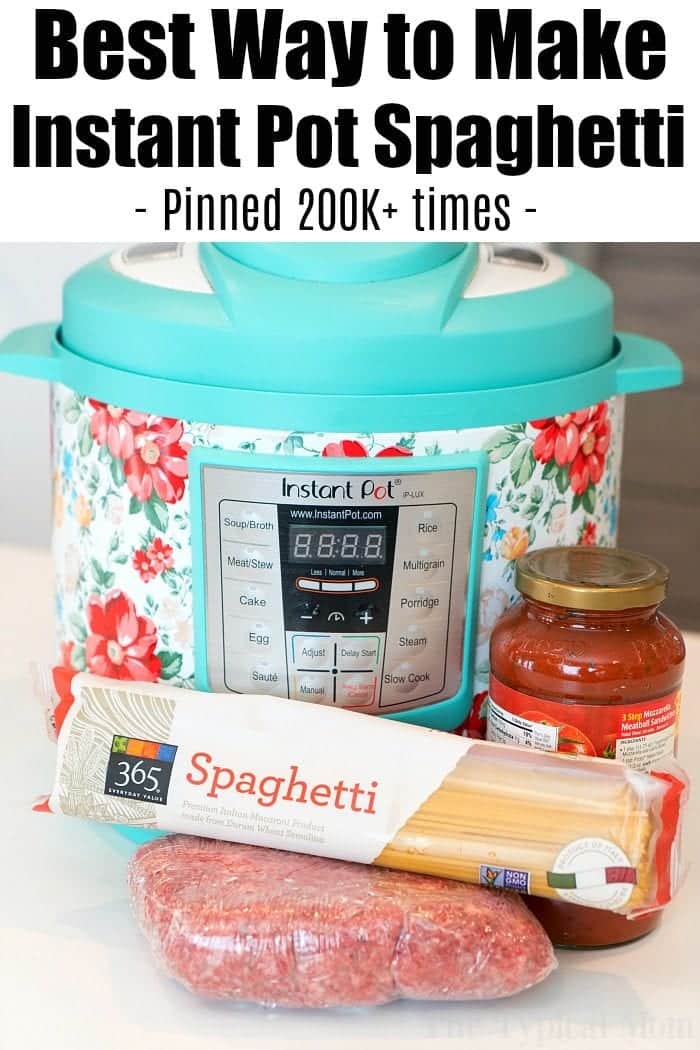 Cook Spaghetti Time
Let's move on to using the oven. That takes longer but if you really wanted a cheesy top and didn't have the Foodi pot, you could make baked spaghetti. Another great option, and yes we love all things cheesy so there's that. I get it.
Now what if you want to use your slow cooker? You totally can. If you want to make homemade spaghetti sauce Crockpot style you would do that first and let it simmer basically all day long.
Then one hour before you would add your noodles and cook until they get nice and tender. You can add frozen meatballs in there too for protein.
If you wanted to use jarred sauce to make this you could certainly do that as well. Depending on how much time I have I'll do it that way. Follow our Crockpot spaghetti and meatballs recipe for this method. So good really.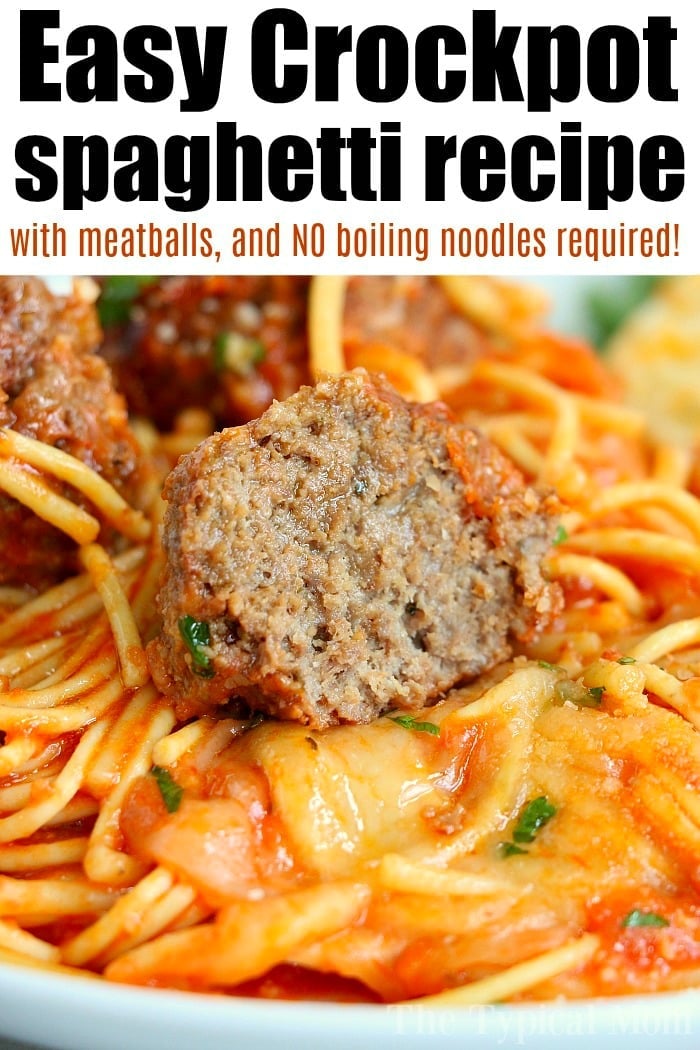 How to Cook Spaghetti
For the most part the ingredients you are going to need are:
Dried pasta – if you don't want to use long thin traditional styles, try our Instant Pot penne pasta
Spaghetti sauce – homemade or 24 oz. jarred
Add salt and add oil if you are going to use boiling water
Meat choices unless you want it to be vegetarian

browned ground beef
we love a bit of spicy ground sausage in it

I typically will add 1/2 an onion diced fine into the mix
We are talking about noodles here but you can follow our recipe for spaghetti squash pasta too if you want a low carb option. If you haven't try to cook spaghetti squash before and use it instead of pasta you should. It is amazing and gluten free. Zoodles are another alternative using vegetables instead of starch.
Once done you can toss with marinara sauce, top with cheese and make spaghetti squash spaghetti. Or whatever toppings you want.
What is the correct way to cook spaghetti?
There is not one correct way but rather 4 methods in your Instant Pot, slow cooker, stovetop and spaghetti in the oven. We share all methods here so you can decide for yourself and see which way you like best.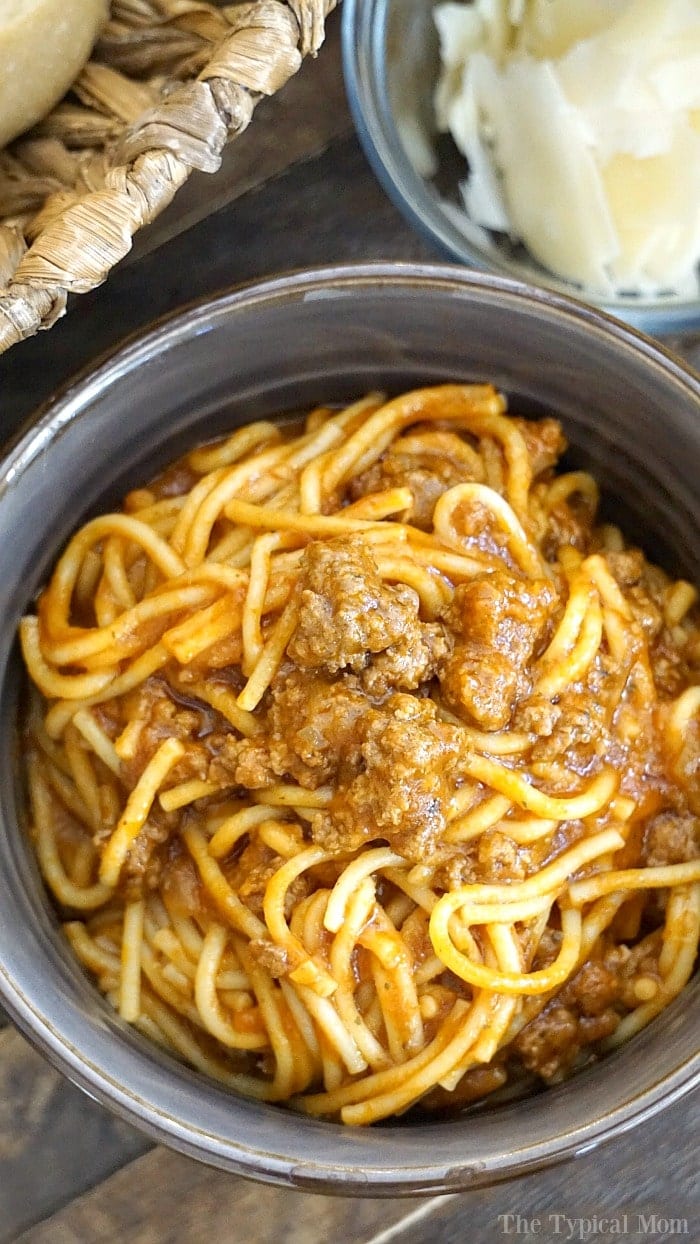 Time needed: 11 minutes
How Long to Cook Spaghetti Noodles
Bring to a boil

Fill a large pot halfway with water and a pinch of salt. Bring to a boil over medium high heat until it reaches a consistent boil that doesn't stop.

Add ingredients

Spoon in 2 tbsp of olive oil so noodles do not stick. Lay long noodles in with bottom half submerged.

Boil spaghetti noodles

Boil pasta until submerged half softens, then submerge top half too. Boil for 10-12 minutes stirring intermittently until it is the texture you like.

Test tenderness

Take one out and taste. If it's too firm finish cooking for a few more min. and check again. If you like al dente spaghetti noodles cook for 2 minutes less or so.
We have a bunch of other easy pasta recipes you can try on our site too if you'd like. From pasta salad to casseroles, butter noodles and everything in between, it's a great side dish and main meal.
Want to see a few of my favorite things that I am totally obsessed with?? Take a peek and see how many you might already have…twinsies!
Looking for more easy family recipes and tips? LIKE The Typical Mom Facebook page?
Then sign up for my free newsletter, and follow me on Pinterest! 😉
***** If you LOVED this recipe give it 5 Stars below and let everyone know what you thought about it. 😉