This is how to Make Fluffy Ninja Foodi Wild Rice recipe to serve with dinner. An inexpensive, healthy, pressure cooker side dish you will love.
Ninja Foodi wild rice is the perfect side dish served with chicken, pork, beef or with a vegetarian dish. Healthy with a great texture to it, this is how to cook fluffy rice in a pressure cooker every single time. Just one of many easy Ninja Foodi recipes we have on our site. (affiliate links present)
Ninja Foodi Wild Rice Recipe
You first may have made a pot of white Ninja Foodi rice in your pressure cooker + air fryer unit. That is something we too make often for meals. I grew up in Hawaii so white rice was served several times a day. I guess I got so used to it that even when we moved to the states it was part of our meal planning.
It is something that just goes well with any and all of our Ninja Foodi healthy recipes and beyond. Before we had this dual machine we had a rice cooker and made it that way. Now it's great because we can make a pot of grains and then cook a whole chicken too. Game changer I tell you.
FIRST – You should sign up for my free newsletter so you get new posts emailed to you twice a week and never miss out on anything!
If you too are obsessed with your Ninja Foodi pressure cooker air fryer machine, here are a few resource to start with:
You can

bookmark

our Ninja air fryer recipes page, we add to that weekly.

Here's a printable air fryer cooking times chart here for your fridge.
Be sure to save this link to Instant Pot recipes for beginners too. You can use any of those in your pot too.
Grab a set of wooden utensils to work with. They are great so your pot doesn't get scratched!
Then join our

Ninja Foodi EASY Recipes

– Facebook group where you can share and find more ideas you'll love. Thousands of others share both pressure cooker and air fryer recipe ideas there daily and you can too!
If you need to know how to cook frozen meat in a pressure cooker, we have information on that. NO, you aren't the only forgetful one. 😉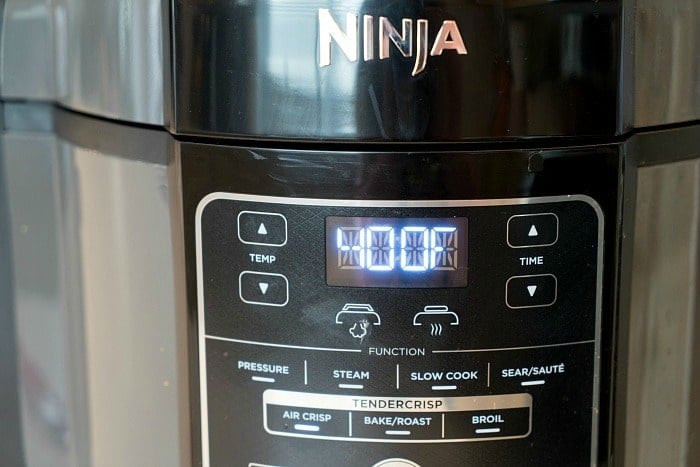 Wild Rice in Ninja Foodi
Yes there is another grain that is better than white, but doesn't have as much "bite" as this one. You should rotate between the three for sure.
White is shared above, and this is how to make Ninja Foodi brown rice some nights. My girls think this has a better flavor than brown. I guess I have to agree with them. I'm totally addicted to making Ninja foodi side dishes now though because it is so darn easy.
You can find a bag that is name brand, organic like you see here and/or "regular" store brand as well. Yes organic does have to pass certain requirements so there is a slight difference in that regard but otherwise they're basically the same.
Should I soak wild rice before cooking?
I have never bothered to do this when using a pressure cooker. It sits in the water for 30 minutes while it cooks so that is plenty of time if you ask me. It comes out fluffy and tender every single time I follow these steps, no need to add more time sitting in water.
How long does it take to cook rice in a pressure cooker?
It depends on what kind. White is about 12, brown is closer to 20 and wild rice needs 30. Some need a natural pressure release while others can quick release the steam at the end.
You don't need much, just the rice, water, pot and some salt. Then serve with one of our Ninja Foodi beef recipes and you have yourself a meal!
Now let's talk water vs. broth. You can choose either. It depends what I have on hand, what I am serving it with and my mood at the time.
If I am making Ninja Foodi chicken breast I would use chicken broth instead of water. Sometimes I will use half and half.
When it comes to determining the water to rice ratio it is easy, you need double. 1 cup of uncooked wild rice is great for the 4 of us if I am making air fryer vegetables too. If I had my other daughter at home too I might make 2 cups which would mean I'd need 4 cups of water. Here's a quick rundown:
Bag of uncooked wild rice
Liquid, water or broth
I like adding a pinch of salt if I use water, broth already has sodium in it so I wouldn't add it then
You'll use the pressure cooker lid that is NOT attached to make this. The one that is attached is only used to air crisp food. If you're new to this machine don't fret, we will walk you thru it. 😉
Pressure Cooker Wild Rice
Do you need to rinse rice before cooking you might ask? I don't but others will swear that you need to. Yes I have tried it and I will say that the difference is that if you do, the rice grains won't stick together that well. I like sticky rice so this doesn't do it for me, I would rather not rinse.
When it comes to cooking wild rice there isn't that white flaky stuff on the outside, the water will be clear either way. SO once again I don't think it matters, but that is up to you.
Pour in your gluten free wild rice blend, water and salt into pot.

1 cup of wild rice + 2 cups liquid, double this amount for more

Close pressure cook lid (the one that is not attached) and seal steam valve.
Pressure cook on high pressure for 30 minutes cook time. When done allow to naturally release the steam

pressure release will take 20 minutes
Total time to make this is about 45 minutes, keep that in mind when meal planning. Fluff rice with a fork. We like to sprinkle a bit more salt and pepper on top with a dollop of butter too so it melts.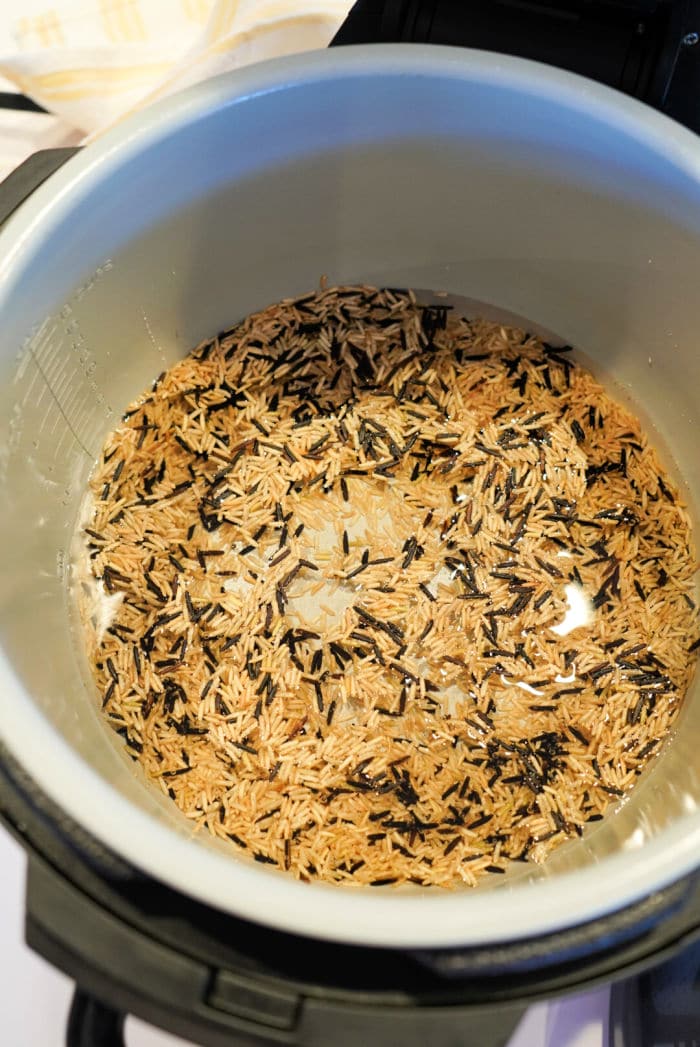 Is wild rice good for your gut?
As you could imagine, it has a great amount of fiber which is great to reduce bad cholesterol, eliminate constipation, and reduce bloating. There is no sodium in it either so if you have high blood pressure this would be a great choice as an easy side dish.
How do you save your leftovers? Rice in general doesn't save really well without drying out in the fridge. If you really don't want to throw it away though, spoon it into a ziploc bag.
Suck all of the air out and seal it shut. Store it in the refrigerator until the next day. Pour it into a bowl with 1 tbsp of butter and microwave for 1 minute.
Butter or broth will help moisten the grains when you reheat it, that will be necessary. Have it for lunch the next day with some of the left over Ninja Foodi roast beef too. If you have gravy from that I would use that as the liquid on the rice instead, that will lend more flavor to it and get it tender again.
Ready to make a pot of this or pressure cooker Rice a Roni your own? It is really easy. I hope you are enjoying your new machine too and find other recipes on our site that you love as well. Let us know which ones are your favorite!
Want to see a few of my favorite things that I am totally obsessed with?? Take a peek and see how many you might already have…twinsies!
Looking for more easy family recipes and tips? LIKE The Typical Mom Facebook page?
Then sign up for my free newsletter, and follow me on Pinterest! 😉
***** If you LOVED this recipe give it 5 Stars below and let everyone know what you thought about it. 😉
Ninja Foodi Ninja Foodi
This is how to Make Fluffy Ninja Foodi Wild Rice to serve with dinner. An inexpensive, healthy, pressure cooker side dish you will love.
Instructions
Pour in rice, water and salt into pot. Close pressure cook lid (the one that is not attached) and seal steam valve shut.

Pressure cook on high for 30 minutes. When done allow to naturally release the steam, this will take 20 minutes.

Fluff, serve topped with butter.
Nutrition Facts
Ninja Foodi Ninja Foodi
Amount Per Serving (1 oz)
Calories 143
Calories from Fat 9
% Daily Value*
Fat 1g2%
Sodium 154mg7%
Potassium 171mg5%
Carbohydrates 30g10%
Protein 6g12%
Vitamin A 8IU0%
Calcium 12mg1%
Iron 1mg6%
* Percent Daily Values are based on a 2000 calorie diet.