This is how to clean an Instant Pot on the inside and outside. What to do when your pressure cooker stinks, how to scrape off stuck on food, and how to make it look new again! Tips and tricks for cleaning your pressure cooker are here.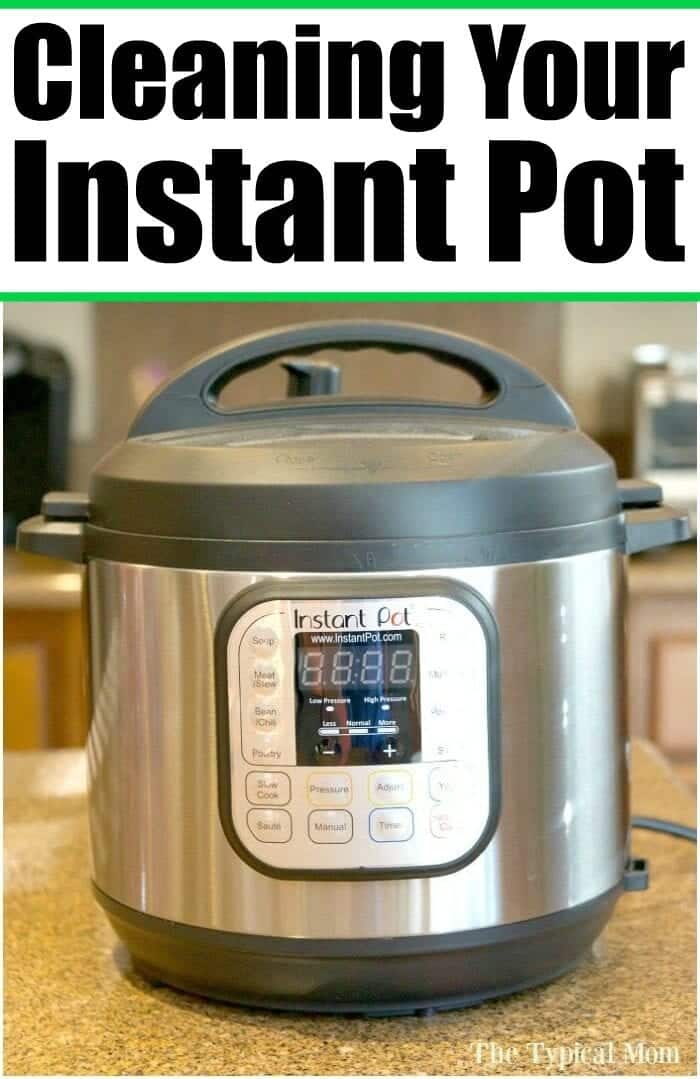 Have you joined the Instant Pot craze yet??!! If you're totally obsessed with your slow cooker like I am this is the next step and cooks even faster! It's reasonably inexpensive seeing as though you are getting 6 appliances in 1 and seriously you can cook just about everything in it. What's next, well how to clean your Instant Pot of course. (originally published 1/17)
Cleaning an Instant Pot
How do you clean a instant cooker you might ask? I know, it's kinda' different especially if you are new to this whole line of cooking in general. There are 3 main pieces to it and we will talk about it all, including the sealing ring so I guess that is 4.
This amazing machine is used as a pressure cooker, a slow cooker, a rice cooker, a steamer, for sautéing and a warmer.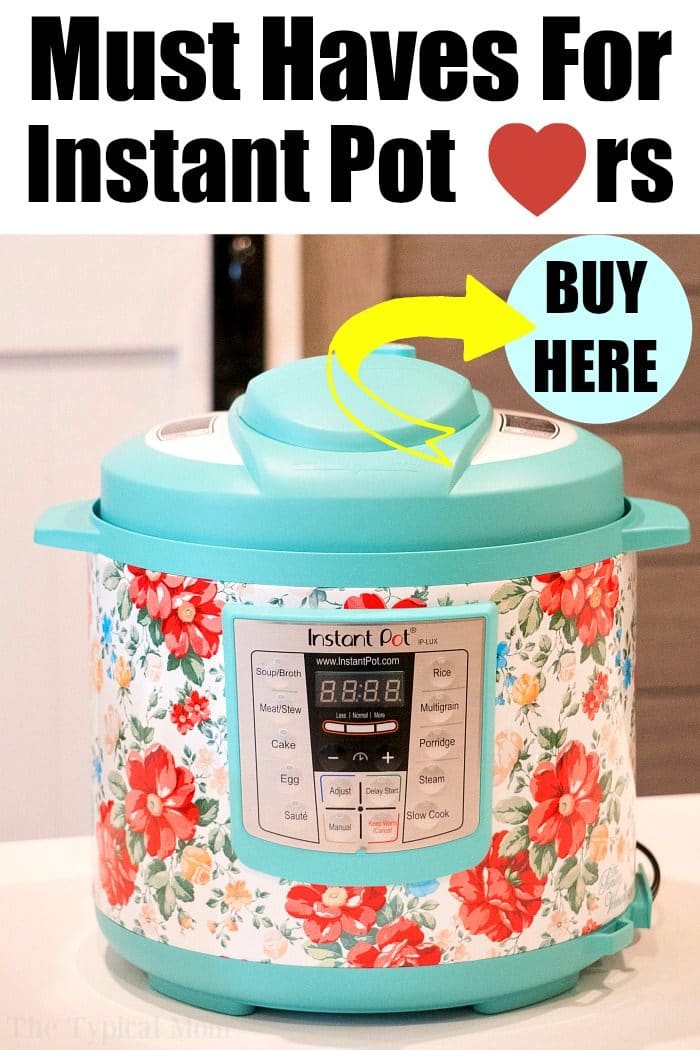 How to Clean Instant Pot Lid
First up, be sure to unplug the Instant Pot.

Carefully remove the silicone ring from the lid and set it aside (we will get to that part next).
There is a vented anti-block lid that you need to pull off.
Wash this with hot, soapy water along with the lid.
The Instant Pot directions says you can put the lid in the dishwasher on the top rack, but I prefer not to.
You can let this air dry while you are cleaning the other parts.
For your glass Instant Pot lid just wash with soap and water like you would any other glass lid.
How to Clean Instant Pot Ring
There are three different ways you can wash the silicone ring.

If it just needs a normal cleaning you can put it on the top rack of the dishwasher, as it is dishwasher-safe.
You can also just use hot, soapy water and a cloth to wash it by hand.
Finally, if the silicon ring begins to have a smell from making strong smelling foods, use a large bowl to mix four cups of HOT water with one cup of white vinegar. Let the ring soak for about 15 minutes. Be sure to let it dry fully before reinserting back into the lid to avoid a musty smell later. If it's just done you can buy a new Instant Pot silicone ring here.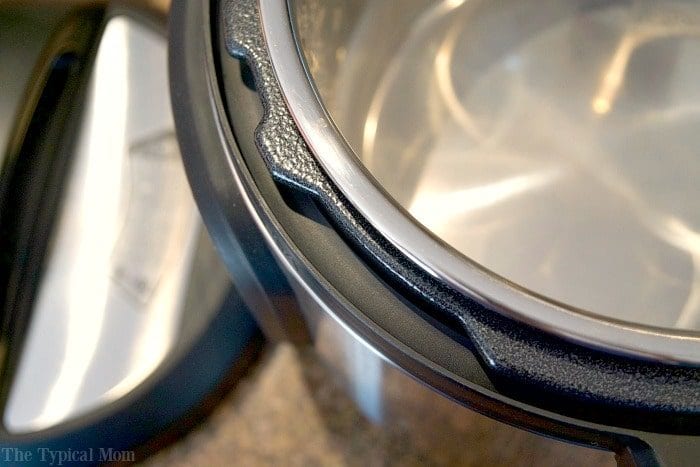 How Often Should You Clean Your Instant Pot
When it is kinda yucky around the rim of it, that is how often. I mean the inner pot needs to be scrubbed after every single meal made in it. You can also throw that part into your dishwasher which is nice.
Cleaning the Inner Pot:

The inner pot can be pull out and put in the dishwasher.

You can also wash it by hand with hot, soapy water.
If there are stubborn spots I've used Bar Keepers Friend and seriously it works amazingly well without much scrubbing at all.

This you MUST have on hand, it will make your pot look like new.

A toothbrush works great too if it's extra stubborn, or in a nook on the edge of the pot.
Rinse thoroughly and dry with a cloth or air dry.
The Outer Part: Lastly, the outer part. The exterior can just be wiped down with a microfiber cloth and warm, soapy water. Don't get the multifunction button panel very wet. Dry the exterior of the Instant Pot thoroughly.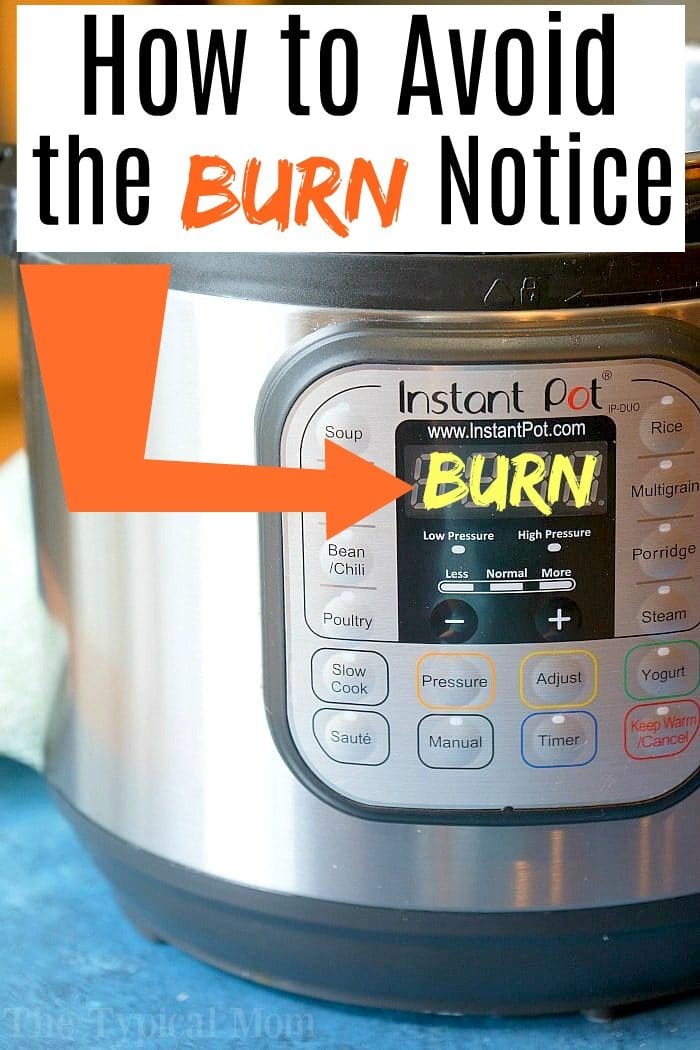 What happens when it says burn on Instant Pot machines??
It may be a false alarm
It may mean you're going to have burnt on food on the bottom of your pot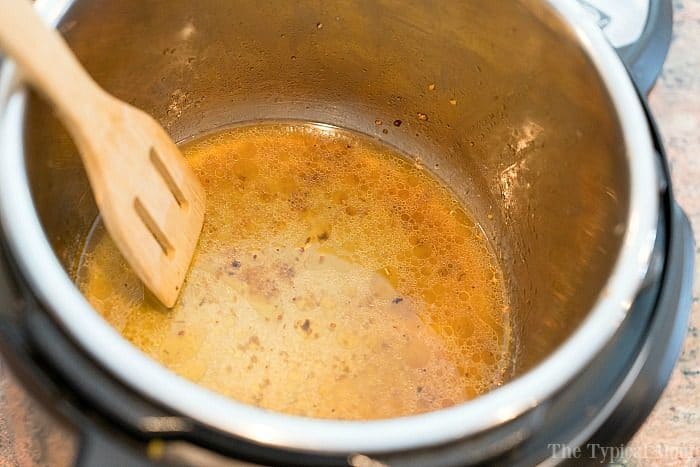 Tips on how to clean your Instant Pot
Silicon ring still has a bad order? Use the "Steam" program on the Instant Pot by putting the silicon ring in place and fill the pot with two cups of white vinegar and some cut-up lemon rind and run for two minutes.
Do not use your Instant Pot as an oil fryer. For one, it's not made for this type of cooking, and two it can cause skin burns or serious injury.
To help keep it good condition and odor free, store your Instant Pot with a gap between the pot and the lid. Air flow is key to keep odors away!
Join the community and grab a 6 in 1 Instant Pot too!
For more easy recipes, tips and crafts please LIKE The Typical Mom on Facebook and follow me on Pinterest! You can also sign up for my free weekly newsletter which is packed with goodies I know you'll love. 😉