Lots of Ninja Foodi pressure cooker recipes you should try. All are easy with simple ingredients both kids and adults will love to eat.
If you just got this new multi cooker machine you might be looking for easy Ninja Foodi pressure cooker recipes. We have those and tons of air crisp recipes too! For a full list see our Ninja Foodi recipes page and enjoy! (affiliate links present)
What can you cook in a Ninja pressure cooker?
SO many things y'all!! First off if you didn't know already, you can use all of our quick Instant Pot recipes in this pot. That is right! They're interchangeable using the pressure function of this amazing machine.
If you just opened the box and dinner is on the horizon I will tell you the easiest by far. Our no fail 5 ingredient Ninja Foodi chili is a game changer. Start there and go from there. Now let's talk about a few basics, especially if you just opened the box and are a bit overwhelmed……
If you need to know how to cook frozen meat in a pressure cooker, we have information on that. NO, you aren't the only forgetful one. 😉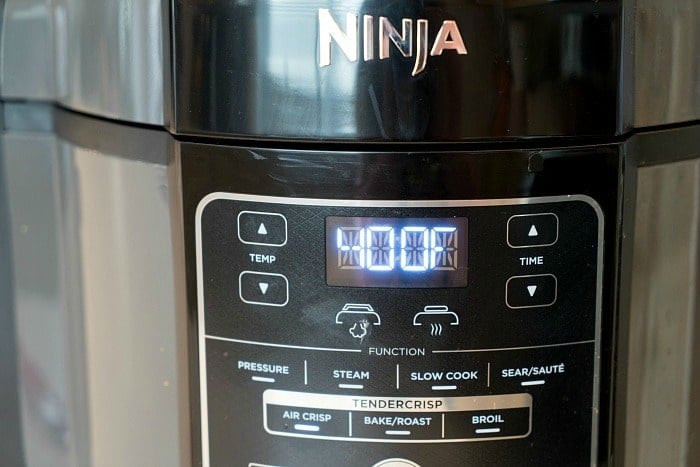 Ninja Foodie Pressure Cooker
I started with a long list of Ninja air fryer recipes and you should definitely bookmark that page too. Once you get the hang of that you may want to move along to the other main function. You can find a bunch of easy ones in our Ninja foodi kids recipes post here.
How do you use a Ninja Foodi pressure cooker?
You will use the lid that is NOT attached. That means that the other one will be positioned up vertically in order to seal the other one. Your steam valve will need to be set to closed as well.
You can see my photo below as an example. This is the oldest version 9 in 1 version but the newer ones work the same way with the unattached lid used for PC recipes.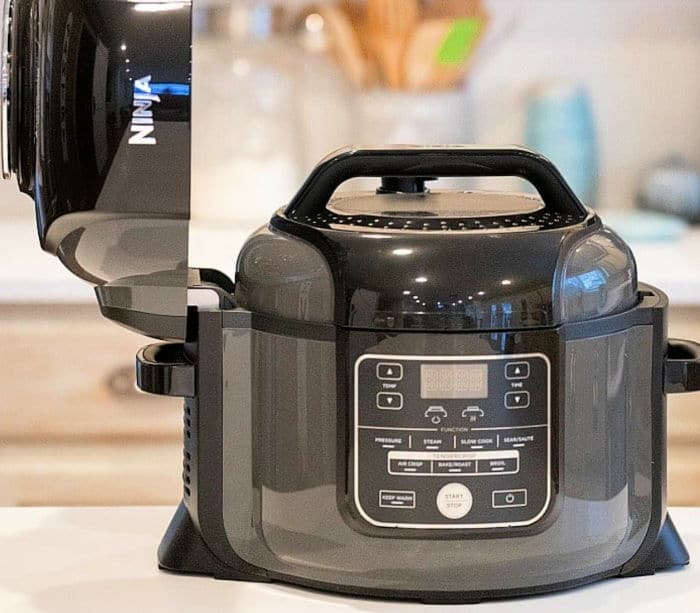 Electric Pressure Cooker Recipes
I will try to separate these into a few different categories so you don't get completely overwhelmed like we did with our Ninja foodi pork recipes roundup. You really can make anything so this list will break it down into proteins you might want to cook, then sweets.
Using just the high pressure function you can use IP and Crockpot Express recipes too. As with all of these meals if you want to add a bit of crispiness at the end, just swap lids and use air crisp for a few minutes.
Ninja Foodi Pasta
We did this with our most basic of Ninja foodi butter noodles and our most popular dish you see here. I took my Instant Pot spaghetti recipe to start with but went a step further since this machine has that ability. It made this Ninja Foodi spaghetti out of this world!!
Add meat and cheese for a sort of casserole too like cheesesteak pasta in pressure cooker and there are so many more casserole recipes you can make too.
Foodi Pressure Cooker
Talking all about noodles let me share a few of our other favorites. Keep in mind that you can make these vegetarian by leaving out the meat, we don't. Honestly if I am making some sort of pressure cooker casserole I like ground beef or sausage in it.
Ninja Foodi chili mac is a great option if you have kids as well. Hearty with beans and elbow macaroni with this you can melt an extra cheese layer on top too.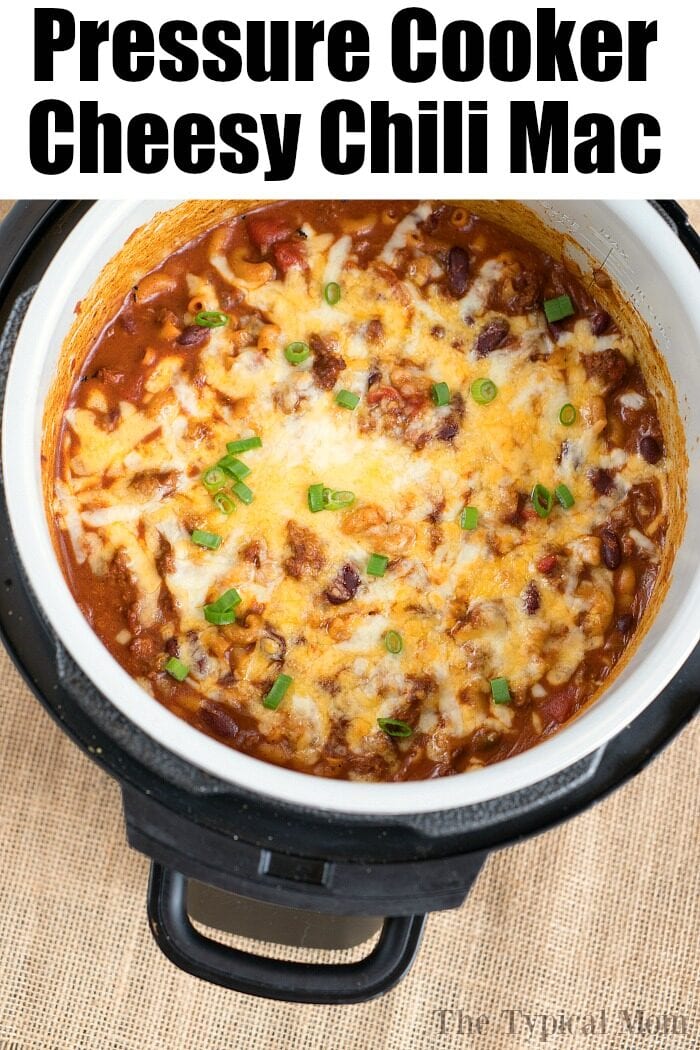 Now let's move on to a protein shall we? The great thing about this is you can actually add meat and noodles together. We have a bunch of Ninja Foodi casseroles you can choose from and love.
BUT if you like to cook things separately, I get it. My husband isn't a big one pot meal with everything in one bowl kinda' guy. When I'm batch cooking these quick and easy chicken recipes come in super handy.
If you click on the blue link above they are all listed. You can start with the easiest which is Ninja Foodi shredded chicken. It can be made into tacos, burritos, sliders etc…. I will list a few of my family's favorites here;
Our Ninja Foodi chicken breast is out of this world with bbq sauce on the top to keep it moist. Keep in mind these are medium sized, I wouldn't use large unless you slice them into chicken cutlets.
Can you cook frozen meat in the Ninja Foodi?
Yes! Sometimes you can be forgetful right?? Did you know you can cook frozen chicken in Ninja Foodi pots too?? Seriously, this is a real game changer. When done just shred with 2 forks. SO tender and delicious as sliders.
That covers breasts but there are other parts of the bird too that are really delicious too right?? If you don't want to make air fryer chicken wings, but would rather just make them fall off the bone, try pressure cooker frozen wings.
What can I do with my Ninja Foodi?
Here's another one. You can make frozen chicken legs or our Ninja Foodi chicken legs that are defrosted. Same as other pieces you can crisp at the end if you want or enjoy as is after a bit of a natural release.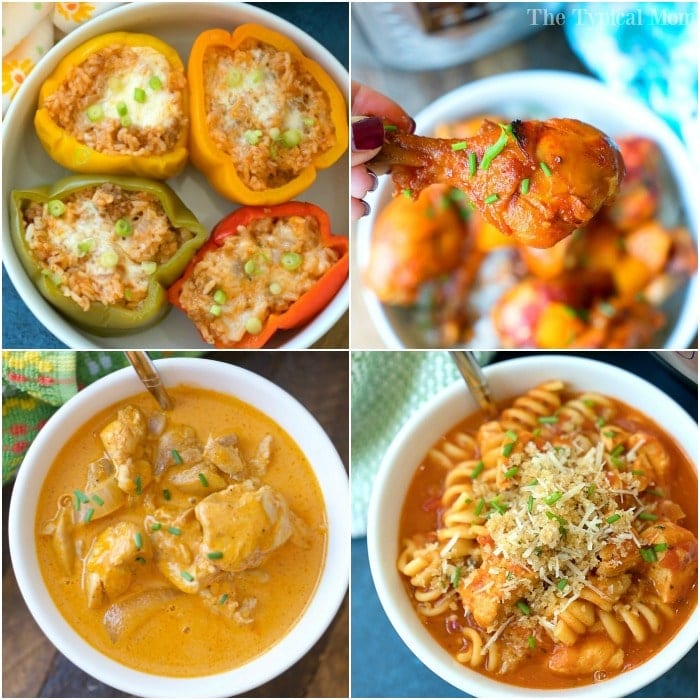 Let's move on to a few other proteins you may want to cook so they fall apart with the touch of a fork. We have a bunch but here are our go tos throughout the week and definitely when we have guests over.
Ninja Foodi Pork
Pressure cooking Ninja Foodi pulled pork is probably our favorite thingto make though. You can use air crisp function. at the end if you want a bit of crunch on the edges but I like it without.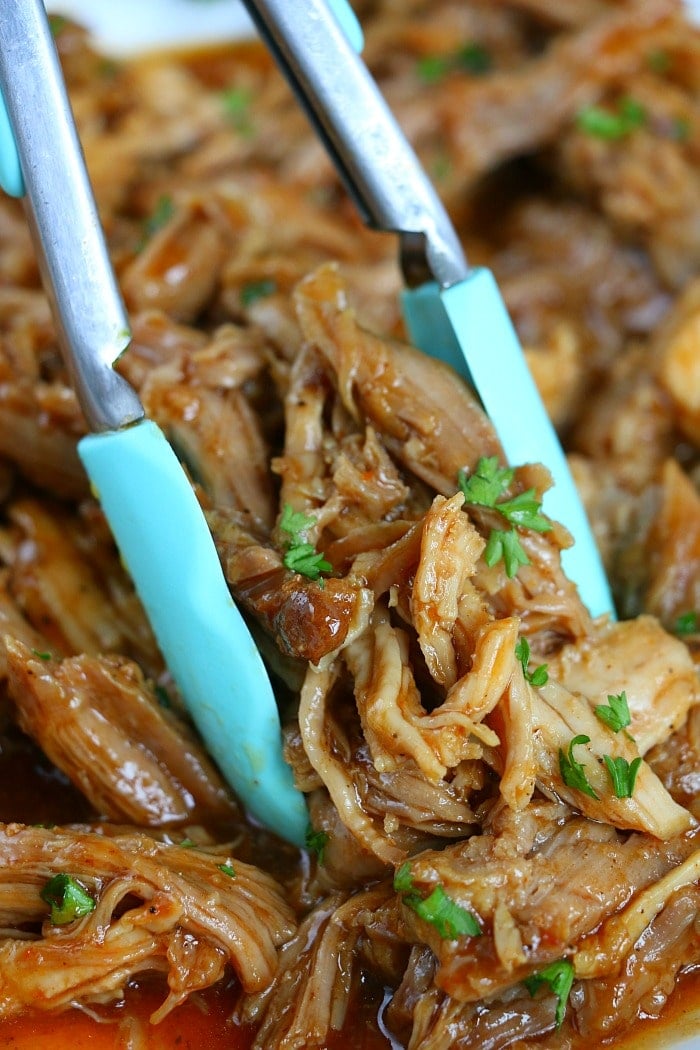 Ninja Foodi Beef
If you buy meat in bulk online you probably have some large chunks you're not sure what to do with. Like a pressure cooker arm roast maybe?? I experimented with that cut a while back and OH MY was it amazing.
With some balsamic vinegar as a glaze it just fell apart which wasn't what I was expecting. If you want to make something simple, but you're forgetful, here is how to cook frozen ground beef in Ninja Foodi.
And then we come to "old school" meals like making a roast or this Ninja Foodi pot roast with a thick gravy over taters.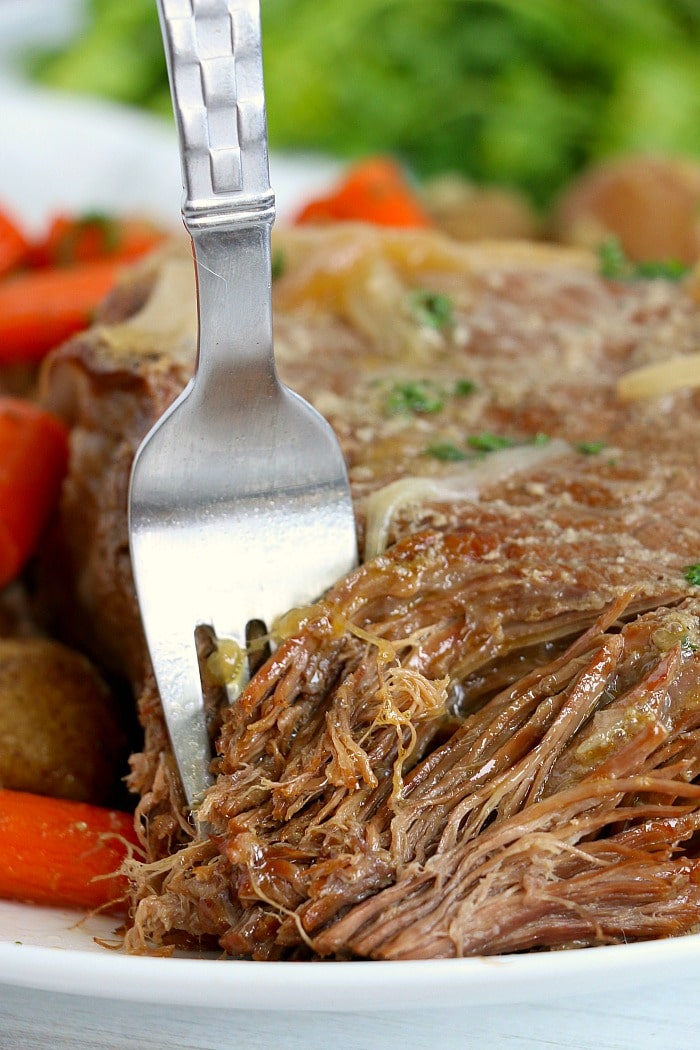 As for some side dishes and breakfast recipes we have a few of those too with this function. Our most popular regular and sweet potato fries require the air fryer function.
BUT alternatively you can make pressure cooker baked potatoes which take less than 30 minutes and are a healthy choice. You'll want to coat with olive oil and we love sea salt so it's a bit coarser.
Ninja Foodi rice is made here at least twice a week. Maybe because I was raised in HI and it's my go to starch.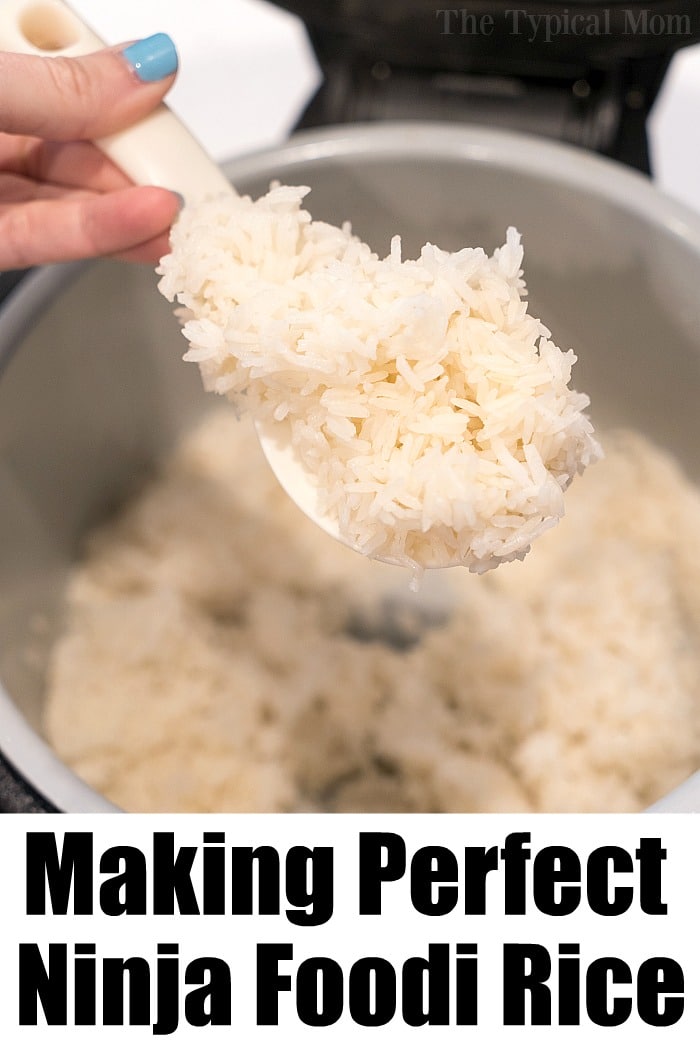 There are oh so many dinner recipes you can choose to make beyond these. From chicken to beef, pork and pasta dishes this pot will make it a game changer.
What is your favorite one??
Want to see a few of my favorite things that I am totally obsessed with?? Take a peek and see how many you might already have…twinsies!
Looking for more easy family recipes and tips? LIKE The Typical Mom Facebook page?
Then sign up for my free newsletter, and follow me on Pinterest! 😉
***** If you LOVED this recipe give it 5 Stars below and let everyone know what you thought about it. 😉