Easy French onion Instant Pot pork tenderloin is a great dinner idea to make with just a sprinkle of salt and pepper, or with a thick french onion gravy that's fantastic!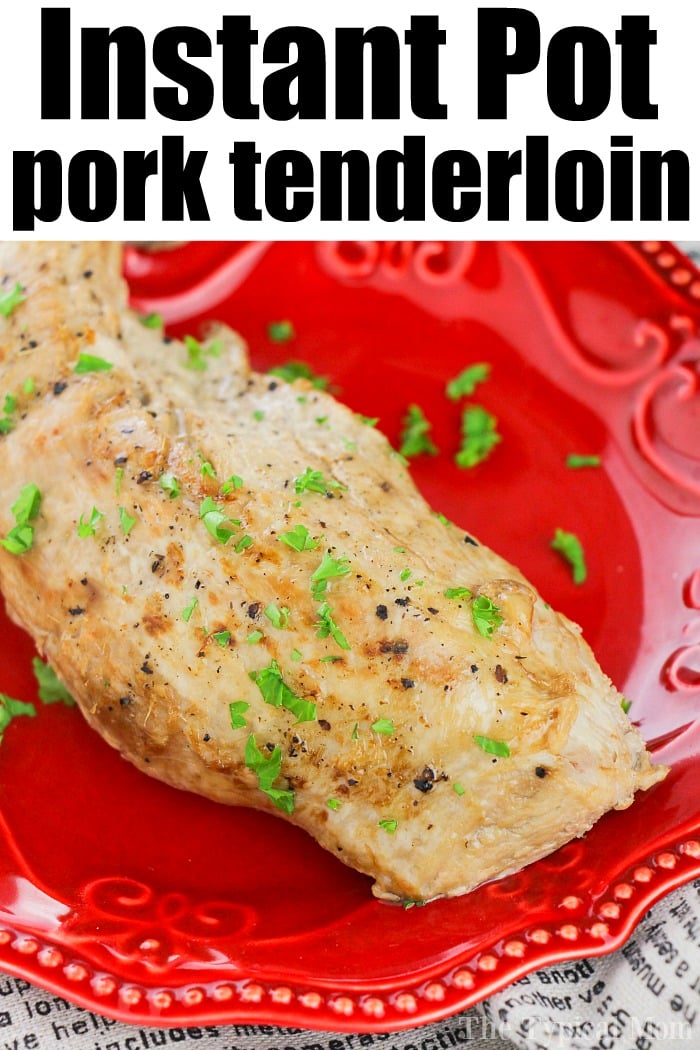 Looking for how to cook a pork tenderloin in the Instant Pot? It's simple once you know the timing. Make it with just a few herbs and seasonings or with a gravy that's to die for. Try our easy Instant Pot pork tenderloin recipe yourself this week and let us know what you think! This and over 100 more Instant Pot recipes are on our site for you to try too. (affiliate links present, originally published 10/19)
French Onion Instant Pot Pork Tenderloin
I bet you make some sort of pressure cooker recipe daily right?? If you're anything like me you do! This multi cooker has been a complete game changer for our family I tell you.
Prepping and cooking a complete meal in less than 30 minutes is now possible, and I will say it is better than in the oven. Pressure cooking meat changed the way I did things for sure a few years ago. Especially when it comes to pork.
I like tenderloin to be super moist with a bit of a sear on the outside. It was hard for me to gage whether it was done in the middle before and I tended to overcook it. NOT anymore! You can use your Crockpot Express, Mealthy or as an easy Ninja Foodi recipe too.
FIRST – You should sign up for my free newsletter so you get new posts emailed to you twice a week and never miss out on anything! Now let's start with a few basic tips:
Make sure to Bookmark our InstaPot recipes page. We add new ones each week!
Then PRINT this —–> Instant Pot cooking times cheat sheet that will help you understand how long meat, vegetables and beans take to cook in your pressure cooker.
For reference, this is the pressure cooker I have (a 6 quart) and use for all recipe creations.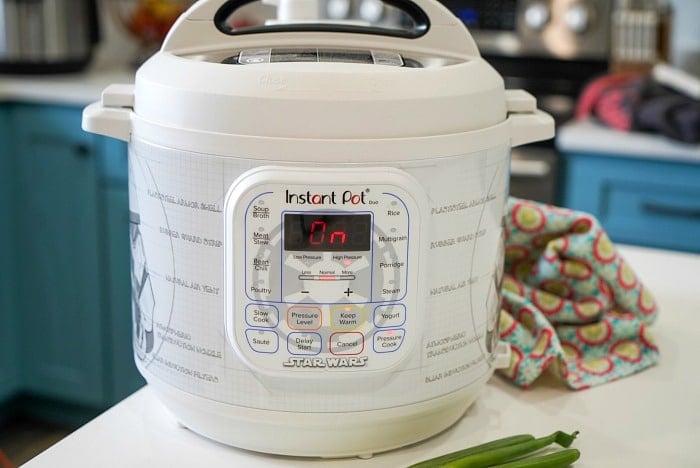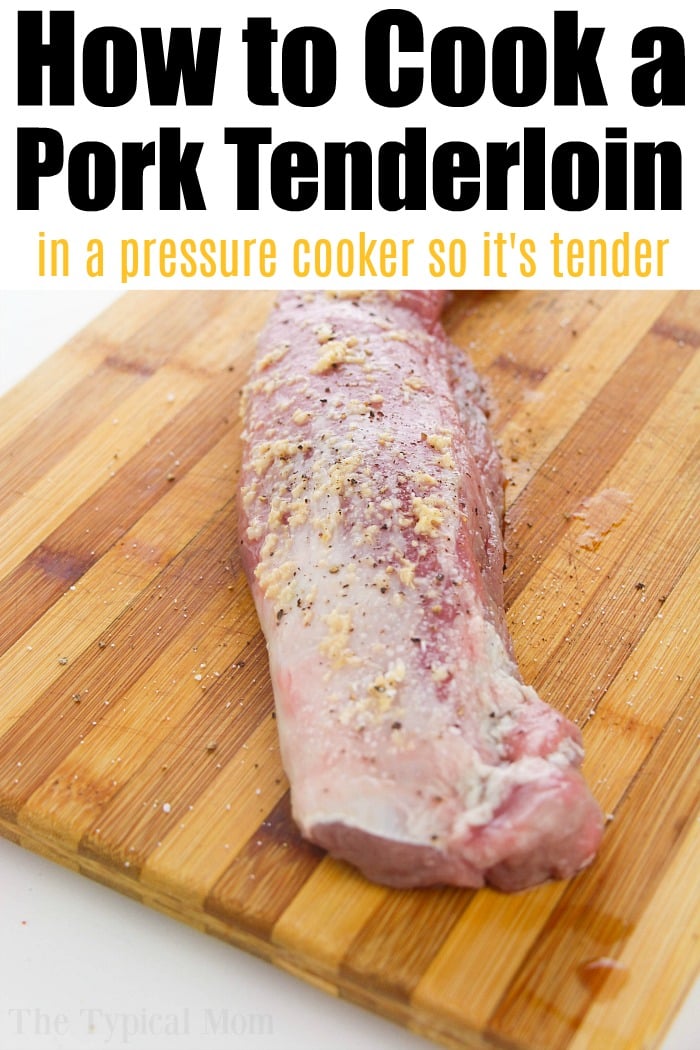 Ninja Foodi Pork Tenderloin
The first step to buy a piece of meat at the store. Typically they're packaged but occasionally you can get one from your local butcher counter. Choose one that isn't already marinated.
What is the difference between pork loin and pork tenderloin?
Loin is wide and thick while pork tenderloin is long and narrow. Both are cut from different areas of the loin muscle which runs along the back of the pig from the shoulder to the rear. Both are great, if you want more meat and have time to cook it all day, give our Crockpot frozen pork loin a whirl too.
Is pork tenderloin healthy?
When you're looking for lean protein to include in your diet, this cut of meat is a good choice. It's low in fat, high in protein, and a rich source of vitamin B and selenium.
It's just as lean as skinless chicken breasts with more vitamins and minerals, and naturally gluten free.
Then to make pork tenderloin in Instant Pot pork we're going to set our pressure cooker to saute. Essentially this part could be skipped but you won't have a sear on the outside unless you do this. I think the texture is a bit off if you don't brown the outsides a bit.
Then DO NOT forget to deglaze Instant Pot. If you don't you may get the dreaded burn notice because the little stuck on bits of meat are triggering that error.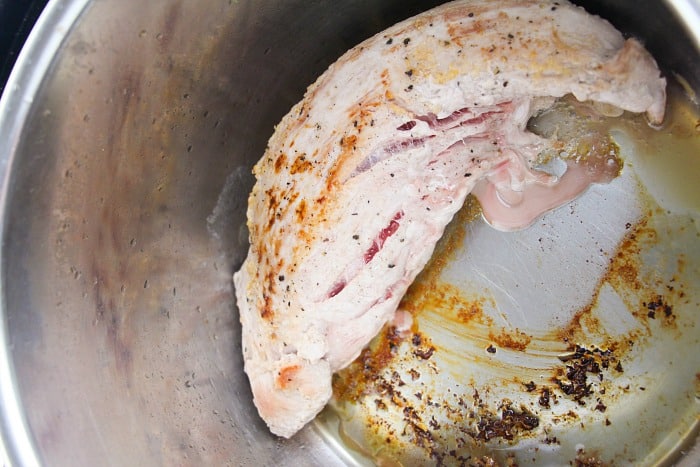 Instant Pot pork tenderloin recipe
This is what you're going to need in order to get started. There aren't very many ingredients which is nice but the few you do use have a ton of flavor. When done you'll have a nice gravy at the bottom of the pot you can pour over the top of each slice. OR toss with the meat if you choose to shred it.
Pork tenderloin – 1-2 lbs. is good
French onion soup mix if you're going to make it with that

the gravy using this is amazing

Salt and pepper
Olive oil or butter
Onion
Broth
Minced garlic
Meat thermometer – always ensure thickest part of the internal temperature is at at least 142 degrees F before serving
Small bowl to whisk a few items together before adding
Cutting board to massage garlic and seasonings on the meat is helpful
Follow these steps to make your pork tender and juicy, you'll be surprised at how fast the cook time is.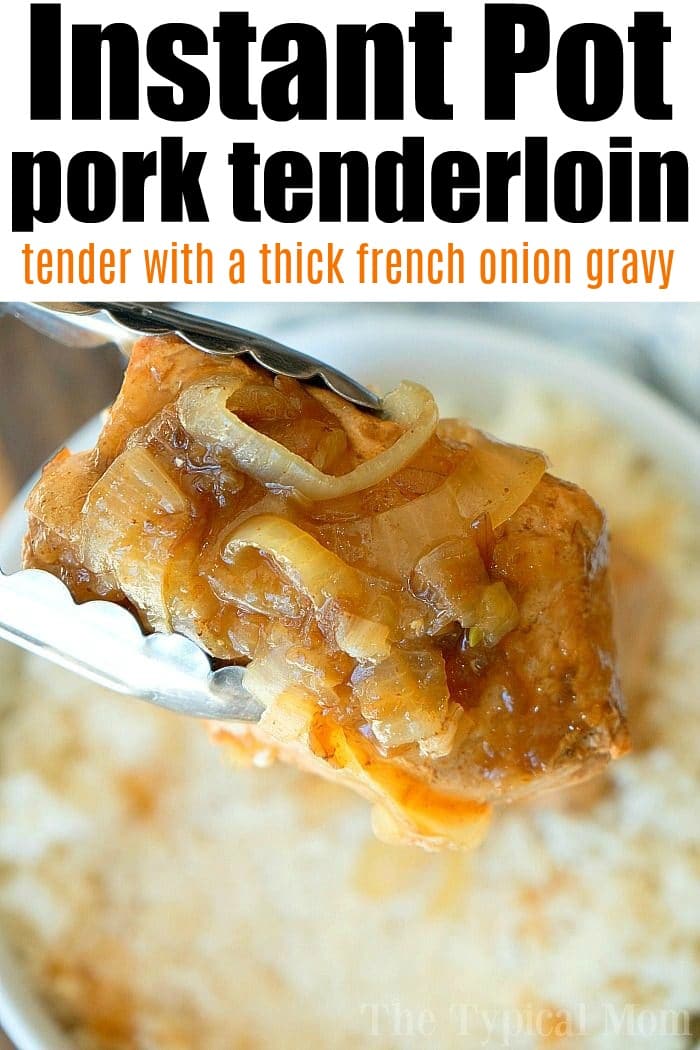 Now the trick to achieving tender pork is to NOT overcook it!
Does pork loin get more tender the longer you cook it?
NO! It actually does the opposite. Although pork tenderloin is one of the most tender pork cuts, overcooking can make it tough and unpleasant. This cut of meat is one you definitely do NOT want to cook over low heat all day long in a slow cooker or Dutch oven.
It's better using this method with a very short cook time and a long natural release. Pork chops in pressure cooker are kinda' the same way.
How long does it take to cook meat in an Instant Pot?
For pork loin it is just a few minutes with a 15 minute natural release cycle. With beef it is a much longer time to break it down and have it fall off the bone tender, with usually a 10 minute release. Instant Pot chicken recipes are a bit in between.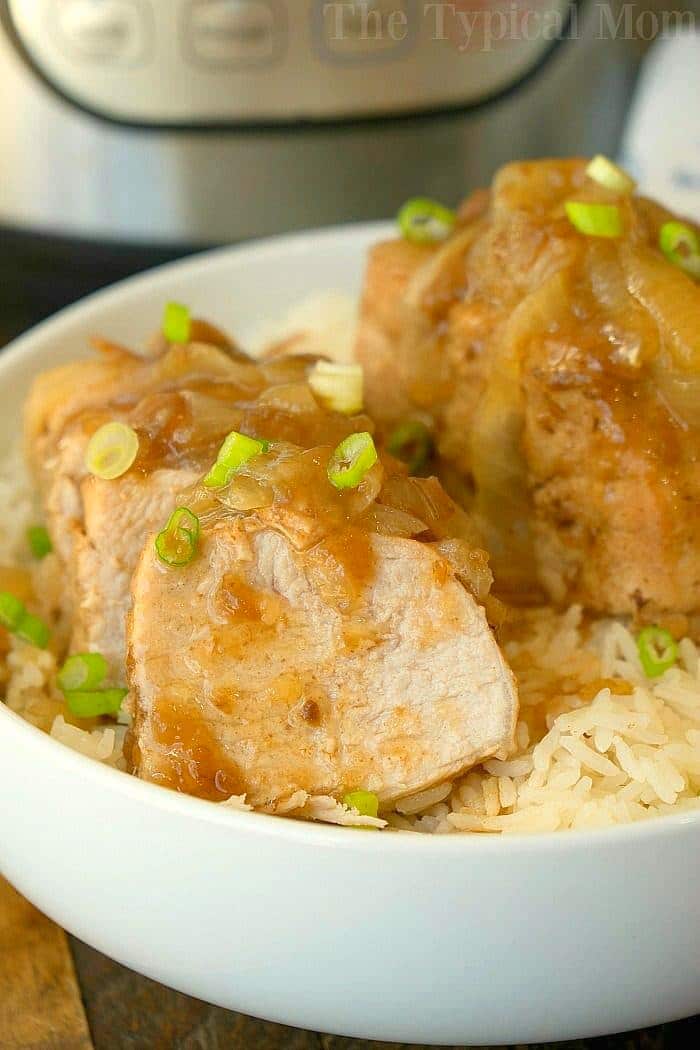 Now it's time for some cookin'
After your meat is browned on the outsides and you've deglazed your pot you'll want to put your meat back in.
Whisk together your onion soup mix with remaining broth and add that too with a sprinkle of sliced onions on top.
You can add more salt and pepper now if you like it well seasoned.
Close lid and steam valve and set to 4 minutes for a piece of meat that is 1.5 lbs. If closer to 1 lb. I'd set for closer to 2 min.
Allow to naturally release steam for 15 minutes when done.
Remove meat and allow to rest and stay warm.
If making gravy turn pot to saute and in a small bowl whisk some hot liquid and a few tbsp of cornstarch until smooth.
Pour this in and allow to bubble and thicken.
Serve on top of white rice or mashed potatoes!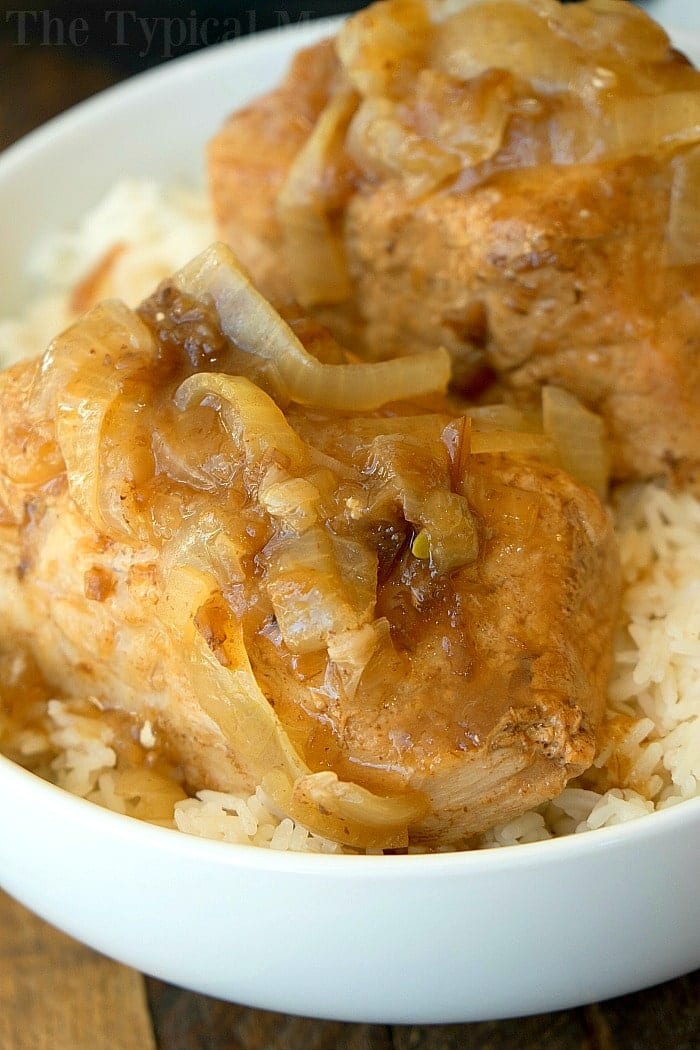 If you want a piece of lightly seasoned Instant Pot pork tenderloin keto without the soup mix you can do that too.
Just omit that packet and season with whatever you like:

salt and pepper
garlic powder
minced garlic
some like a bit of chili powder
It will look more like this if you prefer this method. A drizzle of soy sauce is yummy if you make it this way too. 😉
Will a pork tenderloin shred?
Tenderloin is lean so it isn't the best choice. If you're looking for an Instant Pot pork shoulder recipe I'd use this one.
Instead I would choose one of these cuts:

The best roast is the shoulder.

High in fat and connective tissue the shoulder is also the most flavorful part of the hog.

The Boston butt is one part when butchered
Picnic roast is what the other portion is called

I would recommend following our Instant Pot Hawaiian pulled pork recipe if you want it shredded for sliders.

We actually used a center cut pork loin for this one and it worked great.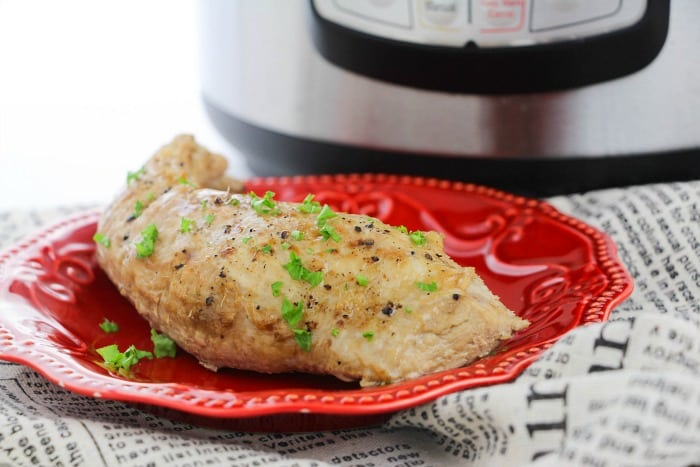 Can you cook frozen meat in the Instant Pot?
It make take a bit more time to come to pressure as frozen meat needs to defrost a bit. I prefer to defrost prior to cooking but there are some forgetful moments around here and these tips are helpful:
For frozen Instant Pot pork tenderloin follow these steps:
Put 2 cups of broth into pressure cooker.
Place a trivet inside with your frozen meat on top. (keep in mind it may not fit if frozen in a straight long piece)
Pressure cook on high for 60 minutes for a 2 lb piece followed by a 10 minute natural release. (timing will vary with size of meat and thickness)
Remove meat and allow to rest. Can make Instant Pot gravy at this time if you wish.
If it is defrosted, follow these air fryer pork loin instructions.
Looking for more Instant Pot recipes to try?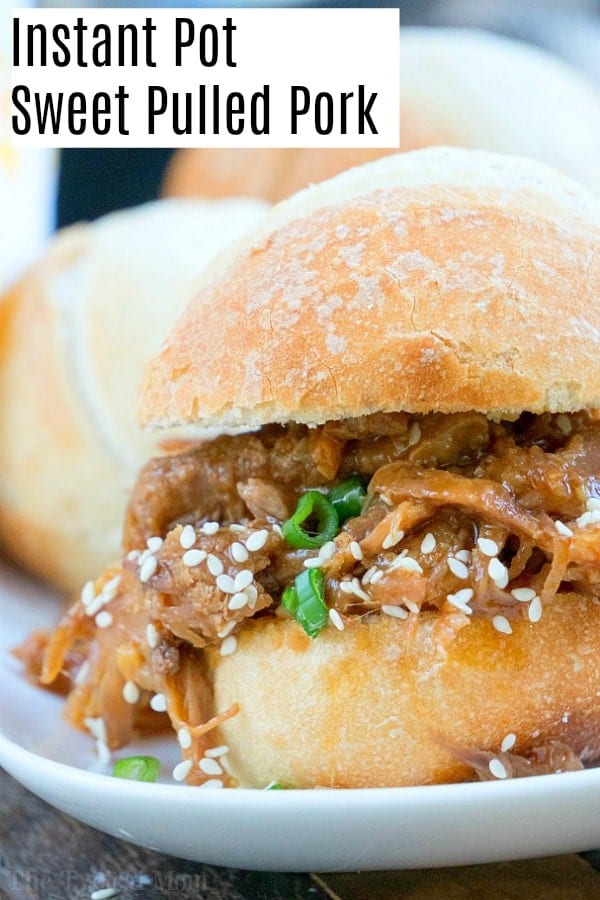 OH we have so many, but I will narrow it down to a few pressure cooker pork recipes we love.
If you need to know how to cook Smithfield pork tenderloin in the oven we have that, or air fryer pork chops dinner try these.
How long can you keep cooked pork in the fridge?
Red meat and pork can remain in the refrigerator for up to five days and can be frozen for four to 12 months. Leftover cooked meat will last three to four days in the refrigerator safely, and two to six months in the freezer.
Make sure you store them in air tight containers or freezer bags with the air squeezed out for best results.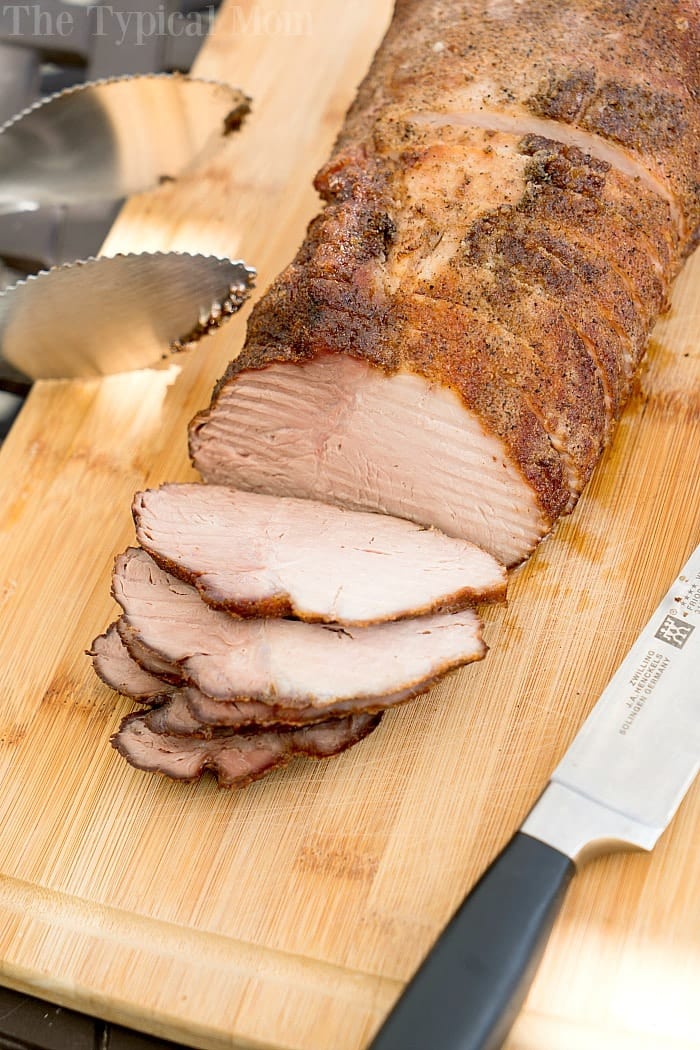 How do you reheat pork without drying it out?
Since tenderloin is really lean reheating it without drying it out in the process can be hard. It can be quickly done on the stovetop over low heat in a simple frying pan. Just add it sliced in a single layer with a bit of liquid or butter and immediately cover with the lid. Do not overcook it to remain tender. It is best if topped with a bit of gravy in my opinion.
Want to see a few of my favorite things that I am totally obsessed with?? Take a peek and see how many you might already have…twinsies!
Looking for more easy family recipes and tips? LIKE The Typical Mom Facebook page?
Then sign up for my free newsletter, and follow me on Pinterest! 😉
***** If you LOVED this recipe give it 5 Stars below and let everyone know what you thought about it. 😉
French Onion Instant Pot Pork Tenderloin
French Onion Instant Pot pork tenderloin is a great dinner idea to make with just a sprinkle of salt and pepper, or with a thick french onion gravy that's fantastic!
Instructions
Set pressure cooker to saute and add 2 tbsp of olive oil inside. Pat dry your tenderloin and rub minced garlic on the outsides, then sprinkle with salt and pepper and lower into your pot. Brown outsides, then turn pot off and remove pork. Set on a plate.

Pour 1/2 c of your broth into your pot to deglaze = scrape the bottom of your pot with a wooden spatula to get all the little bits loose. (helps avoid the burn notice) Put pork back in with broth.

With the other 1/2 cup of broth add your packet of onion soup mix and whisk together. Pour this on top of your meat. Then sprinkle your sliced onions on top with a sprinkle of salt and pepper.

Close your lid and steam valve and set to manual, pressure, high for 4 minutes. (for 1.5 lb. piece, if much longer I'd increase the time)

Do a natural release for 15 minutes, then a quick release. Take tenderloin out to rest for at least 5-10 min. before slicing to maintain juiciness.

If you want your sauce to be a bit thicker turn Instant Pot to saute again and in a small bowl add some of the hot liquid plus 2 tbsp of cornstarch and whisk together until smooth.

Add back into your Instant Pot and whisk together. Allow to bubble and thicken.

Do that again if you want it a bit thicker with 1 more tbsp. Will thicken a bit more as it sits as well.

Slice pork loin, serve over rice, and spoon french onion sauce over the top of each serving.
Nutrition Facts
French Onion Instant Pot Pork Tenderloin
Amount Per Serving (3 oz)
Calories 518
Calories from Fat 162
% Daily Value*
Fat 18g28%
Cholesterol 236mg79%
Sodium 552mg24%
Potassium 1477mg42%
Carbohydrates 8g3%
Protein 75g150%
Vitamin A 192IU4%
Vitamin C 3mg4%
Calcium 36mg4%
Iron 4mg22%
* Percent Daily Values are based on a 2000 calorie diet.