If you're looking to cook fresh or frozen Instant Pot chicken I have all the cook times that you'll need to get started with a pressure cooker printable too.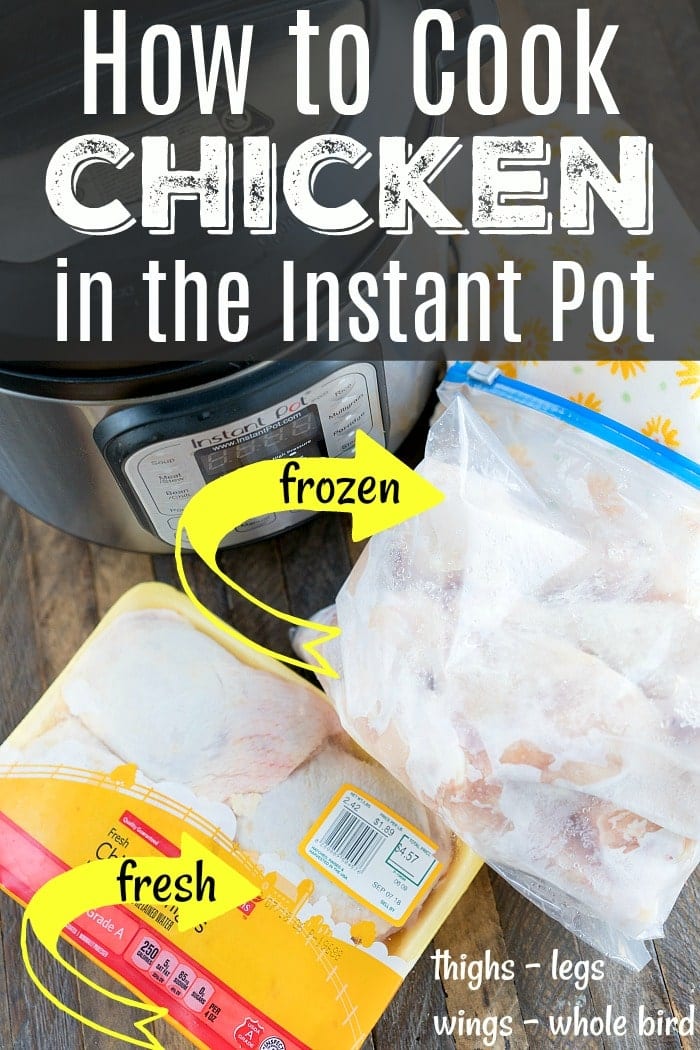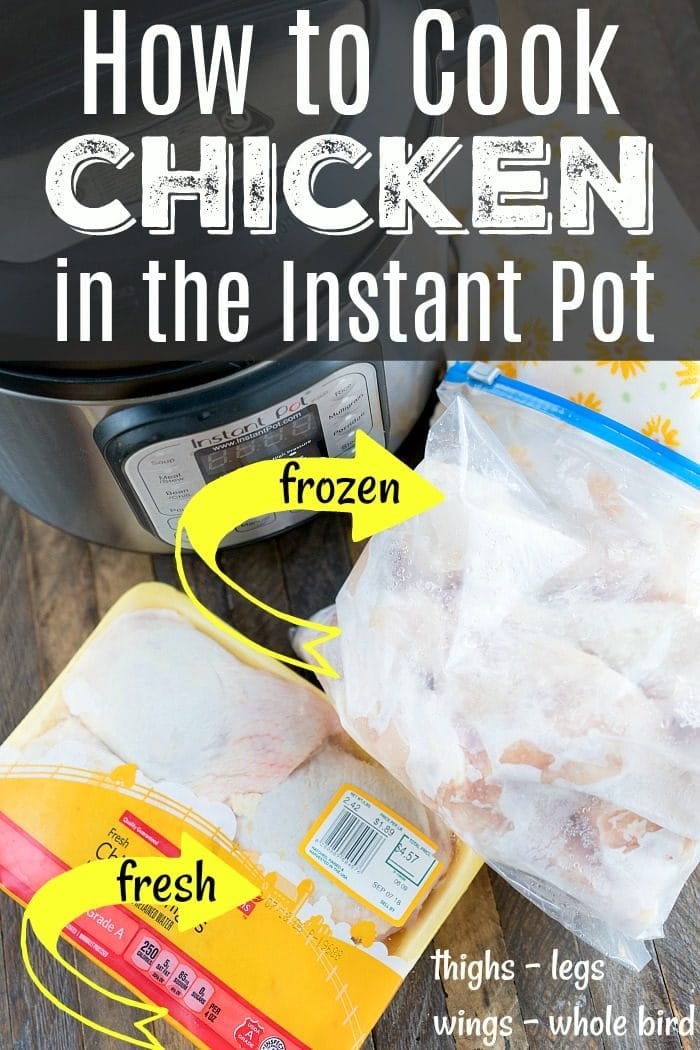 I have been using my multi cooker pressure cooker for 2 years now. I bought the very first model that came out and have never looked back. The first thing I made was Instant Pot chicken left whole, then went from there with frozen chicken breasts and lots of casseroles too. I will help you learn how to cook chicken in your Instant Pot all different kinds of ways here so you too can enjoy easy Instant Pot recipes day after day.
Now if you're new to using a pressure cooker you may be surprised to know that times don't change dramatically when you're cooking fresh or frozen chicken.
I follow the guide here and when I have fresh I tend to use the lowest # of minutes listed, and for frozen I use the higher.
Of course it varies slightly depending on how much chicken you're cooking and in my experiences it isn't much.
The biggest difference when cooking Instant Pot chicken in my opinion is whether it is bone-in or boneless.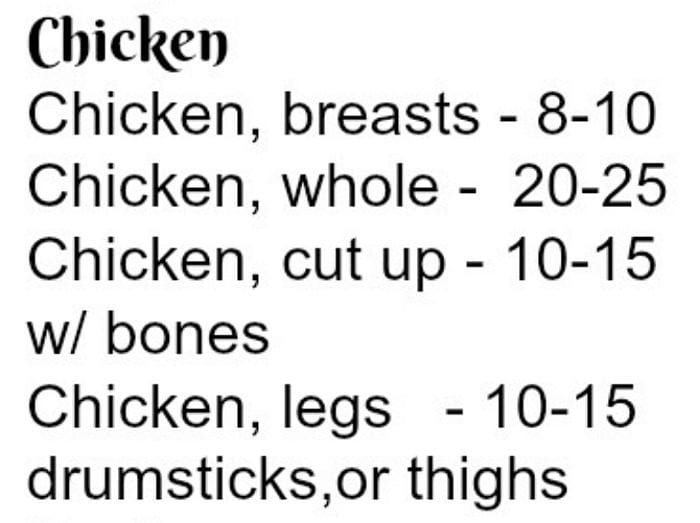 Why I use my Instant Pot on a daily basis:
There's less clean up – just one pot for cooking meats, thru to the entire meal
I can cook frozen meat in no time at all
I can cook an entire meal in less than 30 minutes usually including prep and time to reach pressure
Just makes my busy life easier
I have made a lot of easy Instant Pot chicken recipes. You can see how long each one took. Once you make a few you'll get the hang of how to adjust times slightly depending on whether your chicken is fresh or frozen.
Typically when cooking frozen boneless chicken breasts or thighs the timing is 7-10 minutes on high pressure. Always depends on how many you're cooking but that's a good gauge.
I have made pressure cooker frozen chicken wings before and I filled it to 3/4 of the way full in my 6 qt. Instant Pot and it took about 20 minutes to become fall off the bone perfect (took longer because I had thick barbecue sauce inside the pot too instead of water)! It would be right on the money with the chart above at 10-15 min. if I hadn't filled it so full.
Frozen chicken breasts in the Instant Pot take about 10 minutes depending on how many pieces you're cooking.
I have made fresh Instant Pot chicken legs cooked in barbecue or enchilada sauce and they were a solid 10 minutes, right on the money with the chart above.
With that said, the chart above is a good base to go off of. If you're cooking quite a bit you may have to give it an educated guess keeping these times in mind and if it isn't quite done when you lift the lid there is NO problem with putting the lid back on and adding a few more minutes.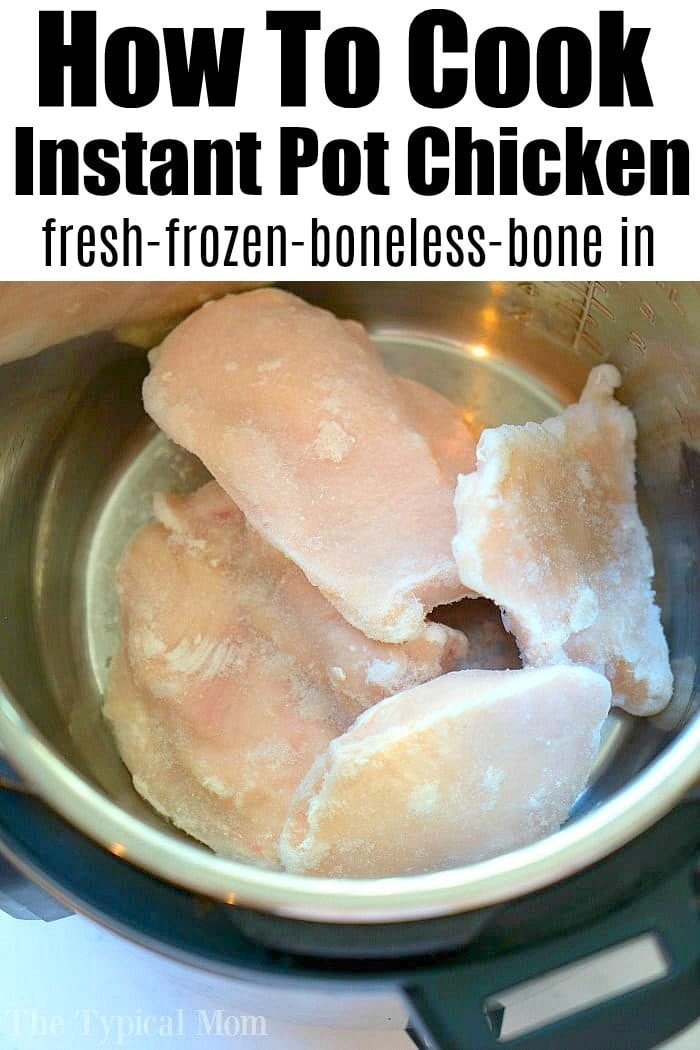 The best way to cook chicken in your Instant Pot
Use fresh chicken

frozen works well if you're shredding it to make pressure cooker sliders with sauce in the pot but other than that I feel like it ends up with an odd texture (and obviously won't have a crispy skin)

Use boneless – skinless chicken

Cube it into pieces as you see below, fork size
Add 1-2 tbsp. of olive oil into your Instant Pot
Turn it to saute
Add your chicken pieces
Cook just the outside until they are no longer pink
Add your favorite sauce (1.5 c. of sauce/liquid typically is the minimum amount)
Cook on high pressure for 5 minutes

If using bone-in chicken I follow this same above rule. But I cook them for about 10-14 minutes, depending on how many I have. I prefer boneless method above for best results.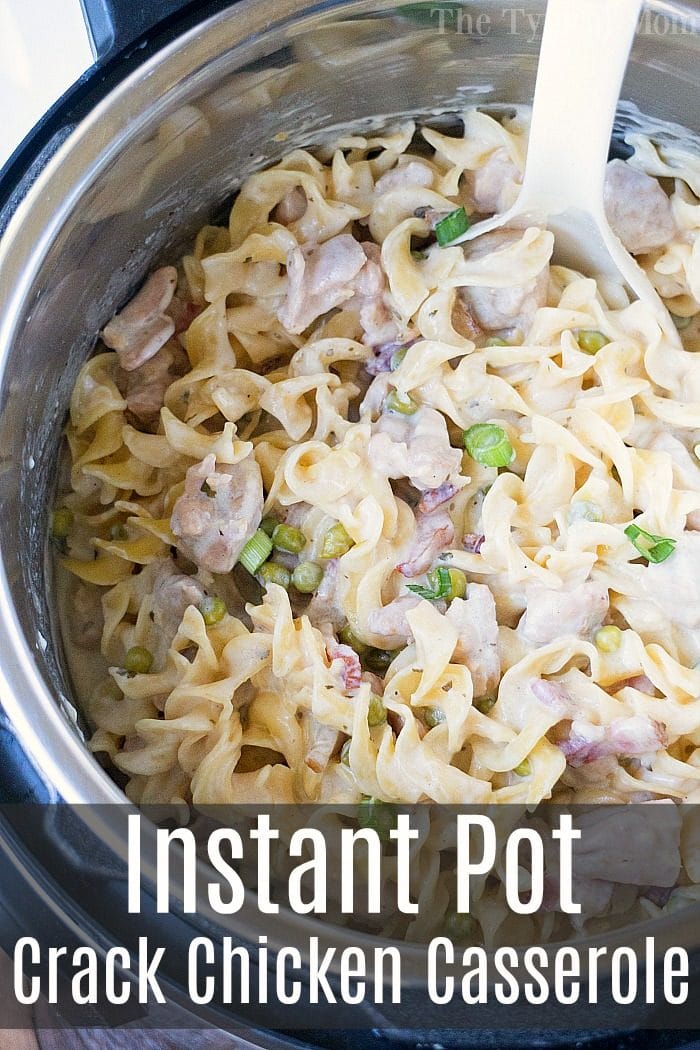 In my opinion chicken comes out more tender and cooked evenly when it is diced beforehand.
Here are a few exceptions to the rule where I've used bone-in chicken for recipes and they've come out well.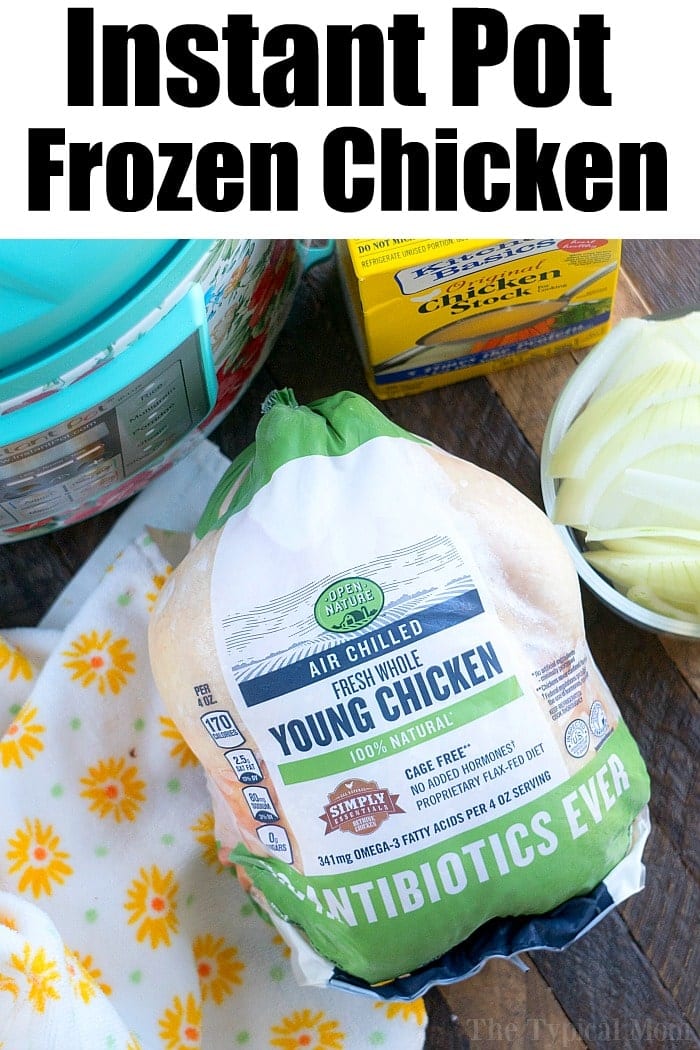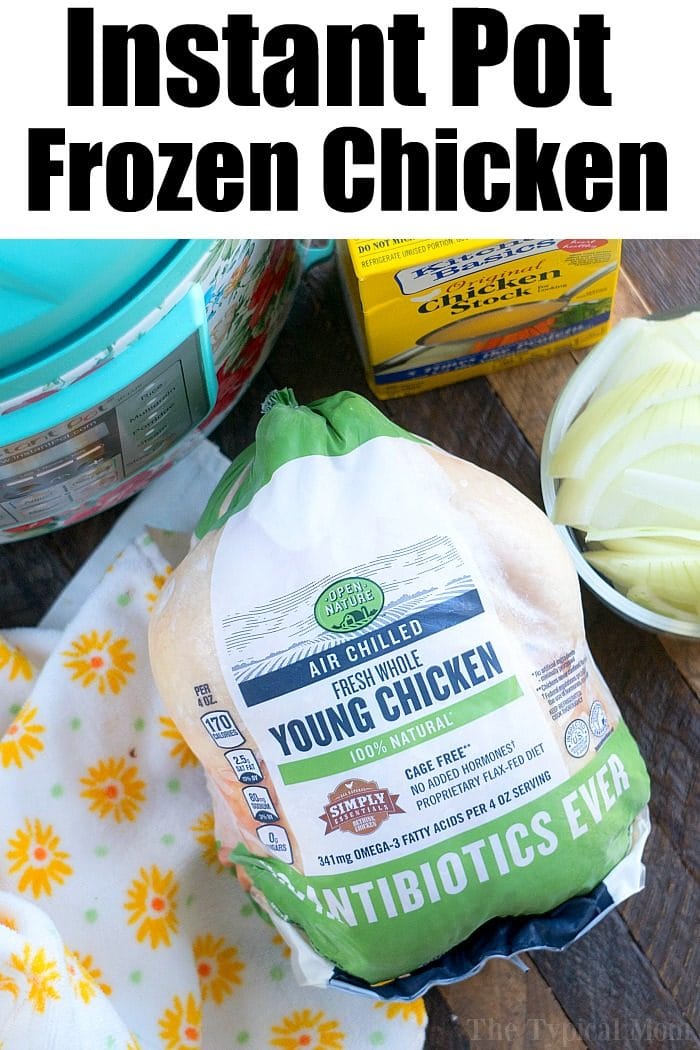 And you see…..there are tons of ways to cook Instant Pot chicken depending on your preference.
I will recommend boneless and dicing it up with sauce to get some amazing flavors….and then when that is done try a side of Instant Pot brussel sprouts and bacon with it!
For other meats, vegetable and bean cook times you can print out these pressure cooker time charts.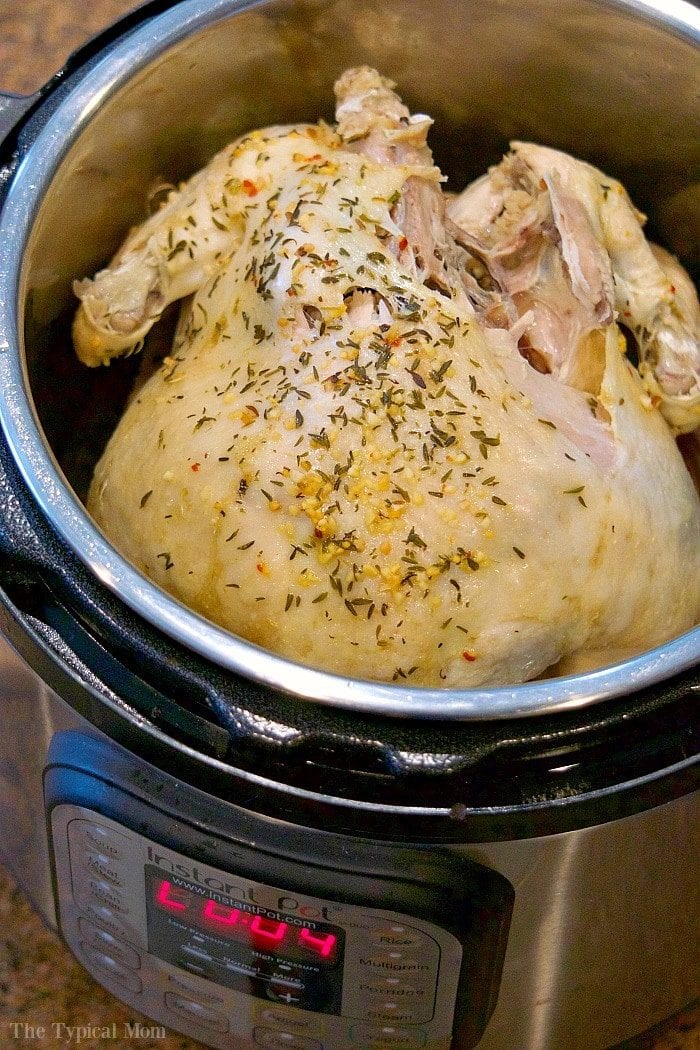 Here's a video showing frozen chicken, fresh chicken, and cubed fresh chicken cooked in my pressure cooker.
If you cut boneless skinless chicken up into bite size pieces it cooks quickly and is great to use for Instant Pot casseroles, here are a few favorite pressure cooker recipes made with diced chicken.
I will say unless I'm going to make Instant Pot shredded chicken I don't typically use whole breasts in my pressure cooker.
For more easy recipes, tips and free printables please LIKE The Typical Mom on Facebook and follow me on Pinterest! You can also sign up for my free weekly newsletter which is packed with goodies I know you'll love. 😉