This is how to cook a whole chicken fried, in an air fryer, Instant Pot, the oven, on the stove, all the ways! Best ways to get tender meat with crispy skin every single time.
Not only will be talk about how long to bake a whole fresh or thawed bird but you can roast a frozen whole chicken too and it works great. Yes, you can cook it right out of the freezer too.
OH let me count all the ways of how to cook a whole chicken perfectly! I will talk about them all so you can choose, or try them all and see which is your fave. All are simple, with no breading and the meat will melt in your mouth no matter which method you choose. (affiliate links present)
Let's talk about the "old fashioned" to begin with shall we? Cooking a whole chicken on the stove would be that right? Here's how to make a whole fried chicken with no breading this way. I used my Dutch Oven but a large stock pot would work well too. The fastest method of them all at 20-25 minutes, boiling a whole chicken works great too.
Typically you're looking at an hour or more depending on whether it is thawed or still rock hard. You can in fact do both and they come out great. I will talk more about that later, it will blow your mind if you haven't tried that yet. Let's talk about which birds I prefer and why first shall we?
How do you pick a good whole chicken?
If you ask me hands down a organic, free range bird is best. They have less fat than non-organic, are smaller with typically the same amount of meat and have a better texture and flavor. Beyond that it should have a light pink color and plump in appearance without bruising.
I like a 4 pound size. Like I said we buy organic poultry so really our 4 lb. will yield about the same amount of meat than a "regular" bird that is 5-6 lbs. Just our experience but we cook a lot and want to share our experience as what is the best of the best choices.
Cooking a Frozen Chicken
You can see one of the choices we have here. This one was actually delivered to our door via Imperfect Foods. They have a lot of organic food choices and it's delivered frozen like you see here. These actually come without a bag of "stuff" in the neck so I can just unwrap and cook frozen chicken in Crockpot easily.
If you want to do the same thing a lot quicker you can use our instructions for Instant Pot frozen whole chicken too. You will be amazed how moist it stays right out of the freezer to your plate in about an hour with this method.
With all of that said it is best if you do have time to defrost chicken first before cooking. The texture is better if you had two next to one another, but I get that sometimes it gets forgotten. You will need to meal prep ahead of time so you take it out in time. Many times I will set an alert reminder on my phone to take one out.
How long does it take for a whole chicken to defrost?
This depends on the size but at least one full day is necessary for the middle to thaw completely. Occasionally it will take 1.5 days. Once it's ready you can keep it in the fridge for up to 2 days more before it needs to be cooked. Remember that these babies like to leak so put it into a freezer bag to prevent that mess.
How to Cook a Whole Chicken in a Crock Pot
We have cooked a whole chicken in a slow cooker for years and years. My mom even did this back in the day so I knew how it was done even as a teenager. It was a really inexpensive dinner and since we lived paycheck to paycheck it was a healthy meal that required little to no prep.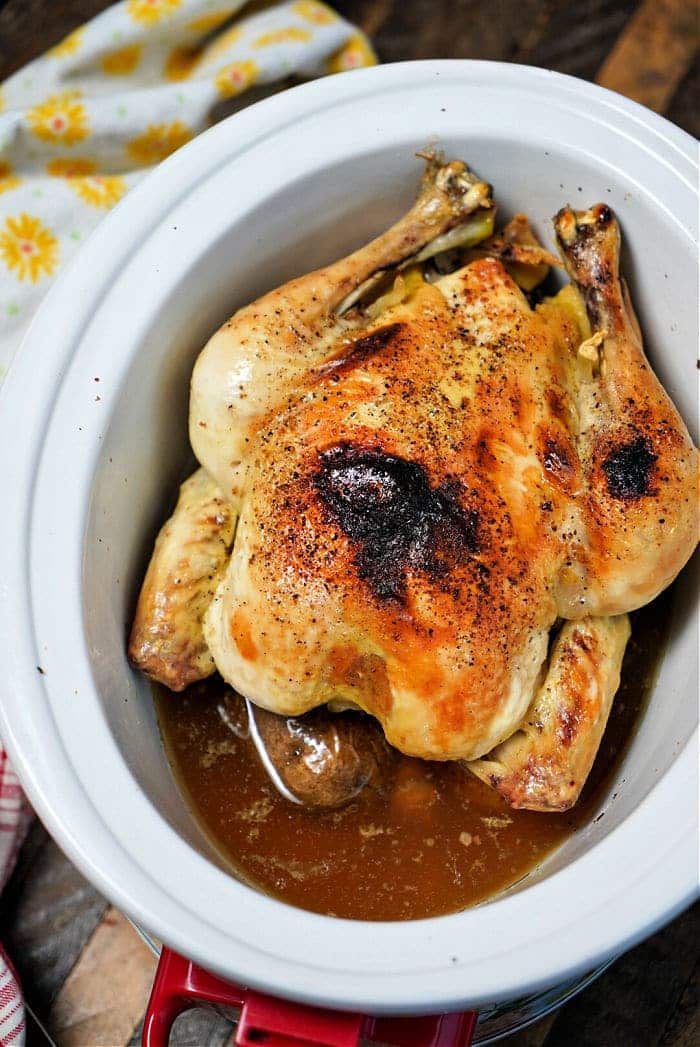 How to Roast a Chicken
Roasted to me means bubbly golden brown skin, typically in the oven. Our Dutch Oven whole chicken and vegetables may be our most popular. You can add carrots, celery and onions right inside the cavity so you have a one pot meal ready in not too long.
Rotisserie chicken in oven is also called bundt pan whole chicken which you will love. Once again you can add vegetables, including potatoes, all around the meat. It sits up in the middle like beer can chicken but without the can or alcohol. Gets nice and browned with a dry rub to season the skin nicely.
You can of course brush your favorite sauce on the outside if you prefer as far as flavor goes, maybe both??
How to Cook a Whole Chicken in an Air Fryer
And then we come our favorite air fryer whole chicken recipe. I mean………if you haven't tried this it is amazing!! You can use your Foodi to make this, a Cosori, AirWave, Instant Pot air fryer or whatever you choose. This is the BEST way to get crispy chicken skin of all of them.
We have shared a lot here, this is a basic how long to roast chicken recipe basically. You can start with our whole chicken brine or just season and cook.
Time needed: 1 hour and 15 minutes
How to Cook a Whole Chicken
Preheat

You want to preheat your oven to 350 degrees F. Have your rack in the middle and flat.

Season

Remove organ bag and blot outside of bird with paper towels to dry the skin. Drizzle and rub olive oil all over and then sprinkle salt and pepper + seasonings of your choice on top.

Bake

Spray 9×13″ or roasting pan with non stick spray and lay whole chicken inside with chicken breast up and tucking the wings underneath. Then cover with aluminum foil and bake for 40 minutes cooking time.

Uncover

Remove the foil and continue to bake chicken for 30-40 more minutes or until the skin is crispy golden brown. Check temp with meat thermometer to ensure the middle of the thigh reaches 165 degrees F before removing.

Rest

Remove from oven once it has reached a safe temp of 165, recover with foil to keep warm and rest for 10 – 20 minutes before slicing.
How to tell if chicken is cooked
Honestly before you even use a thermometer, or if you don't have one, you can tell if the chicken legs pull off easily and juices are clear. If you see any pink it likely needs more time. If pulling on the drumsticks it is tight and meat isn't pulling away from the bone, it needs more time.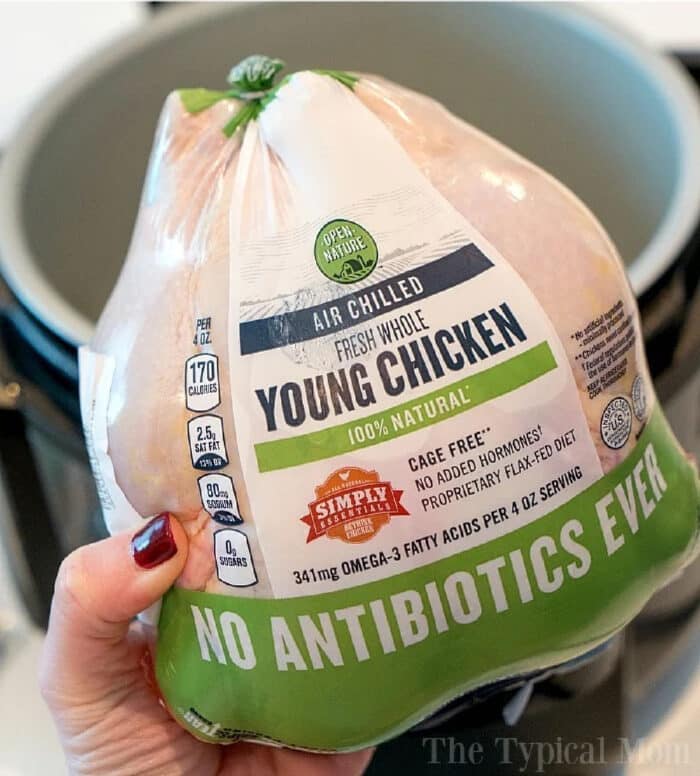 What side dishes to serve with chicken
I mean there are so many I couldn't list them all. Mashed potatoes and some sort of steamed vegetable is a given for us. That being said it can get boring to serve the same things so mix it up a bit. A carb of some kind like rolls or garlic bread are a must around here with the kids. You can cook a whole head of cabbage to tender with butter, salt and pepper.
What do you do with chicken carcass after roasting?
Make sure you get all the meat off and keep that for another meal tomorrow. I like to store it in a freezer bag with the air sucked out so it remains moist. Dice it up later and make a casserole, throw it into tacos with salsa and cheese or make soup with carrots, celery and noodles!
Don't throw away the carcass though because you can make bone broth out of it! Throw it into a large pot covered with water and boil it until the collagen in the bones leaches out and the bits of meat flavor it. Allow it to cool, use in recipes or store for later use.
Want to see a few of my favorite things that I am totally obsessed with?? Take a peek and see how many you might already have…twinsies!
Looking for more easy family recipes and tips? LIKE The Typical Mom Facebook page?
Then sign up for my free newsletter, and follow me on Pinterest! 😉
***** If you LOVED this recipe give it 5 Stars below and let everyone know what you thought about it. 😉