Sheet pan green beans are the best you will ever try. Healthy side dish easy to make. Baked green beans in oven are the perfect side dish.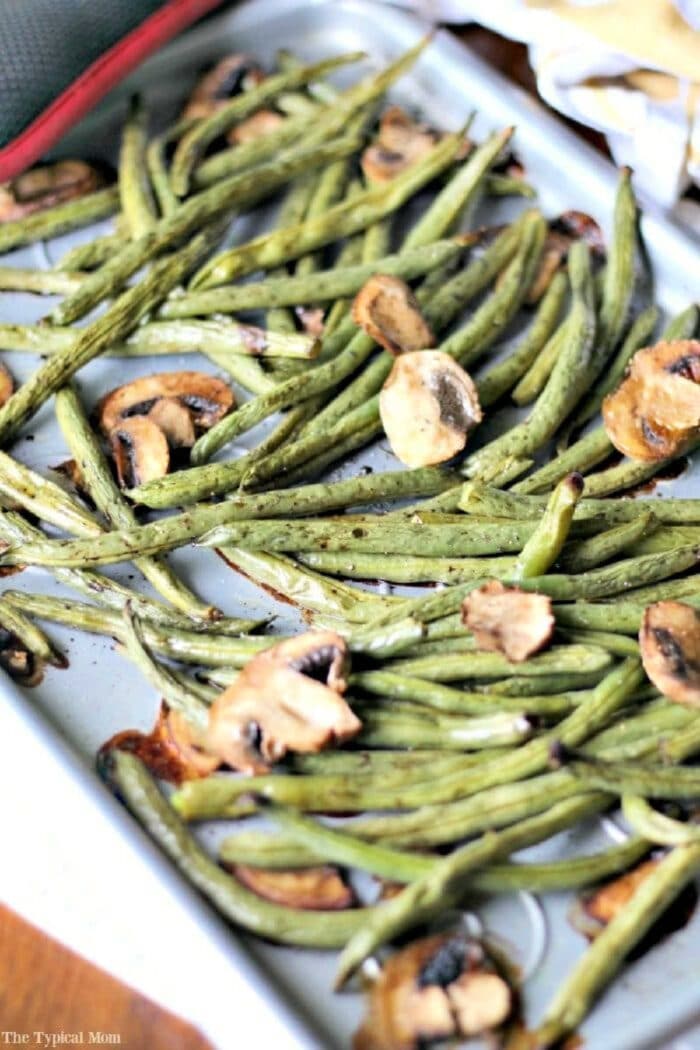 Are you ready for the best green bean recipe ever? I will admit I was always a "buy it in the can" kinda' cook, but when we aimed to eat healthier that was one thing I changed and I rarely cook veggies out of a can or freezer anymore (tastes so much better fresh). Perfect alternative to the traditional calorie laden Cheesy Green Bean Casserole you serve at Thanksgiving, or just a great side during the week for dinner. Even my kids love these. (affiliate links present)
Sheet Pan Green Beans
This is a really simple and healthy side that goes with any weeknight dinner throughout the year, and is always made during the holidays too. If you can find them at a farmers market that is best but typically year round in your produce section you should be able to find these babies.
You can add mushrooms or omit but the combination is a great one. Balsamic is also used which creates a great flavor to the green beans and a perfect side dish.
Our favorite healthier alternative served at Thanksgiving or Christmas time.
Forget the traditional green bean casserole year after year. Especially if you're looking for a healthier option, you've got to give these baked green beans a whirl. There is nothing like fresh green beans, and this recipe is super easy.
Roasted Green Beans Recipe
Whether you want to know how long to cook fresh green beans on stove or in the oven, here's what you need for this Thanksgiving side. There's a printable recipe below to save for next time too.
Fresh green beans
Mushrooms
Olive oil
Garlic powder
Salt and pepper
Some like a light squeeze of fresh lemon juice on top of your roasted vegetables
Baking sheet
Baked Green Beans
You could add a sprinkle of red pepper on top if you wanted some heat too. As far as cooked green beans I like this method. It is easier than using a large skillet over medium heat and tending to it.
There aren't a lot of steps to this green beans on sheet pan recipe which is good because I'm always in a rush so believe me nothing is difficult to make on my site. You probably have everything you need at home, other than a bunch of fresh beans.
Are green beans better raw or cooked?
Green beans are better boiled or pressure cooked. It aids chewing, increases digestibility, and improves the energy value of the vegetable. Carrots for example can multiply their antioxidant power threefold when cooked! Roasting can also boost nutrients. Beans as you know can't be eaten raw.
We are referring to fresh pieces. If you need to know how to cook frozen green beans you'd need to refer to this post. I will say our favorite method for those would be air fryer frozen green beans. Here are the basic steps to follow:
Wash your string beans and pat dry with paper towels. Then cut ends off as you normally would.
Add green beans to a bowl and add your sliced mushrooms too.
Preheat oven to 425 degrees.
Pour balsamic vinegar, olive oil, salt and garlic salt into the bowl.
Gently fold all ingredients together so beans and coated.
Pour on to rimmed baking sheet in a single layer and bake for 20-25 minutes stirring halfway -about 15 minutes into the time
Take out once they're lightly browned and as tender as you'd like.
How do you trim green beans?
You just want to cut the pointy ends off, they don't taste good. The rest of the bean is great so that is all that's really necessary. If you find damaged or browned pieces, discard them as well. I like to just slice in half but if you wanted them much smaller, in thirds is fine too. A great size for little ones for sure.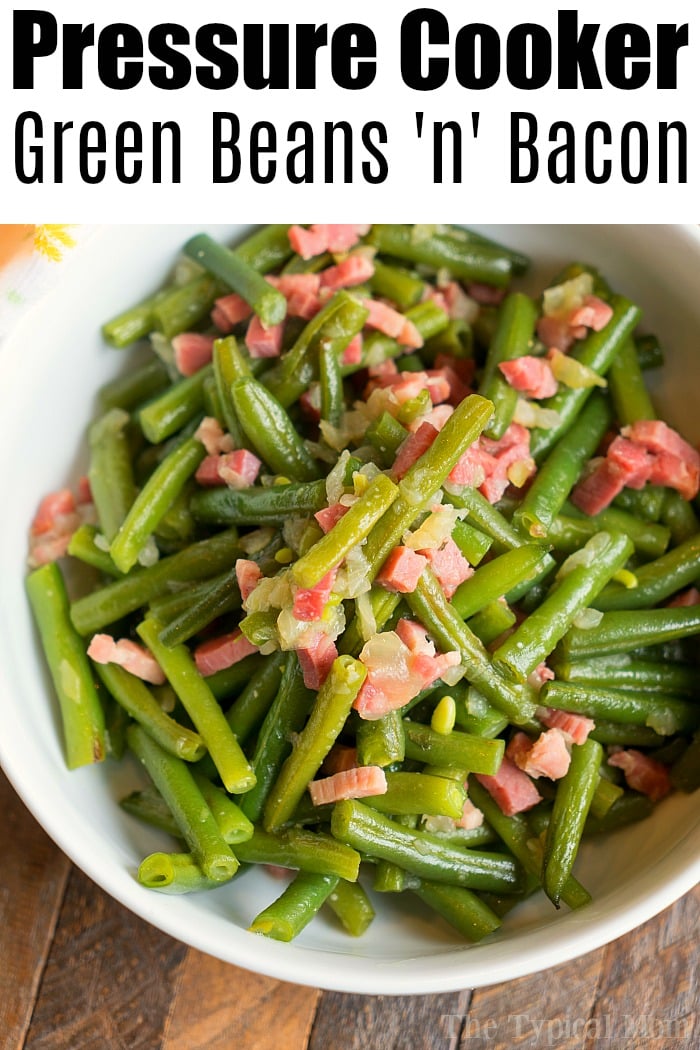 If you're looking for other easy side dishes we have another list here and below. You can print recipe below to keep on hand or just keep coming back every time you need it. We would be sad if you disappeared after this time. 😉
Are cooked green beans good for you?
Green beans contain no cholesterol. Although your body needs some cholesterol for healthy cell growth, too much is bad for you. 1 cup of raw green beans has 2.7 g of fiber which is great. Boiling vegetables tends to leach nutrients out so steaming or baking is the best way to maintain their integrity.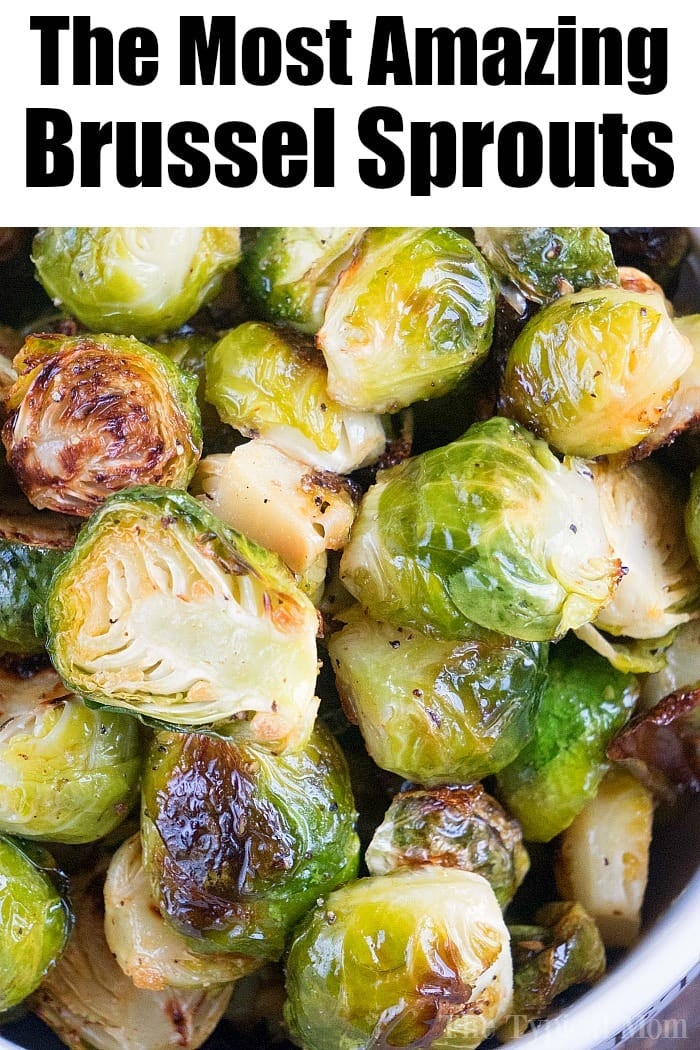 Are green beans Keto?
A one-cup serving of cooked green beans contains 10 grams of carbs. 4 are fiber and they have 6 grams of digestible carbs per serving. Antioxidants are present too that may help prevent cancer and protect the brain.
How do you cook green beans?
Put bright green beans into a large skillet after you've cut the ends off. Cover with water, then bring to a boil. Reduce heat to medium-low and simmer until they start to soften. This will take about 5 minutes stirring occasionally.
Drain water.
Add butter (or our olive oil and balsamic vinegar here) to green beans.
Cook and stir until butter is melted, 2 to 3 minutes.
Nutritional information such as calories and saturated fat are listed below too but seriously, just enjoy!
Just snip ends off, rinse, combine items and bake on a cookie sheet until golden browned and tender! If you love this best green bean recipe you've got to try our savory monkey bread, we serve this at holidays too and it's phenomenal!
Want to see a few of my favorite things that I am totally obsessed with?? Take a peek and see how many you might already have…twinsies!
Looking for more easy family recipes and tips? LIKE The Typical Mom Facebook page?
Then sign up for my free newsletter, and follow me on Pinterest! 😉
***** If you LOVED this recipe give it 5 Stars below and let everyone know what you thought about it. 😉
Sheet Pan Green Beans
Sheet pan green beans are the best you will ever try. Healthy side dish easy to make. Baked green beans in oven are the perfect side dish.
Instructions
Cut ends of green beans off, rinse, dry off majority of water with paper towels and put into a bowl.

Add all ingredients on top and mix well until coated.

Put flat on sprayed cookie sheet where items aren't overlapping too much and bake for about 25 minutes (or until as tender as you'd like) stirring halfway through. Serve!
Nutrition Facts
Sheet Pan Green Beans
Amount Per Serving (4 oz)
Calories 84
Calories from Fat 45
% Daily Value*
Fat 5g8%
Sodium 239mg10%
Potassium 198mg6%
Carbohydrates 7g2%
Protein 1g2%
Vitamin A 625IU13%
Vitamin C 11.1mg13%
Calcium 34mg3%
Iron 1mg6%
* Percent Daily Values are based on a 2000 calorie diet.
We hope you have a wonderful holiday and/or enjoy this green bean recipe during the week too. Let us know what you think!