How to cook frozen green beans in air fryer, boiled, in the microwave, oven or frozen green beans in Instant Pot is here. Frozen vegetables to tender works great for this healthy side dish
If it's winter time and you need to know how to cook frozen green beans to perfection, we have a few different ways to try here. From baked to crisped in an air fryer you should try them all and see which you prefer. (affiliate links present)
Frozen Green Beans in Oven
If you are baking your main dish this way you might want to just add this to another shelf so everything is cooked together at the same time. We do this when cooking a whole frozen chicken in oven. At the end, about 30 minutes before I can throw these in and dinner is ready. You just;
Pour bag into a large bowl and drizzle 2 tbsp of olive oil over the top, toss to coat
Sprinkle on seasonings of your choice, toss.
Spread on a sheet pan in a single layer
Bake in a preheated oven at 425 degrees F for 15 minutes cooking time
Flip pieces over with a spatula and bake for another 15 minutes until tender
Very similar to our sheet pan green beans
Season again after removing to see if you want a bit more salt and/or pepper and enjoy! There is no need to prep green beans before cooking in this case as they will already have the ends snipped off so it can't be easier, really. There are two much faster methods though.
Instant Pot Frozen Green Beans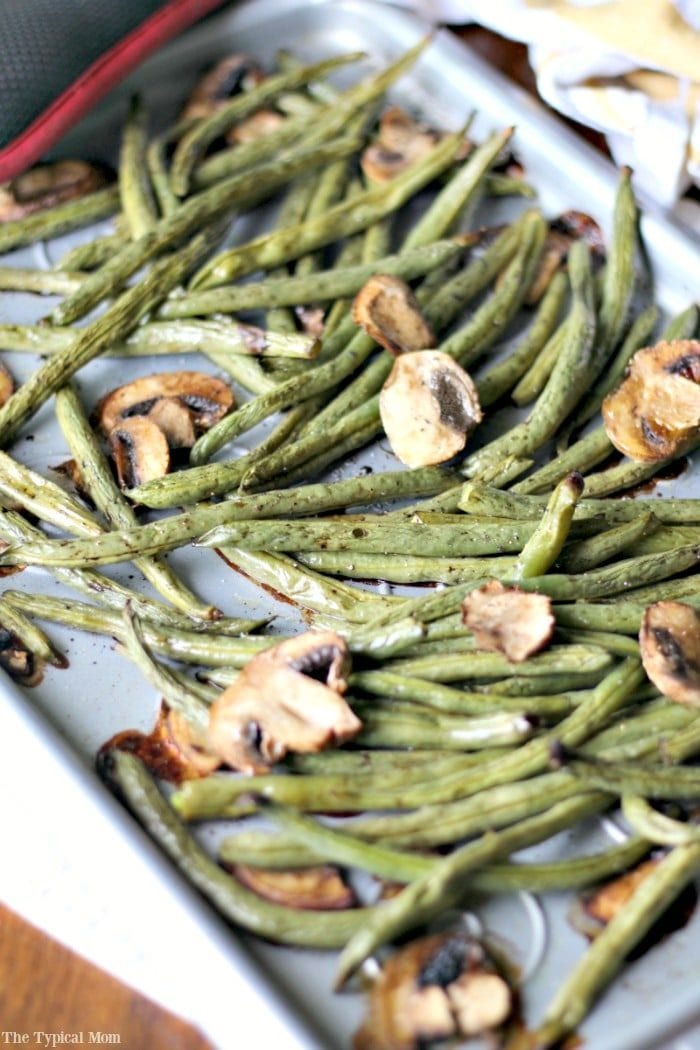 How Long to Boil Frozen Green Beans
If you want to go the old fashioned method your grandmother used, you can boil green beans. This would be my very last choice for a few reasons. First off if you submerge any food into hot water it will leach a lot of the vitamins and nutrients right out, no good.
Versus if you bake or air fry them they will maintain all the healthiness and have an overall better texture. If this is literally your only choice you can make them fork tender if done this way. For boiling a frozen green bean recipe you would;
Fill a pot with water, enough for all vegetables to be submerged
Add a pinch of salt and bring it to a rolling boil that doesn't stop, but isn't boiling over
Pour in your bag and they should be ready to drain after about 6 minutes
If you use a colander and then add into a bowl you can add a pat of butter + salt and pepper so it can melt quickly before being served. Some like a light squeeze of lemon juice over the top too, we love shredded parmesan personally.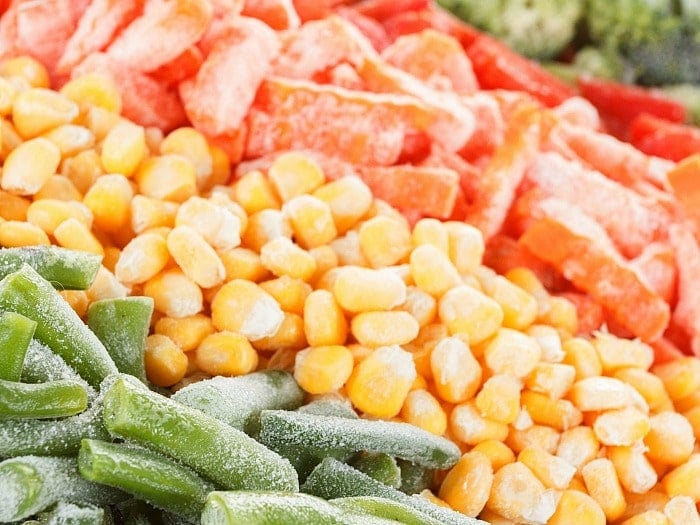 How to Cook Frozen Green Beans in Microwave
This surprisingly works really well. You can literally cook an entire meal and dessert this way if you wanted to (or that is the only method you had). All you need is a bowl and plate or plastic wrap. Seasonings are optional but a great add in.
Pour contents of your bag into a bowl
Put a plate on top or cover tightly with plastic wrap to create steam when it heats
Put in microwave, having a plate inside that automatically rotates is ideal
Heat at regular 100% power for about 4 minutes or until warmed to your liking. Timing may vary depending on how much you're cooking, 4-6 min. is typical
Remove wrap or plate, drain water in bowl and add 1-2 pats of butter with a pinch of salt and black pepper.
You could microwave ground beef with taco seasoning at the same time too for a low fat meal.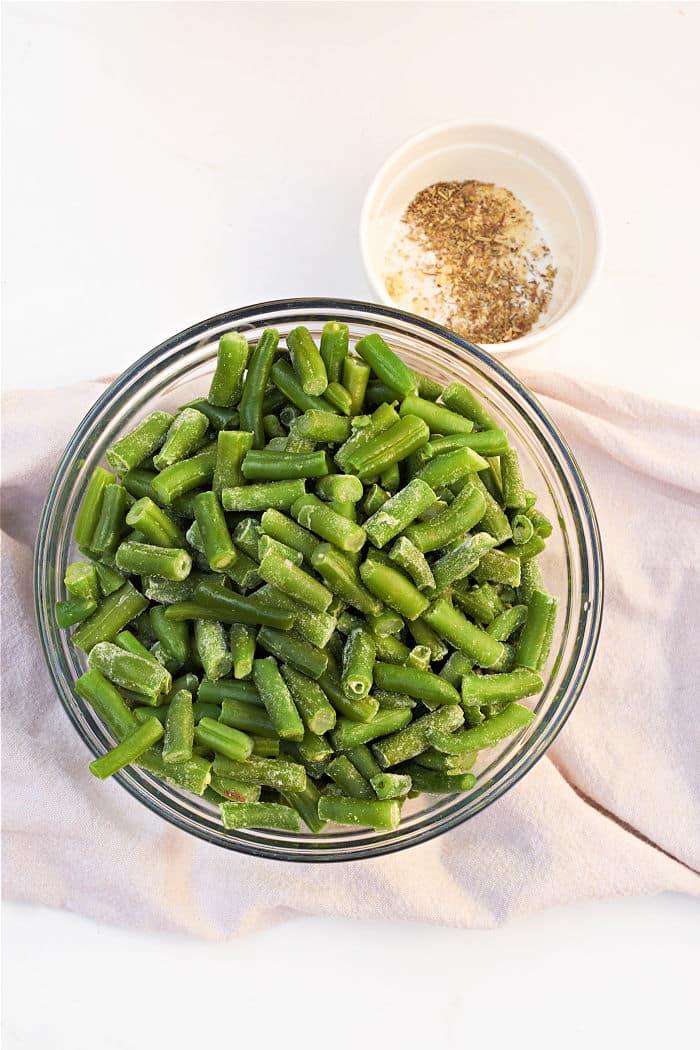 Frozen Green Beans Instant Pot
It doesn't matter whether yours are fresh or frozen vegetables. I will say that cooking in InstaPot which is kinda' nice. Any electric pressure cooker brand will work. You can use our Ninja Foodi green beans here if you have that pot, Instant Pot instructions are below in the printable recipe card.
These are by far the fastest methods at just a minute or so and they are perfectly done every time. You just need beans to cook, add the salt and water into the pot and 1 min. later, enjoy. No need to thaw frozen green beans anymore y'all.
How to Make Frozen Green Beans Crispy
The best way to do this is with air fryer frozen green beans. They won't be as crispy as if you made tempura fried green beans from fresh green beans with a light breading, but still…. A bit of olive oil spray during the last minute will make it crispier on the edges.
Add some grated parmesan cheese to the top and crisp that up for added YUM. You could add some meat into the mix like stir fry also. Add sliced bell peppers and onions for a quick and easy meal.
Cooking Frozen Green Beans
Below is just one method. If you want to know how long to cook fresh green beans on stove you can do this straight out of the freezer too though, with just a few more minutes. The others are listed above or with a blue link to take you to that one specifically. Jump to recipe we prefer below and see which you prefer when you give them all a whirl.
If you have leftovers of any of these they save well, but ideally should be reheated within 1 day for best results. The texture will change a bit as they sit in the refrigerator and should always be saved in a baggie or container with a tight lid. Heat again in the microwave to warm and serve again with a pat of butter.
There is a great dairy free butter plant based alternative I have found too from Country Crock that I use for my husband that is lactose intolerant. If you are in need of this you really cannot tell the difference, at least we can't in our house.
Make sure you are using whole or halved vs. French cut green beans which are half as thick and would need even less time. If using a pressure cooker for those I would venture a guess that they would need to be at 0 minutes to cook. That is actually a cook time where you set to 0 and once it reaches pressure you let it out quickly.
Want to see a few of my favorite things that I am totally obsessed with?? Take a peek and see how many you might already have…twinsies!
Looking for more easy family recipes and tips? LIKE The Typical Mom Facebook page?
Then sign up for my free newsletter, and follow me on Pinterest! 😉
***** If you LOVED this recipe give it 5 Stars below and let everyone know what you thought about it. 😉
How to Cook Frozen Green Beans
How to cook frozen green beans in air fryer, Instant Pot, slow cooker, oven or stovetop is here. How to get them tender from frozen vegetables.
Instructions
Pour water into pressure cooker and dump frozen green beans inside. You can add a pat of butter and salt and pepper now or wait until done.

Close lid and steam valve and set to high pressure for 1 minutes with a quick release at the end.

Drain water, season and enjoy.
Nutrition Facts
How to Cook Frozen Green Beans
Amount Per Serving (1 oz)
Calories 56
Calories from Fat 36
% Daily Value*
Fat 4g6%
Cholesterol 10mg3%
Sodium 43mg2%
Potassium 156mg4%
Carbohydrates 5g2%
Protein 1g2%
Vitamin A 623IU12%
Vitamin C 9mg11%
Calcium 29mg3%
Iron 1mg6%
* Percent Daily Values are based on a 2000 calorie diet.