Instant Pot Beef Bourguignon cooked with red wine, vegetables and seasonings turns out amazingly tender and flavorful! You've gotta' give this a whirl.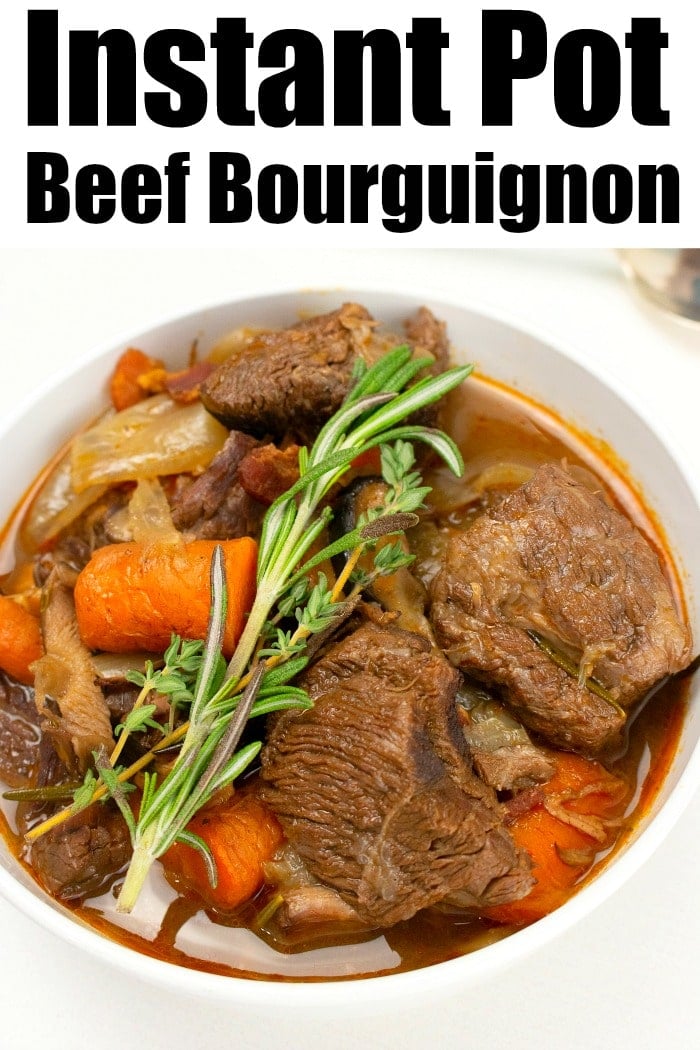 Instant Pot Beef Bourguignon may come off as an expensive or difficult dish to make. It's not! If you've always wanted to make this Julia Child dish this will make you a pro. This and many other easy Instant Pot recipes are here for you to try on The Typical Mom blog. (affiliate links present)
What is the best cut of meat for beef bourguignon?
A few cuts of beef have been used including; brisket, chuck steak, and stew meat (which I use a lot because it's so cheap and already cut into small pieces). Brisket does yield an amazing result but is the most expensive out of the 3.
In this round chuck roast was used and diced into bite size pieces. That is how you get it super tender and wonderful.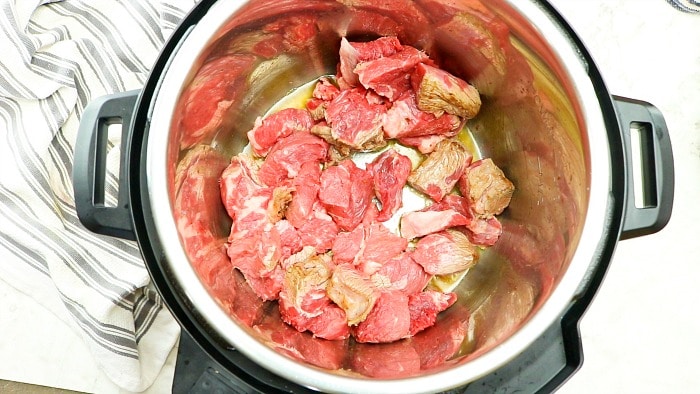 You cook this similar to our Instant Pot beef stroganoff recipe where you saute the meat first using a bit of olive oil.
That will give you a bit of sear on the outside of your protein.
If you wanted to give your meat a really bold flavor you could massage some of our steak dry rub on it before cooking. We didn't this time.
These are the ingredients you'll need to make pressure cooker beef bourguignon
Electric pressure cooker

if you don't have a non stick pot I would definitely get one here
you can make this as a Ninja Foodi recipe too

Beef stew meat
Red wine
Tomato paste
Olive oil
Bacon
Onion

Yellow or pearl onions

Carrots
Mushrooms
Garlic
Beef stock or beef broth
Butter
Flour, salt and pepper
Here we go y'all, ready to make this with us??!!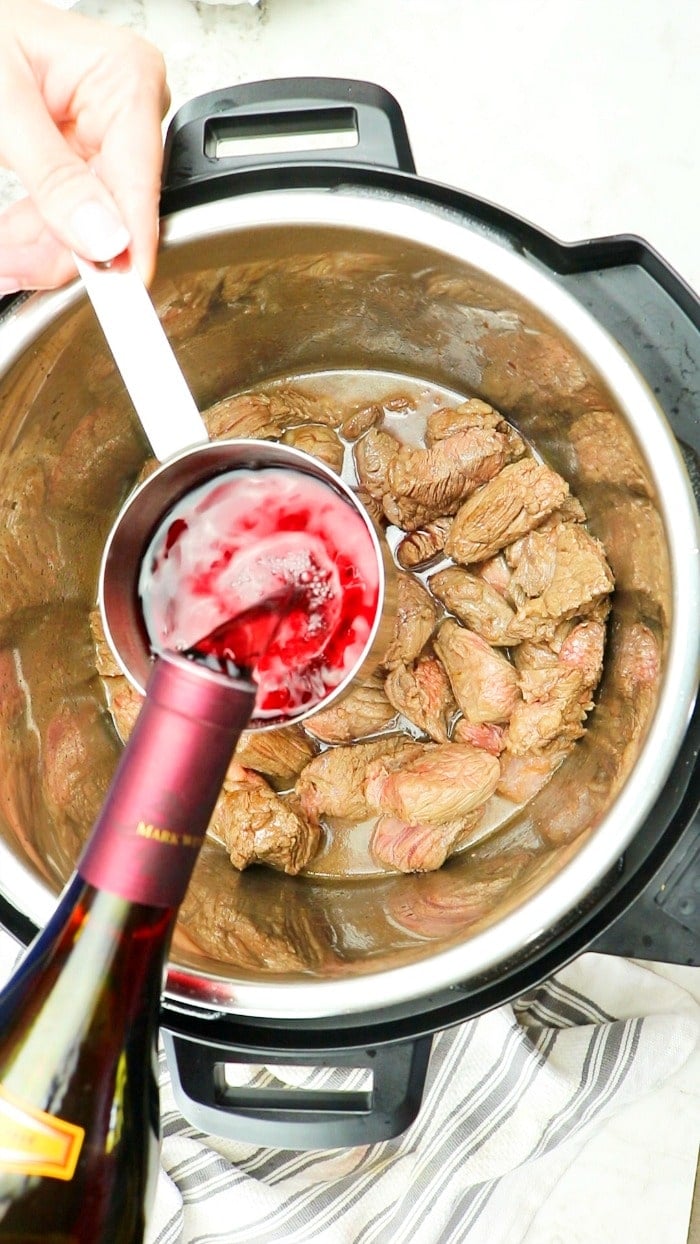 Yes of course you could cook this on your stove top but to get really tender boeuf bourguignon in no time I suggest you use this magic multi cooker!
Here is what you do:
Add olive oil and diced bacon, cook until it is not crunchy but cooked. Put on a paper towel on the side.
Remove and add cubed beef pieces.
Brown on all sides and then remove so you can then deglaze Instant Pot with wine to remove brown bits. This will help avoid the burn notice (having a non stick pot will avoid this too)
Whisk in flour and tomato paste until liquid is smooth, then add in cooked meats and raw vegetables.
Close lid and steam valve and set to high pressure cook for 45 minutes followed by a natural release.

this may take from 10 to 30 minutes to complete

Lift lid and serve. If you want sauce to be a bit thicker, remove contents, set pot to saute with just liquid left and allow to bubble allowing some water to evaporate.
How do you thicken beef bourguignon sauce?
Adding flour before the initial cooking process will create a thicker sauce in the end. If you still at the end of the day wanted it even thicker whisk some hot liquid and cornstarch in a bowl until smooth.
Set pot to saute with just liquid inside. Once bubbling add this slurry / roux in and stir so it gets even thicker.
How can you make sauce thicker without flour or cornstarch?
You could use arrowroot as well. This is a gluten free thickener alternative if you cannot use flour. They'll also keep your sauce clear and cloud free which is nice. You'll need about 1 tablespoon for every cup of liquid in the recipe.
What is Beef Bourguignon traditionally served with?
Our favorite is to serve this on top of a bed of mashed potatoes. If you wanted additional veggies, green beans are great. Slice some French bread and serve on the side.
I have not made this yet in my slow cooker but it is on my list to do soon. When I do I will link those instructions here for you to follow.
Looking for more easy Instant Pot beef recipes you say?? We've got a bunch but let's start with our pressure cooker beef tips which are amazzzzzzing!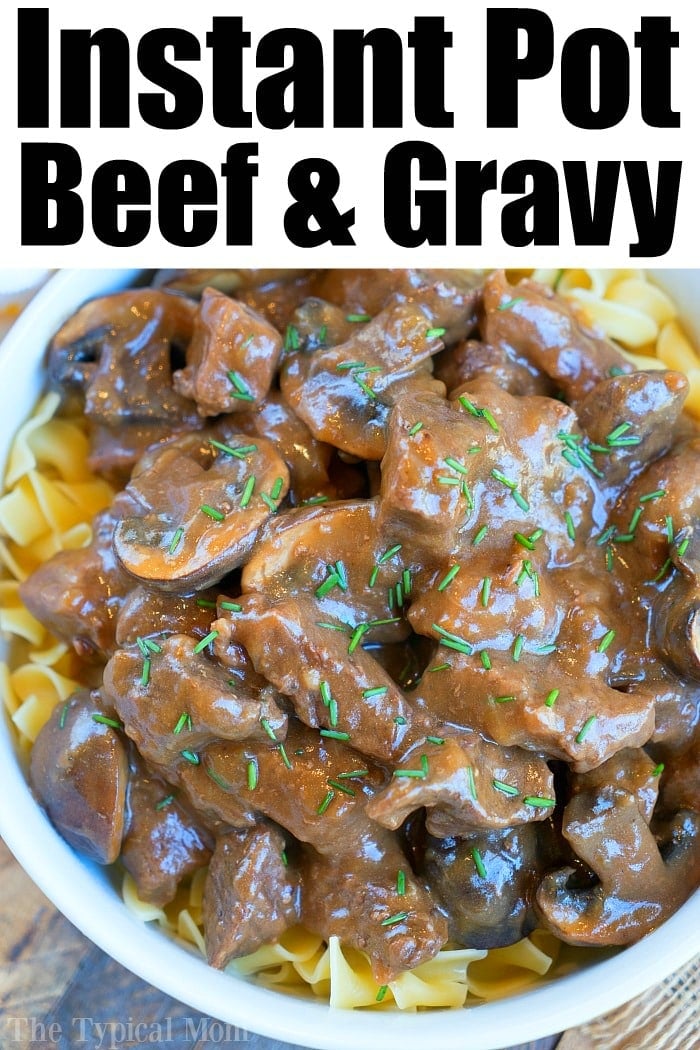 This one has a thicker gravy coating the meat but is similar to coq au vin to me. I cut up steak that needed to be cooked for this one instead of stew meat which shows just how versatile it really is.
Here are a few more we love and make regularly:
Printable recipe is below for you. If you're looking for more easy recipes like this one, sign up for my free newsletter here and get more via. email each week!
Instant Pot Beef Bourguignon
Instant Pot Beef Bourguignon cooked with red wine, vegetables and seasonings turns out amazingly tender and flavorful! You've gotta' give this a whirl.
Instructions
Add olive oil and bacon to the Instant Pot and saute until the bacon cooks all the way.
Remove bacon from the pot.

Add beef to the pot and brown on all sides. Pour in the wine, scrape the bottom of the pan to deglaze it and remove stuck on pieces of meat. Simmer for 6 minutes, allowing the wine to reduce.

Whisk in the flour and tomato paste until liquid is smooth. Add in cooked bacon and beef, onions, carrots, garlic, beef broth, mushrooms, seasonings and butter.

Close lid and steam valve and set to high pressure for 45 minutes. Then allow for a 10 minute natural release.

If you want sauce to thicken further, remove meat, set pot to saute again and allow to bubble and reduce so sauce thickens.
Nutrition Facts
Instant Pot Beef Bourguignon
Amount Per Serving (3 oz)
Calories 688
Calories from Fat 351
% Daily Value*
Fat 39g60%
Cholesterol 171mg57%
Sodium 829mg36%
Potassium 1362mg39%
Carbohydrates 14g5%
Protein 49g98%
Vitamin A 8677IU174%
Vitamin C 7mg8%
Calcium 78mg8%
Iron 6mg33%
* Percent Daily Values are based on a 2000 calorie diet.