This is how to cook bear meat to tender! Great bear meat recipes like stew, chili, burgers, loin and more. Cut into pieces or ground too.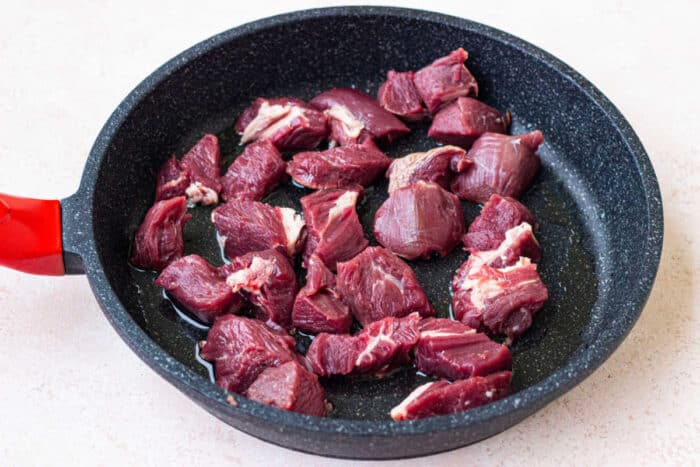 We have a great bear meat recipe with stew for your below. Our favorite way to cook this low and slow to tame the gamey flavor and add vegetables with gravy. If you are new to cooking with this protein we will go over how it is different and the best ways to make a meal with it. (affiliate links present)
Bear Meat Recipes
Cooking bear meat shouldn't be a huge head scratcher. Whether you took advantage of the season from May to the end of June and caught one on your own or bought a piece, we have cooking tips for you. You certainly can cook it like a steak if you love the natural flavors, but the most popular would be bear stew which we will share below.
In some cultures and regions, bear meat has been consumed for centuries and is a delicacy. I will say to start with that it's important to know that catching and consuming bears may have different legal restrictions depending on where you live so research may be necessary ahead of time.
If you are in an area that has a season and you're ready to try your catch there are a number of recipes with bear meat you can make! If the flavor is too pungent for you, you may consider brined pieces like this black bear loin recipe here. Baked, seared, grilled or smoked are wonderful methods you should try. Let's talk about a few.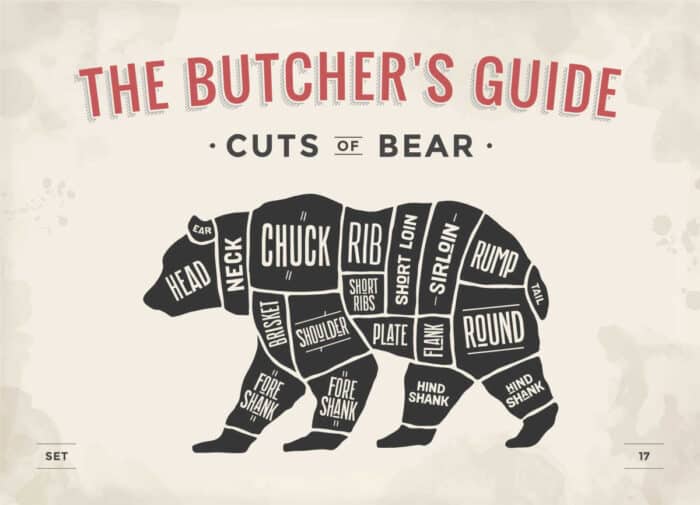 How to Cook Bear Meat
In terms of taste and texture, bear meat is often described as rich, gamey, and similar to pork or beef depending on their diet. The flavor can also vary depending on the species, age, diet, and preparation method you choose as well. If you choose to make it as a Traeger recipe you'll add a smoky taste that actually works fabulously.
Another factor that has a huge difference in fat content, flavor and texture would be when they were caught. If you hunt bears and process in the Fall they are fat. Whereas a Spring catch would be quite lean with a stronger more pungent bite to it.
Want to cook it but you forgot to defrost it? Using your pressure cooker is your best bet for that. Under high pressure will get the internal temperature to be safe to eat, and bear roast tender. For that follow our Instant Pot frozen roast recipe with a few garlic cloves and enjoy when done.
Bear Stew
Boiling meat with a thick sauce and vegetables is the most common and best way to cook bear if you ask me. Slow cooked or made as Dutch Oven stew means it has time to soak in some of the other flavors and tame the gaminess that is usually a bit of a turn off to new eaters.
You can use a large skillet or pot to have the same affect on the stovetop. Adding other ingredients, like in our stew recipe without wine, will tame down the flavor and make it more palatable if you're new to this meat.
Bear Chili
It is important to mention that consuming meat from a bear carries certain risks if not cooked properly. They can be carry trichinosis, a parasitic infection caused by the roundworm. This can cause illness in humans if the meat is not properly to the proper internal meat temperature. It is not recommended to cook medium rare as you could with beef. Low and slow is bet really.
It is recommended to thoroughly cook bear to 160 degrees F or 71 Celsius. At this temp it will kill any parasite that may be present. The best way to ensure that it gets hot enough is to sear or cook before adding in with other ingredients like our venison chili. You could use bite size pieces but using ground bear is better. You just brown at the beginning, then cook low and slow for a few hours.
An easier option is to use our 5 ingredient chili instructions with canned beans. Add a can of diced tomatoes and a package of seasonings and you're set.
Recipes for Ground Bear Meat
This is an easier way to enjoy a fall bear or spring bear. Reason being is it is already in small bits so it doesn't take nearly as long to get tender. One thing you will remember when you prepare bear meat to cook is to add a bit of fat. It is VERY lean. If you want to make homemade meatballs on stovetop let's say, you need more of a binder.
You could use any and all of our beef recipes for bear recipes really. See what to cook with ground beef here and pick one. Literally doesn't change the cook time and works the same. Another option to mix flavors is to use 1/2 and 1/2. That way you can stretch it further too. Or use 1/2 ground pork and 1/2 bear since with Spring catches there isn't much bear fat. Adding some will make it more tender.
One you could make during the summertime is bear burgers. Grilled and served on buns is an amazing way to cook and serve them up. A much richer taste than beef for sure but you may be surprised. Your kids may not be able to tell the difference made this way with all the toppings and such.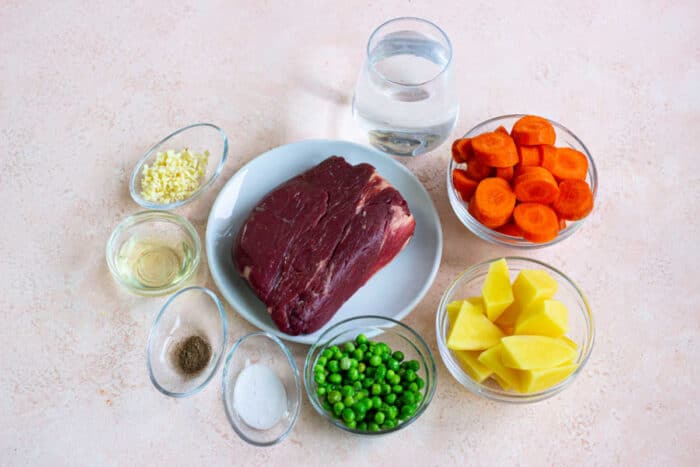 Bear Meat vs. Beef
Bear is often described as gamey, rich, and distinct in flavor. It can have a stronger, more intense taste compared to beef. Beef has a milder and more familiar taste that varies depending on the cut and the cooking method.
This more unusual meat can be coarser and denser compared to beef. It typically has less marbling, which means it's leaner and takes longer to get tender.
The nutritional composition will vary a lot more because you would be unsure of their diet. Generally, beef is known to be a good source of high-quality protein, amino acids, iron, zinc, and various B vitamins. Wild game meat, specifically caught in Spring, is leaner which means it has a lower fat content overall.
Availability is different around the world too. You can find beef of all kinds year round, almost worldwide. Whereas this will be more limited and often regulated due to conservation concerns and legal restrictions.
Do People Eat Bear Meat?
Depending on locations, most cultures do eat bear but it isn't nearly as commonly cooked or eaten as beef. Leaner, with a stronger flavor and more expensive than other proteins makes it less common.
Some locations in and outside North America prohibit catching, cooking and/or eating it too. In this case you may not be able to try it in your state.
What Does Bear Meat Taste Like?
Taste of bear meat is similar to beef really. More gamey like venison but sweeter and a similar texture to pork if you compared it to another protein. It is usually cooked with a sauce or gravy to tame this for this reason.
If you are apprehensive I would use it ground to begin with. Make a dish you are familiar with but with other ingredients like our meatloaf without breadcrumbs. Top with bbq sauce when done. Yes it will tame it a bit but you'll still get that fabulous flavor.
Want to see a few of my favorite things that I am totally obsessed with?? Take a peek and see how many you might already have…twinsies!
Looking for more easy family recipes and tips? LIKE The Typical Mom Facebook page?
Then sign up for my free newsletter, and follow me on Pinterest! 😉
***** If you LOVED this recipe give it 5 Stars below and let everyone know what you thought about it. 😉
Bear Meat
This is how to cook bear meat to tender! Great bear meat recipes like stew, chili, burgers, loin and more. Cut into pieces or ground bear recipes too.
Instructions
Cut bear meat into bite size cubes. Pour oil into a frying pan and brown outsides for a couple of minutes so there is no more pink on the outsides.

Add broth, cover and simmer over low to medium heat with the lid closed for 2 hours.

Add bite size potatoes and sliced carrots. Add more water so everything is submerged if there isn't enough. Cook covered for 1 more hour.

Add green peas and simmer for another 10 minutes or until everything is tender to your liking.

If you would like to thicken the gravy more you can whisk together 1 tbsp cornstarch with 3 tbsp cold water until smooth. Bring stew to a boil and pour in. Allow to bubble and thicken for a few minutes and then serve.
Nutrition Facts
Bear Meat
Amount Per Serving (2 oz)
Calories 83
Calories from Fat 63
% Daily Value*
Fat 7g11%
Sodium 1630mg71%
Potassium 166mg5%
Carbohydrates 3g1%
Protein 2g4%
Vitamin A 5097IU102%
Vitamin C 2mg2%
Calcium 19mg2%
Iron 0.3mg2%
* Percent Daily Values are based on a 2000 calorie diet.