Instant Pot rump roast with gravy turns out moist and fork tender every time. So flavorful with every bite easily made in a Ninja Foodi too. Using a fresh beef roast is ideal but we do have instructions for most frozen roast in Instant Pot too if you need that.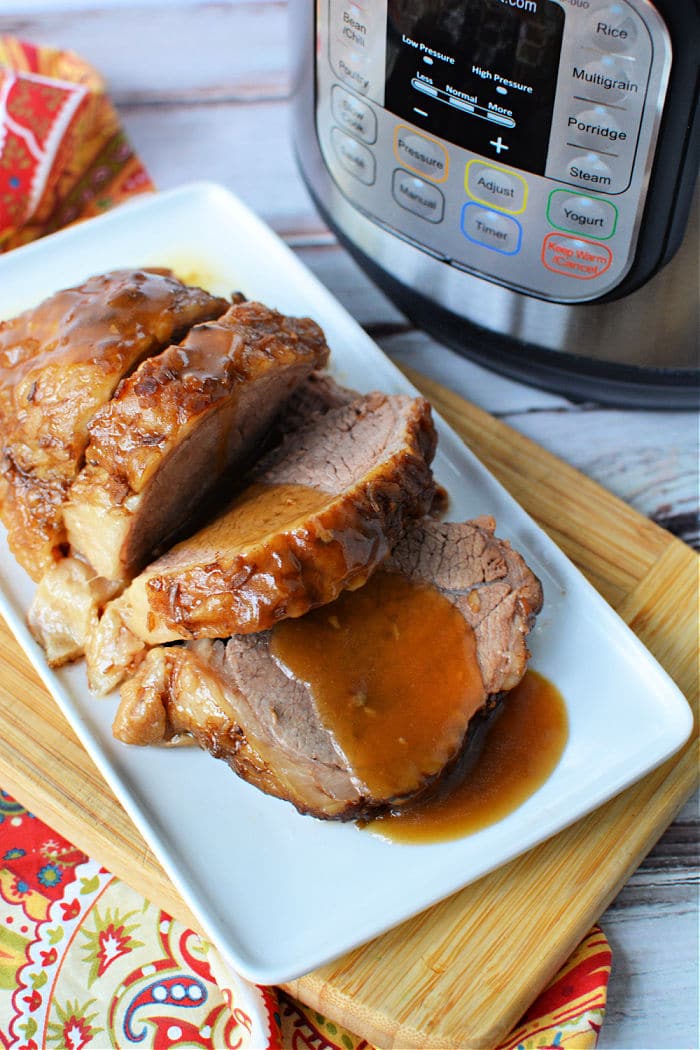 We cook all sorts of beef in a pressure cooker here on our site. Instant Pot rump roast is our latest creation we thought was good enough to share. A protein packed meal with a thick gravy, served over mashed potatoes this easy Instant Pot recipe is amazing. (affiliate links present, originally published 11/21)
Beef Rump Roast Instant Pot
I think most of us know what to do with a pound of ground beef or a steak, but with larger cuts you kinda' scratch your head. Cooking it long enough to get it tender is key, but too long you fear it could dry out. That is why using this pot or a Ninja Foodi are key to your success in the kitchen.
If it's left in a bit too long it isn't such a big deal. It may just go from being able to slice it to it falling apart and creating shredded beef. Either one is amazing so you really can't go wrong.
FIRST – You should sign up for my free newsletter so you get new posts emailed to you twice a week and never miss out on anything! Now let's start with a few basic tips:
Make sure to Bookmark our InstaPot recipes page. We add new ones each week!
Then PRINT this —–> Instant Pot cooking times cheat sheet that will help you understand how long meat, vegetables and beans take to cook in your pressure cooker.
For reference, this is the pressure cooker I have (a 6 quart) and use for all recipe creations.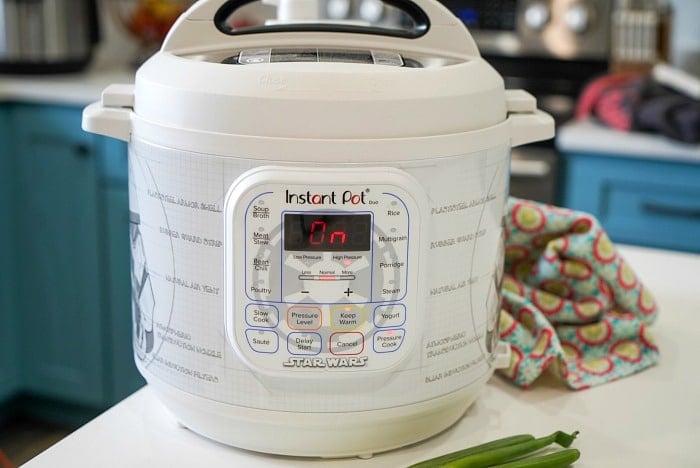 Beef in Instant Pot
We have a lot of our most popular Instant Pot beef recipes on our site here, this is definitely one of those. This is defrosted, if you have frozen there are instructions at the top of the post for that. I suppose a lot of other people are as forgetful as I am and need these instructions too. This time we have a fresh piece of meat so you'll want to defrost that baby before you get started on this.
If yours is still rock hard you can follow directions on the other one above. Since this is such a large and thick cut it will take a bit of time even though it's under high pressure. Remember that you always want to naturally release the steam at the end to maintain the moisture in your protein.
This step will take a good 15 minutes to 20 minutes so account for that when you are scheduling your dinnertime. Do not trim the fat on this baby either, that will lend more flavor to the overall dish. You can slice it off at the end if you want to. Each piece will vary slightly too, some with a large fat pad and others may be trimmer.
How to Cook a Rump Roast
If you have only used your oven before this is going to be a real treat. A few reasons why I say that: there's no need to tend to it and baste with juices part way thru, you don't have to heat up your whole house to cook it. I like this pot for that last reason a lot, especially when we lived in the desert.
Of course the timing is a lot faster using this method as well. If I had to choose another way I loved beyond this one I would opt for my slow cooker or air fryer (I'll share that one below). Those pots do all the work for you too, that is my kinda' cooking y'all.
Will a rump roast get tender?
This is a tough cut since it is from the cows leg quarter but cooked properly it can become moist and tender for sure. Using a pressure cooker or Crockpot is best to break down the dense muscle fibers. Slicing it against the grain is key too.
What kind of broth should I use for Instant Pot rump roast?
You can use any type of broth such as beef broth, chicken broth, or vegetable broth all work well.
How do I make gravy from the drippings of an Instant Pot rump roast?
To make gravy from the drippings of an Instant Pot rump roast, simply whisk together 1 tablespoon of cornstarch or flour with 1/4 cup of cold water. Add the slurry to the drippings when done and saute for 1-2 minutes, or until thickened.
This cut does have a lot of flavor by itself but adding more is my style too. I love a great onion gravy when it comes to cooking easy beef recipes.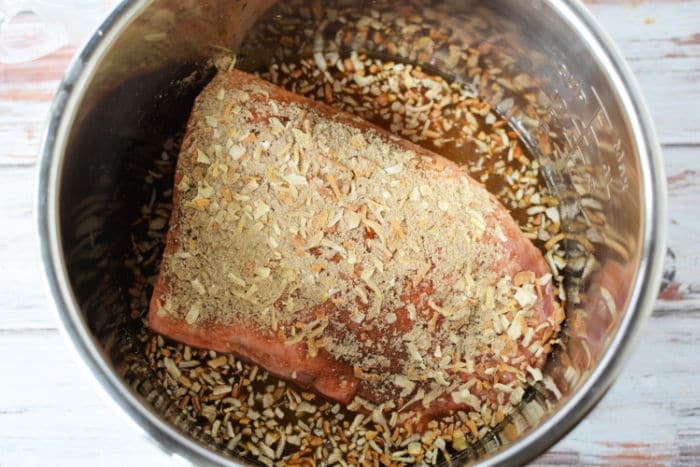 Instant Pot Rump Roast Recipe
Using a dry gravy packet makes everything even easier then you can add things to it like additional fresh diced onions and additional seasonings if desired. This is what you're going to need on hand:
Beef rump roast that is fresh or defrosted
Gravy packet
Beef broth or stock is better than just using water for sure
Onion soup mix packet, you could add more diced onions if you wanted to as well
Cornstarch is used to thicken it up a bit

whisked together with a bit of water or more broth until smooth
If you really wanted to add potatoes and carrots you could but they would need to be quite large. Since you'll be cooking this Instant Pot pot roast for 90 minutes they'll fall apart otherwise.
Petite or small Russets / red taters and carrots cut into thirds are best. Anything smaller than that and they will just become mush and you won't want to eat them in the end. Just throw it all in and let it cook. A true dump and go one pot meal for you.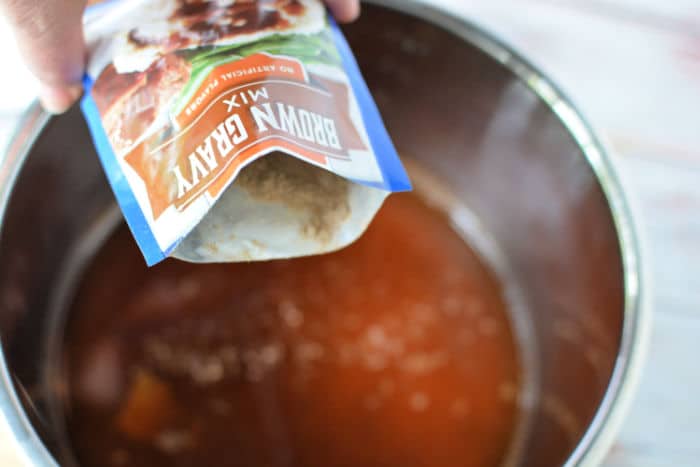 Beef Rump Roast Recipe
The beauty of this is…I mean there are many but one specifically…the drippings create that wonderful gravy. It will cook in it the whole time AND then you can thicken it up and serve it on the side too. I mean as is is pretty delicious but pressure cooker gravy really takes this over the top.
Start off by pouring 2 cups of beef broth into your pot with meat. Sprinkle with dry onion soup mix packet.
Close lid and set steam valve to sealed position. Cook on high pressure for 1 hour 30 minutes followed by a 15 minute natural release.

do not quick release or pot roast recipe will not nearly be as moist as you'd want this to become

Remove the lid and your cooked roast. Cover with foil to keep it warm. Turn pot to saute and add dry gravy packet into liquid, whisk together until smooth. In a small bowl whisk together cornstarch and 1/4 c. water until smooth.
Pour in this cornstarch slurry and stir. Allow to thicken stirring slowly in pot. Then turn off and pour into gravy boat.
Cut beef after it has rested, serve with gravy.
You could chop into smaller pieces and put back into the sauce. This way is great to serve on slider buns. Season with salt and pepper when served and enjoy your tender cuts of meat.
This great recipe is done in 2 hours flat with prep and resting time. If you do have leftovers you can save them quite well to enjoy for the next 2-3 days. Only slice the pieces you will eat immediately, leave the rest whole.
This will keep it as moist as possible for later. Allow to cool completely before transferring to a freezer bag.
Set in the fridge until the next day. Slice what you want to eat, pour gravy on top and reheat in microwave for about 1 minute. Alternatively you can use your air fryer but you'd want to save sauce for later that way.
If you want to use your Cosori from the get go you totally can too. Try our air fryer rump roast and see which you like better for next time. You just need a bit of olive oil and you can use our dry rub for the outside of this version for tons of flavor.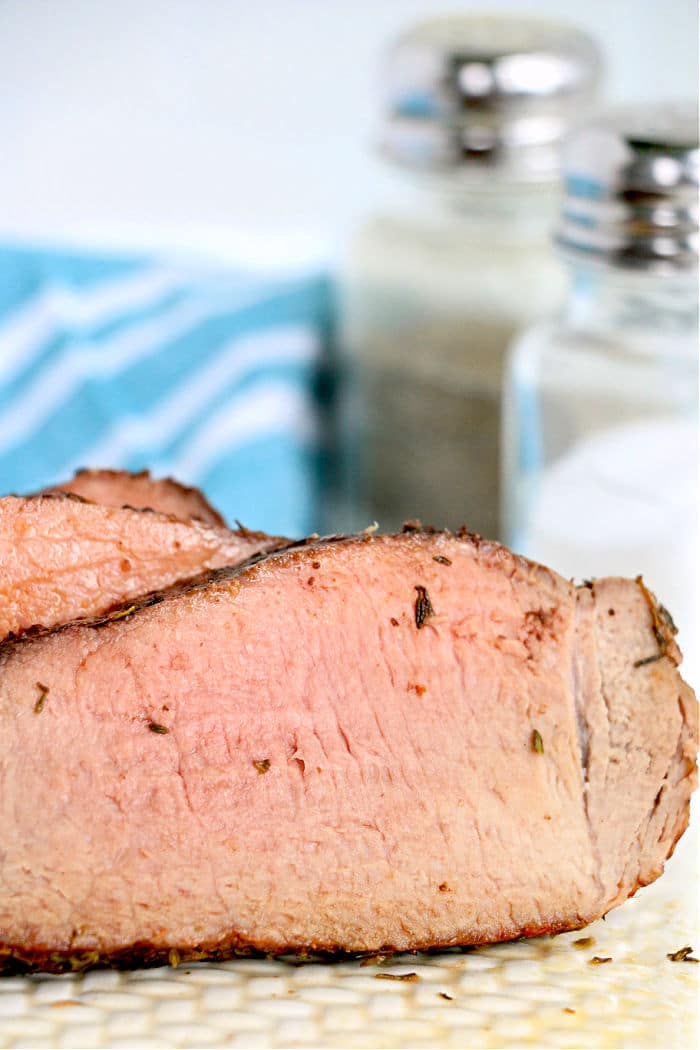 What can I do with leftover rump roast?
I talked earlier about how to reheat it but if you want to make something else with it besides serving it on it's own here are a few ideas:
You could dice up what you have left over and make an Instant Pot casserole out of it. Combining this meat with pasta and a yummy sauce transforms it into something entirely new. Your family will never guess it was dinner last night.
Cut it up into small bite size pieces and throw it into some fried rice too if you'd like.
Instead of bacon, add this instead to our air fryer breakfast dish complete with eggs and all the goodness.
Same goes for our breakfast bundt cake. We have used bits of ham left over after Christmas in this, bacon, or any type of beef that needs to get eaten. If you are throwing a brunch for family it is always a hit since you can serve all the food groups in this pretty cake form.
What do you use your leftover beef in? I am always looking for new and novel ideas to change things up. I HATE wasting food so I love finding something new we haven't tried yet and keeping it in my Rolodex of ideas for the future. (okay that term probably ages me but if you're in your 40s + you know what I mean by that term) 😉
Want to see a few of my favorite things that I am totally obsessed with?? Take a peek and see how many you might already have…twinsies!
Looking for more easy family recipes and tips? LIKE The Typical Mom Facebook page?
Then sign up for my free newsletter, and follow me on Pinterest! 😉
***** If you LOVED this recipe give it 5 Stars below and let everyone know what you thought about it. 😉
Instant Pot Rump Roast
Instant Pot rump roast with gravy turns out moist and fork tender every time. So flavorful with every bite easily made in a Ninja Foodi too.
Instructions
Pour 2 c beef broth into pot with meat in the center of the pot. Sprinkle with dry onion soup mix packet.

Close lid and steam valve. Cook on high pressure for 90 minutes with a 15 minute natural release.

Remove roast and cover with foil to keep warm. Turn pot to saute and add dry gravy packet into liquid in pot and whisk together. In a small bowl whisk together cornstarch and 1/4 c. water until smooth.

Once bubbling pour in this cornstarch slurry. Allow to thicken stirring slowly in pot. Then turn off and pour into gravy boat.

Slice meat after it has rested, serve with gravy.
Nutrition Facts
Instant Pot Rump Roast
Amount Per Serving (2 oz)
Calories 300
Calories from Fat 90
% Daily Value*
Fat 10g15%
Cholesterol 117mg39%
Sodium 940mg41%
Potassium 736mg21%
Carbohydrates 7g2%
Protein 43g86%
Vitamin A 1IU0%
Vitamin C 1mg1%
Calcium 51mg5%
Iron 4mg22%
* Percent Daily Values are based on a 2000 calorie diet.