Try Instant Pot beef roast recipes for dinner tonight! Tender meat in a pressure cooker or Ninja Foodi stacked on rolls to make sliders = a great appetizer or dinner for your family. You can even make a frozen roast in Instant Pot now, game changer.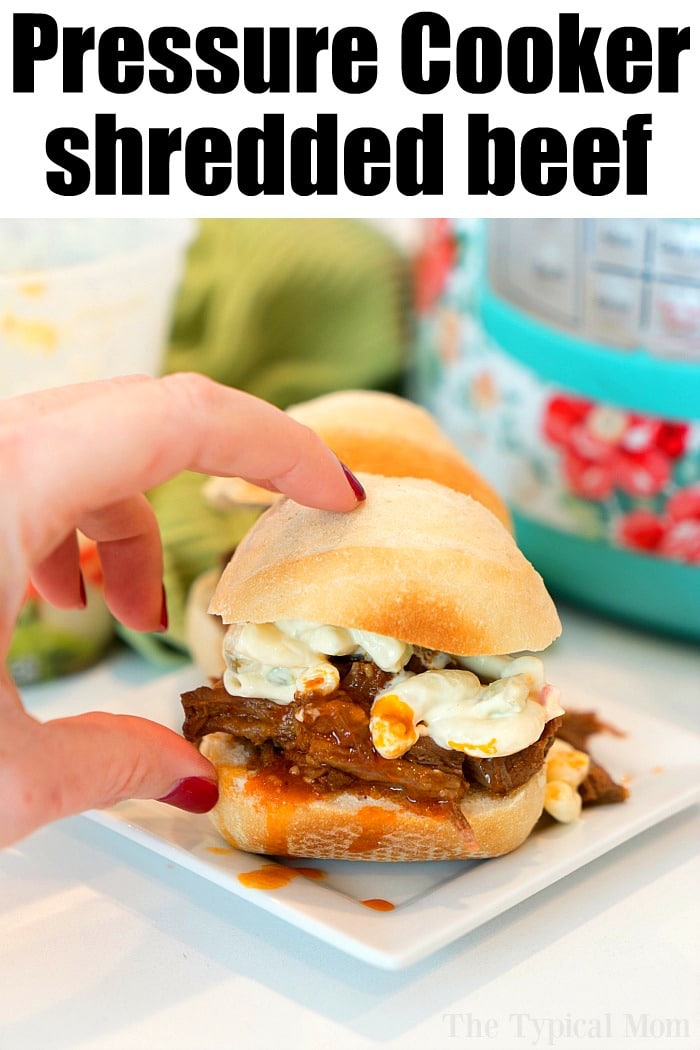 Decided to make a few Instant Pot beef roast recipes this week. Today I used a chuck roast which came out perfectly tender and great for sliders! Then try one of our other 101+ Instant Pot recipes next. (linking to amazon.com, affiliate links present, originally published 1/20)
Ninja Foodi Beef Roast Recipes
Some cuts of meat you just don't know what to do, like a beef arm roast. But using a pressure cooker you can make it taste great every time. I swear, everything comes out amazingly tender with tons of flavor sucked right in.
You can use any brand you have at home to make these. I have them all including a Crockpot Express and use them to make several easy Ninja foodi recipes throughout the month too.
FIRST – You should sign up for my free newsletter so you get new posts emailed to you twice a week and never miss out on anything! Now let's start with a few basic tips:
Make sure to Bookmark our InstaPot recipes page. We add new ones each week!
Then PRINT this —–> Instant Pot cooking times cheat sheet that will help you understand how long meat, vegetables and beans take to cook in your pressure cooker.
For reference, this is the pressure cooker I have (a 6 quart) and use for all recipe creations.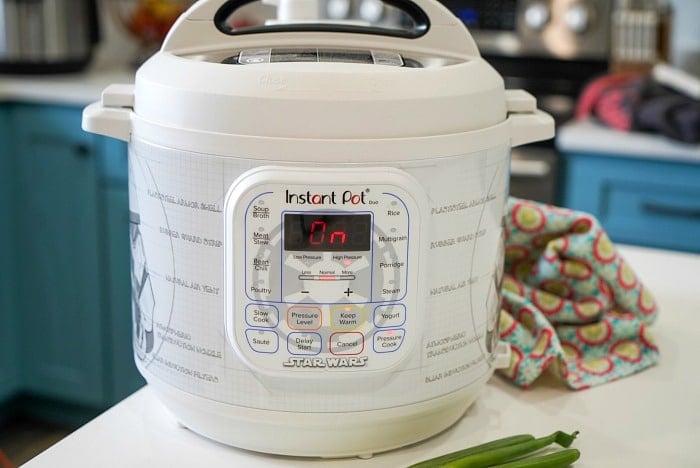 So Instant Pot shredded chicken was one of our first recipes, and simple too.
I just added bottled sauce and some pineapple then but this time I wanted to make a homemade barbecue sauce of sorts with TONS of flavor.
Instant Pot beef roast recipes
I imagine other cuts would work well too but chuck is known to pull apart well.
Why I add onions to just about every pressure cooker recipe I make, because they're cheap and add lots of flavor. They provide a bit of texture too which is great when the rest of your ingredients are rather soft.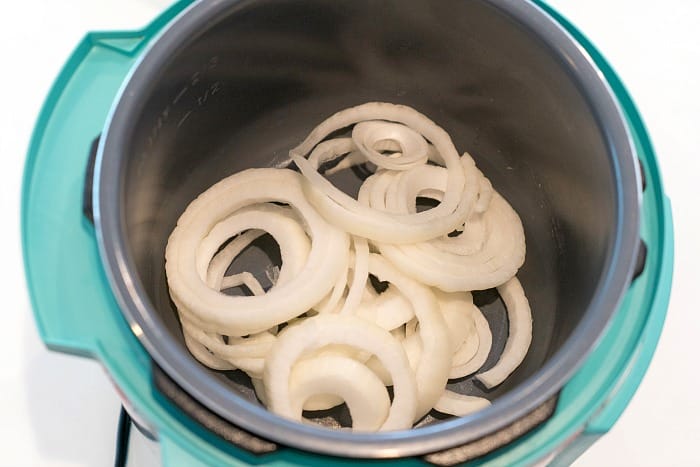 Yes you can make this in a Crockpot Express or Ninja Foodi machine too. They all work pretty much the same. This recipe is somewhat similar to our Instant Pot pulled pork recipe but I used a larger cut of meat for that. Either way there is nothing this multi cooker can't make so tender it melts in your mouth.
What cut of beef is good for shredding?
Chuck roast! It probably isn't something you buy every day but it is one of the cheapest cuts actually and works great for this.
Rump or bottom round will shred too but guaranteed you'll find chuck roast in every grocery store for next to nothing. We love inexpensive meals! You can even cook a frozen roast if you forgot to defrost it! Of course it's better to have it thawed for Instant Pot roast beef but it happens.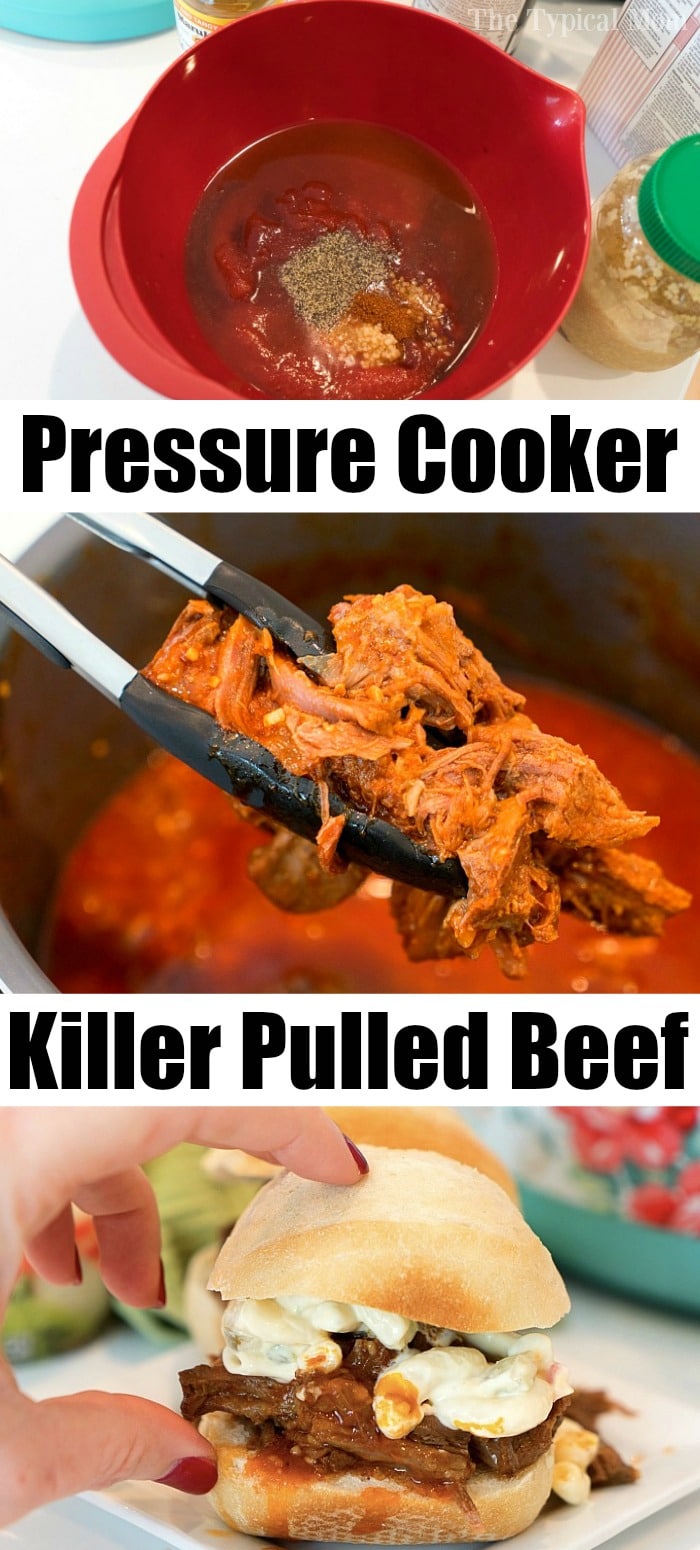 Beef roast in Instant Pot
Pressure cooker

If you have an Instant Pot I HIGHLY suggest you get a non stick pot

3-4 lb. roast – we used chuck roast
Onion
Apple cider vinegar
Ketchup
Beef broth
Tomato paste
Brown sugar
LOTS of seasonings
Slider buns – you can use our easy roll recipe if you like Just use our Instant Pot cooking times printable for accurate timing for all cuts of meat.
Chuck Roast Recipes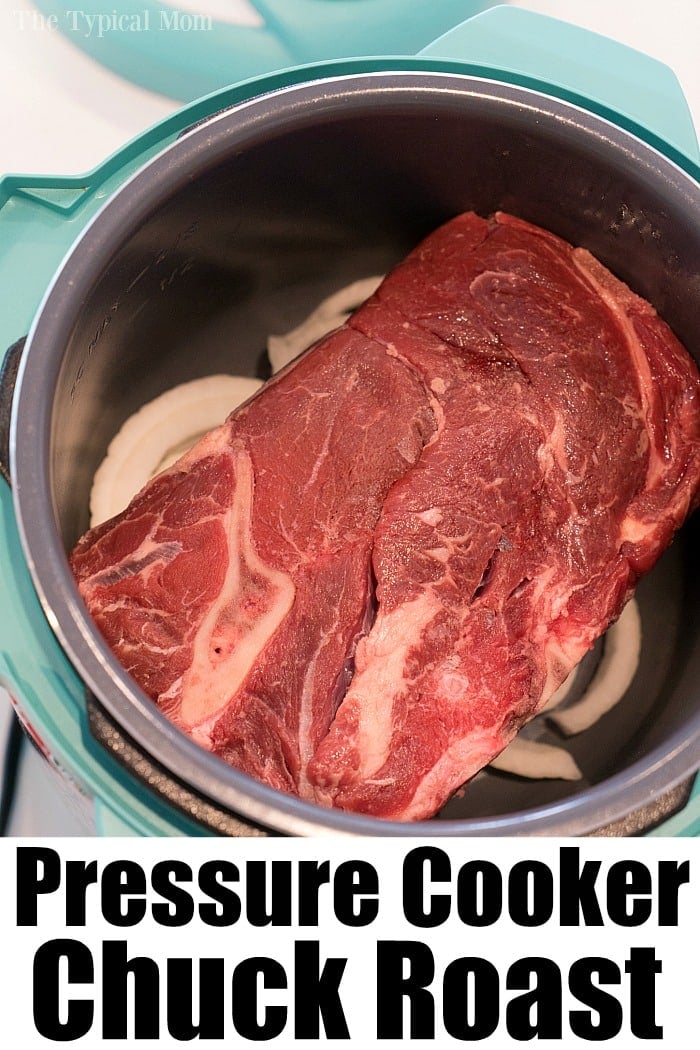 What is another name for chuck roast?
This cut is from the front portion of the animal. It can also be called shoulder steak, boneless chuck roast, chuck shoulder pot roast, chuck seven bone pot roast, or beef chuck arm. It's good for shredding since it has some marbling in it.
Honestly I used it because it was something in my freezer that needed to be used up and I was curious to see how it would soften up cooking it this way.
It's cheap but typically isn't a popular cut of meat because it tends to be tougher unless it's slow cooked.
It did surprisingly well too with this really flavorful sauce and high pressure cooking. I also made a version of air fryer chuck roast that was pretty killer too. If you have both appliances, or have the Instant Pot air fryer lid you could make both and compare.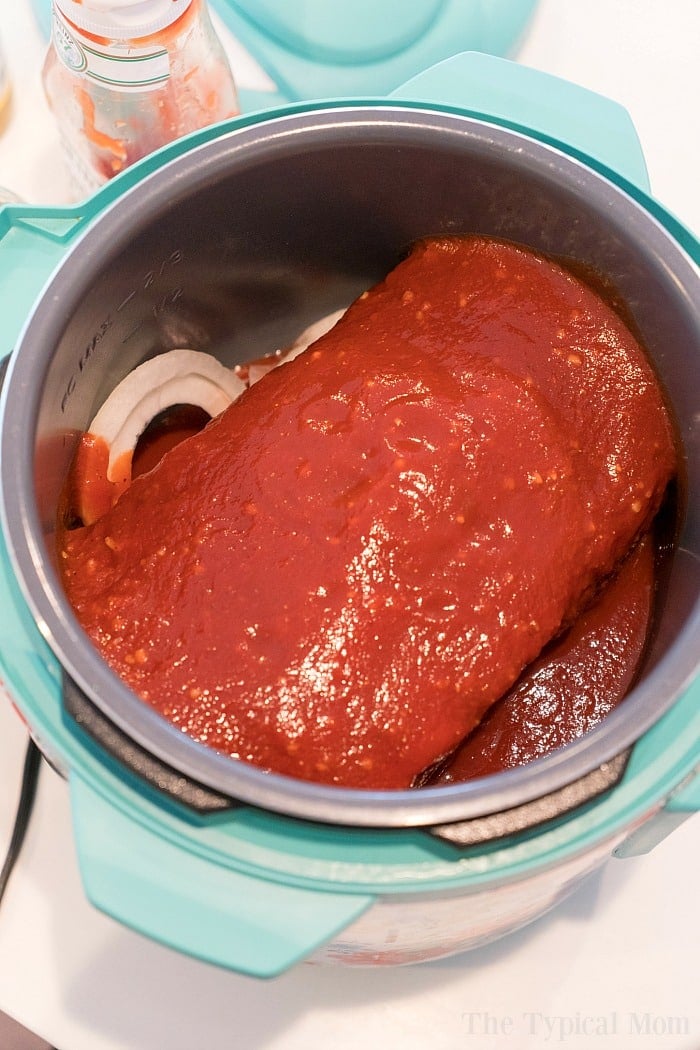 What does pulled beef mean?
Well you could say shredded beef essentially because it is the same idea. Pulled beef is a term that means a cut of meat that is slow cooked to the point of being able to be pulled apart easily.
It's cooked for several hours of normal cooking, or an hour of pressure cooking. It simply means a form of over cooking to make the meat tender.
How can you serve Instant Pot pulled beef? Whether you use a bone in or boneless chuck or beef roast shoulder which is larger you will want some carbs to go with it. At least that is the case in our house.
Inside small flour tortillas topped with cheese like tacos
Put shredded meat in between two halves of small buns to make sliders like we did here
Hawaiian sweet bread buns are great to use for a sweet and tangy flavor.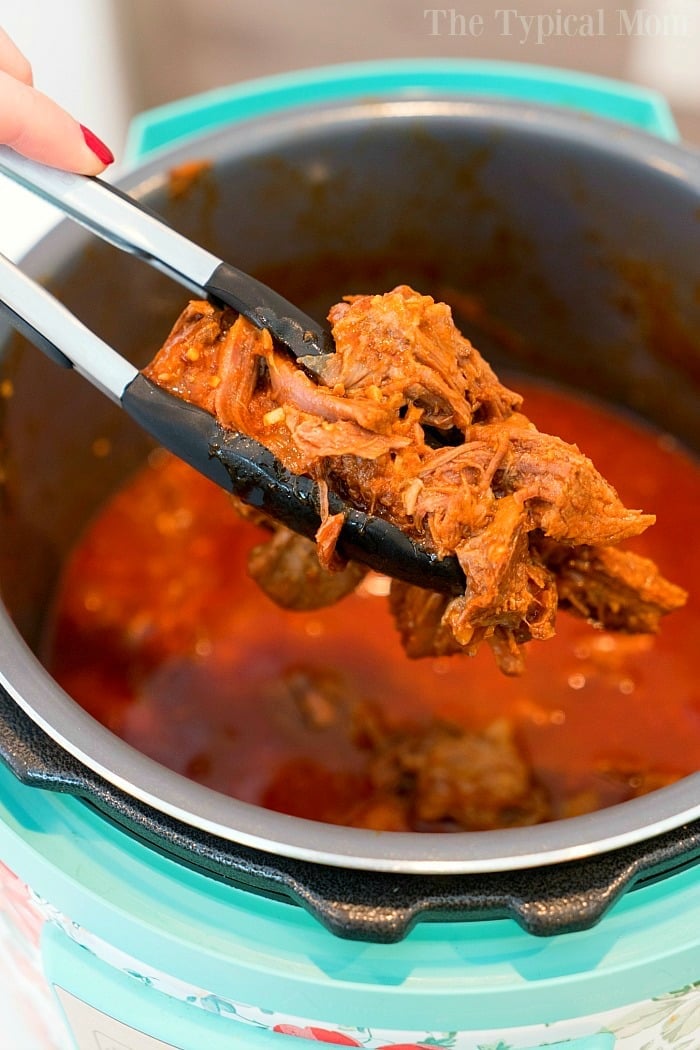 Tips to remember: After your initial pressure cooking time of 90 minutes allow the pot to naturally release the steam for 10 minutes.
Quick release isn't the best when cooking large cuts of meat. You can maintain more of the juiciness and tenderness if you allow it some time to pressure release the steam slowly.
Our roast was 3.5 lbs. If you were cooking a much smaller piece, about 2 lbs. then 60 minutes may be enough to get it to the tenderness you want it.
I shred the beef and remove all the large pieces of fat and bone(s) at this time. Leaving it in the liquid will keep it tender and it will continue to soak up more of the flavor the longer it sits in it too.
How do you shred beef easily?
Hold the roast steady with one hand, then place the beef on your cutting surface. Hold it securely with your non-dominant hand.
Shred off the beef with one fork going with the grain. After it's been slow cooked or pressure cooked it should be SUPER easy to do.
Repeat as needed and discard inedible pieces. That's how we made our Instant Pot barbecue beef recipe. This is how we serve it! SO good right??!!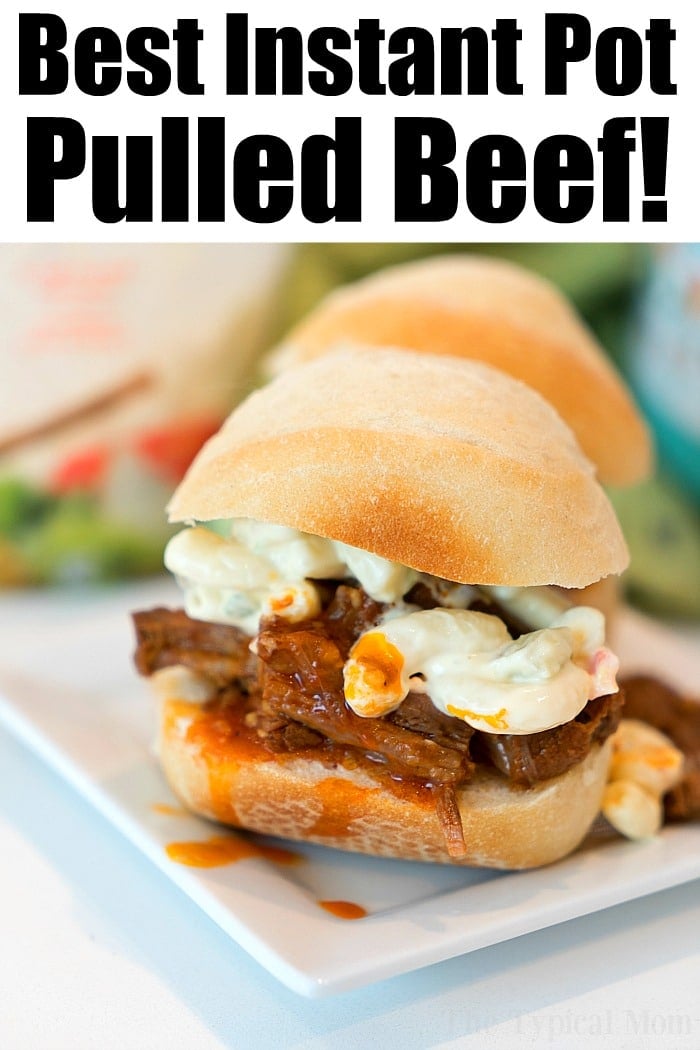 Beef Roast Recipes Pressure Cooker
How to serve Instant Pot shredded beef sliders: We like to top ours with some cold macaroni salad!! Seriously, don't knock it until you try it.
If you're having a party this is a great way to make a slider bar with all the fixings! Just keep this on warm after it is done with all the sides available with small hamburger buns and tortillas available as well.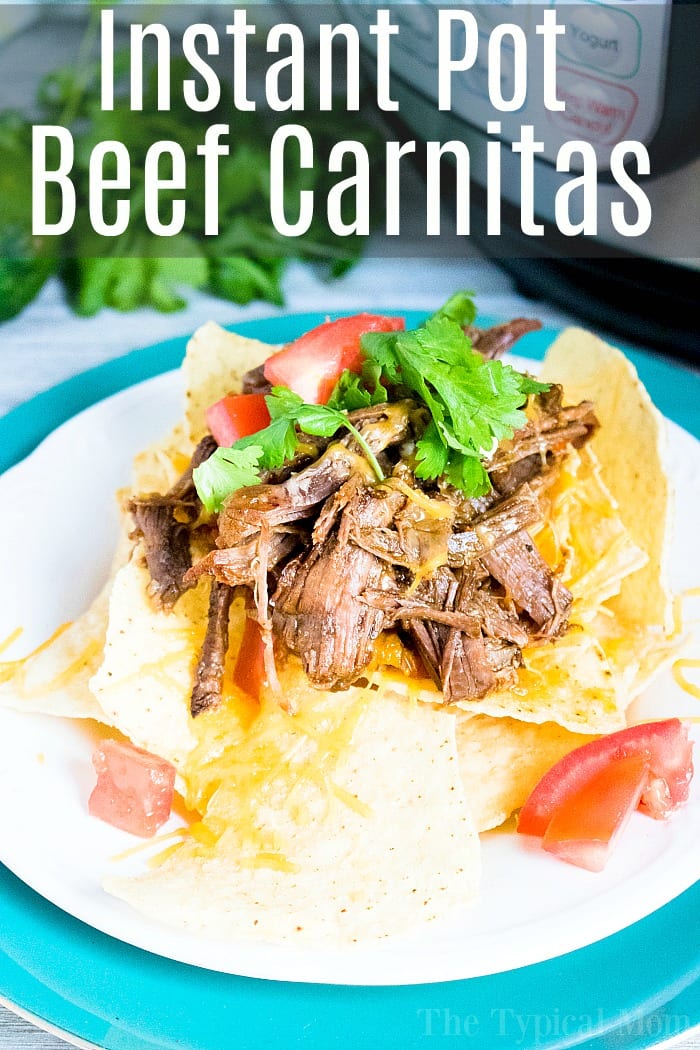 We have several other Instant Pot beef roast recipes here:
Instant Pot Mississippi roast is seriously incredible on top of mashed potatoes.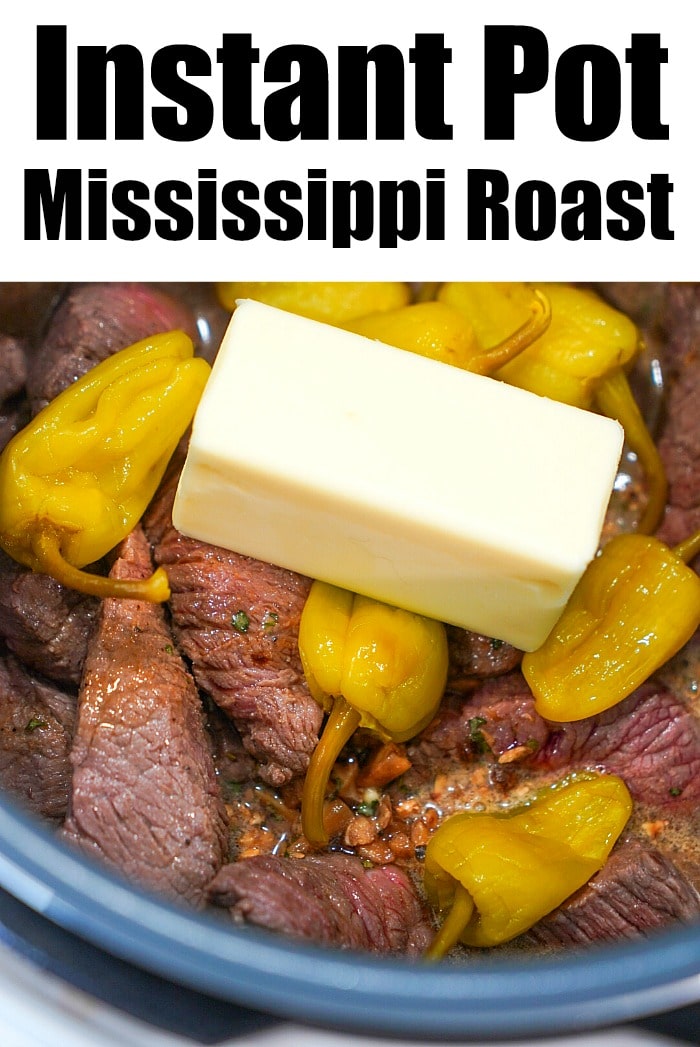 Here are a few others you might enjoy:
This list of cheap Instant Pot recipes is helpful for meal planning too
How do you freeze cooked beef?
Store it in a freezer bag or airtight container. It should last 3 or 4 days in the refrigerator. You can also freeze it in the same containers or wrap tightly with heavy duty aluminum foil.
Want to see a few of my favorite things that I am totally obsessed with?? Take a peek and see how many you might already have…twinsies!
Looking for more easy family recipes and tips? LIKE The Typical Mom Facebook page?
Then sign up for my free newsletter, and follow me on Pinterest! 😉
***** If you LOVED this recipe give it 5 Stars below and let everyone know what you thought about it. 😉
Instant Pot Beef Roast
Try Instant Pot beef roast recipes for dinner tonight! Tender meat stacked on rolls to make sliders = a great appetizer or dinner for your family.
Instructions
Slice your onion, large slices and put into your pressure cooker on bottom. Place your chuck roast on top (cut in half if you need to to fit properly with lid closed).

In a separate bowl whisk together all other items until smooth and pour on top of your meat.

Close your pressure cooker lid and close steam valve. Set to high pressure for 90 minutes, then allow to naturally release for 10 minutes.

Lift lid and either shred beef in pot or I find it easier to remove and put into a bowl so I can separate the fat and bone and discard those and shred beef well.

If you want sauce inside pot to be thicker turn pot to saute now. In a small bowl add 2 tbsp cornstarch with 4 tbsp of hot liquid and whisk until smooth, then add this into the pot. Stir slowly and allow to thicken for about 2-3 minutes. Then turn pot off.

Add shredded beef back into pot so it soaks up sauce. Serve over rice, in tortillas for soft tacos, or on slider buns topped with macaroni salad!
Nutrition Facts
Instant Pot Beef Roast
Amount Per Serving (3 oz)
Calories 385
Calories from Fat 180
% Daily Value*
Fat 20g31%
Cholesterol 117mg39%
Sodium 2149mg93%
Potassium 817mg23%
Carbohydrates 17g6%
Protein 35g70%
Vitamin A 480IU10%
Vitamin C 4.3mg5%
Calcium 51mg5%
Iron 4.3mg24%
* Percent Daily Values are based on a 2000 calorie diet.