This is how long to bake muffins at 350 degrees F or 177 Celsius for you! How to bake fluffy muffins in the oven every time, tips and tricks.
How Long to Bake Muffins
The baking time for muffins can vary depending on various factors such as the recipe, oven temperature, size of the muffins, and the specific ingredients used. However, as a general guideline, muffins typically bake for about 18 to 25 minutes.
To determine the exact baking time for your muffins, you should follow the recipe you are using of course. If you are adding different fruits and chips to our basic muffin recipe with variations you can choose a higher temp for 12 minutes or lower for 18. Ovens will vary so of course there is a slight difference from house to house.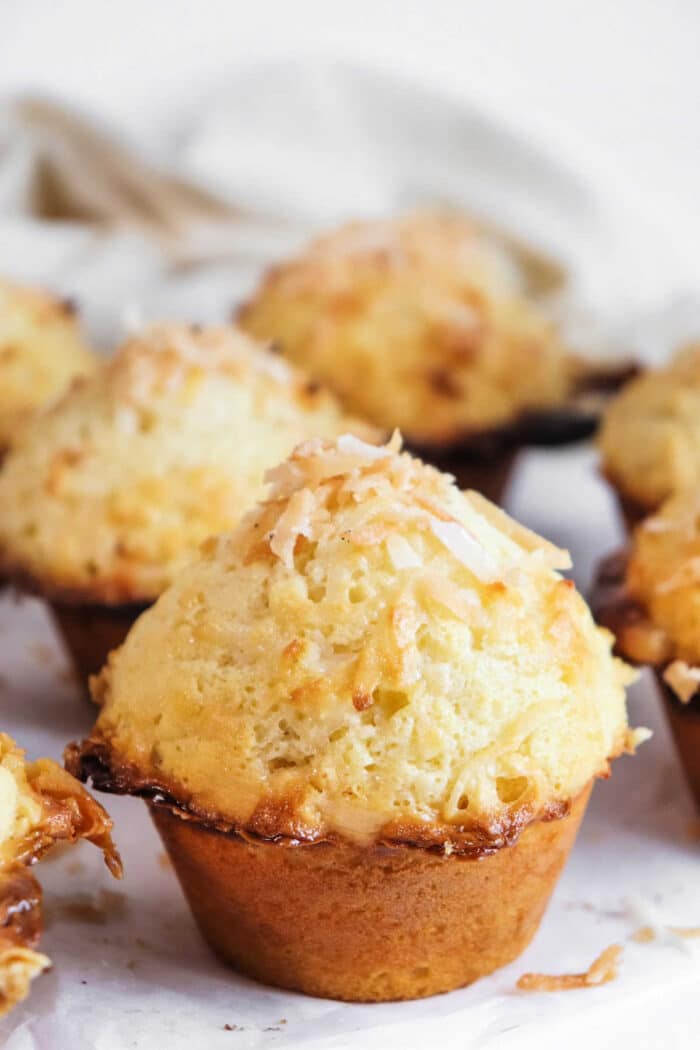 How Long do Muffins Take to Bake
You are looking at 11-28 minutes depending on how large they are. At the top we speak about the mini cute as ever size, kids love those. If you like just regular every day sizes it is about 18 but there are 3 other sizes to choose from too.
You can make large ones, we share how long to cook jumbo muffins here at 400 but at 350 you're looking at 25-30ish min.
We share how long to bake muffin tops here which is about 20 since you don't have a bottom to it at all.
Wondering how long to bake muffins in ramekins? We did that with our cake mix blueberry muffins and they turn out great in 22 minutes.
Regular sizes seem to range from 18-20 or so depending on the ingredients inside. Heavier batters will take a minute or so more.
Another thing you need to consider when timing is involved is the pan you're using. Just stick with regular Wilton metal vs. ceramic heavy fancier versions. The latter will soak up the heat so it takes longer and there isn't really a benefit to the cute. 😉
How Long Do Muffins Last
If stored properly they will last about 3 days to up to 3 months. The shelf life can vary depending on various factors, including the ingredients used, storage conditions, and whether or not preservatives were added.
Freshly baked muffins: Muffins that have just been baked can be stored at room temperature in an airtight container for about 2 to 3 days.

They are best enjoyed within the first day or two when they are at their freshest and most flavorful.

Refrigerated muffins: If you want to extend the shelf life of your muffins, you can store them in the refrigerator. Refrigerated muffins can last for about 5 to 7 days when stored in an airtight container or wrapped tightly in plastic wrap.
Frozen muffins: Muffins can be frozen for long term storage. Wrap each one individually in plastic wrap and then inside an airtight freezer bag. Freezing can typically last for up to 3 months before the texture will change drastically.

When you're ready to enjoy them, thaw the muffins at room temperature or heat them briefly in the microwave or oven.
It's important to note that the shelf life can be influenced by the ingredients used. Muffins with perishable ingredients, such as mashed bananas or dairy fillings may not last as long and should be consumed within a few days.
To ensure the longest possible shelf life for your muffins, it's essential to store them in a cool, dry place away from direct sunlight or heat sources. Additionally, always check for any signs of spoilage, such as mold growth, off smells, or a change in texture, before consuming the muffins.
Moist Muffin Recipe Tips
Let's go over tips for baking the best muffins ever in your oven. I mean I guess this goes for air fryer blueberry muffins as well really.
Always preheat your oven first to the temperature specified in the recipe. I like 350 Fahrenheit. If you like really high peaks set to 425 for first 5 minutes, then down to 350 for the rest of the time.
Incorporate dry ingredients such as all purpose flour and baking soda / baking powder in one bowl. With wet ingredients in another large bowl before combining the two.
Add fresh or delicate ingredients such as sliced ripe bananas, whole fresh berries or otherwise at the very end.
Fill the prepared muffin tin filled with paper liners with the muffin batter, only two-thirds of the way full, no more.
Place the rack in the middle rungs with the muffin tin on top in the preheated oven.
Set the timer for the initial minimum recommended baking time provided in the recipe.
After the initial baking time, start checking for doneness by inserting a toothpick into the center of one of the muffins.

If it comes out with a few crumbs clinging to it, the muffins are done.
If the toothpick comes out with wet batter, continue baking for a few more minutes.
OR use your fingertip to gently touch the top center of one of them, if it springs back take them out.

As soon as the best muffin recipe you chose are fully baked, remove them from the oven and transfer them to a wire rack to cool completely.
Do NOT leave them in the pan as it is still hot and will continue cooking them, thus drying them out more than you want them to. You want moist tender fluffy baked goods!
How Many Calories in a Muffin
The number of calories in a muffin can vary widely depending on the recipe, size, and ingredients used. On average, a standard size like our zucchini pumpkin muffins can range from around 150 to 400 calories. It's important to note that larger or specialty muffins, like in bakeries or coffee shops, may have higher calories.
To get a more accurate estimate of the calorie content, it's best to refer to the recipe or packaging. Additionally, there are online calorie calculators and nutrition databases. They can provide estimates based on the ingredients and quantities used in a recipe.
Keep in mind ingredients like butter, brown sugar, oil, and add-ins such as chocolate chips or nuts can significantly increase calorie count. If you're watching your calorie intake, you may want to consider opting for healthier ingredient substitutions or portion-controlled muffin sizes.
Want to see a few of my favorite things that I am totally obsessed with?? Take a peek and see how many you might already have…twinsies!
Looking for more easy family recipes and tips? LIKE The Typical Mom Facebook page?
Then sign up for my free newsletter, and follow me on Pinterest! 😉
***** If you LOVED this recipe give it 5 Stars below and let everyone know what you thought about it. 😉
How Long to Bake Muffins at 350
How long to bake muffins at 350 degrees F or 177 Celsius is here! How to bake fluffy muffins in the oven every time, tips and tricks.
Instructions
For easy cake mix muffins mix eggs and dry mix together. Then gently fold in pie filling until batter is moistened.

Preheat oven to 350 F. Line muffin tin with paper cups and fill 2/3 of the way full. Bake according to bake time below. Always set to minimum timing and check as to not over-bake them. Remove as soon as toothpick comes out clean or middle springs back when touched gently.

Mini muffins – 11 minutes, Regular muffins – 18 minutes, Jumbo muffins – 25-30 minutes, 4 oz. Ramekin muffins – 22 minutes, Muffin tops – 18-20 minutes
Nutrition Facts
How Long to Bake Muffins at 350
Amount Per Serving (1 oz)
Calories 127
Calories from Fat 9
% Daily Value*
Fat 1g2%
Cholesterol 18mg6%
Sodium 194mg8%
Potassium 33mg1%
Carbohydrates 28g9%
Protein 2g4%
Vitamin A 34IU1%
Vitamin C 1mg1%
Calcium 54mg5%
Iron 1mg6%
* Percent Daily Values are based on a 2000 calorie diet.