This is how to make pinata cupcakes for any occasion! Surprise middle cupcakes are so fun and easy to make and a great birthday party surprise. Fill your favorite chocolate or yellow cake mix cupcakes with candy using this trick.
When a bite is taken you'll see the surprise on everyone's faces. Great for a cheap birthday dessert or use my recipe for 6 cupcakes here and just enjoy some fun after dinner with your kids.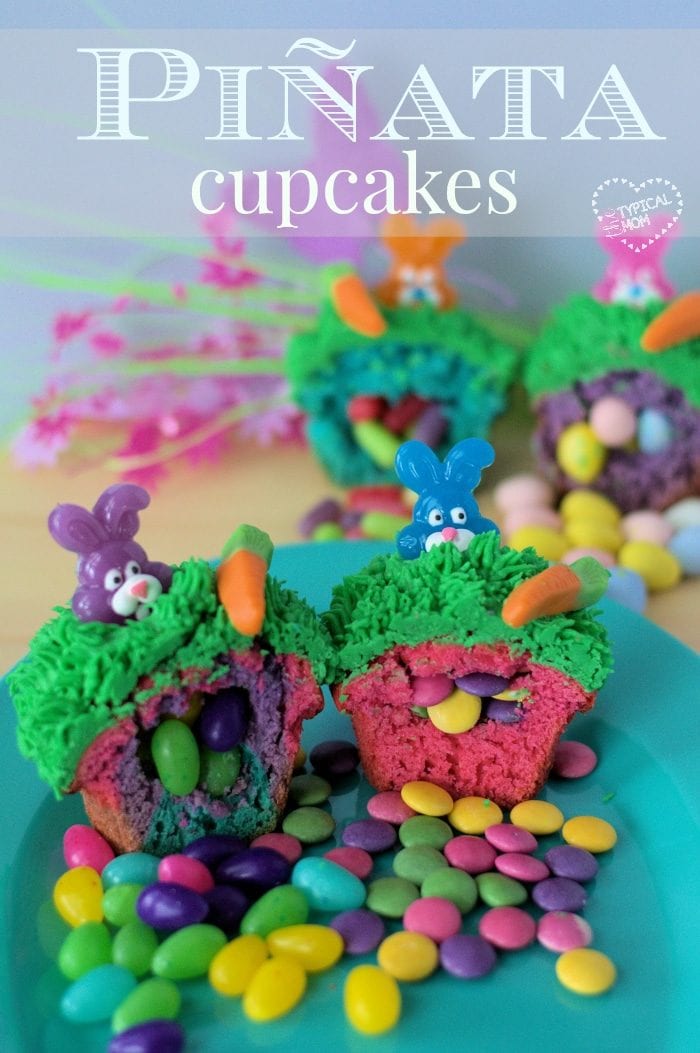 Have you ever made or heard of pinata cupcakes??!! I have seen them made as a cake for birthdays or St.Patrick's Day but these are focused on Easter! It's almost time for that friendly bunny to arrive so why not make something fun to celebrate his arrival. 😉 Here is an easy way to make cute cupcakes, and you can decorate the top however you'd like. (affiliate links present)
How to Make Filled Cupcakes
Aren't these candy filled cupcakes fun??!! You can make them festively colored for any occasion. Pinata cupcakes are great for birthday parties, especially if it's a surprise! You can make homemade white cake mix to start out with or it's a great box cake mix hack too (which is my style because it is just so easy).
We're going to go with an easy version. Using boxed white cake mix you can use food coloring if you'd like them different colors like this.
These are unwrapped without cupcake wrappers on top just so you can see the color all the way around but these bright Wilton cupcake wrappers are great for any occasion!
You can forgo all the cupcake wrappers too and just use non stick spray on your pan and slide them out, your choice.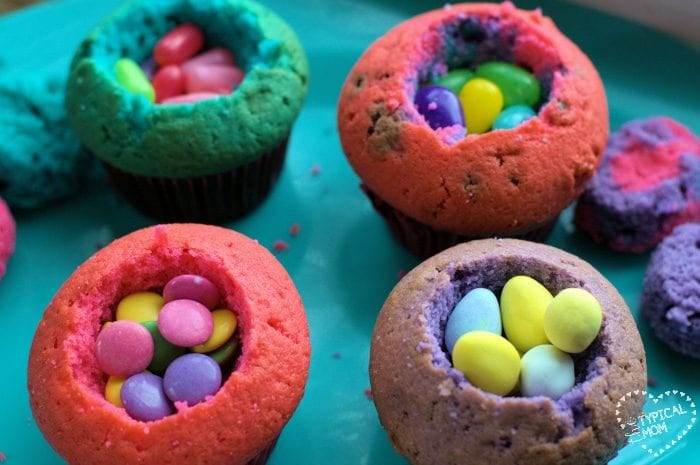 How to Fill cupcakes
These are kinda' like a smaller fun version of our surprise cake, but easier. Separate your cake batter into the # of dishes you'd like to color. For blue, purple and pink you will need 3 bowls, etc…. Color your batter, bake, and let the cupcakes cool completely.
Surprise Middle Cupcakes
Then when they are done use a knife to carefully cut a circle and gently scoop out the center so it is hollow like this. Kind of like you were about to carve a pumpkin of sorts. Don't throw the top you scooped out away though..you will need that to complete your pinata cupcakes.
Put a variety of small candies inside the holes and put the top you cut off back on so it is as flush as possible with the rest of your cupcake to make the pinata effect. You can serve them in an Easter basket if they're for that time of year or on a cute tiered cupcake display that's pretty inexpensive for a birthday party!
Not only is it easy for you to create but a really fun activity to do with your kids too. As a special treat you can make a small batch by using my recipe for 6 cupcakes (linked above). It's perfect for an afternoon or weekend dessert for a few people.
Candy Filled Cupcakes
Now of course you could fill the centers with jelly, Nutella or curd like we did with our Green Cupcakes too.
Cake mix – you can make homemade cake mix, boxed white cake mix is easiest to dye
Cupcake pan
Small candies – jelly beans or m&ms are great
Frosting
Cupcake toppers – optional
And just like that you have yourself a batch of fun pinata cupcakes. Try them this holiday season or on a rainy day just for some fun! If you're looking for more fun Easter ideas check out these:
Want to see a few of my favorite things that I am totally obsessed with?? Take a peek and see how many you might already have…twinsies!
Looking for more easy family recipes and tips? LIKE The Typical Mom Facebook page?
Then sign up for my free newsletter, and follow me on Pinterest! 😉
***** If you LOVED this recipe give it 5 Stars below and let everyone know what you thought about it. 😉
Pinata Cupcakes
Pinata cupcakes are filled stuffed cake bites that spill out candies in the middle for fun.
Ingredients
Instructions
Prepare batter into cake mix, white is best. If you want to make multi colored cupcakes divide batter into separate bowls and color as you wish.

Put cupcake liners into pan. Preheat oven to necessary temperature on your box.

Fill cupcake liner with batter 3/4 of the way full. Bake as directed on the box, usually takes 18-22 minutes until they spring back when gently touched in the center.

Take out and allow them to cool completely. Use a knife to cut the middle of the cupcake out, keep tops. Do not cut all the way down to the bottom, needs to stay in tact, just a hole in the center.

Take top off of cupcake and fill with small candies or sprinkles. Cut the very top off of the cupcake middle that was cut out and place the top back on to seal the candy inside.

Frost the top and then serve.
Nutrition Facts
Pinata Cupcakes
Amount Per Serving (2 oz)
Calories 90
Calories from Fat 9
% Daily Value*
Fat 1g2%
Sodium 59mg3%
Potassium 2mg0%
Carbohydrates 20g7%
Calcium 1mg0%
Iron 1mg6%
* Percent Daily Values are based on a 2000 calorie diet.