This is how to make pinata cupcakes for any occasion! They are so fun and easy to make and a great birthday party surprise. Fill your favorite cupcakes with candy using this trick and when a bite is taken you'll see the surprise on everyone's faces. A simple baking trick that will just take minutes to do.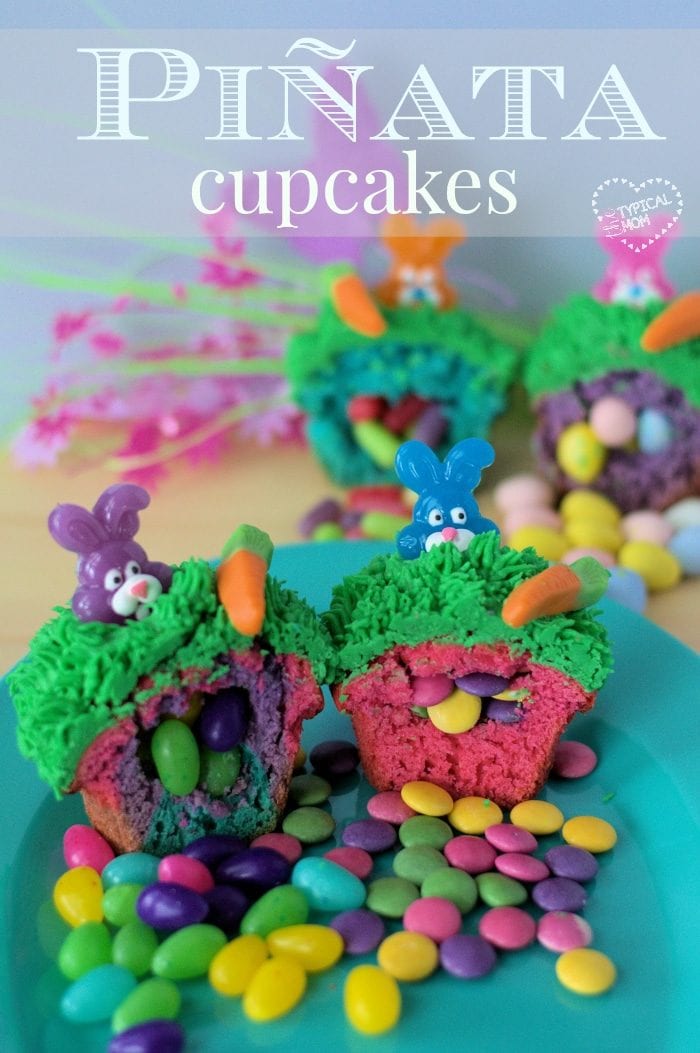 Have you ever made or heard of pinata cupcakes??!! I have seen them made as a cake for birthdays or St.Patrick's Day but these are focused on Easter! It's almost time for that friendly bunny to arrive so why not make something fun to celebrate his arrival. 😉 Here is an easy way to make pinata cupcakes, and you can decorate the top however you'd like. (originally published 3/16)
Aren't these fun??!! You can make them festively colored for any occasion. Pinata cupcakes are great for birthday parties, especially if it's a surprise! You can make homemade white cake mix to start out with or used box cake mix (which is my style because it is just so easy).
We're going to go with an easy version….boxed white cake mix so I can explain just how to make them. You will need some food coloring if you'd like them different colors like this. These are unwrapped without cupcake wrappers on top just so you can see the color all the way around but these bright Wilton cupcake wrappers are great for any occasion!
You can forgo all the cupcake wrappers too and just use non stick spray on your pan and slide them out, your choice.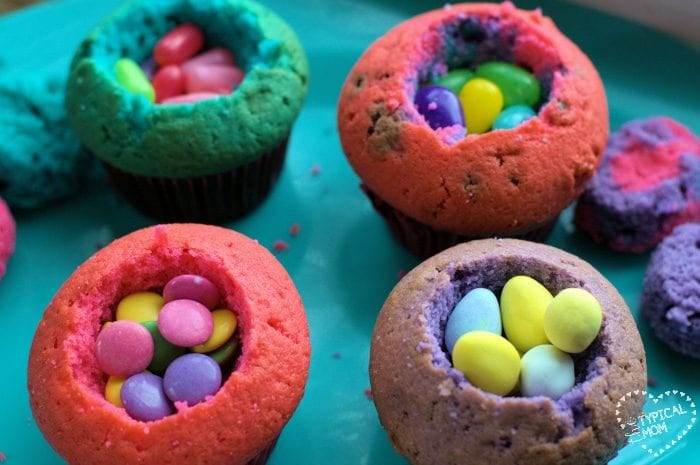 Separate your cake batter into the # of dishes you'd like to color. For blue, purple and pink you will need 3 bowls, etc…. Color your batter, bake, and let the cupcakes cool completely. Then when they are done use a knife to carefully cut a circle and gently scoop out the center so it is hollow like this. Kind of like you were about to carve a pumpkin of sorts. Don't throw the top you scooped out away though..you will need that to complete your pinata cupcakes.
Put a variety of small candies inside the holes and put the top you cut off back on so it is as flush as possible with the rest of your cupcake to make the pinata effect. You can serve them in an Easter basket if they're for that time of year or on this cute tiered cupcake display  that's pretty inexpensive for a birthday party!
Not only is it easy for you to create but a really fun activity to do with your kids too. As a special treat you can make a small batch by using my recipe for 6 cupcakes here, it's perfect for an afternoon or weekend dessert for a few people.
This is what you'll need to make these easy pinata cupcakes for any holiday or birthday party
Cake mix – or make homemade batter, white cake mix is easiest to dye
Cupcake pan
Small candies – jelly beans or m&ms are great
Frosting
Cupcake toppers – optional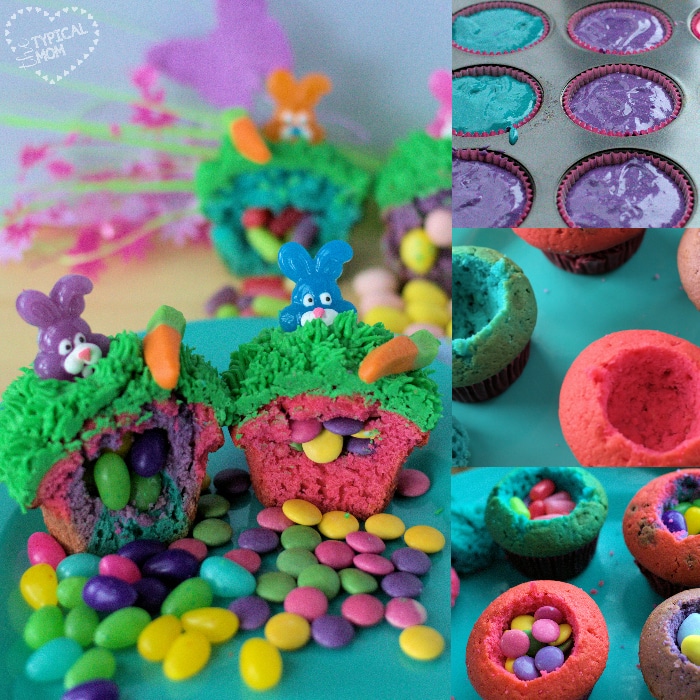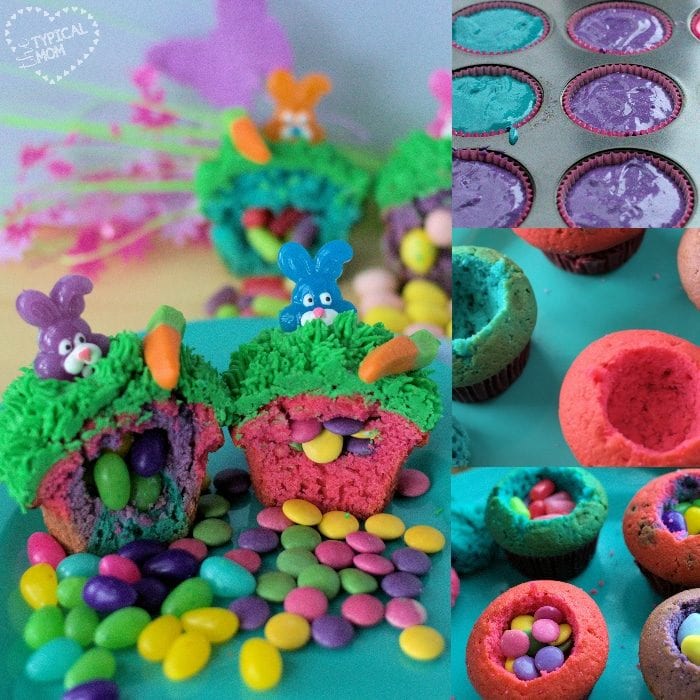 And just like that you have yourself a batch of fun pinata cupcakes. Try them this holiday season or on a rainy day just for some fun!
If you're looking for more fun Easter ideas check out these:
For more easy recipes and crafts please LIKE The Typical Mom on Facebook, sign up for my newsletter, and follow me on Pinterest!
Visit The Typical Mom's profile on Pinterest.