Have you ever made butterscotch haystacks for dessert? They are a really delicious peanut butter and butterscotch treat that only takes a few minutes to make. You can jazz them up with little add ins depending on what you like, and this time we made them into little nests for Easter. A perfect Easter dessert for your get together this year, or just make little haystacks which are great year round! Here is the recipe. (originally published 3/15, affiliate links present)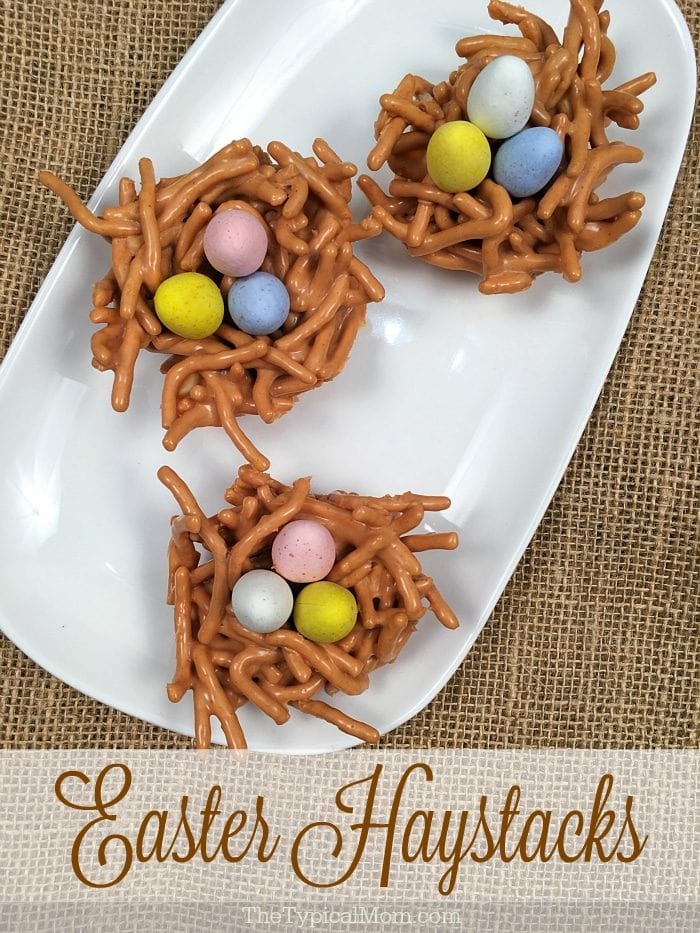 The way you make haystacks is simple (I've made them for years and couldn't tell you where I heard the recipe), all you need are crunchy chow mein noodles, butterscotch chips, peanut butter, and anything else you'd like to add like peanuts and/or these fun chocolate egg candies you find at Easter time. Here's a quick peek of what we are going to be doing. 😉
Butterscotch Haystacks
In order to make them into nests it is easier to have a muffin pan (aff. link) handy as well. It makes them into similarly sized pieces and a great way to store them with a little plastic wrap over the top when you're done. Here is step by step of how you make haystacks.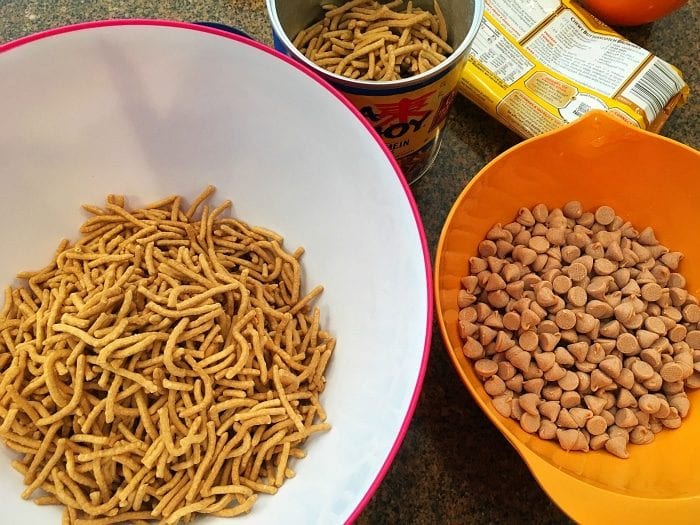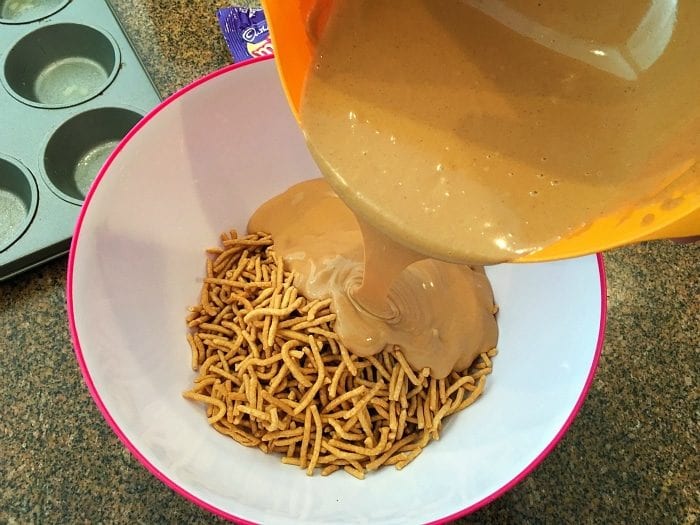 Ingredients
4 c. crunch chow mein noodles
1 c. creamy peanut butter
1 bag of butterscotch chips
* optional *
peanuts
chocolate eggs
Instructions
Melt peanut butter and butterscotch chips in the microwave. Put noodles (more like crackers) in a bowl and pour warm mixture over the top, stir until every piece is coated. If you want to add peanuts or anything else add it now (not eggs if you're doing this Easter one). Scoop into muffin pan and use spoon to make indentation in middle for eggs. Place eggs in middle so they stick. Let cool and harden, scoop out with spoon.
6.6.15
https://temeculablogs.com/butterscotch-haystacks/
It really is that simple to make these butterscotch haystacks. There is NO cooking required which I love, easy for the kids to help you with this easy Easter dessert, and you can customize it to include whatever you'd like inside! It's a favorite, and making them into "nests" is always a hit!  I hope you enjoy our butterscotch haystacks recipe, check out some other easy recipe ideas on my blog and if you're cooking with kids you should try making ice cream at home using just 2 baggies!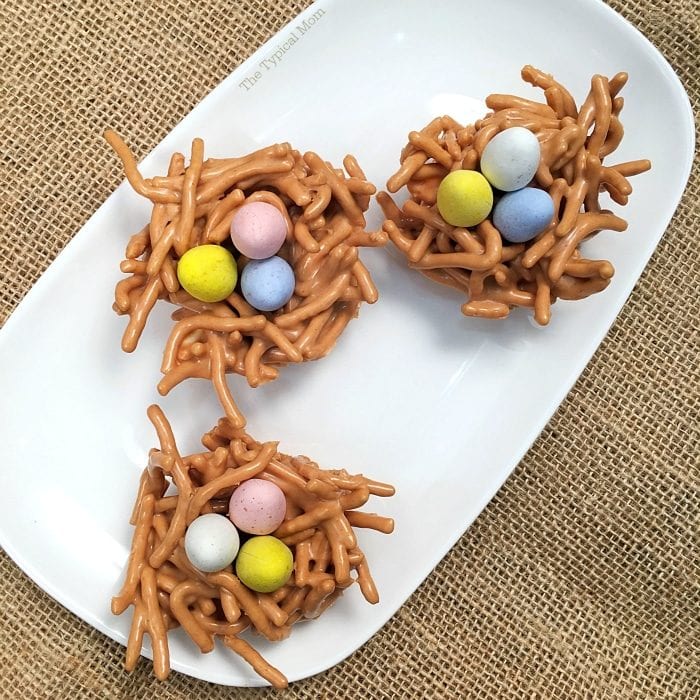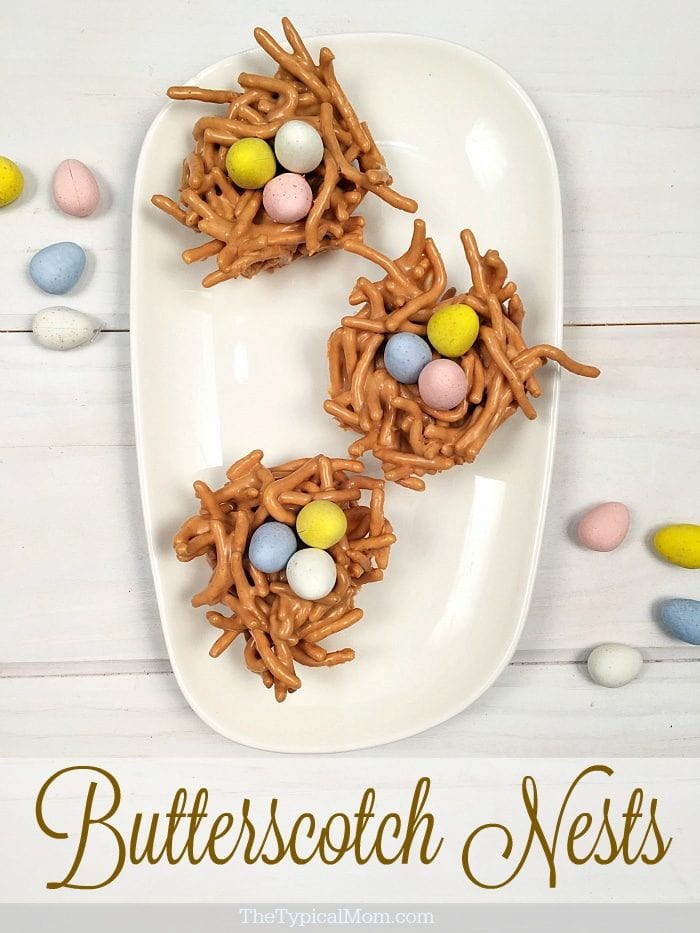 For more easy recipes and crafts please LIKE The Typical Mom on Facebook, sign up for my newsletter, and follow me on Pinterest!