Homemade apple carrot muffins are so moist and flavorful. The perfect breakfast or dessert treat with fresh fruit and vegetables inside! You can make these as regular sized, jumbo or mini muffins are fun for toddlers as well.
Moist apple carrot muffins are the bomb I tell you! A great way to hide veggies from your kids get them to ask for more. A great way to make baked goods tender with tons of flavor and texture. Just one of the best muffin recipes we have on The Typical Mom blog. (affiliate links present)
Apple Carrot Muffin
I love to bake with produce. It makes everything so tender and moist bursting with plenty of fresh flavors. During the Fall this pumpkin apple bread started our obsession. I remembered how much we loved it and thought of adding one more thing into the mix. Carrots!!
Since I love this orange veggie so much so that I had it as part of my wedding cake, it was time to incorporate it into breakfast.
FIRST – You should sign up for my free newsletter so you get new posts emailed to you twice a week and never miss out on anything!
Now let's talk a bit about my favorite things when it comes to muffins though shall we?
You really should get a 24 cup muffin pan, or opt for a quicker baking time with mini muffins.
I ALWAYS use muffin liners and you should too. They make cleanup easier and grab and go breakfasts a thang. 😉

No pan, no problem! Use these self standing muffin cups instead!

This is the best way to store leftovers so they don't get smushed!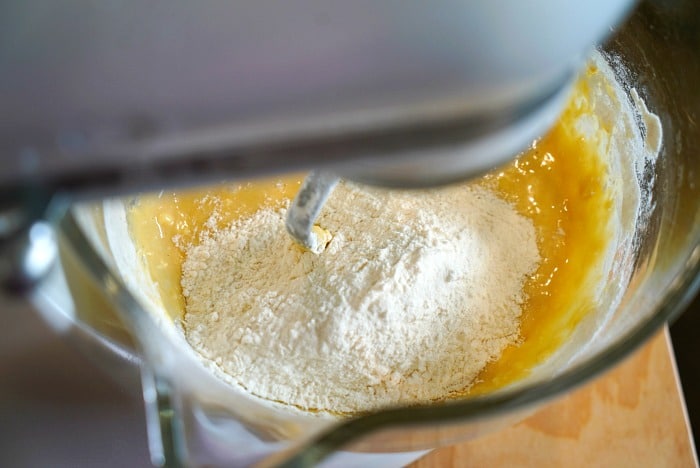 Homemade Apple Muffins
Now you could leave out the shredded veggies if you really wanted to. I think both bring great flavors and texture to it and your kids probably won't even realize their eating vegetables. I mean carrot cake has always been my ultimate favorite dessert but I wouldn't say it tastes anything other than sweet.
You can see the ingredients here. You could use whatever type of apples you wanted but Fuji is our favorite.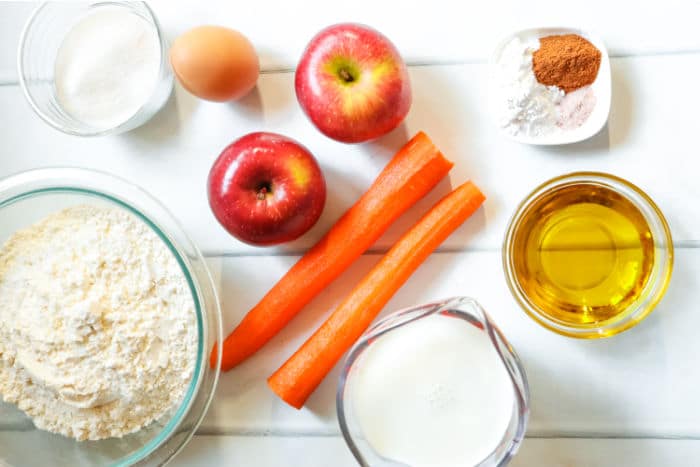 Carrot Apple Muffin Recipe
This is what you want to get out. Of course spices are personal and we just added some cinnamon. A bit of nutmeg and even some pumpkin pie spice may be other options to throw in there too depending on your tastes.
All purpose flour, make sure you measure flour properly so they're nice and fluffy
Sugar
Baking powder
Salt
Milk
Egg
1/4 cup Oil
Apples should be diced small, can be skinned or the skin left on, and shredded carrots. You could use grated apples if you don't really want any added texture (chunks).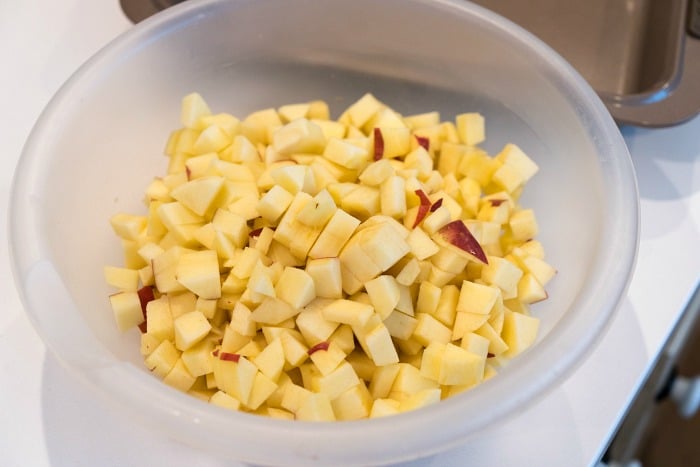 Sunshine Muffins
The larger they are the more space they will take up and will remain a bit chunkier. I mean they will soften up for sure and personally I like the added texture of them but just keep that in mind.
Like the carrots I do like to chop and then lay them on a paper towel real quick to absorb some of that excess moisture. If not you're going to make your batter a bit thinner.
If you were really concerned with them sinking to the bottom you could toss them in just a bit of flour. That is what we do with our blueberry muffins but with this I didn't find it really necessary.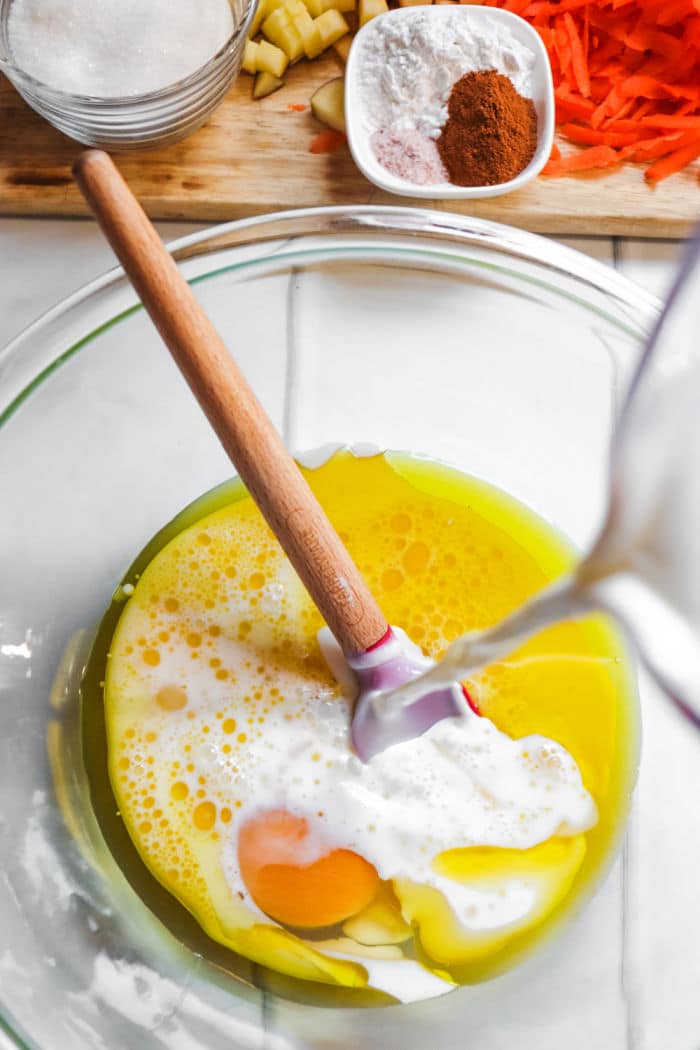 What are the best apples for muffins?
Honeycrisp and Jonagold are quite sweet so those are good. They are on the more tender side which helps too when baking with them. Fuji and Granny Smith are typically my favorite for apple crisp but not for this.
With that you want them to be on the firmer side so they don't fall apart when cooking. In this case you aren't cooking them in liquid but rather the batter is thicker and won't break them down as easily.
What is the secret to making moist muffins?
Do not over-bake them!! That is on the top of the list. If you get the hang of when they need to be pulled out (and not ONE minute more) you'll never have a dry bite again. Remove right when they spring back when touched lightly in the center.
If you don't want to use your finger use a toothpick and take out when there are still some crumbs attached but it isn't wet inside.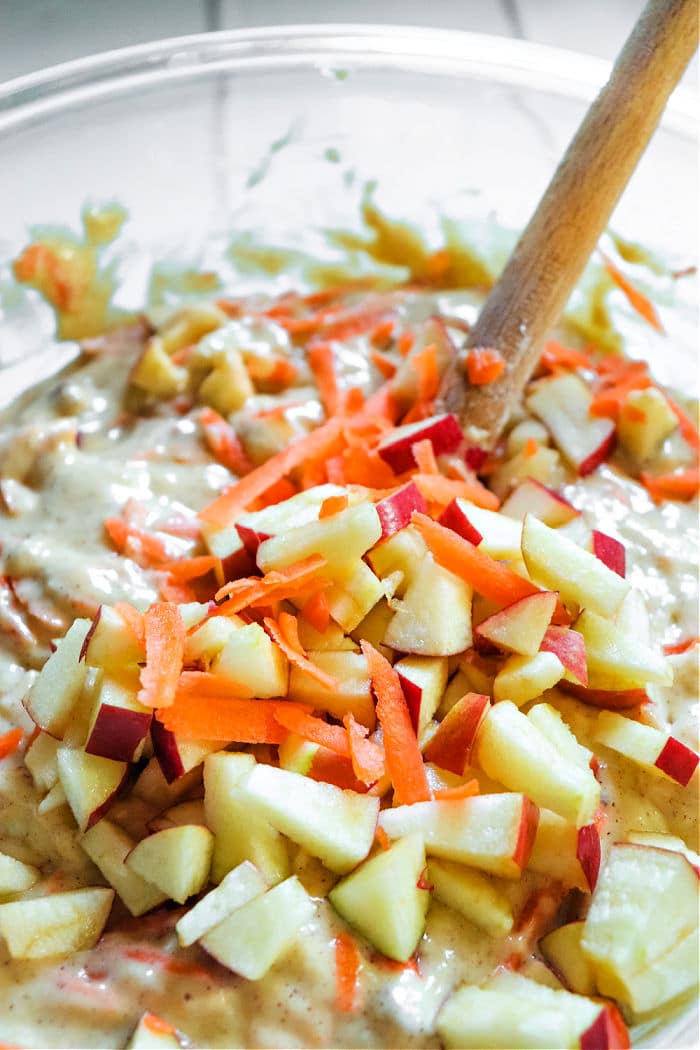 One Bowl Apple Carrot Muffins
And always add fruit and/or vegetables at the very end. That way they won't break apart into smaller bits in the mixing process. They just need to be gently folded into your batter so they're incorporated, no more.
How many calories are in a carrot muffin?
Well it depends on how big it is, and the ingredients used. Ours have 174 in each one and the recipe makes 12 total. That isn't bad since they're a decent size, you may want two for your breakfast though.
How do you shred carrots for muffins?
No matter what you are making with these orange veggies, if you want small pieces you would follow the same method as below. When baking our carrot casserole I do the same thing just in more bulk since we use 2 lbs to make that one, another favorite goodie on the table.
You can use this technique for many of our easy carrot recipes. I mean it isn't much different than cheese but I'll give you a quick rundown.
First use a vegetable peeler to remove the very top layer that kinda' looks dirty.

I don't put mine down the drain because we have septic, and I don't think it's fabulous for a garbage disposal either so I usually do it over the trash.

Lay down a few paper towels and set your cheese grater on top.
Once you have enough, lift it off and set into the sink to clean.
Then roll up the paper towels with the shreds inside and press down to soak up most of the liquid on the outside.
Then incorporate into your muffin batter.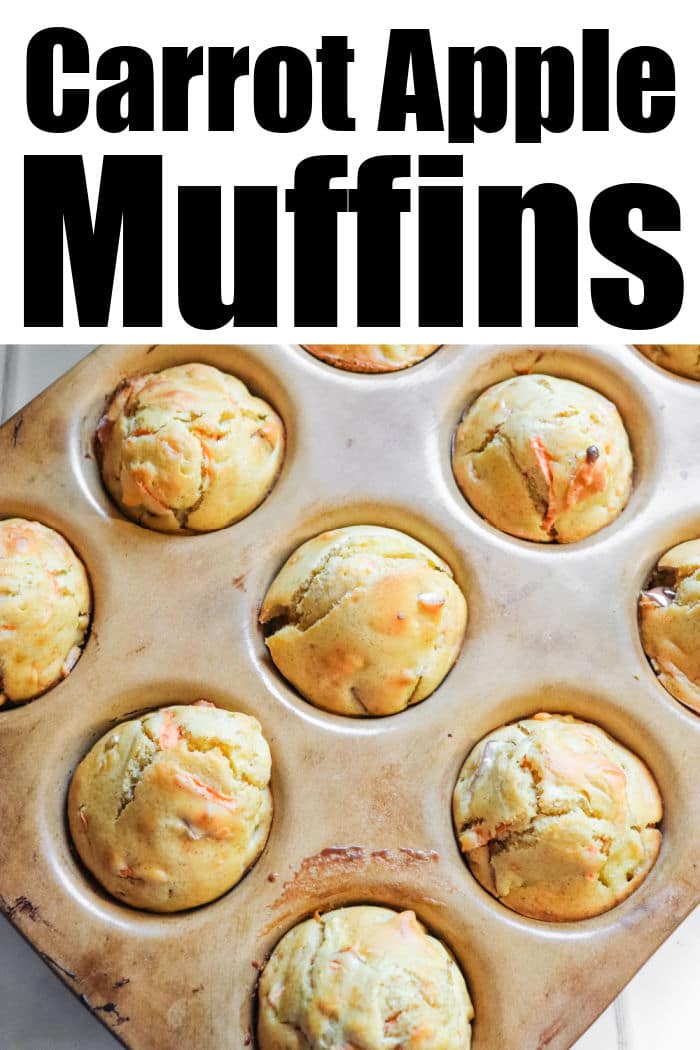 Breakfast Muffin
When it comes to baking muffins I almost always use muffin liners, unless I run out. In that case I use olive oil spray lightly inside the holes, nobody wants them to stick to the sides.
Preheat oven to 400 degrees F.
In one bowl mix dry ingredients and in another bowl whisk wet ingredients together.
Leave prepared apples and carrots aside. Slowly incorporate dry into the wet bowl until folded together well. Then gently fold in fruit and veggies like you would when making a Instant Pot carrot cake.
Line muffin tin with paper muffin cups / paper liners and fill them 3/4 of the way full.
Now time to bake for 18-20 minutes or until toothpick comes out mostly clean with some crumbs on it. Or touch the top gently and when it springs back in the center they're done.
Remove from oven and pan and place on cooling wire rack.
Use the back of a spoon to smear on cream cheese frosting. Use ready made tubs or in a bowl combine ingredients shown below.
For added "flair" you could crush 1/2 cup of walnuts or pecans and sprinkle some on top as well.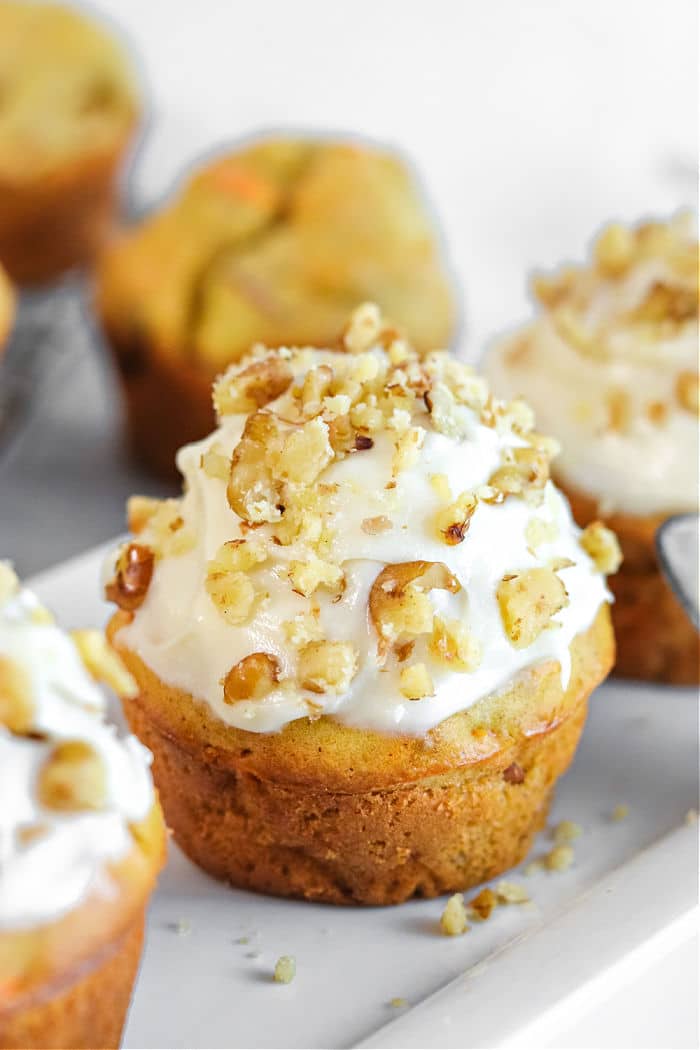 Homemade cream cheese frosting
This is a great recipe when you just want to bake! If we've been apple picking it's top on our list of things to make next to homemade applesauce. If you want to go all out you can make your own topping too.
4 oz room temperature cream cheese
1/3 c butter softened
1 tsp vanilla
2 c powdered sugar
1/2 c walnuts chopped are optional to sprinkle on the top
Use a hand or stand mixer to blend together until smooth. If you want it a bit thicker just stick it in the fridge for about an hour. Then frost with the back of a spoon or squeeze it on after adding it into a freezer / pastry bag.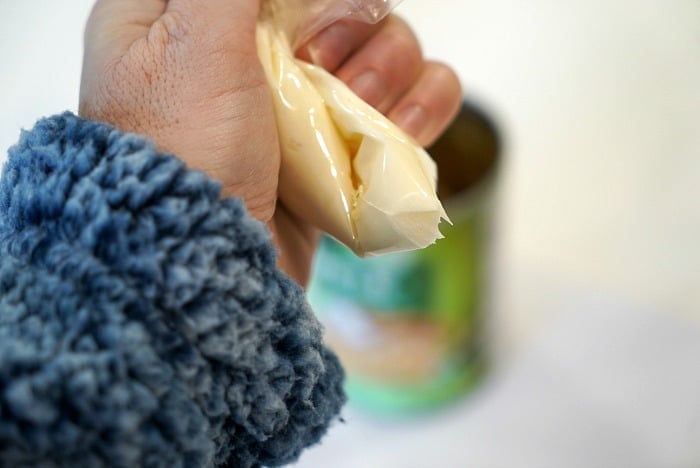 How do you store carrot muffins?
You always want to make sure food is at room temperature before packaging them up. Once they are slide them into a gallon freezer bag (unfrosted). Just add one layer, suck air out and zip closed. Keep them on the countertop so they stay moist and enjoy within 3-4 days.
When you are reheating apple muffins you want to add a small pat of butter or tsp of maple syrup to the top. Then microwave for 45 seconds and enjoy again.
How do you freeze fresh muffins?
Follow the same instructions as above but slide them into a flat area of your freezer. If you have a lot you can do this with multiple bags. Once they are hard then you can stack the bags on top of one another to save space.
If you want to make other creations with several items inside try our pumpkin zucchini muffins, apple zucchini muffins and blueberry zucchini muffins too.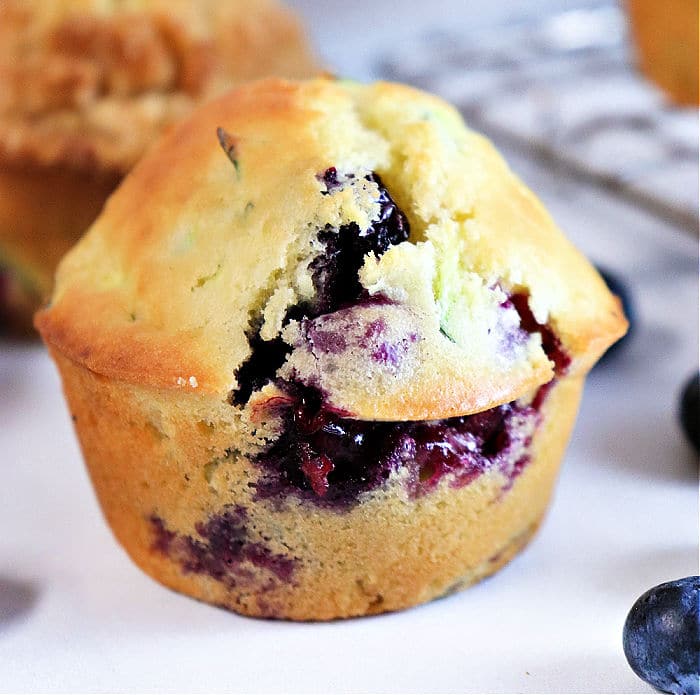 Do you have another combination you love baking with? Have you ever surprised your kids with vegetables in their baked goods that they didn't notice? It really is kinda' fun. Now mine love carrots raw!
Want to see a few of my favorite things that I am totally obsessed with?? Take a peek and see how many you might already have…twinsies!
Looking for more easy family recipes and tips? LIKE The Typical Mom Facebook page?
Then sign up for my free newsletter, and follow me on Pinterest! 😉
***** If you LOVED this recipe give it 5 Stars below and let everyone know what you thought about it. 😉
Apple Carrot Muffins
Homemade apple carrot muffins are so moist and flavorful. The perfect breakfast or dessert treat with fresh fruit and vegetables inside!
Instructions
Preheat oven to 400 degrees F.

In one bowl mix dry ingredients and in another mix wet ingredients, leave apples and carrots aside.

Slowly incorporate dry into the wet bowl until folded together well. Then gently fold in apples and carrots.

Line muffin pan with liners and fill cups 3/4 of the way full.

Bake for 18-20 minutes or until toothpick comes out mostly clean with some crumbs on it, or top springs back when gently touched in the center on the top.

Remove from oven and pan and place on cooling rack.

Use the back of a spoon to smear on cream cheese frosting and could sprinkle some crushed nuts on top as well.
Nutrition Facts
Apple Carrot Muffins
Amount Per Serving (2 oz)
Calories 174
Calories from Fat 54
% Daily Value*
Fat 6g9%
Cholesterol 16mg5%
Sodium 125mg5%
Potassium 266mg8%
Carbohydrates 28g9%
Protein 4g8%
Vitamin A 2741IU55%
Vitamin C 2mg2%
Calcium 95mg10%
Iron 1mg6%
* Percent Daily Values are based on a 2000 calorie diet.