Things to do in Yosemite with kids this Summer! We had a great time river rafting, hiking, going on a tour and just discovering this great National Park.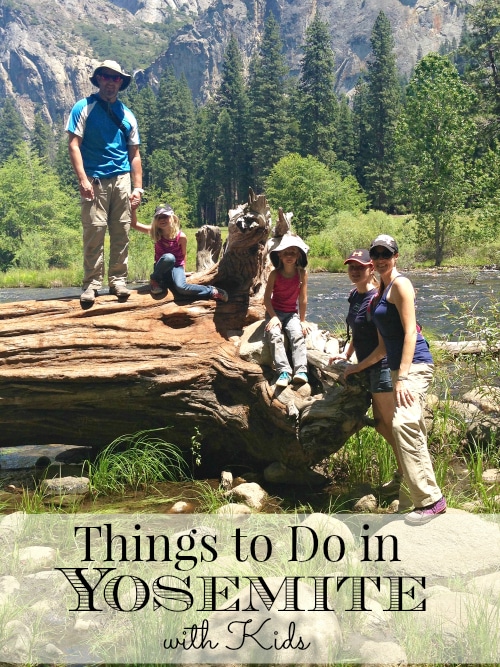 We just returned from a fantastic family vacation in Yosemite California! There are so many things to do in Yosemite with kids during the Summertime it is hard to narrow it down to a short list, but I have to tell you about the things we did during the 5 days we were there! Thank you to Yosemite guest services for sponsoring this post and providing us some opportunities so we could share them with you here! (originally published 6/14, affiliate link present)
Things to do in Yosemite with kids
The first day we arrived we set up camp just outside the park. We decided to tent camp and since it was a last minute trip we unfortunately weren't able to book a spot inside Yosemite (you should plan a year or so ahead to get a reservation for a tent, cabin or hotel room inside the park) but it was close enough!
The first thing we did once we were inside Yosemite was to go on the Valley Floor bus tour.  It lasted about 2 hours and took us to some of the most beautiful sites in Yosemite. This is a great thing to do with kids because the bus was open and you could see everything from where you sat. They let you off about every 20 minutes or so to explore each stop for a while, walk around a bit and go to the bathroom (necessary with kids). We took the picture at the top of this post at one of our stops, it's one of my favorites!
The next day we headed over to the incredible Ahwahnee Hotel's dining room in Yosemite Park where we heard they had an amazing breakfast (and every other meal)! We enjoyed their buffet (kids LOVE buffets) and I ordered a plate that was in Bon Appetit's Magazine rated A+, their Cinnamon Apple Flapjacks….Amazing! My kids were totally entertained the whole meal by the Wikki Stix the Ahwahnee Hotel staff gave them, such a fantastic idea and much better than traditional coloring pages. 😉
After our fabulous breakfast at the Ahwahanee Hotel we headed down to Curry Village in Yosemite to pick up our raft and gear to go river rafting down the Merced River! This was the highlight of our trip for sure! Grandma and Grandpa were with us, so we had a few kids with us and one with them (we have 3 girls) as we floated down the river. It was very calm with just a handful of little dips along the way, perfect for little ones and very relaxing for Moms and Dads. We stopped several times along the way at small beaches, had lunch, swam in the river, and just had a fantastic time.  It took about 3 hrs. and at the end a shuttle picked us up and took us back to our car. We would all highly recommend this!
We spent a lot of time exploring Yosemite, taking pictures and stopping along side the road at spots such as this one where the kids could get out and play or swim. We brought our beach chairs and lunches and just enjoyed the beautiful view as the kids had a blast in the water and amongst the rocks. Like I said, there are so many things to do in Yosemite with kids in the Summertime, but I hope we have you a few to consider once you're there. Here are some more Free activities for your family to enjoy too.
There are lots of FREE things to do in Yosemite with kids too, here is a brief list!
1. Badger Pass Shuttle Bus
3. Curry Village Amphitheater Programs
Hiking ~ Sightseeing 
1. Glacier Point
2. Half Dome
3. Tuolumne Meadows
4. Mariposa Grove
5. Yosemite Village
You can visit Yosemite's Website for more activities and maps as well! Hope you have a great trip this Summer!
Here is another post of mine for fun and cheap hiking ideas for kids!
For more easy recipes, travel tips and crafts please LIKE The Typical Mom on Facebook, sign up for my newsletter, and follow me on Pinterest!