The best National Parks for kids are here from a family who road trips year round! Tips on when you should visit, and how to save money when you travel with kids so you can travel more often together.
Did you know that the US is home to some of the best National Parks for kids? With 58 different National Parks to choose from you and your family shouldn't have to worry about running out of options anytime soon. Plus, we've been to a bunch with our 3 daughters and have a few favorites to share so you can narrow down your choices. Just one of many tips from our road trip blog….get out there and travel with your kids y'all!!
Best National Parks to take kids
Visiting National Parks is a favorite past-time of so many families, and rightfully so. While National Parks are beautiful to visit and explore, they also offer the perfect opportunity to talk and connect with your children as well. It's actually really fun to find National Parks for kids that you know they'll love because then their interest will cause excitement to explore even more.
Before you decide where you'll be heading you need to look at your budget and gather your resources, here are some tips on how we travel cheap!
Wanna' know how to travel for free all the time – we have explained how to travel for free in detail here (take a close look at that to start)
How are you going to travel – if you're flying this is how to get free airline tickets (we haven't paid to fly anywhere in over 6 years using this method)
How to avoid hidden fees – if you're visiting National Parks there is an entrance fee to get into every single one but you can avoid it by grabbing a free National Parks pass if you have a student in the car with you.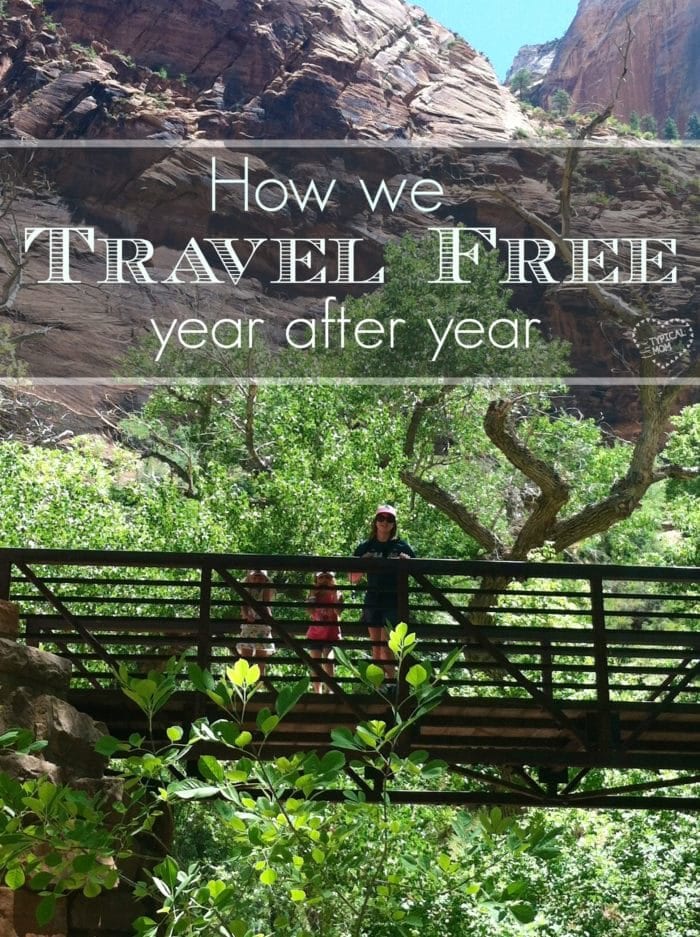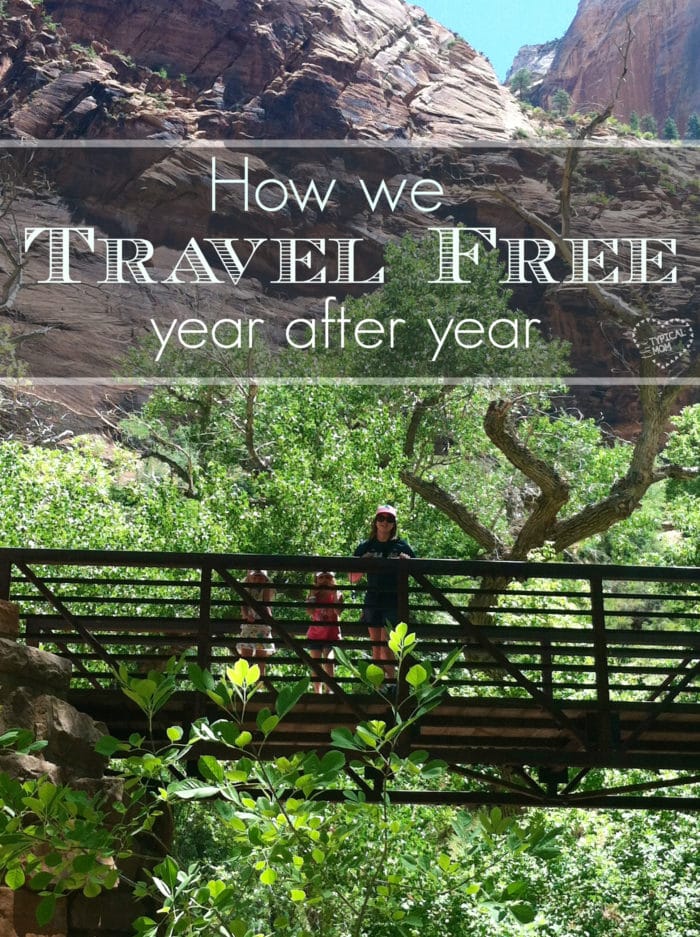 National Parks with kids
Located on over 1,200 acres, Yosemite National Park is one that you won't want to miss. Your kids will love to keep their eyes looking for the waterfalls, not to mention that other abundance of wildlife and nature just waiting to be explored. Found in the Sierra Nevada Mountains, Yosemite National Park needs to be on your radar.
Pack up the tent and plan a night or two camping with kids adventure as well.
This is why we loved Yosemite:
There's so much to explore at Yosemite that you and your kids could literally spend several days there and not see it all.
The tram is perfect for those with young children. This alone makes it a great park for families. It allows you to see a lot of the park without having to deal with parking spots.
Yosemite has family friendly activities to choose from like a river rafting experience we went on together.
You are allowed to drive around the park yourself if you choose (some parks like Zion do not allow this, you must take their tram). Make sure you see Glacier Point.
It is relatively close to Sequoia National Park so you could easily visit both in one trip. (110 mi. away – SW direction)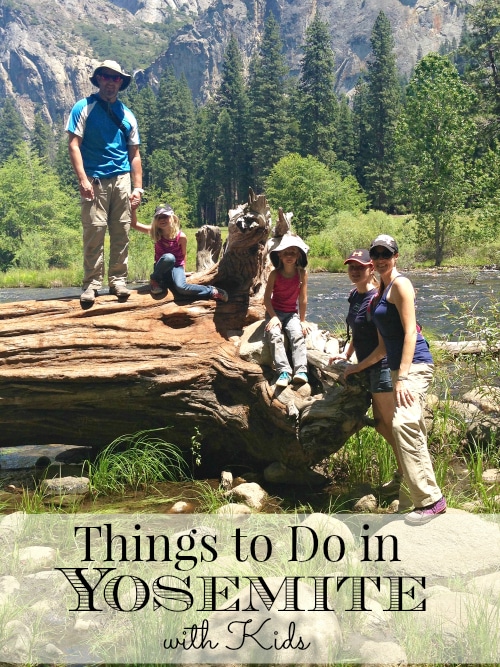 Most Kid Friendly National Park
Sequoia National Park
One of the best National Park for kids is Sequoia National Park. What child wouldn't want to look up to the sky and see the giant sequoia trees billowing over their heads? But do they know that there are different caves to explore as well?
Talk to your little ones about bear safety as well before you head out and visit the park. You never know what animals your visit might stir up!
Why we love Sequoia National Park
There are HUGE trees you'll never see anywhere else.
Horseback riding is available.
Find a ranger program for your kids.
You're able to drive and explore around the park yourself (no tram necessary).
There's a great city and lodging in Three Rivers just outside the Sequoia entrance that has lots to do (we spent the whole day there exploring when we went).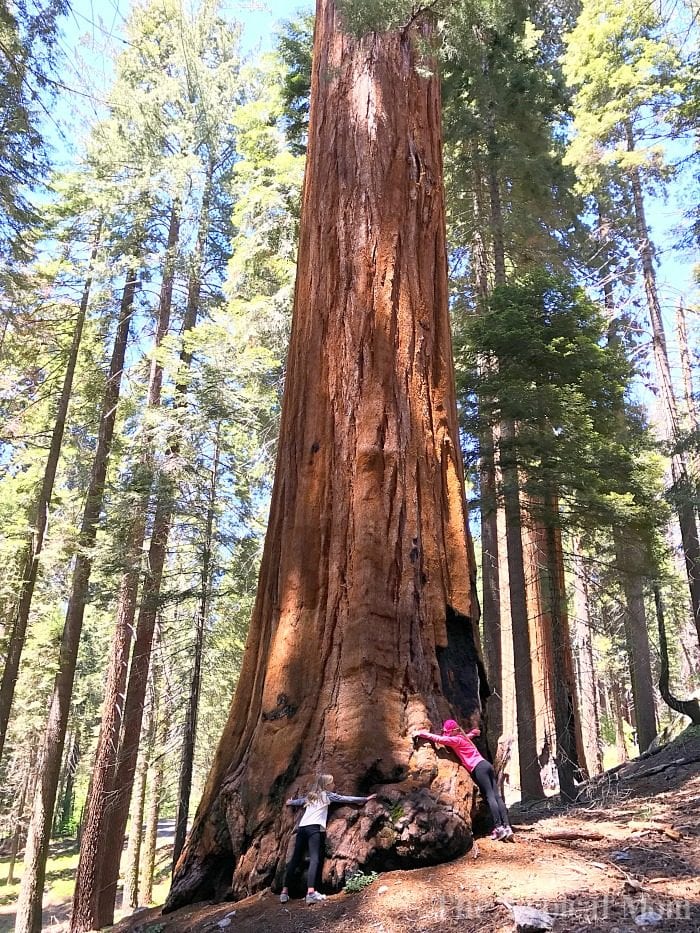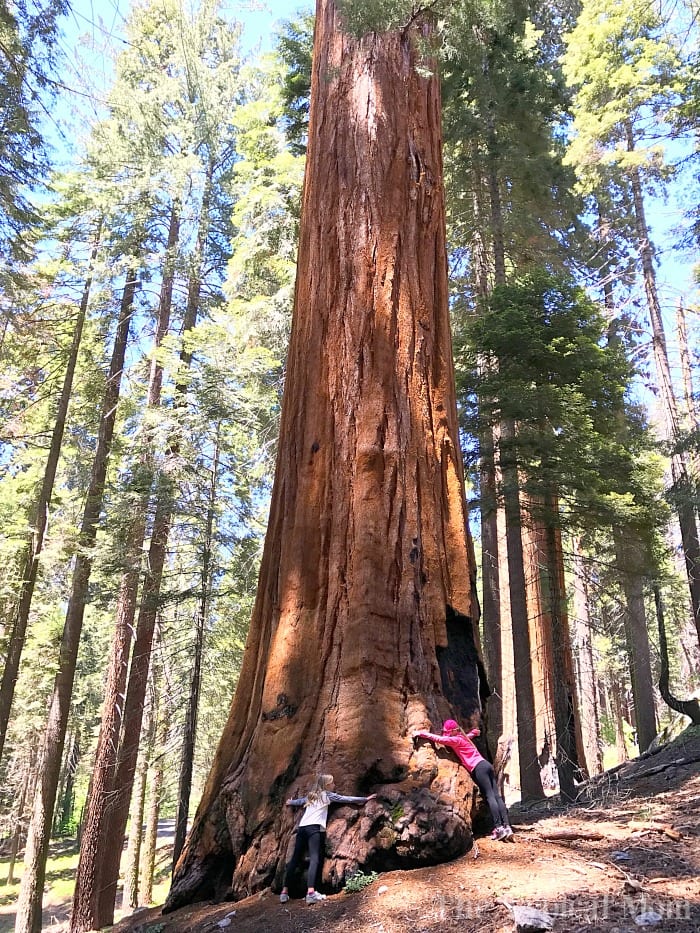 Best National Park road trips for families
The scenery in Utah can't be topped and adding in a visit to the Zion National Park is one of the many reasons why. Surrounded by giant red cliffs, your children will be in awe from the moment that they step out of your vehicle. You can even embark on a wading hike journey through the Zion Narrows (seen below). The free tram at the visitors center is a huge plus too.
This Utah National Park is one of the best National Parks for kids there is!
Other National Parks close to Zion

Bryce Canyon Utah was pretty with the red rock formations but not nearly as much to do with kids

Bryce is within driving distance from Zion so you can easily make a day trip there to just check it out and say "I've been there", that is what we did.

Grand Canyon National Park is within driving distance as well. We went there too because we hadn't seen that side of the park yet, it was worth it but Zion overall has a lot more to get out and do with kids.
Looking for lodging near Zion National Park
Our favorite place is by far Zion Ponderosa Resort which offers cabins or tent spots at reasonable prices, includes breakfast for everyone, and has TONS of activities like zip lining and horse back riding right on site!
If you are going to try and book the campgrounds in Zion you must do it EARLY…like at least a year ahead of time people!!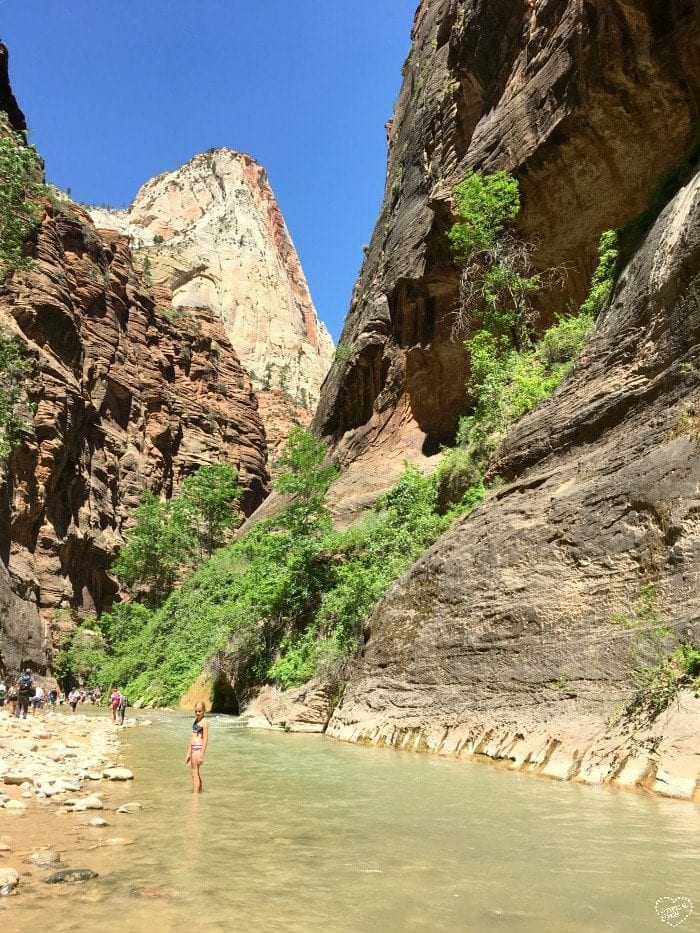 Yellowstone with Kids
Yellowstone National Park
Do you think your children will believe you when you tell them that Yellowstone National Park sits on top of a volcano hot spot? Even reading it is hard to believe, right? This National Park is actually so big, it spreads out into three different states! Part of it is in Montana, Wyoming, and in Idaho as well. This means you can visit 3 different states in one fail swoop!
Plus there are hot springs and steam vents all around the park!
Yellowstone is beautiful in so many different ways, but it's probably most famous for Old Faithful. Tell your kids to keep their eyes open because it is also home to a TON of different animal species. We photographed many herds of bison while we were there.
We went on a LONG 10 day road trip to Yellowstone and visited Mt.Rushmore as well!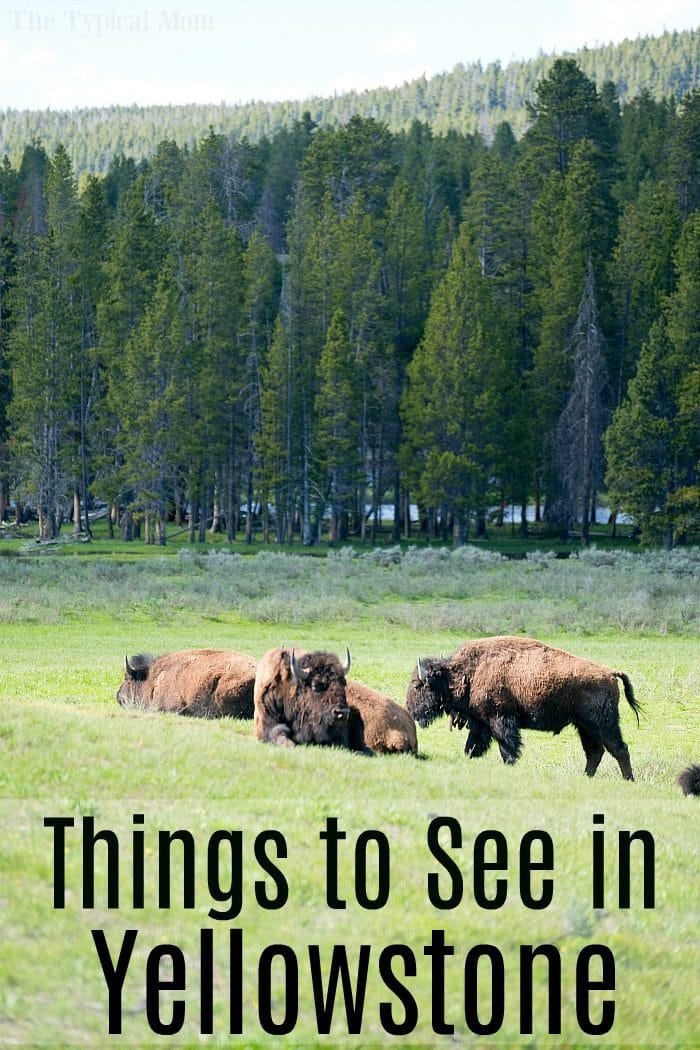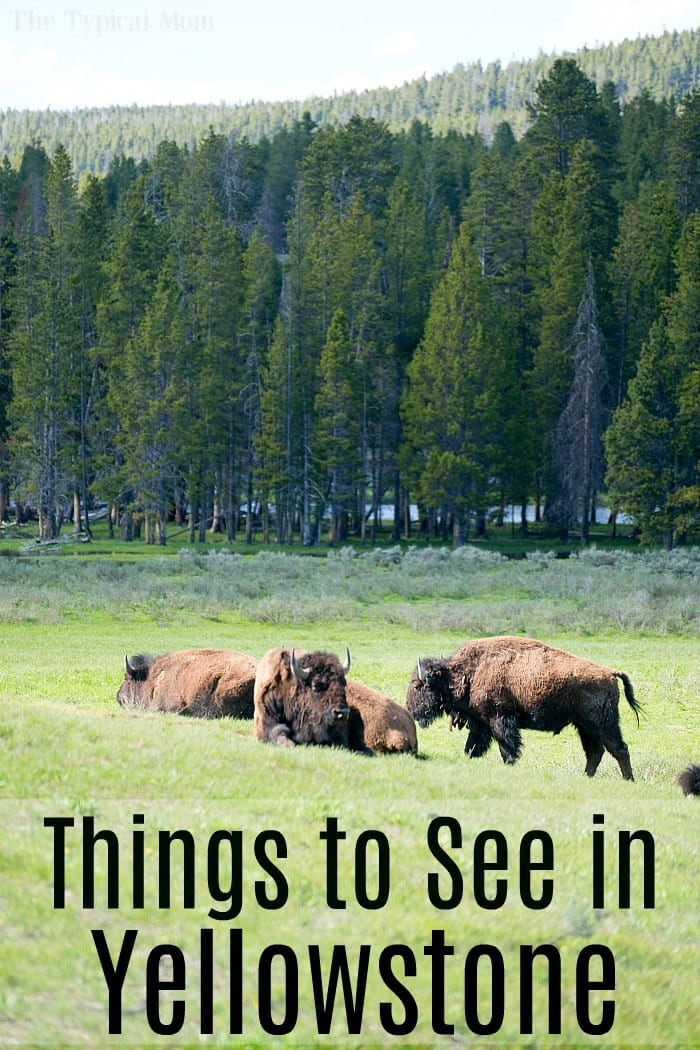 Glacier National Park with Kids
Glacier National Park was where we visited in 2019!
It is in Northern Montana almost into Canada and has spectacular lakes and views! If you love hiking this is a great spot to visit.
Going to the Sun Road is the most popular and main route through the park. Make sure to get up EARLY if you want to find a parking spot and explore the park on your own. Taking the tram is your best option with kids so you can see it all without the frustration of looking for a spot.
A trip to Everglades National Park needs to be on your radar! You and your kids will be certain to see a wide variety of animals. Some of the most beautiful scenery that one can possibly imagine is here too.
Great place to go camping, or to sit and do some great bird-watching. Once you arrive, you'll understand why it's one of the best National Parks for kids!
National Parks with Kids
Visiting a National Park is great for family vacations or a weekend getaway. If you happen to be lucky enough to live close enough to one, it can be an amazing day trip.
Keep in mind that National Parks can get crowded, so there are some tips to consider before planning your visit:
Best time of year to visit Yellowstone
Assume that the busiest times of the year for National Parks are during the summer months. This is when families can travel more because kids are out of school. It's also great weather to be outdoors.
Visit National Parks (and vacation in general) during the Spring/Fall when schools are still IN session

Plan early – Look at the school calendar. Also look at the schools in the state you want to visit. See when your kids are out but those schools are still in session and plan your trip then.

Arrive earlier in the day or later in the afternoon. You'll beat the heat and crowds then.
Some of these National Parks are in a very hot climate. The earlier or later you can arrive, the better experience will be for your kids. Don't underestimate the beauty of National Parks during the Spring, Fall and Winter months. National Parks offer so much to see and explore that a visit any time of the year is wonderful.
Take trams when they are available too. These are typically covered so you'll stay cool and save money on gas. It's an added "fun" part to your trip too that's typically free (like at Zion).
Visit National Parks Cheap
Parks on our list to visit next!
Acadia National Park in Maine to experience Cadillac Mountain and more
Rocky Mountain National Park and the Colorado River while we're there
Be prepared to pay entrance fee and parking fees
National Parks do have fees that they charge as entrance fees or parking fees. Be prepared ahead of time and work those costs into your budget. Rates tend to be at $35 per vehicle per day, so those fees can really add up!
There is an option to purchase a US Park Pass for $80 that gives you and three other adults (kids are free) to enter the parks "free" for the entire year. That's a great value especially if you plan to visit multiple National Parks in a year.
One of the best tips for visiting National Parks with kids?

If you have a 4th grader, you and your family can print off a free National Parks pass that gets your entire family into any park for free! It's a movement to get kids interested in exploring the beauty and wonder of our National Parks and it's awesome!
These National Parks are amazing to visit with your kids, but don't forget to explore all the other options too!
There are so many wonderful parks to see and visit in the United States. You could literally visit one per month for several years and still never see them all!
For more easy recipes, tips and free printables please LIKE The Typical Mom on Facebook and follow me on Pinterest! You can also sign up for my free weekly newsletter which is packed with goodies I know you'll love. 😉