Why we absolutely love Zion Ponderosa Ranch Resort in Utah! This is a great family vacation destination that we have been to twice because we love it so much. Lots of activities, hiking, zip lining and breakfast is included when you stay in their log cabins. Amazing hidden gem outside Zion National Park.
If you're looking to go on a road trip or take your family somewhere that's incredible for all ages…..Zion Ponderosa Ranch Resort right outside Zion National Park is a great destination! The 5 of us packed ourselves in our car this summer and took off to our "cabin in the woods!" I found this place 5 years ago and we had such an incredible time there we went again for a week long adventure! Special thanks goes out to Zion Ponderosa for hosting us for the week so we could share our photos and experiences with all of you, one of our favorite trips shared on our road trip blog. (originally published 4/14 on our 1st trip, pictures have been updated to include our 6/15 vacation there, we are visiting for the 3rd time this summer 2019 as well!)
Zion Ponderosa Review
Not only does Zion Ponderosa have tent sites, real log cabins called Cowboy Cabins, larger cabins that sleep 6 (where we stayed), and even larger accommodations that sleep multiple families (up to 34 people), but they have TONS of amazing activities right on site like:
Things to do Zion Ponderosa Ranch
Horseback riding
Miniature golf
Zip lining
ATVs (small enough for kids to ride on a track)
UTVs (to explore their vast property and find hiking trails -that is what we did)
A pool with rock slides
Canyoneering (planning on doing this this Summer 2019)
Guided hiking (we did hiking on our own but would love to include this in our trip this year)
Paintball
Jeep Tours (stay tuned as we are planning on doing this this year)
Climbing wall
Kids camp (if you want to take off for the day alone)
Wagon ride/dinner
And much more on their beautiful grounds!
I know what you're thinking……sounds expensive, but it is really reasonably priced too (love that)
** DO NOT Wait to book your stay for this Spring Break or Summer as they book to full capacity Quickly!!
Zion Ponderosa Ranch Resort
We visited the North Rim of the Grand Canyon one day (1.5hrs. from there or so)
Drove to Bryce Canyon Utah one day
Two days were spent exploring Zion National Park (the closest National Park to Ponderosa)
The rest of our trip to Zion Ponderosa Resort were spent right there on site enjoying all the activities they have to offer!!
It is so centrally located that you can visit multiple National Parks during your stay, and they offer Zion Ponderosa cabins that fit multiple families so it's a great place to have a family reunion and experience it all together!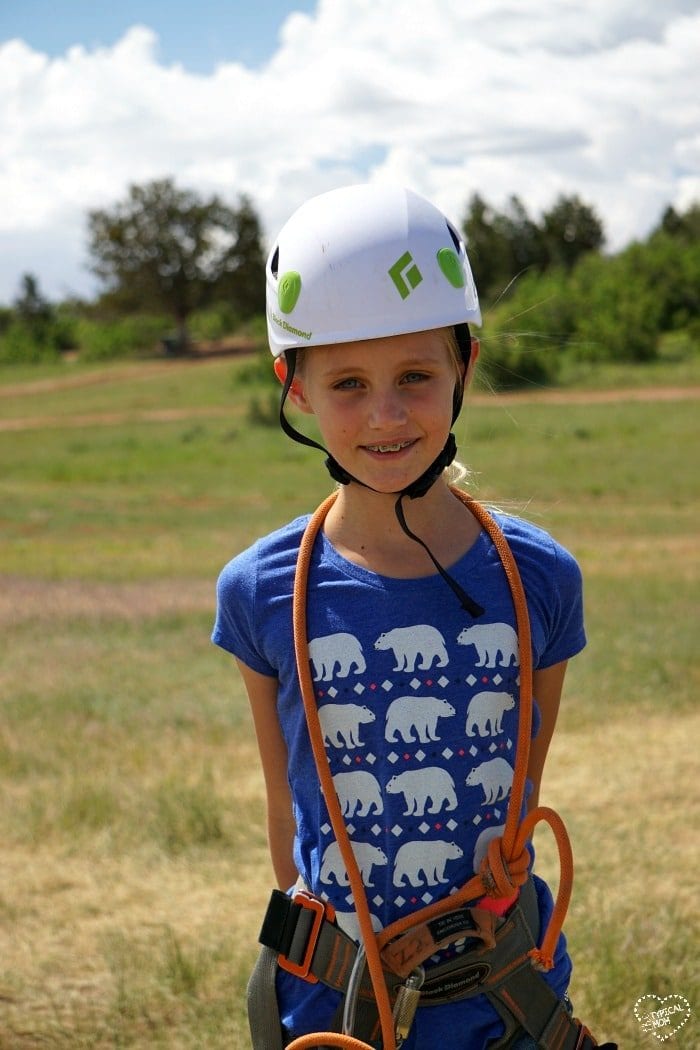 Family Resort Zion National Park
Four years ago all of my girls took a trip down their zipline. Then when I said we were visiting Zion Ponderosa again that is what they remembered! Said it was their favorite family resort ever.
My littlest one was just 4 back then and she still remembered her trips down the line over and over again….so much fun!
Now that they were all a bit older they were able to do all of the activities there like an hour long horseback ride.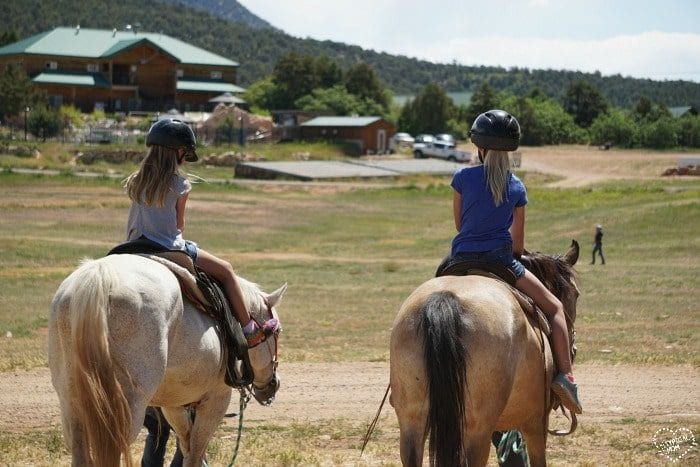 Another activity they really enjoyed were the mini ATVs. My oldest was able to drive one herself at 16 years old, but they also had these cute golf carts that my younger children were able to actually drive….and since Mom was busy taking pictures a staff member volunteered to ride with my middle daughter.
Rock climbing wall was next. So much fun!!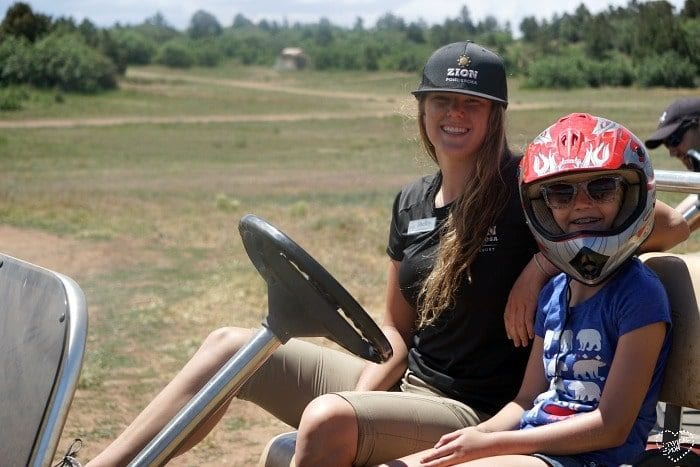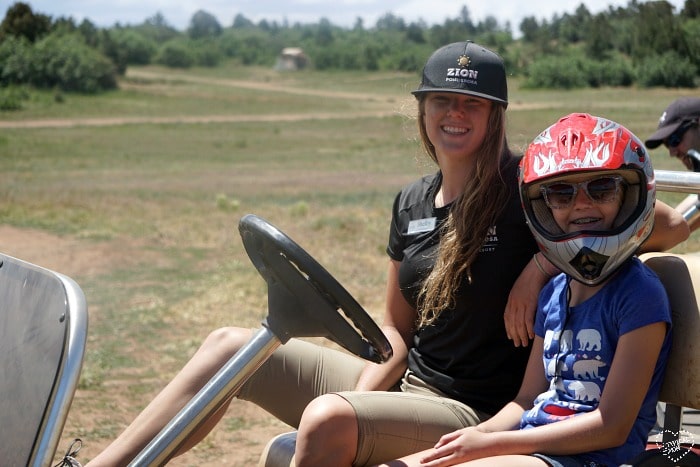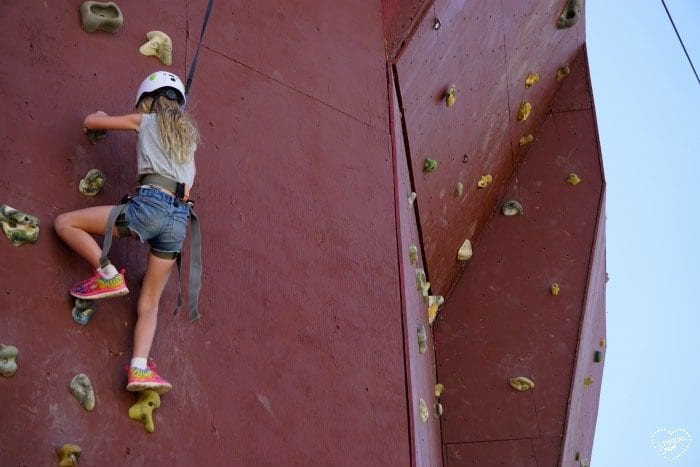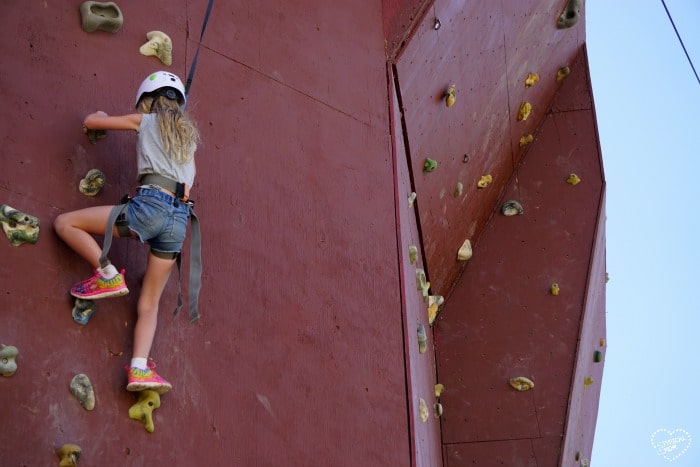 Activities at Zion Ponderosa
There are tons of activities included in your stay too like a playground, basketball court, volleyball, 2 incredible pools with rock slides (we spent a ton of time there), and they were in the process of building a tennis court too!
You know what else is included in your stay in their cabins…….Free breakfast each morning!!
This saved us a ton of money and allowed us to fuel up easily in order to start our busy days….loved that perk!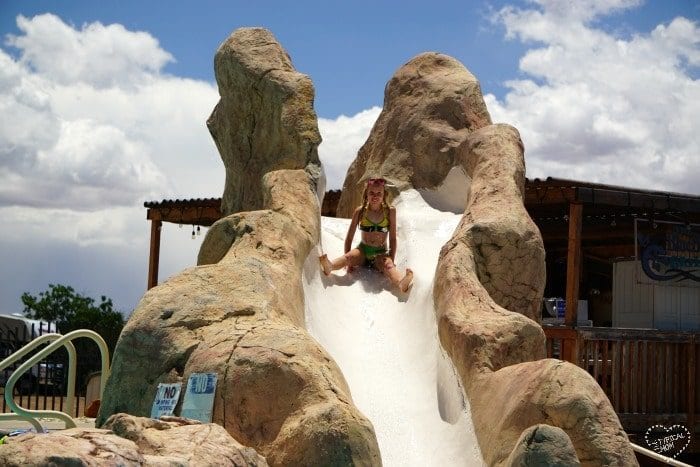 Their grounds are so beautiful and expansive, you can see an aerial view here.
You can drive down some trails and get to hiking trails that overlook the valley that are just so amazing I can't even describe how beautiful they are.
Here's a video of their grounds and just some of the activities they offer.
This is a peek at the end of our hike to Observation Point.
We drove to the beginning of the trail and then hiked the rest of the way.
There's so much to see before you get there but at the end it's just breathtaking!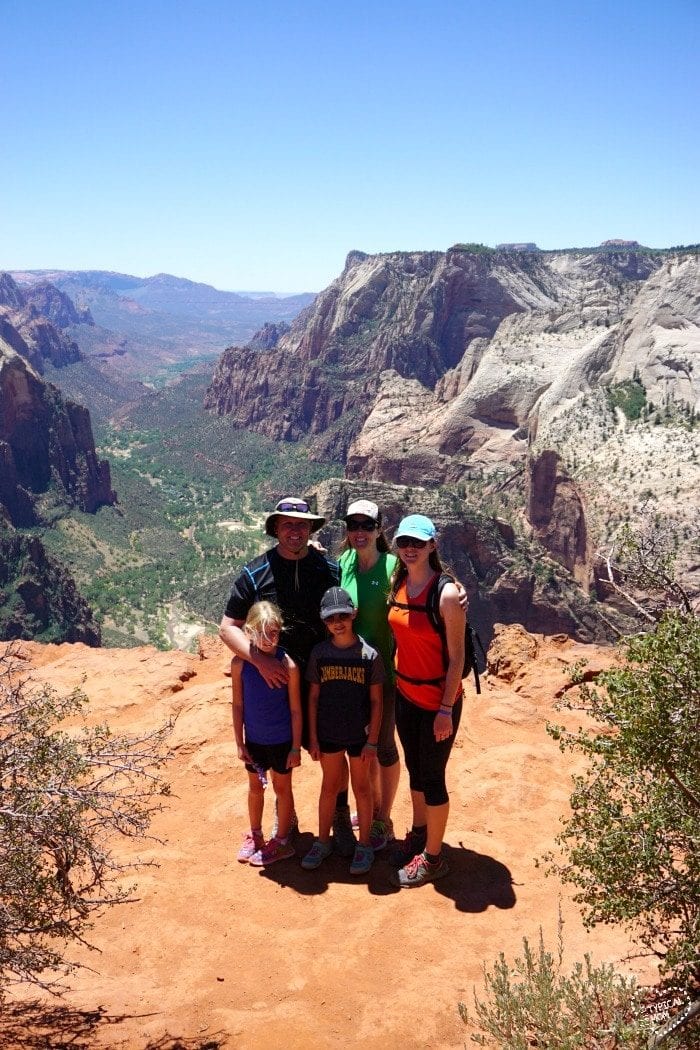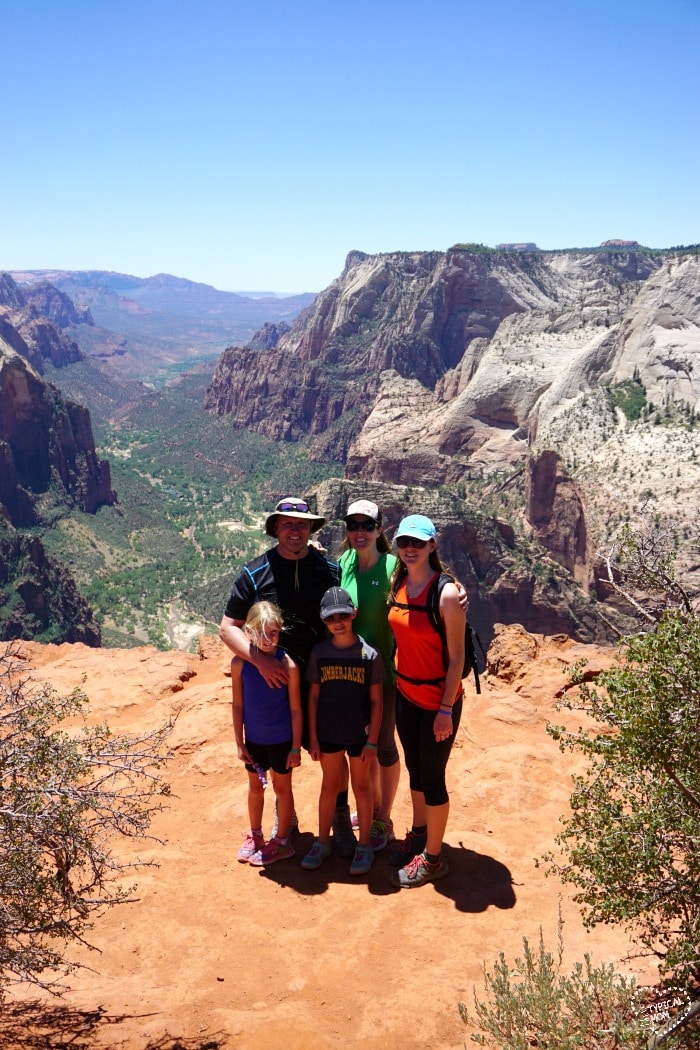 This is just one of many hikes you can take, and the staff at Zion Ponderosa will give you maps to many others.
You can explore a lot just out the front door of your cabin, or take a guided hiking tour. ATVs are available to rent too so you can explore many other areas and trails. Jolley Gulch was probably our favorite spot.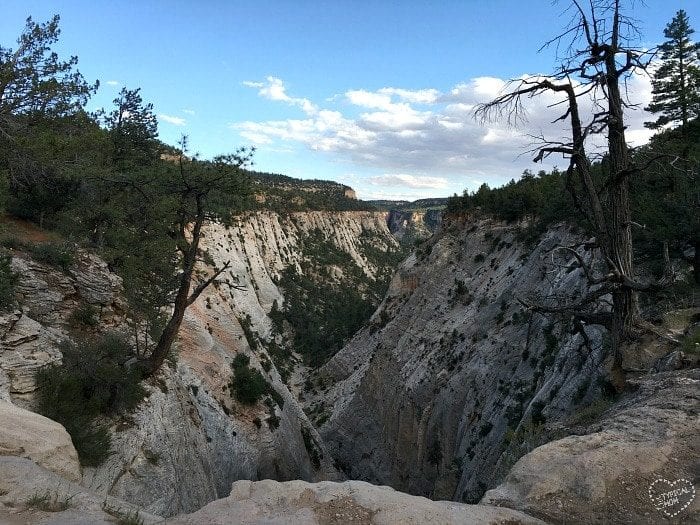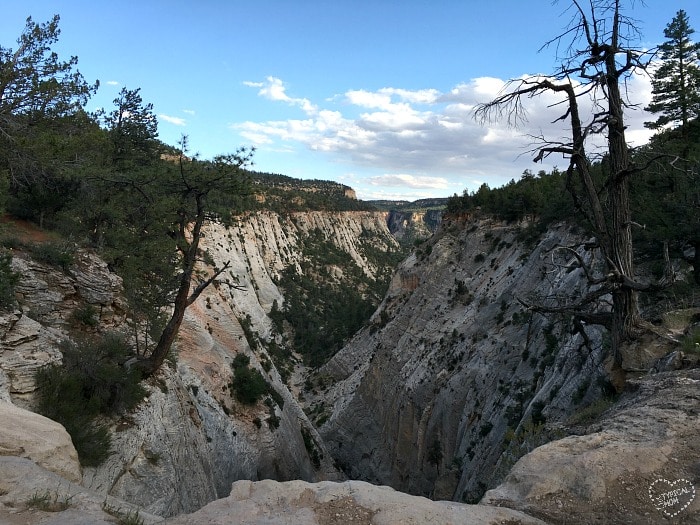 Jolly Gulch
I seriously could go on and on about how much we love Zion Ponderosa Ranch Resort! We have never gone on the same vacation twice until this one. There is just so much to do on site.
The location is perfect for visiting some of the best National Parks. There is a lot of hiking you can do. We just couldn't do it all in one trip. Our second visit was just as wonderful as our first.
While we were there they had a really large family reunion there…perfect location for that. They rented out one of the Moose Lodge just down the road (sleeps up to 34 in one home) so they could all stay together. How awesome is that idea!
You can make reservations for your family to stay at Zion Ponderosa Ranch Resort online too. It's one of the best family vacations we've ever taken. Tell them you saw it all on The Typical Mom blog and enjoy!
They offer a women's retreat as well.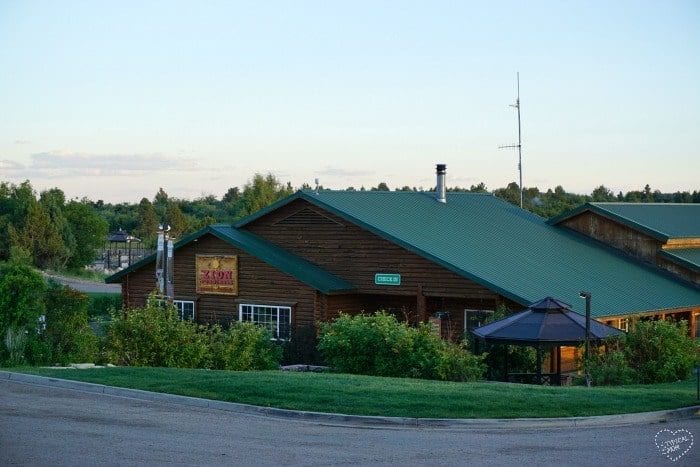 For more easy recipes, tips and crafts please LIKE The Typical Mom on Facebook and follow me on Pinterest! You can also sign up for my free weekly newsletter which is packed with goodies I know you'll love. 😉