See pictures of Zion Ponderosa cabins here. Vacation homes and cabins offered at Zion Ponderosa Ranch Resort in Utah, wonderful family vacation destination.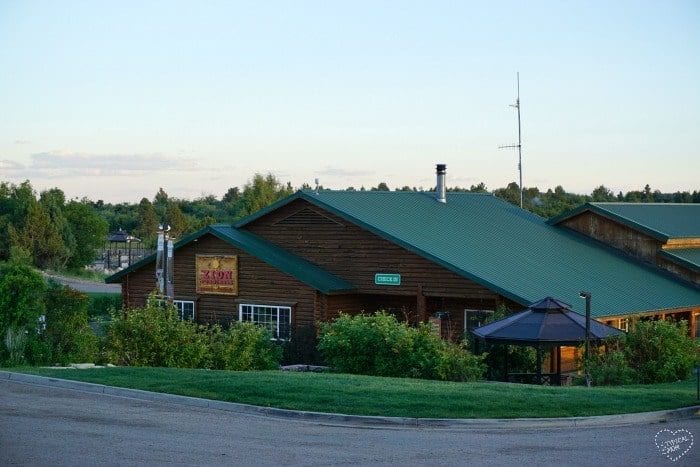 We recently visited Zion Ponderosa Ranch Resort for the second time and stayed in two different cabins. Four years ago we stayed in the smallest, their Cowboy Cabin, and this time we stayed in two a bit bigger…..let us show you around two of the Zion Ponderosa cabins!
Zion Ponderosa Review
If you haven't yet discovered Zion Ponderosa it is a great family vacation destination. We'd like to show you what the 2 cabins we stayed in. There is one cabin we didn't stay in but did during our first trip to Zion Ponderosa. Those are the cheapest and called Cowboy Cabins.
They're the smallest of the cabins they offer but big enough for up to 6 people. With a queen size bunk bed and a pull out couch it's good for about 4.
It's a great deal at about $100 a night and includes free breakfast each morning too. Along with all of the free activities on the grounds.
Zion Small Cabins
The first 4 nights the 5 of us stayed in their Cabin Suite. It looks similar to the Cowboy Cabin on the outside but provides a bit more room. It has a bathroom, bath/shower, t.v., mini fridge, dresser, and microwave inside.
As in the smaller cabin it too has a queen size bunk bed and a pull out couch for sleeping. It was plenty big enough for the 5 of us. We cooked outside 2 nights on the bbq as well.
Zion Ponderosa Cabins
They will clean it in the morning if you so desire, just like a hotel. We were able to get extra blankets as well when they came around. It's a nice way to have a few of the comforts from home while feeling like you're "camping".
There's a small shop in the front office where you can purchase ice, charcoal for the bbq, and snacks. This is quite helpful because the nearest store is quite far.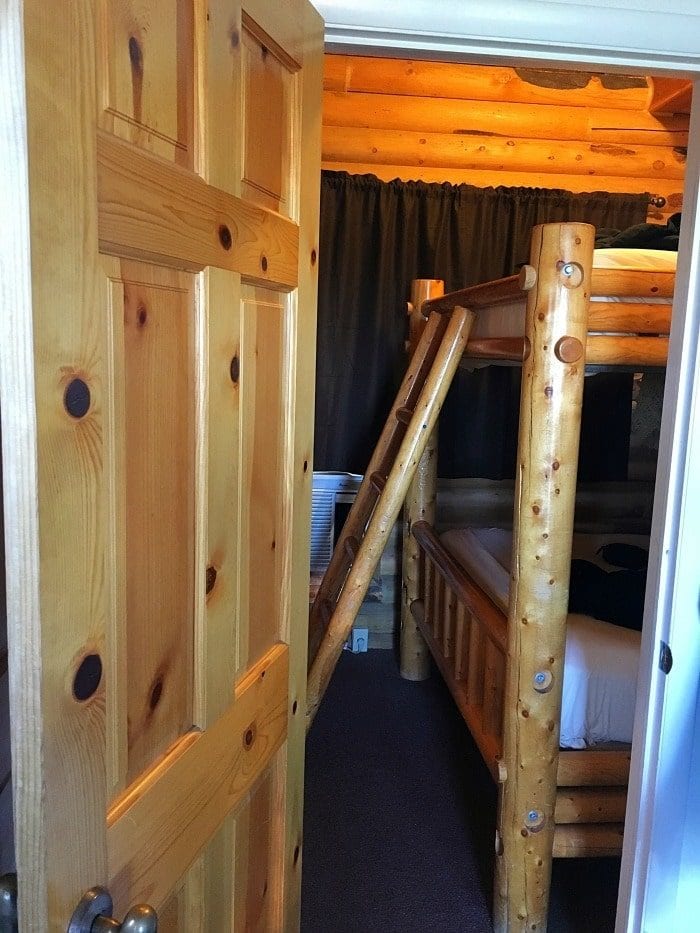 Zion Ponderosa Campground
Our last two nights we moved down to the area with larger homes. We were able to stay here in The Tranquility Cabin, and what a view it had!
As well as it being much larger with 3 bedrooms, 3 bathrooms, a laundry room, and kitchen it had a huge porch. You can partially see it here where you could bbq and/or sit and relax throughout the day.
Totally amazing right??!! Inside it had all the amenities you could want in a home including internet and cable. Our family of 5 fit comfortably but could easily have had another smaller family join us.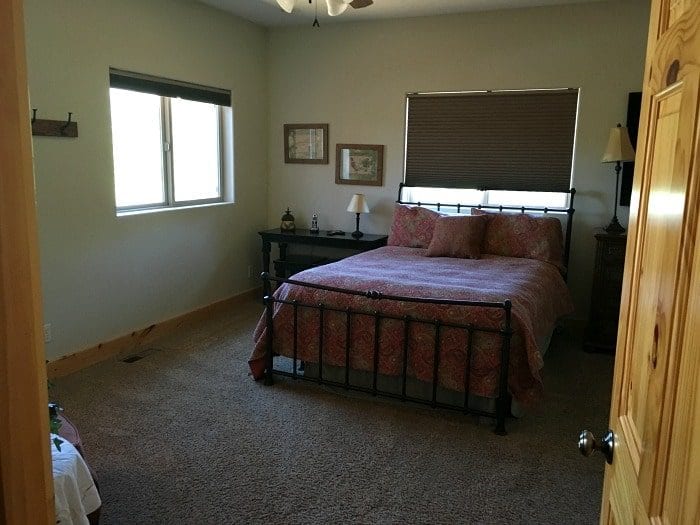 All three bedrooms had a connecting full bathroom which was nice. One bedroom had large bunkbeds that were perfect for my smaller 2.
The second bedroom could easily fit another couple if you wanted to go with another family.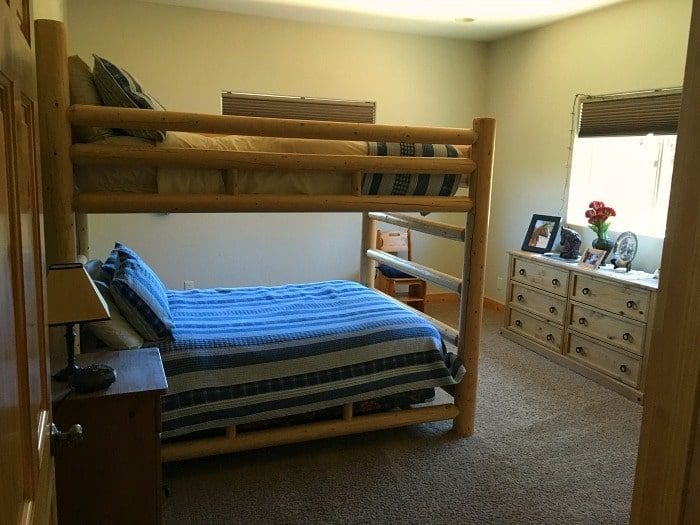 The kitchen had all the pots, pans, utensils and plates/cups you needed. We had a cooler with us all week and brought easy to put together meals for our trip.
Since we had a stove we made spaghetti for dinner and relaxed in the living room during the evenings. They had such a great view outside.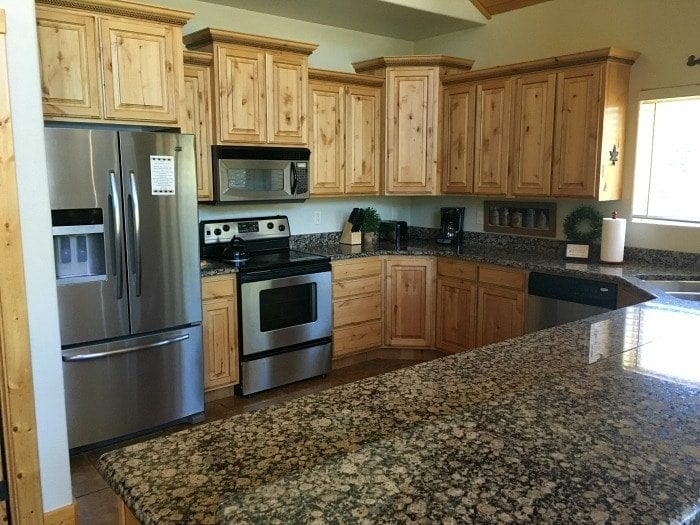 There was a family reunion going on when we were there. They were able to stay in a cabin such as this, but a much larger version. This would be a great way to connect if you live far apart.
There is a cabin that fits up to 34 people at Zion Ponderosa Ranch Resort. There are many other sizes in between as well. You can see all the options for vacation home rentals and info. for making reservations are here.
It was a great stay. In a great location between many National Parks, and so much to do right on site. Enjoy your stay!