This is why we love Zion National Park Utah! From a family who travels often we share with you where we stay and what to do when you visit this beautiful Utah National Park.It's a beautiful area to visit on vacation with your kids and there's lots to do inside the park that is free.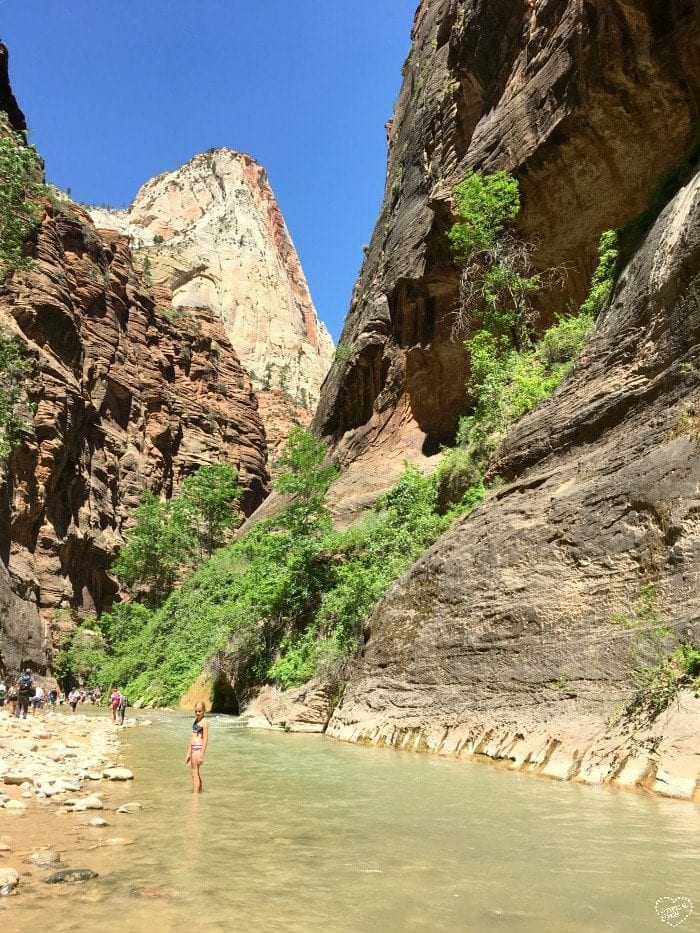 We just got back from going on a road trip for a week to a few places including Zion National Park Utah! If you've never been there is SO much to do there and it is absolutely gorgeous…even my kids couldn't get enough of it. Let us show you shy we loved it. I start off by sharing this picture because it was the BEST time there! The Narrows as they call it inside Zion National Park Utah is really awesome. You start off by parking at the visitor center and everyone gets on a free tram that takes you around the park and lets you off at 12 different spots, this is near the end of the route. Once you get off you walk a bit and once the path ends, THIS is what you see!! Added to our road trip blog as one of our favorite trips! (originally published 8/16)
Why we love Zion National Park Utah
Free tram inside the park
Lots of hiking trails
Beautiful scenery
The Narrows where you can take a dip
Wildlife roaming freely
Great visitor center
Close to other National Parks so you can visit several in a short period of time
The first stop we got off was Weeping Rock, I will show you why it's called that in a minute. We packed a picnic lunch in our backpacks as well as our swimsuits (to enjoy The Narrows) and ate here….what a view right??!!
There's a pathway to the top where the rock opens up and water from the top of the mountain is "weeping" or dripping down (quite a bit), and on the platform this is your view!
It's hard to see just how much but you can see how we it is at the bottom. We came into Zion twice during our week long stay at Zion Ponderosa (the most amazing resort – very reasonable too) and had plenty to do there. It is centrally located so you can visit the Grand Canyon and Bryce Canyon Utah as well. Just a tip – if you have a 4th grader or soon to be 4th grader you can also snag a FREE National Park pass for your entire family and save you the $25 entrance fee per park too. 😉
This is Observation Point which you can hike up to from inside Zion National Park but we started off near the resort and got this view!!
I highly recommend taking your kids to National Parks and take as many vacations as possible, they make for wonderful memories for each and every one of you!
For more easy recipes, tips and crafts please LIKE The Typical Mom on Facebook and follow me on Pinterest! You can also sign up for my free weekly newsletter which is packed with goodies I know you'll love. 😉