What to see in Sequoia National Park is easy for us to answer since we just went on a road trip and stayed there this summer! Such a beautiful location.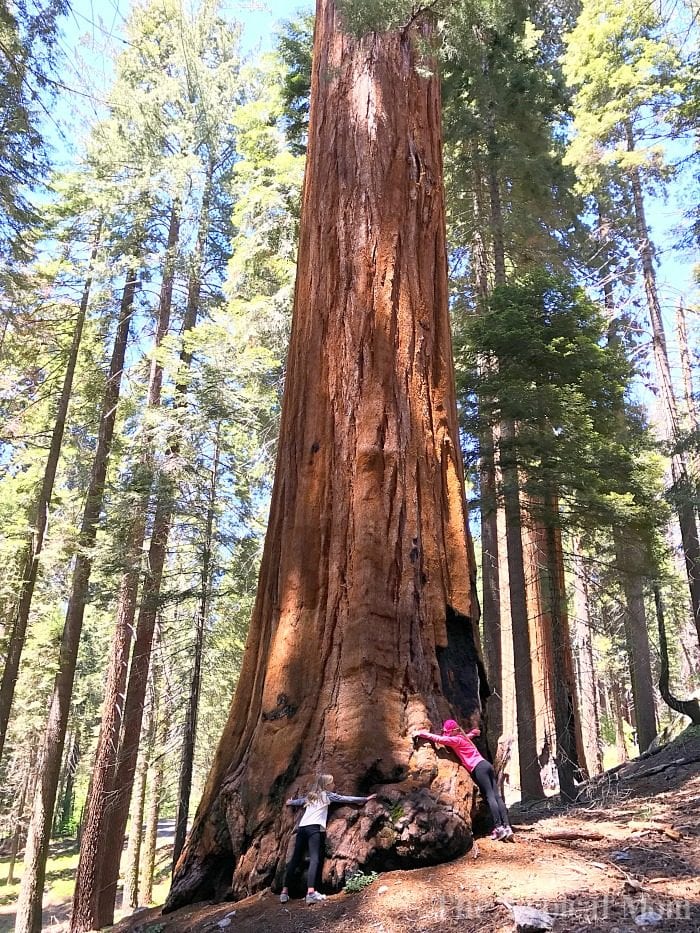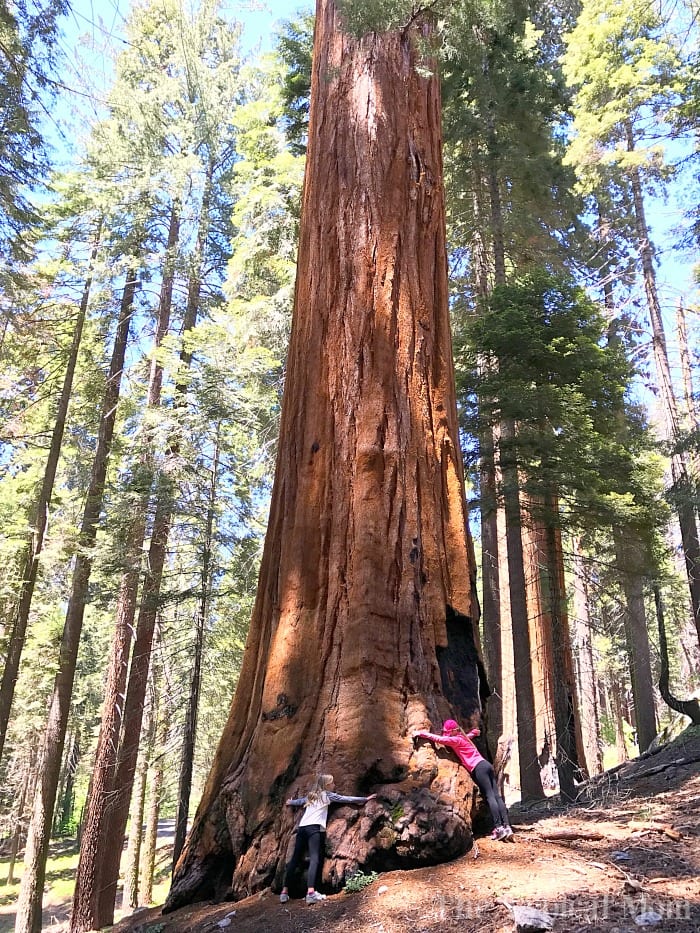 We take a lot of road trips! Each summer we pack all 5 of us in our van to see the giant sequoias. Now we're here to share what to see in Sequoia National Park with all of you to encourage you to road trip with your family too. This and tons of other adventures are on our road trip blog for you to see too. (originally published 6/17, affiliate links present)
What to See in Sequoia National Park
For this Sequoia road trip we also saw visited the following locations: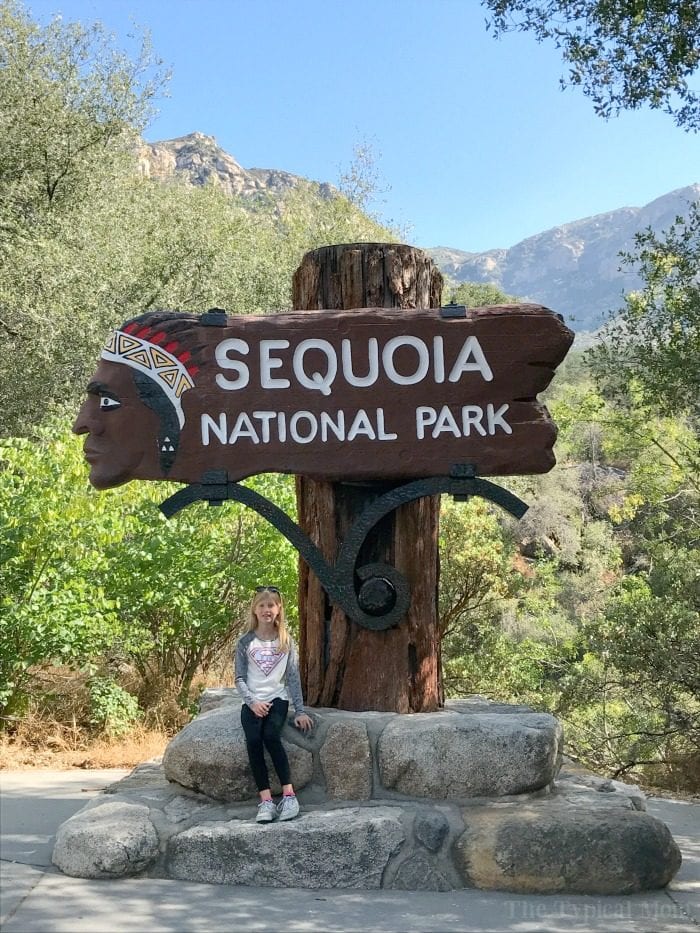 What is the best part of Sequoia National park to visit
There are tons of things to do in Sequoia and Kings Canyon National Park but first you'll need to pay to enter. BUT if you have a student of a certain age you can get a free National Parks pass here. It's good for all the parks throughout the entire United States for 12 full months. We used it a lot the 2 years we were able to qualify for one.
You'll enter on Generals Highway, seen above. Unlike other parks and visitors centers we've visited, you are free to drive around the park yourself instead of taking a tram. This makes it one of the best vacation spots for kids!
When we visited Zion National Park last year we had to take a tram around the park which was nice but sometimes driving is preferred.
The big General Sherman tree the largest tree of them all is a must see, but there's a lot beyond that.
What can we see in Sequoia National Park
Here is the General Grant tree and all it's glory! It is a short walk from the parking lot and there are other beauties along the pathway to take photos with. The trees trail is not steep with a slight downgrade to the bottom.
They really do look like enormous Christmas trees, but larger than you could ever imagine. You really need to see and feel them for yourself in person.
You can visit the Giant Forest Museum for more information on the park and trees which is great. BUT they do have a lot of learning opportunities along the way as you see here above.
Easy to read so children can understand more about tree growth, age, etc.
If you're looking for MORE of this hit the Congress Trail loop too!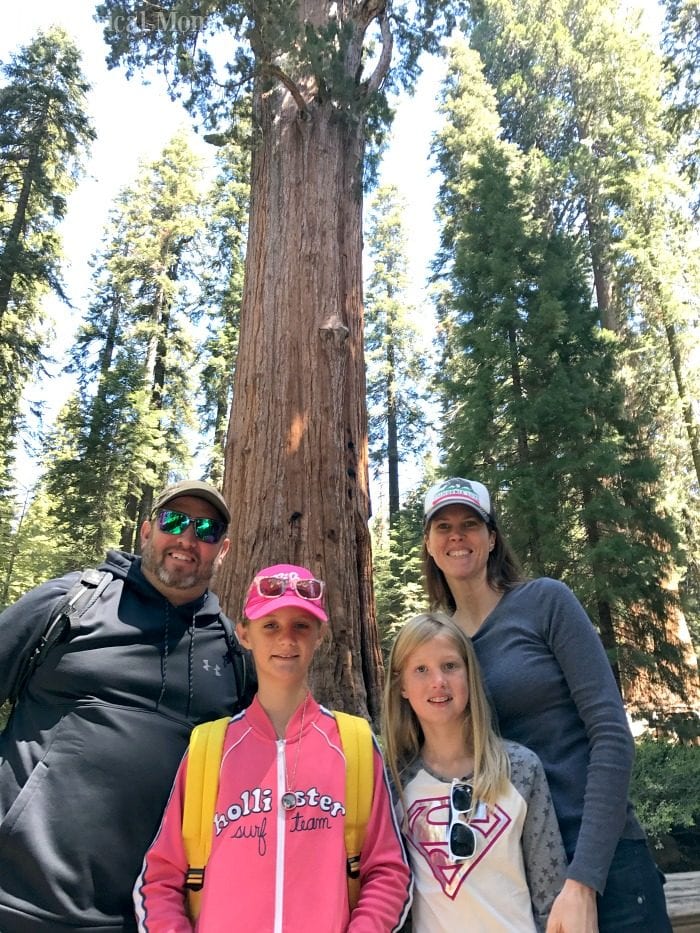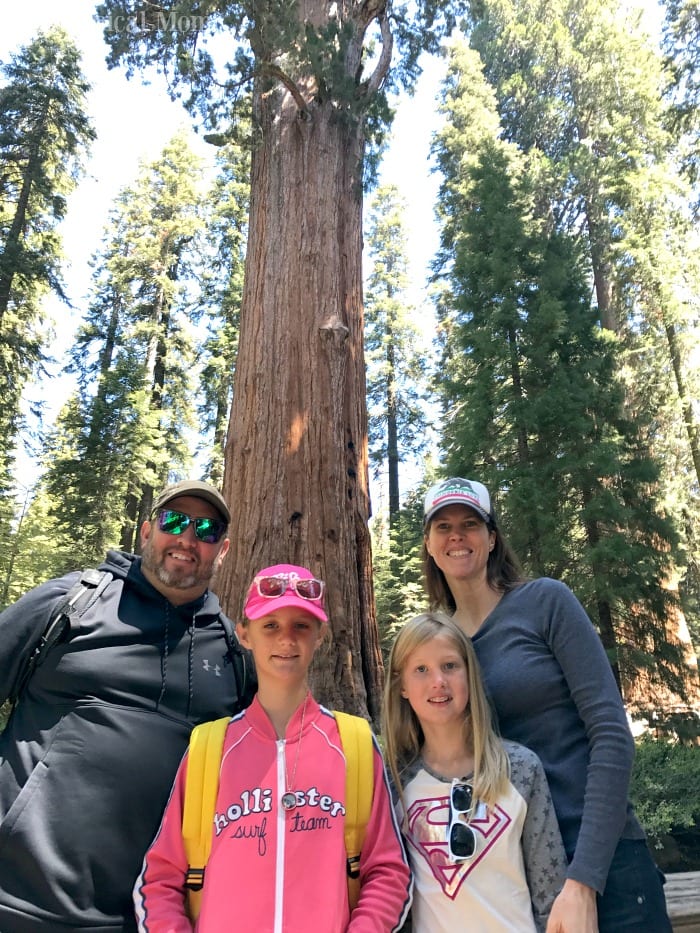 This photo is along the trail where The General Sherman Tree is located. It isn't the only thing to see on this long trail that you'll want to see.
There are really cool other trees that are just massive in girth as well as height and small hiking trails as well. It's a great photo opportunity and everyone is always willing to swap cameras or phones to take a picture of your whole family.
It was kinda' cold that day even though it was summertime so I would bring a light jacket with you as well as a few snacks and of course water for everyone. You can spend quite a bit of time there exploring. There is even a slice of a tree you can tough and get up close to that has hundreds of rings so the kids can see and read all about it.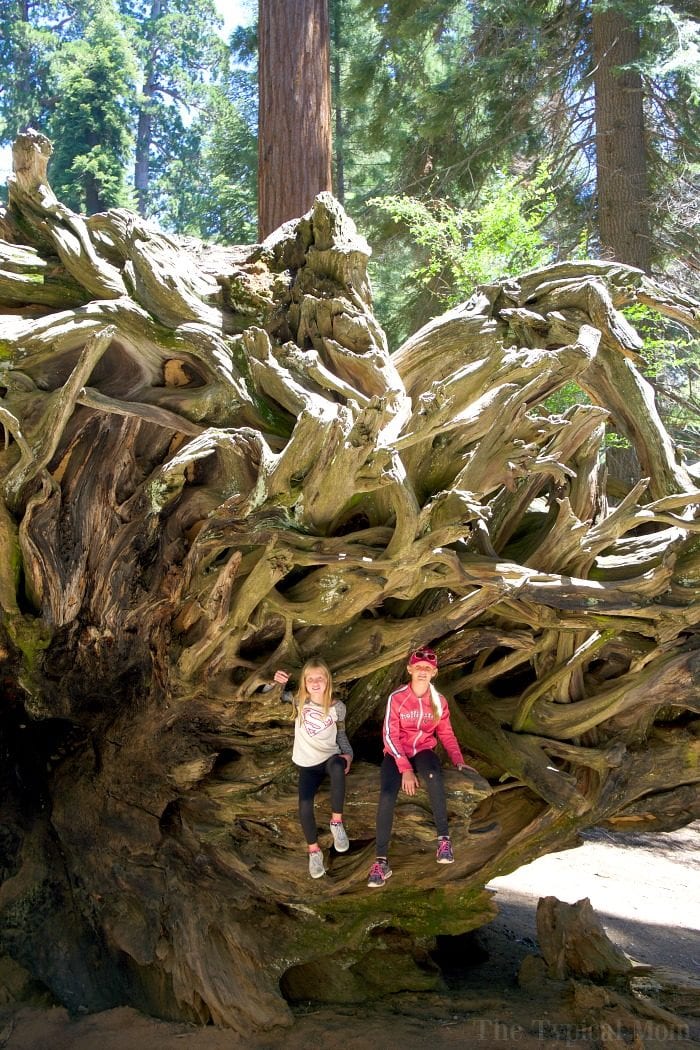 I think this is the best part though…just exploring!! We found the best photo ops and most unusual things to stop and look at when we were just driving and looking for viewpoints around Sequoia, like this GIANT tree that had fallen over and you could climb right up into the roots!!
How cool is that??!! Something your kids definitely won't forget.
The top ended up being like a really long bridge. You could walk right across it and check out a huge tree up close. Feeling the bark and getting a higher vantage point over the park was a great perk too.
Things to See in Sequoia National Park with Family
The next day we decided to do a bit of light hiking and headed toward the Moro Rock Trail. We thought it looked like a winner and something unusual…it certainly was!
It is not for those who do not like stairs though, lol. I gave my youngest the task of counting how many there were. I think her count (one way) was 467.
It is all made of rock and quite narrow going up. So narrow at some points where only one person can pass at a time. Once you reach the top though, you have an incredible view of Sequoia National Park and beyond. Probably on the top of our list of what to see in Sequoia National Park.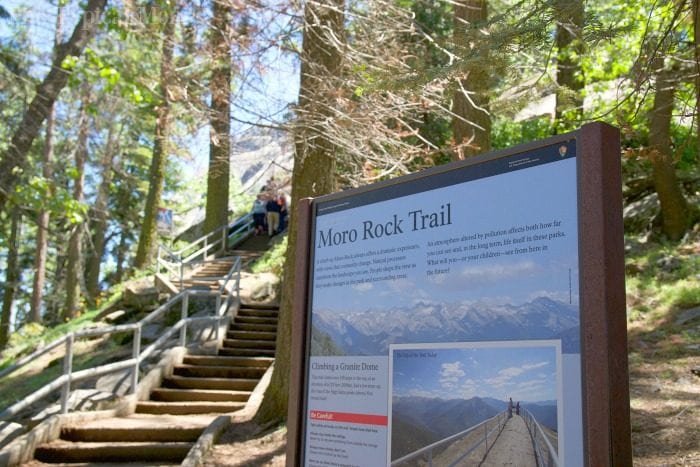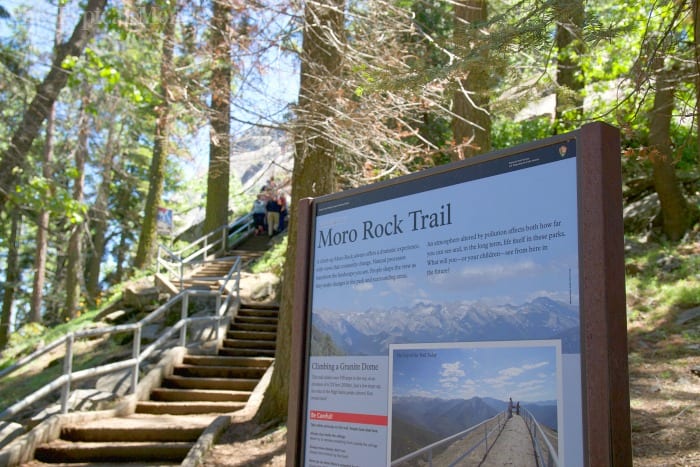 Grizzly Falls in Sequoia
We really wanted to go into Crystal Cave but when we went to make reservations for the next day they were already booked, so I recommend you making plans and paying for your time slot before leaving to make sure you get to do this.
It looks incredible!
Also make plans to visit Grizzly Falls while you're there. We ran out of time so we didn't make it this time.
When I visited about oh…..30 years ago 😉 there was a huge tree you could drive your car through. Apparently that is not there any longer. However, they made a tunnel log out of a fallen tree so we went ahead and did that. Not quite as cool but a close 2nd.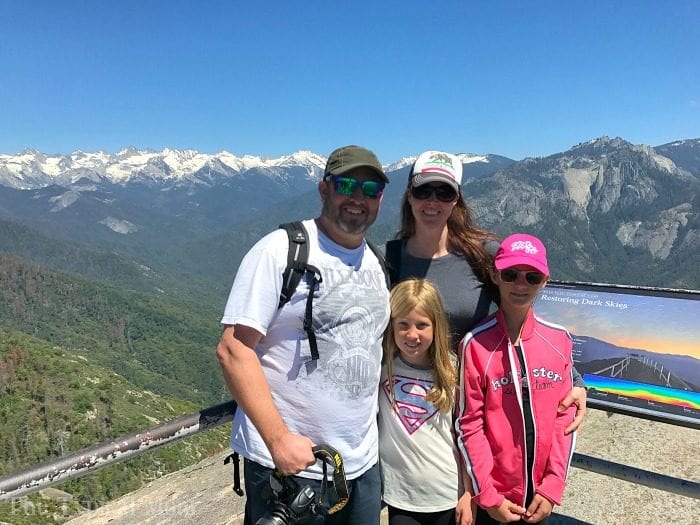 Sequoia Activities with Kids
If you're looking for more of what to see in Sequoia National Park there are tons of day hiking trails for those who are looking for something short and flat all the way to really intense trails too. What to see in Sequoia National Park is a long list.
For families though I would say short hikes, site seeing, and the caves were the best experiences. Here are a few other things we would like to do together the next time we visit.
Horse back riding
Stay inside the park itself (this time we found lodging near Sequoia National Park in Three Rivers)
Snowplay if we come during the winter
If you're looking to do a longer road trip you should visit Sequoia. Then head over to Yosemite, it isn't too far away. Have fun!!
Want to see a few of my favorite things that I am totally obsessed with?? Take a peek and see how many you might already have…twinsies!
Looking for more easy family recipes and tips? LIKE The Typical Mom Facebook page?
Then sign up for my free newsletter, and follow me on Pinterest! 😉
***** If you LOVED this recipe give it 5 Stars below and let everyone know what you thought about it. 😉