Here are a few of the best bbq recipes for desserts! If you've never made dessert on the barbecue it is a fun addition to any get together. From s'mores pies to cupcakes and grilled peaches with honey you will find something you'll love here.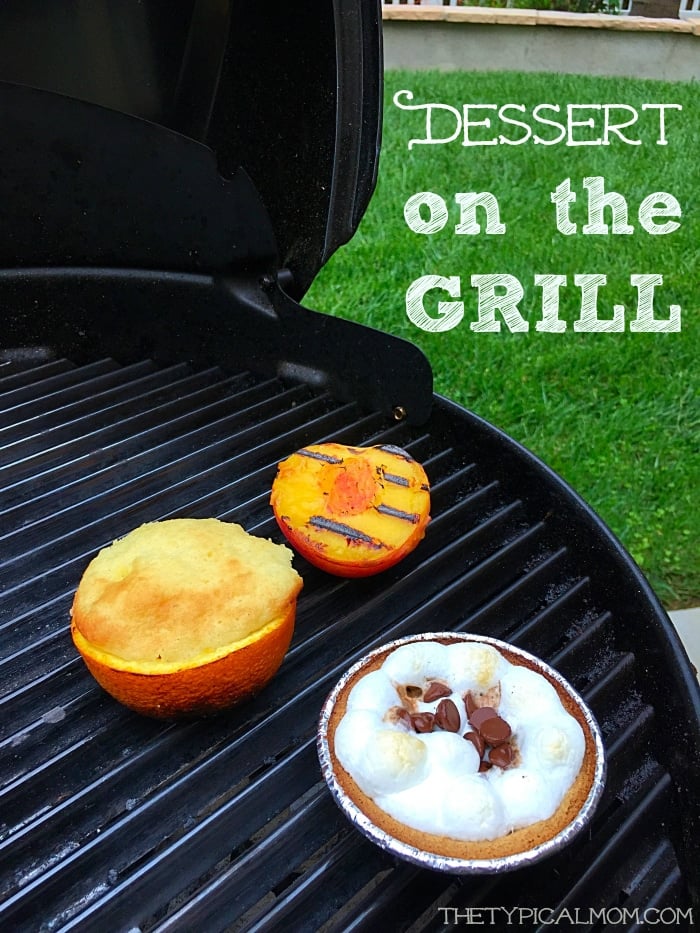 It's BBQ season! Let me show you a few of the best bbq recipes for desserts we like. This is our favorite time of year when we invite family and friends over. Lght the barbecue, and cook up some amazing food is where its at. If you've never made dessert before on the grill it's really yummy, and a FUN to do too. (originally published 7/15)
Dessert on the Barbecue
Now we're ready to grill!! We have a lot of easy Summer bbq recipes, but these 3 are our favorites!
They are easy to do. Your kids can help prepare them, and you can find everything at your local grocery store (no hunting required). Let me show you how to make the first one, we like to call them orange zest cupcakes. 😉
Barbecue desserts
You will need a few oranges for this easy bbq recipe….those are easy to find!

First, cut the oranges in half.
Each person will get 1/2 so just count accordingly.
Make a batch of vanilla cake mix as directed and set aside. I just use boxed cake mix. Here's a recipe for 6 cupcakes, but you can go all out and make homemade if you'd like.
Use a sharp knife to cut around the edge and remove the inside of the orange. We put the fruit in a separate bowl and make fruit salad with that.
You will be left with a scooped out orange rind like you see here. Then you are ready for your next step.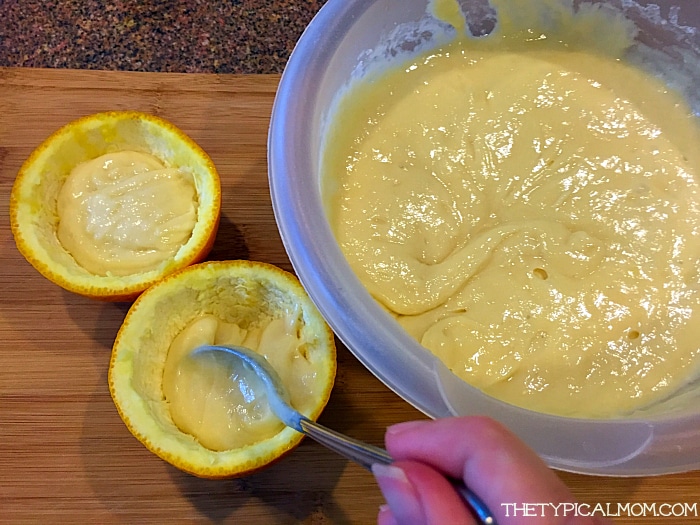 Cake on the Barbecue
This is totally possible y'all. It will look a bit different but it is a great way to show kids how you can use things that would normally be discarded.
Scoop the vanilla cake mix into the orange rinds and ONLY fill half way….very important!
When you are ready put them on the bbq, close the lid and cook for about 10 minutes.
Check half way thru because of course each bbq and briquettes burn at different rates. Just take a peek after about 5 minutes.
Once they are light brown on top they are done. You can remove from the heat and eat immediately or let them cool down before serving.
On to our next bbq dessert recipe.
Grilled Peaches
Buy some ripe peaches at the store that are still firm but just barely soft.
Slice them, remove the pit, and when you're ready just put them on the grill to warm them up.
Once there are grill marks on the cut half of the peach they are ready. Put half in a bowl, or cut them into chunks, and top with ice cream and some honey.
This is one of the best bbq recipes for dessert that everyone loves. Perfect for the Summer when fruit is in season. Second to this are our air fryer peaches which can be made inside year round.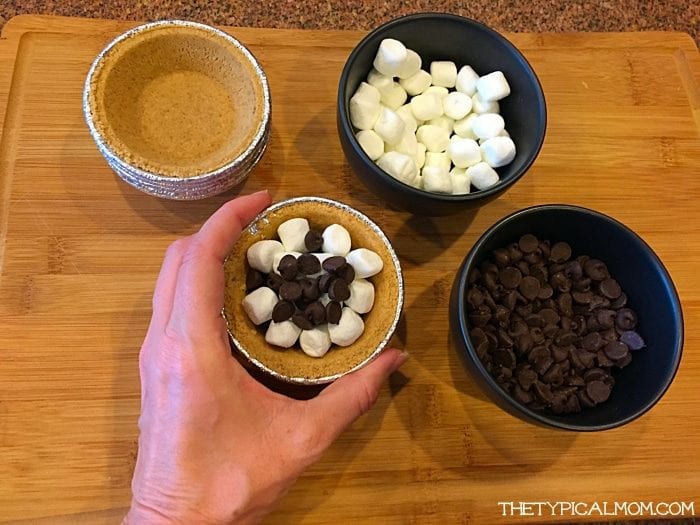 Smores on the Barbecue
This is by far the most popular bbq recipe for desserts we've made. It's a real HIT when you invite people over, and it gets a thumbs up by kids every time. It's so easy to do!
You can find these ready made graham cracker mini pie cups in the baking aisle of your local grocery store.
They come in sets of 4. Just buy the amount you will need. Everyone gets one for themselves, then fill with the other two important S'mores ingredients to create your S'mores Pies!
These don't take long at all on the grill. Just pop them on and take off once the marshmallows and chocolate chips have melted. If you are barbecuing outside just let them cool off. They pop out of the tins easily so you can eat it with your hands!
If they're still warm you can use a spoon and scoop out and eat your S'mores pies. But hands on is the way to go we think. Looking for more great barbecue dessert recipes?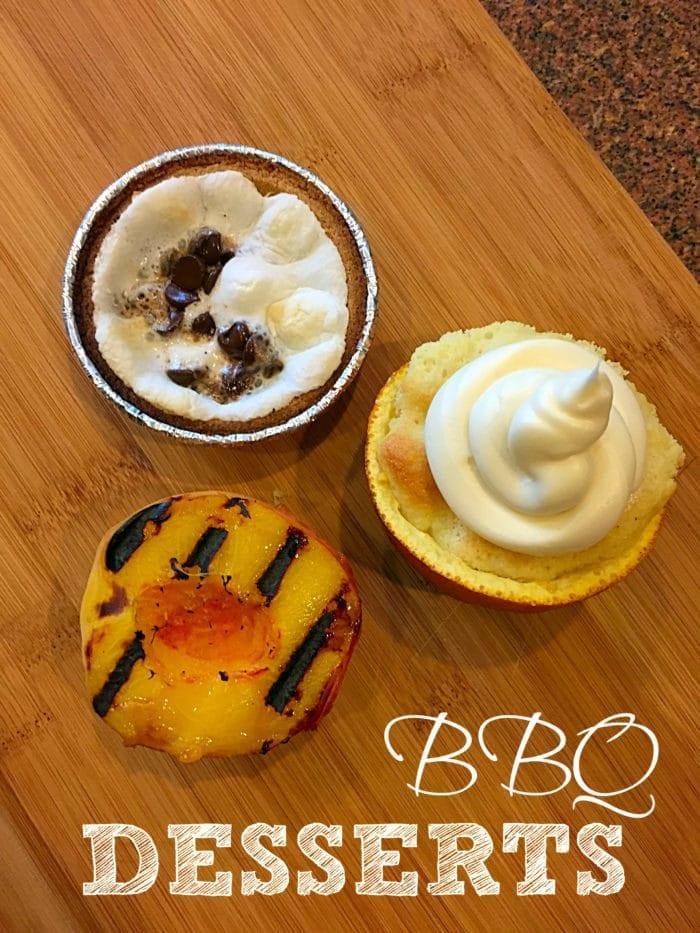 Wahhhlah….three different, easy, and the best bbq recipes for desserts for you! To top off the orange zest cupcakes I filled a baggie with frosting. Then cut the edge off, and let the kids swirl some on.
I hope you incorporate a dessert into your next get together or party while you're barbecuing some delicious meals. In the grilling mood?
Then try our dessert pizza recipes and banana s'mores! What are some of your favorite bbq recipes??
BBQ Dessert Recipes
Many easy bbq dessert recipes are here. Grilled peaches, grilled s'mores, barbecue pies and grilled bananas are here.
Instructions
Slice each banana lengthwise and squeeze the ends so that it opens up a bit. It is best to find ones that are already slightly brown and softer to do this.

Push the chocolate chips down into the bottom of the bananas. Then push small marshmallows down on top of those and if you are a nut lover then put a layer of crushed peanuts, walnuts, or almonds in between the two layers.

Make sure all fillings are secure and won't fall out so don't overstuff.

Put on the BBQ after your meats are done. Wait until the heat has died down and can use wads of foil on either side so they don't fall over. Grill until they get really warm and start to brown…and everything melts.
Nutrition Facts
BBQ Dessert Recipes
Amount Per Serving (1 oz)
Calories 258
Calories from Fat 54
% Daily Value*
Fat 6g9%
Monounsaturated Fat 0.05g
Cholesterol 3mg1%
Sodium 26mg1%
Potassium 423mg12%
Carbohydrates 52g17%
Protein 3g6%
Vitamin A 126IU3%
Vitamin C 10mg12%
Calcium 32mg3%
Iron 1mg6%
* Percent Daily Values are based on a 2000 calorie diet.