Have you ever grilled or baked a batch of meatloaf stuffed onions? They are so easy and come out really flavorful in your own little onion bowl.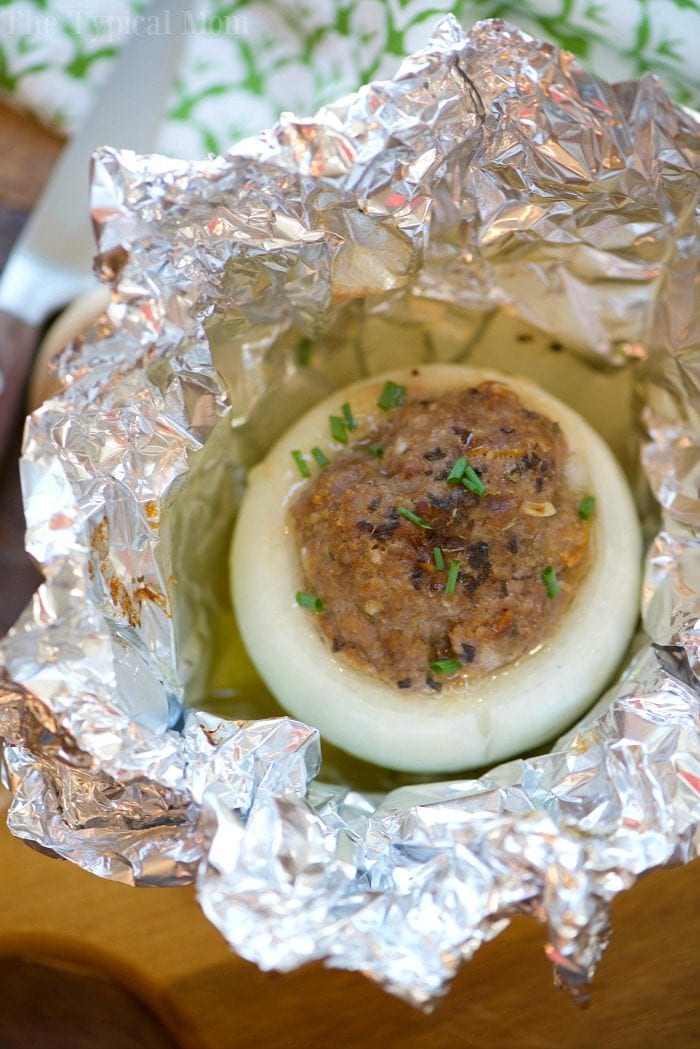 So we travel a lot, occasionally camp, and love to barbecue especially during the summertime! Anything I can do to make individual servings I will do. It is just fun for the kids and everyone gets their own little meal all wrapped up in tinfoil. These meatloaf stuffed onions are great if you're looking for more easy camping recipes, and perfect for the grill or even in the oven too!
I started using onions as little "bowls" when I made these amazing mozzarella stuffed bacon wrapped onions and they were just so heavenly I thought I should use onions more often this way! It is easy to create a bowl out of a large onion and they give off so much flavor into the dish that we love them. They are so inexpensive too which is great…you've just got to try these.
We have made these in the oven wrapped the same way and they come out about the same. Just adjust the timing according to how well done you like your meatloaf, but the recipe itself is super simple to make and full of flavor too.
I have used this quick meatloaf recipe for years and years and I just love it. It's a throw together a little of this and a little of that but you just can't go wrong with it. If you have your own meatloaf recipe you love just use that and this technique for hollowing out the onion and making room for the beef.
Hollow out as much as you possibly can from the onion, that is the trick. That will make it as soft as possible when done.
Meatloaf Stuffed Onions
Have you ever grilled or baked a batch of meatloaf stuffed onions? They are so easy and come out really flavorful in your own little onion bowl.
Instructions
Cut small slice off bottom of onions so they sit flat.

Cut 1/3 off top of onion so you can core out inside and make into a cup.

Remove outer layer of onions with skin, discard.

Use a knife to cut a bit of inside of each onion out being careful not to puncture bottom.

Use a spoon to scrape as much of the inside of each onion out so it makes a cup, but make sure the bottom is in tact free from holes.

Mix all other meatloaf ingredients together well and form into balls.

Fill onion holes with meatloaf mixture.

Get a piece of tinfoil big enough for 1 meatloaf filled onion. Put in middle.

Pour olive oil on top and on outside of onion, sprinkle a bit of basil or oregano if desired.

Bring sides up and close tinfoil.

Put all wrapped and prepared onions on the grill (close), or on a cookie sheet and in the oven at 300 degrees for about 30 minutes or until meatloaf is as done as you'd like it to be.
Nutrition Facts
Meatloaf Stuffed Onions
Amount Per Serving (1 stuffed onion)
Calories 616
Calories from Fat 468
% Daily Value*
Fat 52g80%
Cholesterol 80mg27%
Sodium 133mg6%
Potassium 450mg13%
Carbohydrates 20g7%
Protein 16g32%
Vitamin A 40IU1%
Vitamin C 11.1mg13%
Calcium 69mg7%
Iron 2.5mg14%
* Percent Daily Values are based on a 2000 calorie diet.