Blackstone 22 inch griddle review. What we thought of this gas outdoor flat cooktop from Walmart. Why we love it and what recipes you'll love cooking on it.
Every once and a while we like sharing reviews on products we find to be amazing! This Blackstone 22 griddle for outdoor cooking has been a game changer for us. (affiliate links present)
Blackstone 22 Inch
They're great FAther's Day gifts and the best present for men as far as we're concerned. From your dad to your husband you really can't go wrong with any of the models. If they're out of stock, we found one at Walmart too.
It's the summertime and although we make a lot of smoker recipes, my husband also wanted this flat cooktop. I wasn't convinced it was really needed BUT man has he been cooking a lot more since he got it.
How to cook on Blackstone Griddle
It's intuitive and not difficult for anyone to cook on it at all. Once you turn it on, like the stovetop with the dials, you just add your food to the top and cook on the flat surface as you would a grill.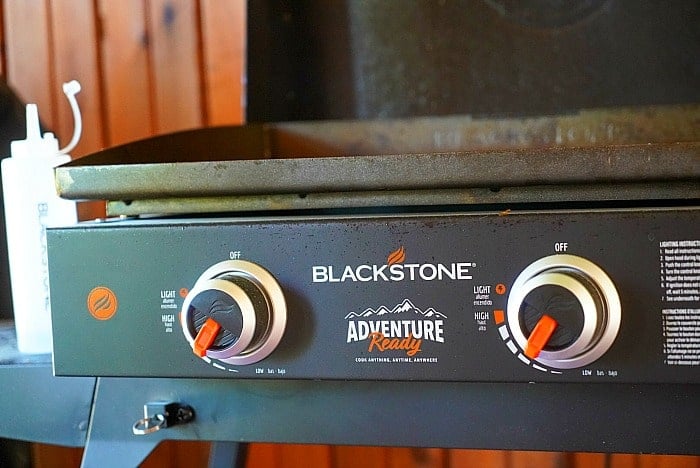 We have it on our porch. I got the 22 inch griddle because I thought it would be a nice size to have at home as well as bring with us. Occasionally we camp, or meet friends out at a site for the day. This is the perfect size for all of that.
Blackstone griddle grill
If you prefer a grill AND griddle there's a 17″ option for that too. We have a smoker/grill so that wasn't a necessity for us. You can also get a smaller unit called the Blackstone tabletop griddle that is 17 inches. It has a small propane tank that attaches on the side. This would be great primarily for toting in a camper for sure.
It comes with a container that hangs on the back to catch the drippings. That is vital or you will have a mess on your hands.
Review Blackstone Griddle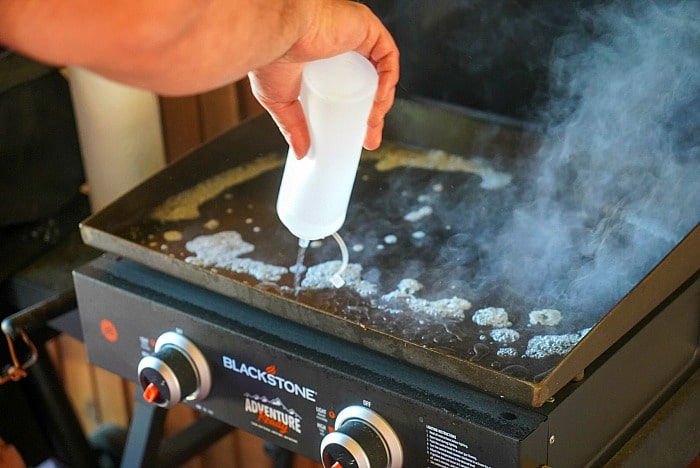 The water makes it convenient to "spray" off the grease and then you can use a metal spatula to scrape any stuck on pieces off. I think that is why my husband likes it so much. The ease of cleaning it off with the reservoir on the back.
How to Use a Blackstone
There isn't a huge difference as far as how to light it and adjust the temp no matter what model number you have. The larger the number the bigger the flat top and added functions they will have. I would say this is on the smaller side but not the tiny one that you would get and keep in an RV.
Time needed: 15 minutes
Blackstone Bacon
Turn on

Light the device and turn temperature dial to medium heat.

Clean

Spray some water on to the flat top and scrape liquid off into back hole into back reservoir.

Add food

Lay bacon strips on griddle. Move and flip over until they're as crispy as you'd like, then remove and enjoy. You can easily use half the cook top with french toast or eggs on the other side.

Spray

After food is removed turn off Blackstone griddle. Use spatula to scrape stuck on food off top and into hole at back to clean off. Can spray with water to clean off as well.
If you've ever eaten at The Waffle House and watched the cooks make breakfast, this will look familiar.
That is what I think of when I see him making Blackstone eggs and bacon in the morning. 😉 It is also great for French toast after that is done (and keep the drippings there for a salty sweet flavor).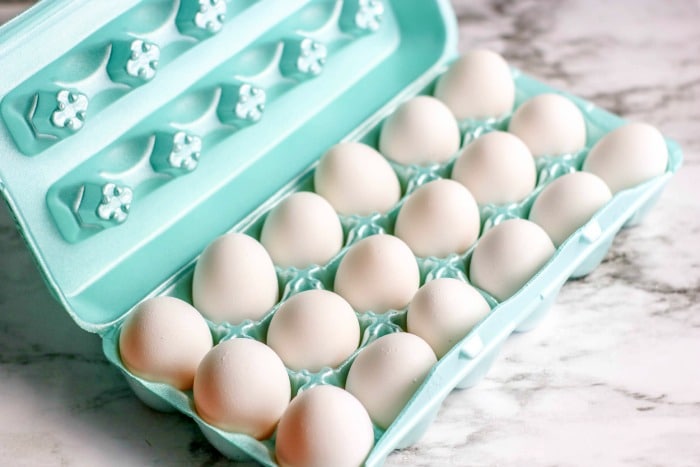 NO finding a large enough pan, draining grease into a glass jar in the morning.
You just throw it all on, move it around until it's done, remove and scrape to clean!
It's a great burner griddle for anywhere outdoors really. Just make sure your tank is full and the legs just fold up.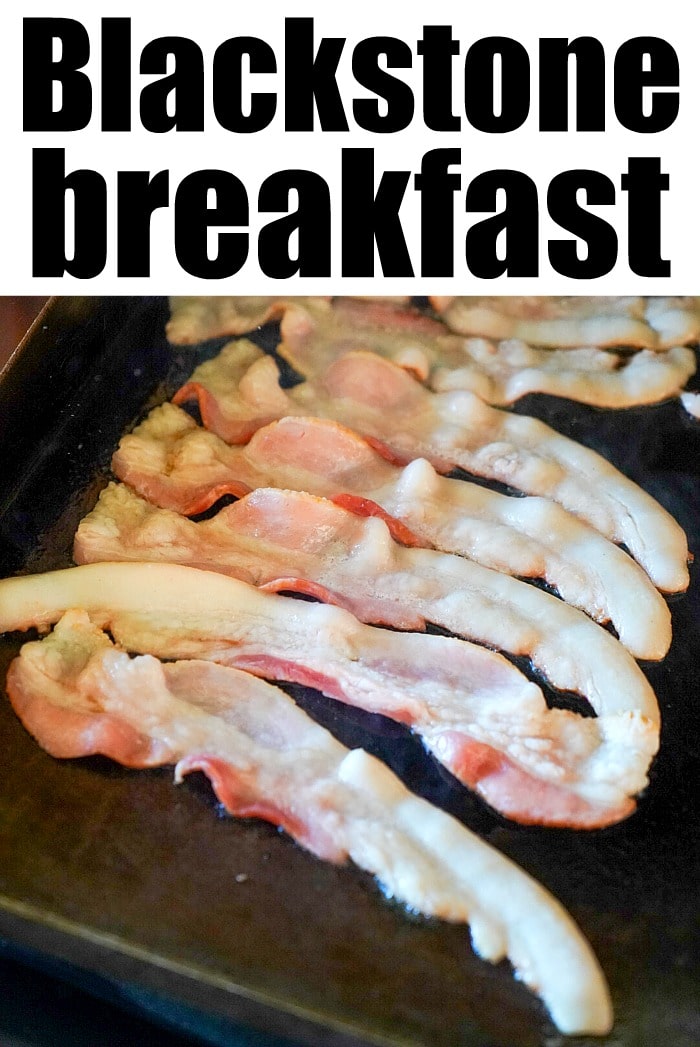 Is the Blackstone griddle any good?
We say, heck yes!! It is a great way to cook hot dogs, steaks or eggs and bacon outdoors. The Blackstone 22 gas tabletop options are great to take anywhere outdoors for big get togethers.
Easy to clean and feeds a ton of people in no time. Burners provide even heat and feeds the whole family quickly. High heat cooking done right if you ask us.
What is the best Blackstone griddle?
It depends on the size you want really. The tabletop 2 burner griddle is great for small families to cook burgers, hot dogs and steaks. If you want to make BIG and versatile meals the 1544 is very popular.

All offer even heat distribution for optimal temperatures great for delicious burgers and hot dogs cooked together.
Can you fry fish on a Blackstone griddle?
Of course. Just use a bit of oil such as olive or canola so it doesn't stick. Keep an eye on it as it won't take long to get fork tender to perfection.
Whether you want to eat up delicious burgers at your campsite, or throw together breakfast at home we love ours!