This is how you make foil packet grilled stuffed peppers on the barbecue or for a campfire if you're camping! Easy vegetarian dinner stuffed with lots of vegetables and can be made with ground beef as well for a heartier meal. No matter how you cook them, these grilled peppers are amazing.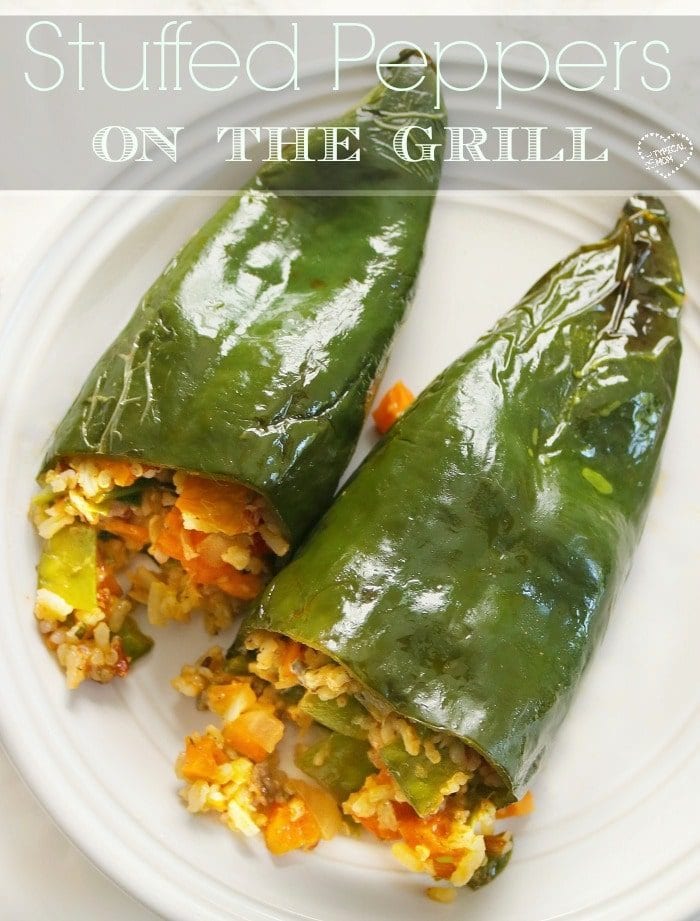 My family loves stuffed peppers, but during the summer we like to do almost everything on the bbq so it was only natural to make some grilled stuffed peppers!! This foil packet meal is a great one for a weeknight meal or if you have company over. They are easy and can be made vegetarian if you prefer too. There's just enough spice to them and are quite a healthy barbecue meal packed with lots of flavor….here's the recipe! (originally published 6/16)
Don't these just look heavenly??!!
Well there is a lot of versatility to this recipe depending on what you like inside your stuffed peppers but the base is rice. I have added ground beef into the mixture from time to time but it is your choice. If you'd like my stuffed pepper recipe including meat here is that recipe.
This one is a bit different because it is cooked on the grill in a foil packet and is meatless….but nontheless incredible!! Here's how you make it.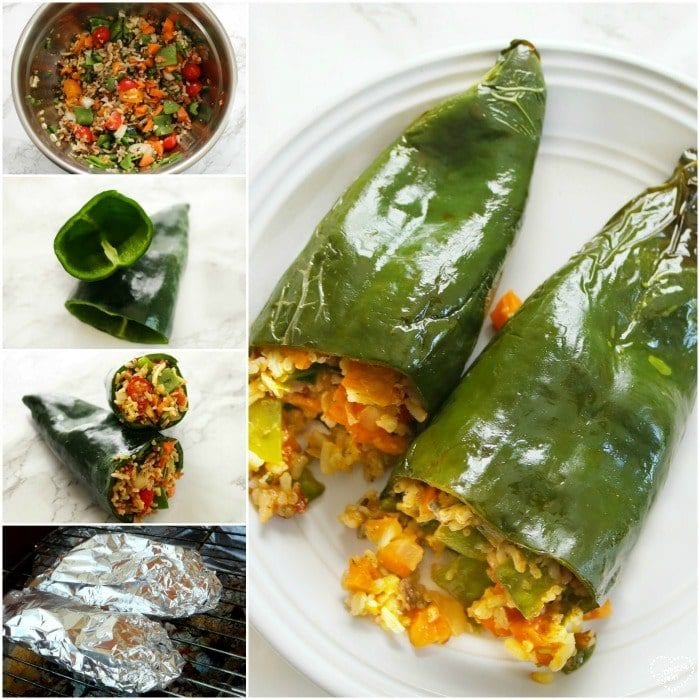 First you will need as many poblano peppers as you think you will need (2 per person I would average). A rice cooker is helpful just to speed up the process, if you don't have one I use mine all the time and it's still going after 10 years.
If you have a pressure cooker here's how to make the perfect Instant Pot white rice which takes no time at all.
Gather all of your ingredients in the recipe below and get to dicing at home.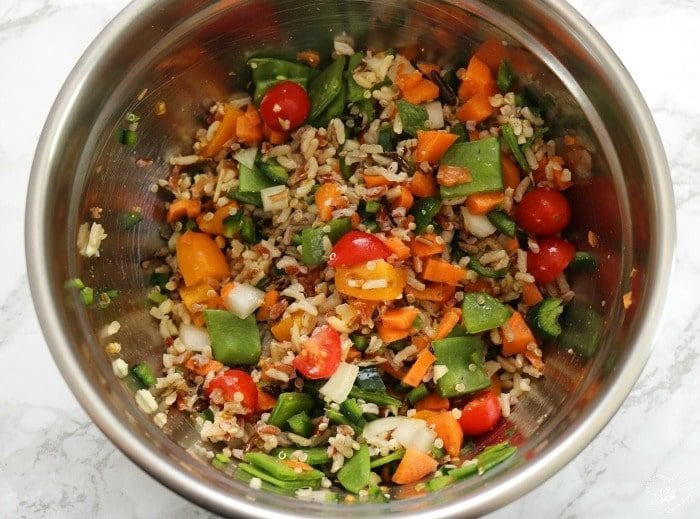 You're going to want to dice your veggies and spices fairly fine and about the same size, in regards to the carrot, tomatoes, pea pods, and onion so that they cook evenly inside your grilled stuffed peppers.
Add everything including your brown rice (you could use white) into a bowl and mix well so everything is coated in goodness and then create your foil packets.
This is what you need to make Grilled stuffed peppers
poblano peppers
carrot
onion
pea pods
cherry tomatoes
rice
garlic
olive oil
cayenne powder
salt and pepper
tinfoil
Grilled stuffed peppers
Grilled stuffed peppers are amazing! Easy foil packet meal made over the campfire or bbq that are stuffed with veggies. Make vegetarian or with meat.
Ingredients
Instructions
Pre heat the grill to medium high. Combine the cooked rice with the vegetables, seasonings, pinch of salt & pepper and a drizzle of olive oil. Stuff the peppers with the rice mixture. Lay out a large rectangle of aluminum foil, place pepper in the middle. Drizzle with Olive oil. Wrap loosely. Place the peppers on the grill and cook for 5 minutes. Flip and cook for another 5 mins.

Reduce heat to low and allow to cook for an additional 10 minutes. Be very careful when opening, the steam is extremely hot.
Nutrition Facts
Grilled stuffed peppers
Amount Per Serving (4 oz)
Calories 52
% Daily Value*
Sodium 30mg1%
Potassium 441mg13%
Carbohydrates 11g4%
Protein 2g4%
Vitamin A 6105IU122%
Vitamin C 116.5mg141%
Calcium 33mg3%
Iron 1.1mg6%
* Percent Daily Values are based on a 2000 calorie diet.
Generously stuff your peppers. If you are making more than 2 peppers then just double or triple the recipe. If you want to add meat, brown about 1/2 lb. and add that to your mixture too. The steam inside the foil packets will steam everything really well so even the peppers will get nice and soft.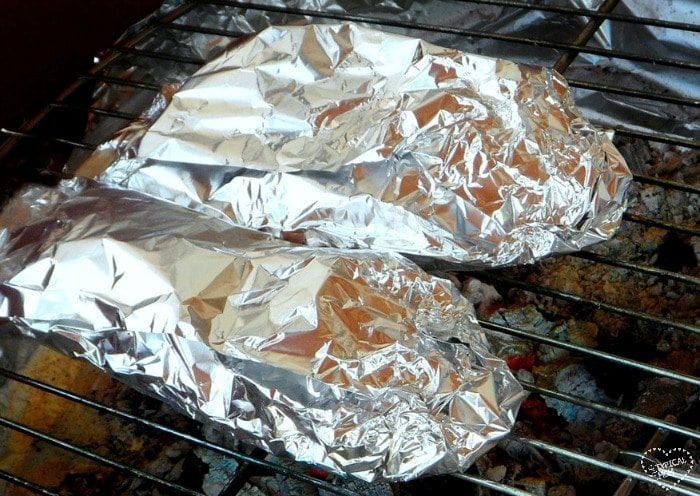 If you love our grilled stuffed peppers but want to make stuffed green peppers in the oven here is a recipe for that. Grilled pork chops are killer too, and if you use your bbq as much as we do here are 10 bbq hacks that have made our summer dinners a lot easier too!
Don't forget bbq desserts while you've got it warm!

For more easy recipes, tips and crafts please LIKE The Typical Mom on Facebook and follow me on Pinterest! You can also sign up for my free weekly newsletter which is packed with goodies I know you'll love. 😉