Instant Pot lemon garlic chicken is a cheap and easy dinner to throw together. A keto, low carb high protein meal packed with flavor even your kids will love.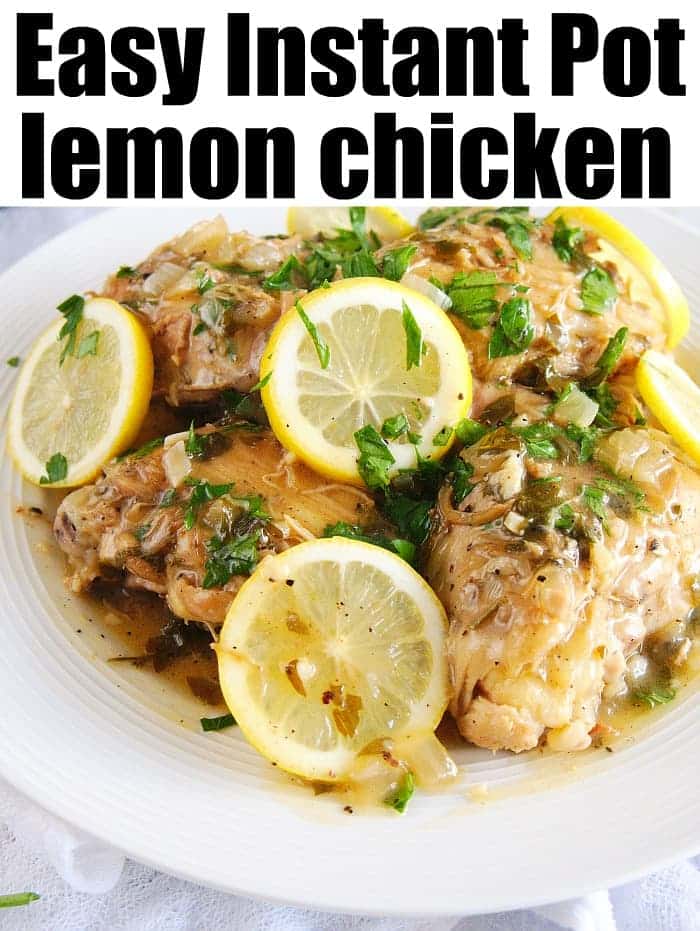 Instant Pot lemon garlic chicken is a health pressure cooker recipe even your kids will like! Cheap as ever using chicken thighs, this easy Instant Pot recipe comes out tender and delicious every time.
Let's start with a few basic tips: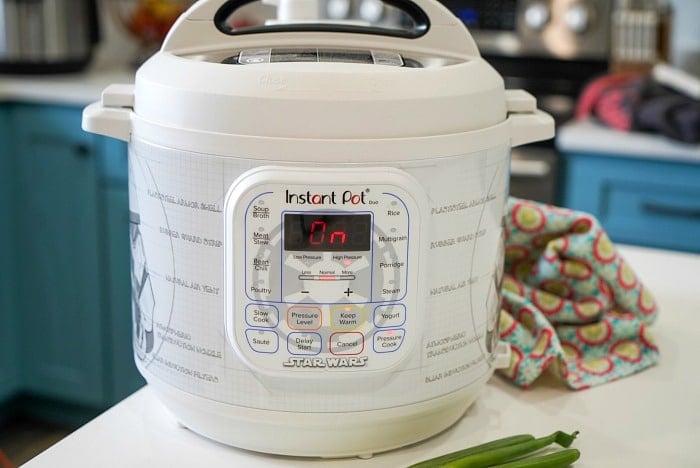 Yes you can make it with chicken breasts too but I find that thighs are highly underrated. Way more tender than any other part, and typically the cheapest pieces in the meat section too.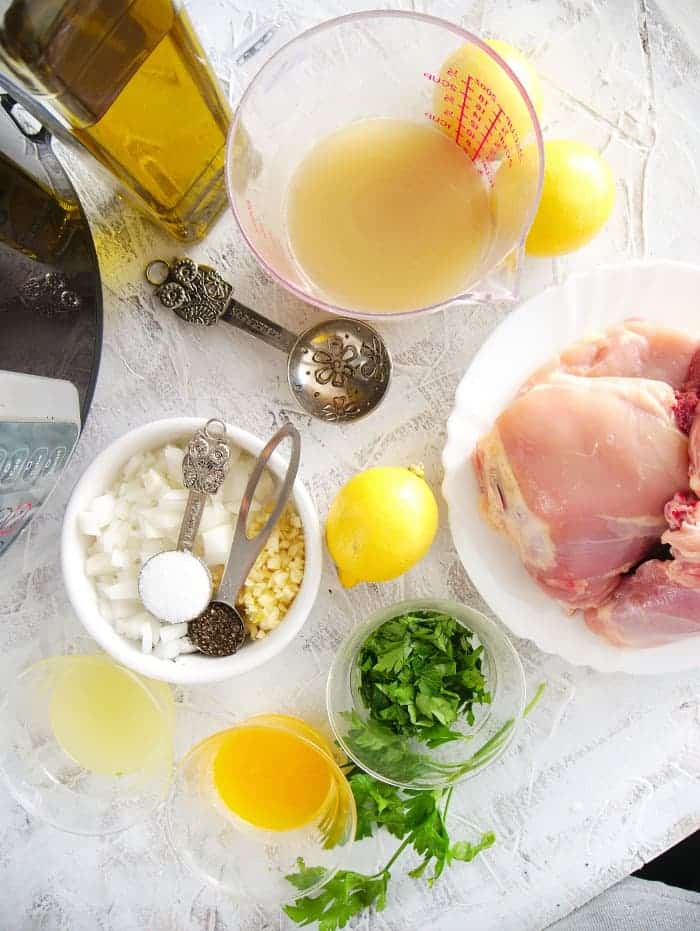 We made this with pasta once where we cut up the chicken into little pieces. That Instant Pot lemon chicken casserole is another great dinner choice too for a one pot meal.
Instant Pot lemon chicken
Pressure cooker

I always HIGHLY suggest getting this non stick pot if you don't already have one

Skinless chicken thighs

we used chicken thighs bone-in
if you used boneless I would probably keep the timing the same
using frozen chicken thighs in Instant Pot is possible too, timing is just adjusted

Fresh lemons

or lemon juice

Minced garlic
Olive oil
Onion
Salt and pepper
Chicken broth or stock
Butter
Cornstarch to thicken sauce at end if you'd like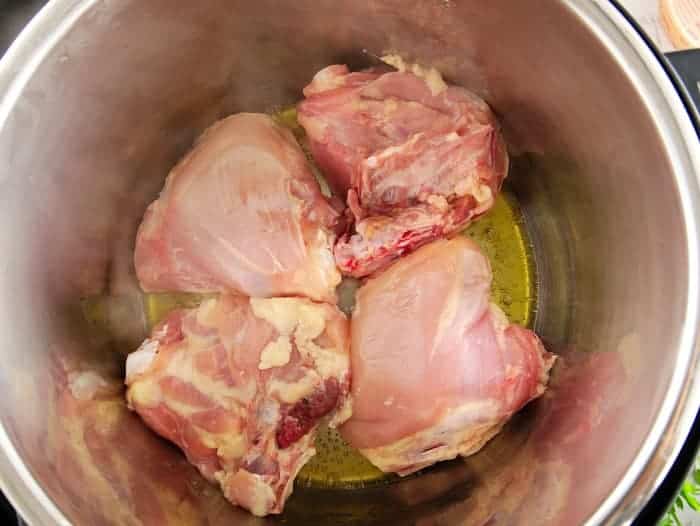 To make lemon chicken thighs you're going to want to set your pot to saute and add your olive oil. Then add your meat and sear or brown the chicken on all sides, then remove.
No they won't be cooked through as of yet but not to worry, they will when you pressure cook them.
Remove chicken and set aside.
Now add a bit of your chicken broth with onions, parsley, garlic, salt and pepper.
Use a wooden spatula to deglaze your pot, to scrape the stuck on bits of meat off the bottom off.

THIS is when you really want that non stick pot (for cleaning and sticking purposes)

Turn off saute and add the chicken back in, overlapping as little as possible.
Pour in the rest of your broth, melted butter and add lemon juice.
Close lid and turn steam valve to seal.
Set to high pressure for a 10 minute cook time

timing is for thawed, medium size thighs

Do a quick release, set chicken aside, and set pot to saute again if you want to thicken the sauce.
In a small bowl add some of this hot liquid + your cornstarch and whisk until smooth.

this cornstarch slurry will thicken the sauce

Add this back in and stir allowing sauce to get thicker, cook for 1 minute, then turn off and serve on top.
Lemon chicken Instant Pot recipe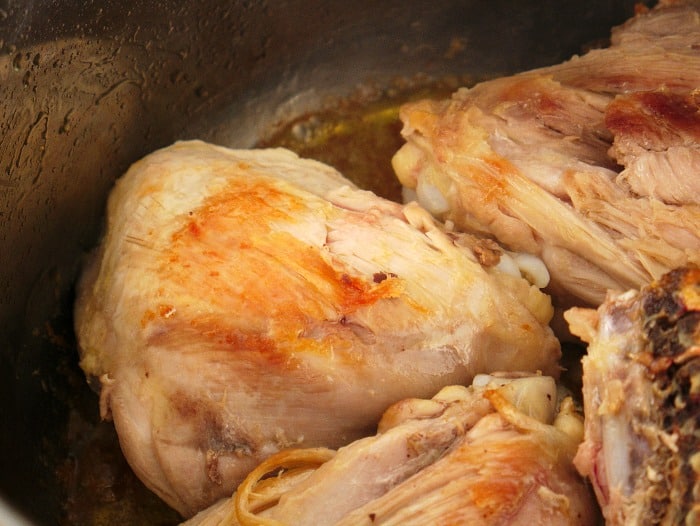 So quick and easy right? The chicken turns golden brown and perfectly seasoned in under 30 minutes which is great.
Of course you can add more seasonings like garlic powder or 1/2 teaspoon Italian seasonings if you want.
If you wanted a creamier sauce at the end you could whisk your cornstarch with some heavy cream too.
This is a keto friendly meal you could serve as is or with a side dish of mixed vegetables if you wanted.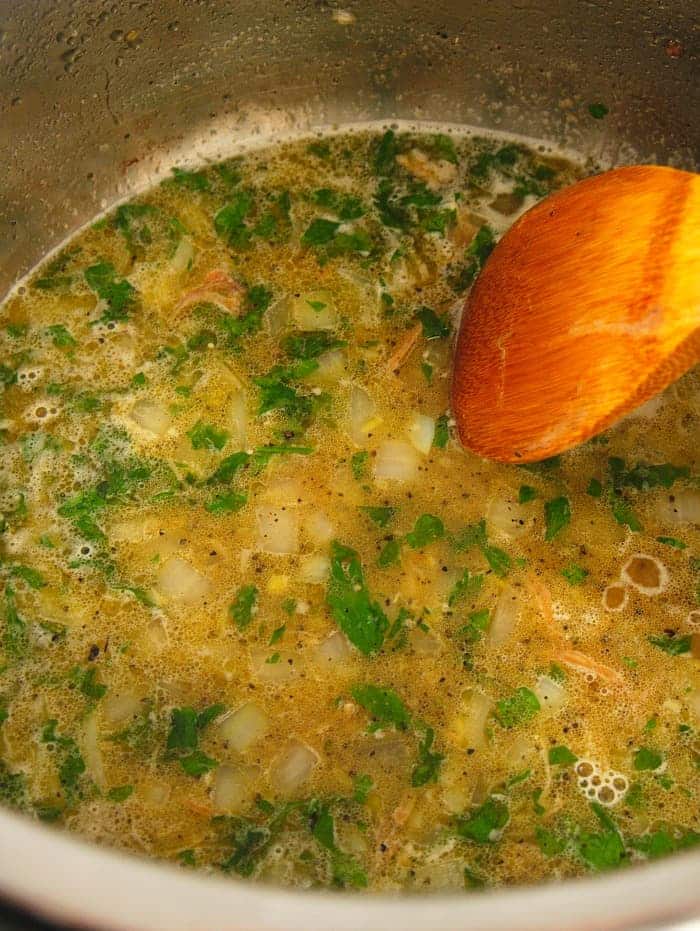 Now you could use either bone in skinless chicken thighs like you see here, or chicken breasts. That is your choice but I personally prefer dark meat because it turns out so tender. This cut is the least expensive as well and I think it tastes best.
Chicken thigh recipes
Are chicken thighs bad for you?
Yes they are dark meat which means there is more fat content than white meat. Yet like avocados, this fat is considered healthy monounsaturated fat.
Thighs are much more affordable than skinless chicken breasts. All around I prefer them since you save money AND get a more flavorful and tender cut of meat!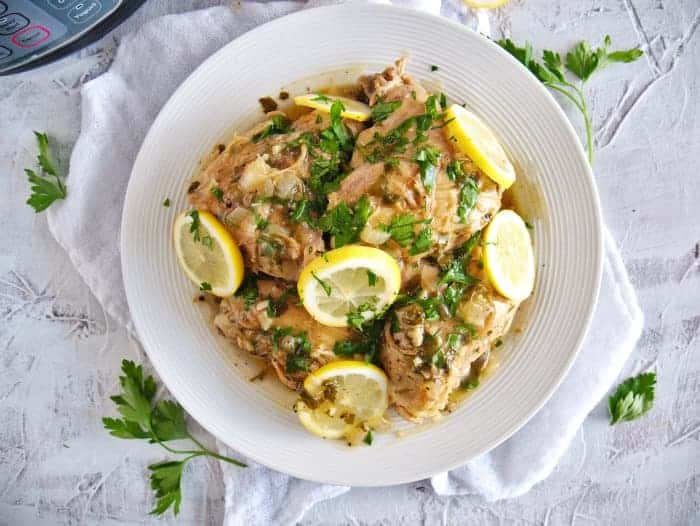 Why are chicken thighs so cheap?
Legs and thighs are cheaper because they're dark meat. Some people have it in their minds that dark meat will make you fat so they aren't bought as often. Kept in moderation, like everything else, this is not true.
Chicken breasts are considered healthier, so they are normally in higher demand which drives the prices up.
Can you substitute bottled lemon juice for fresh?
The average size lemon will give you about 2‒3 tablespoons of juice and personally I think tastes better. If you do use bottled, you'd add the same amount as you would if using fresh.
Bottled preserved lemon juice can be used in many recipes if that is all you have.
If you need instructions for frozen chicken thighs in Instant Pot I have that too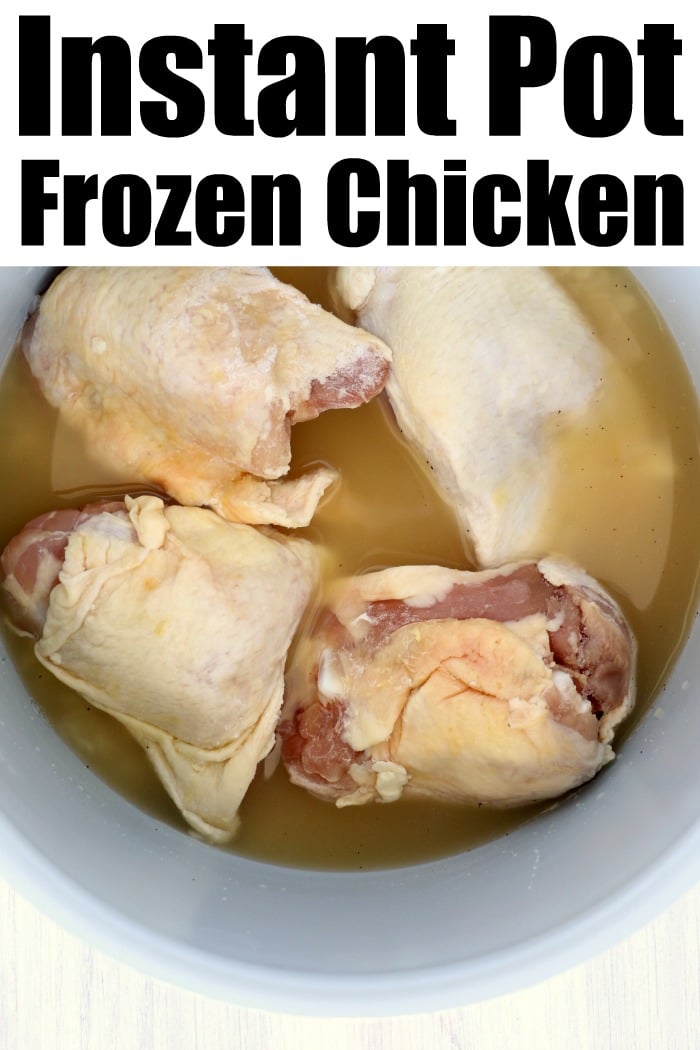 Does cooked chicken freeze well?
Yes, you can store it in the refrigerator for up to two days in an airtight container. Then use it in a leftover chicken recipe. After that, it's best to freeze it for up to three months, just be sure to write the date on the bag with a marker.
If you don't have containers, freezer bags in quart or gallon sizes work great. I have a bunch of these on hand at all times.
Easy lemon chicken recipe
Want to receive more easy pressure cooker recipes like this one delivered to your email inbox weekly? Sign up for our free newsletter now!
Want more easy recipes and tips from The Typical Mom blog? Sign up for my free newsletter, and follow me on Pinterest!
***** If you LOVED this recipe give it 5 Stars below and let everyone know what you thought about it. 😉
Instant Pot Lemon Garlic Chicken
Instant Pot lemon garlic chicken is a cheap and easy dinner to throw together. A keto, low carb high protein meal packed with flavor even your kids will love.
Instructions
Set pot to saute and pour in olive oil until hot. Put thighs in pot and brown both sides. Then remove meat.

Add diced onion, garlic, parsley, salt and pepper. Saute together for about 2 minutes while scraping bits of chicken off bottom of pot to deglaze. Pour in 1/4 c. chicken broth once onions have softened and finish deglazing pot.

Turn pot off. Add thighs back into pot.

Pour rest of chicken broth in around chicken. Pour melted butter on chicken as well as lemon juice.

Close lid and steam valve and set to high pressure for 10 minutes (for medium thighs with bone in).

Do a quick release and remove thighs, set aside to keep warm.

Set pot to saute again. In a small bowl whisk together cornstarch and a bit of water until smooth. When liquid in pot bubbles, add this and stir. Allow to thicken for a few minutes and turn pot off.

Serve thighs with sauce poured on top. Season with more salt and pepper to taste.
Nutrition Facts
Instant Pot Lemon Garlic Chicken
Amount Per Serving (3 oz)
Calories 417
Calories from Fat 315
% Daily Value*
Fat 35g54%
Cholesterol 133mg44%
Sodium 618mg27%
Potassium 345mg10%
Carbohydrates 8g3%
Protein 19g38%
Vitamin A 666IU13%
Vitamin C 23mg28%
Calcium 30mg3%
Iron 1mg6%
* Percent Daily Values are based on a 2000 calorie diet.